Ok, got another set of Necromunda objective markers done and pointed a (admittedly crappy iPhone) camera at them.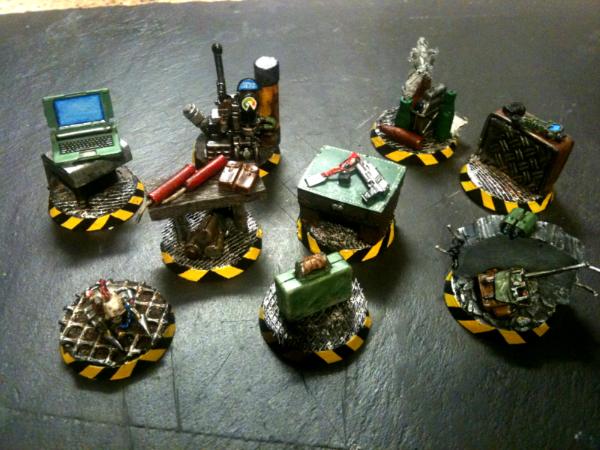 These have largely been made possible by a very welcome gift of sundry bitz from the man himself, the Marquis
de
Markers, the Count of Counters, Barron von Bonus, the Ultimate Upgrader, Patron Saint of pallets, Regent of Reloads and Scion of Scatter. The only official Objectives Ombudsman known to you and I as U971. Check out
U971's Objective Markers thread
for even more Objective marker goodness.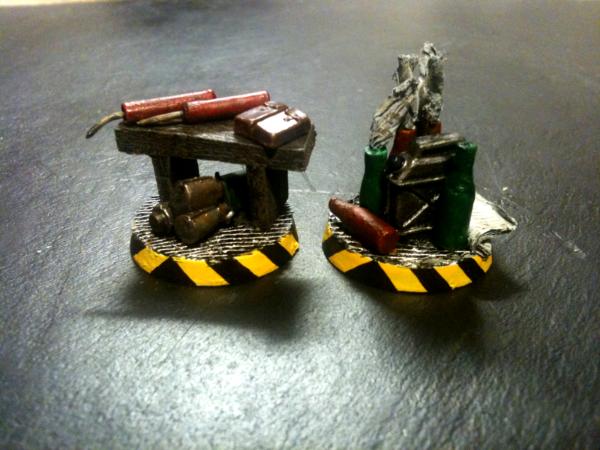 There's never any shortage of stuff you might want to blow up in the Underhive so I've gone and made these two. A base of rudimentary explosives. Dynamite, stick bombz, plastique, whatever you say it is so long as it explodes. The other one is a base of Molotov cocktails, or as we call them where I come from Petrol Bombs. I made the bottles a bit too big and they're pretty rough but it works well enough. And just like with the explosives, just agree on rules that will suit your game and get blasting.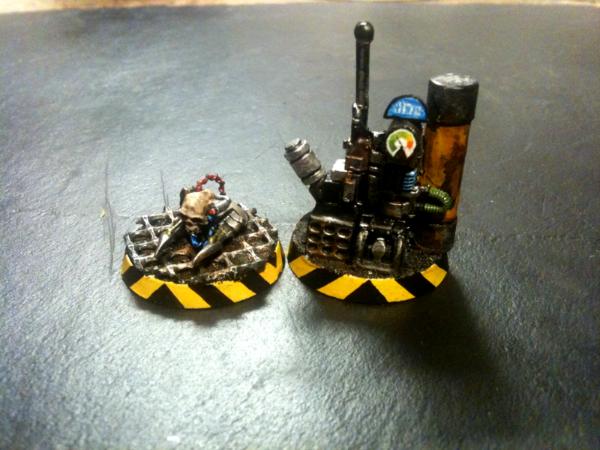 Next up its the techno duo. In U971's batch of bits I found a couple of skulls for servo skulls and a few scarabs too so I figured why not make a Servo-Scarab. Any suggestions for a name for this guy? (Skully McSkull-face is not it)
The other thing is just a straight up techno-McGuffin. Destroy it, steal it, defend it, repair it, switch it on, shut it down, whatever the story of your game requires.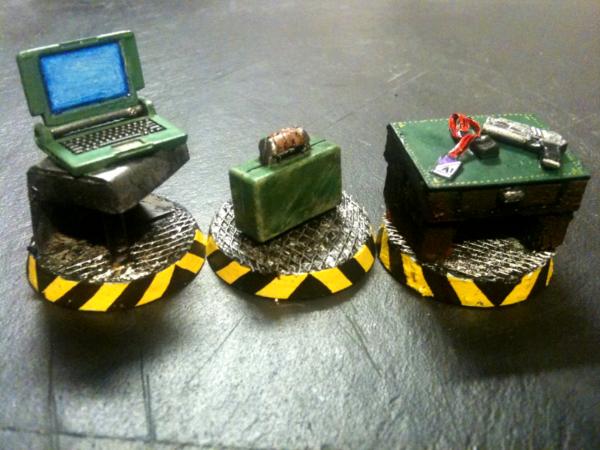 Next up we have the information war trilogy. The laptop, the briefcase and the key card. Mug a sentry for his key card and use it to access your enemies' compound. Steal the laptop and leave the briefcase behind as a nasty surprise. Or protect the "Bosses dirty laundry" like the briefcase in Pulp Fiction in an ambush scenario. Or you could just be in it to steal the secrets in the briefcase or the laptop. Always good to have an object to give your fight a little flavour.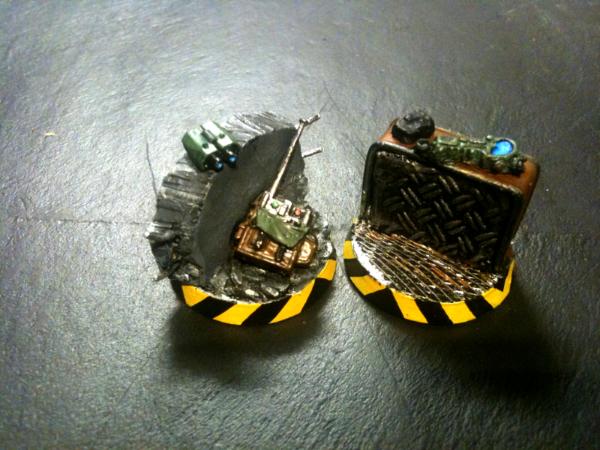 And then its the fancy gear combo. Another take on "the only scanner for miles" and a handy observation and Vox marker. Scanner could be used to help spot hidden enemies or traps. Vox and scope could be used to call in an air strike or an evac. Or either could extend initiative or leadership range if that made sense in the context of a situation. It'd be funny to play a commando game where one little dude goes around the board in a mad escapade getting bonuses like these to help him along in his one-man mission and up his kill count.
Thanks again to the U-man. Always fun to think up new objectives to play for.
As far as further Necromunda love in the future goes I'm planning to strip down and repaint my old Orlocks some time.
We'll see if and when that happens. Been meaning to for a while.
Thanks for looking folks.