AndrewGPaul wrote:

They look really good. The hexagonal things are car wheel nut covers, aren't they?
That's right. I thought I'd used them all up making this set of
40k
objectives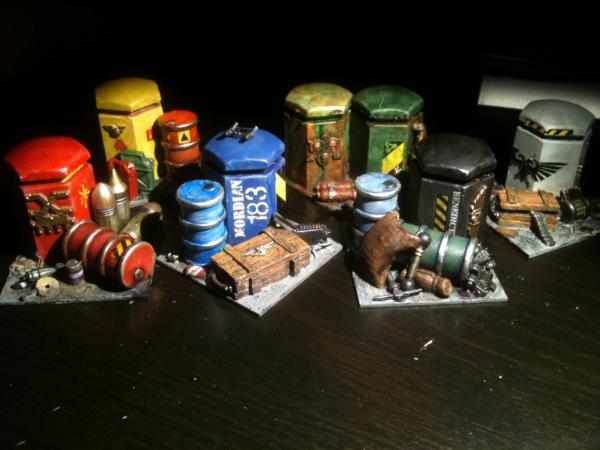 But then I found one more while rummaging for extra barrels and junk. This time, in the Underhive it's some kind of street services box. Like those streetside telephone wire junction boxes. I gave it a door on one side and a pair of pipe/conduits running down the back. Then I added a canvas patch to make it look like its seen a bit of action and repair and I slapped a non distinct water transfer on it for good measure.
Thanks everyone for your comments. I enjoyed building all these and look forward to using them in games.
My top pic of junk and craft items for doing anything like this is as follows.
Cheap plastic kids toys, construction set barrels and signage
Ear-buds (cue-tips) - cut the cotton buds off and use the plastic stick for pipes
Sticky plaster (bandaids)- the nice material ones cut strips to use as canvas patches to look like damage repairs.
Balsa wood- for all your wooden pallets, cable spools, planks and sticks.
Supermarket Garlic net- makes for great wire mesh
Inside corrugation part from corrugated card makes for good corrugated iron/ tin roof.
Electrical wiring and string- find some the right thickness for the find of cable or rope you have in mind.
Messy mix- chuck in some dust, dirt, sand and chips and splinters of whatever's lying on your workbench and use it for flock. Used sparingly it can make up the litter of an urban environment.
Then of course add some bits from your bits box to add detail to your environment and you're there.
Thanks for looking folks. If I take some pics next time I play I'll post them here
@ Fifty- if you feel inspired enough to get busy then please feel free to post your efforts here too. Or if it's not Necromuda specific then U971 would love to see your work over on his objective markers thread.