Howdy all!
So next Saturday I'll be participating in my first ever ITC tourney - woo! Having never played an ITC game, this will be a massive change, and my list has been tweeked and tweeked some more to be a lean, mean, killing machine. Or so I like to think it will be, anyway! The field looks like a bunch of Dark Eldar, Custodes/
AM
in various forms, and a good spread of other factions, so it should be interesting. My list, seen below, is pretty well set in stone; I may make some adjustments if I can complete an Epidemus conversion in time, in which case I'll lose the Contaminator lord and the Gnarlmaw, toss in epidemus, max the
PB
's back out, and maybe add a few more nurgling bases. But we'll see... this is what I wanna take right now!
med Nasrallah
++ Battalion Detachment +5CP (Chaos - Daemons) [36
PL
, 679pts] ++
+ No Force Org Slot +
Chaos Allegiance: Nurgle
Rewards of Chaos (1 Relic)
+
HQ
+
Daemon Prince of Chaos [9
PL
, 180pts]: Corruption, Hellforged sword, Nurgle, Wings
Epidemius [5
PL
, 100pts]
Poxbringer [4
PL
, 70pts]
+ Troops +
Nurglings [3
PL
, 54pts]: 3x Nurgling Swarms
Nurglings [3
PL
, 54pts]: 3x Nurgling Swarms
Plaguebearers [12
PL
, 221pts]: Daemonic Icon, Instrument of Chaos, 27x Plaguebearer, Plagueridden
++ Battalion Detachment +5CP (Chaos - Death Guard) [73
PL
, 1317pts] ++
+
HQ
+
Daemon Prince of Nurgle [9
PL
, 180pts]: 6. Arch-Contaminator, 6. Curse of the Leper, Malefic talon, The Suppurating Plate, Warlord, Wings
Daemon Prince of Nurgle [9
PL
, 180pts]: 4. Blades of Putrefaction, Malefic talon, Wings
+ Troops +
Chaos Cultists [3
PL
, 40pts]: 9x Chaos Cultist w/ Autogun
. Cultist Champion: Autogun
Chaos Cultists [3
PL
, 40pts]: 9x Chaos Cultist w/ Autogun
. Cultist Champion: Autogun
Chaos Cultists [3
PL
, 40pts]: 9x Chaos Cultist w/ Autogun
. Cultist Champion: Autogun
+ Elites +
Blightlord Terminators [14
PL
, 263pts]
. Blightlord Champion: Balesword, Combi-bolter
. Blightlord Terminator: Bubotic Axe, Combi-plasma
. Blightlord Terminator: Bubotic Axe, Combi-plasma
. Blightlord Terminator: Flail of Corruption
. Blightlord Terminator: Blight launcher, Bubotic Axe
Foul Blightspawn [4
PL
, 77pts]
Foul Blightspawn [4
PL
, 77pts]
+ Heavy Support +
Plagueburst Crawler [8
PL
, 140pts]: 2x Plaguespitter, Heavy Slugger
Plagueburst Crawler [8
PL
, 140pts]: 2x Plaguespitter, Heavy Slugger
Plagueburst Crawler [8
PL
, 140pts]: 2x Plaguespitter, Heavy Slugger
++ Total: [109
PL
, 1996pts] ++
Created with BattleScribe (
https://battlescribe.net
)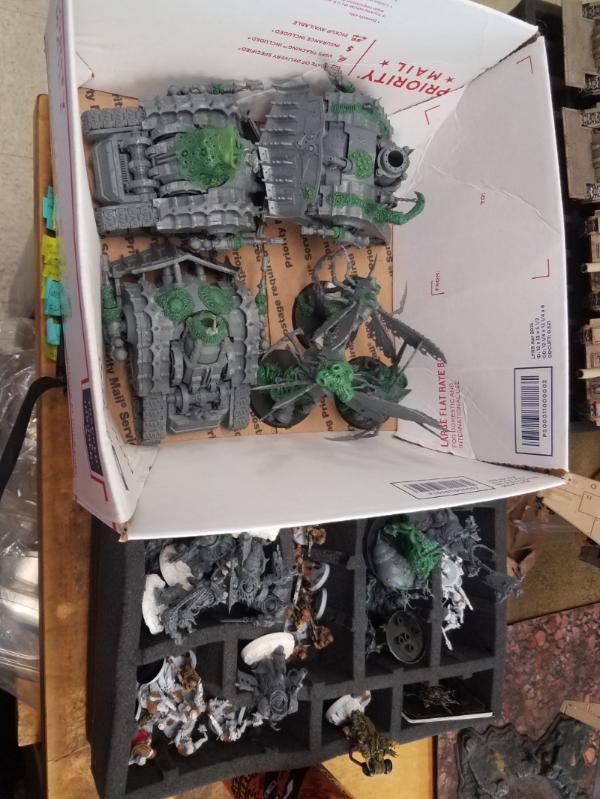 Tweeked it, added some kitted out blts, two spawns, cut the lord and two spitter drones. Also swapped powers up a bit

The list revolves around getting crazy tough Nurgle Demons, and dominating through killiness. EVERYTHING is a Nurgle demon aside from my cultists and lord. Lord tags with the PBC's, Bringer with the

PB

's, and everything else is pretty self sufficient. The list, I feel, will be able to

TAC

and should handle very well. I'm comfortable with most of it. The only downside is the list will be rather slow, so most likely my first turn or two will be playing catch up on

VP

's against faster armies. What do ya'll think? Think I can win, or will I be trolled?

GAME 1 VS.

AD

MECH/KNIGHTS GAME 2 VS. CUSTODES/

IG

GAME 3 VS. ALTAOIC ELDAR/DARK ELDAR POST GAME THOUGHTS, UNIT RATINGS, AND RESULTS