Looking for a forever home for some lonely Noise Marines. They're the old 2nd edition metal sculpts in various combinations.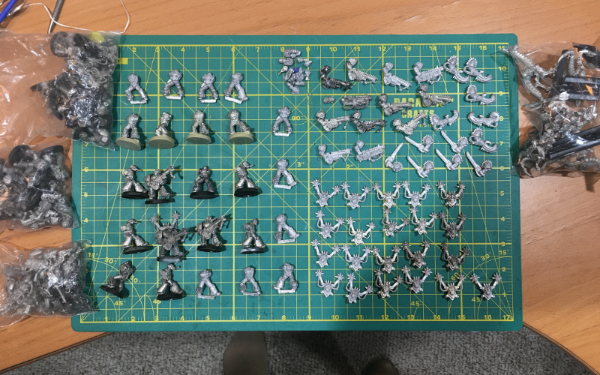 There's about 90 total, the picture shows the contents of one bag. They've been piling up in my closet as a result of trades, I lost track of how much was there. Willing to trade down to units of 5 but no single models.
You will notice some of the models are a little brighter than others. As I got them, I stripped the paint. The brighter ones were run through an ultrasonic cleaner, I'm pretty sure they can all be restored to that level.
In terms of what I'm looking for, I'm downsizing and don't have a good wish list right now. Here are the things I would consider offers for.
- Grey Knights - I need more Strike Squads.
- Astra Militarum - Looking for detachments to compliment my Grey Knights and Deathwatch armies. If someone could save me from having to paint a ton of Cadians, it might be enough. Also, I need Basilisks, Valkyries and Baneblades.
- Forgeworld - I have a Sons of Horus army and am always looking for more troops / tanks / flyers / other stuff. Also, those new drills really appeal to me.
- Khorne - Characters, Heralds, Bloodthirsters, Thrones, etc. For some reason, the rules are always wrong for these guys so I don't buy them. Anything that makes it look like I do more than field Bloodletter bombs.
- Nurgle - Anything in the Daemons range or the new models for Death Guard. I have Mortarion and Plague Marines and nothing in-between.
- Tzeentch - Anything in the Daemons range or the new models for Thousand Sons. I have a lot of Rubric models sitting around and am always thinking about getting Magnus.
- Dark Angels - Willing to consider anything from their range other than tacticals, Rhinos and Land Raiders.
- Surprise Me - always interested in something new, unique, or provided in large quantity. Would totally give you points for making me laugh.
- $$$ - Willing to accept offers of cash but would prefer models. Might drag my feet while I see what else shakes out.
Thank you for looking and look forward to hearing from you!