Hello and welcome to my restart!
First of all the necessary background story, which began in 1995 as a little boy in Germany. My first army consisted of about 2000 points Ultramarines, I played the 2nd Edition and all painting attempts failed miserably. After I had dismantled about 50% of my army gradually with Grandpas air rifle, the hobby was done for the time beeing.

After a long break of many years, I started again with two friends and gathered various armies over the years. In addition to the game I was more and more fascinated by painting of the minis and so I started a little blog, which was about my own armies and a few commissions. Some old minis can still be found in Google Image Search under the term "Krautheadstudio" and in my Dakkadakka Gallery.
Dakkadakka informed me on my login today that the last one was done in August 2013. At that time, all the armies were sold, the bits auctioned on ebay and the colors dried. Changed priorities - wedding, kids, own home.
Now I start again, kept a lot of theory, unlearned all the practice. My first army consists of approximately 2000 points Deathwatch, which is now fully assembled. To get warm again with the brush, I painted one model from each unit of my army. Here are my first attempts after almost 6 years break!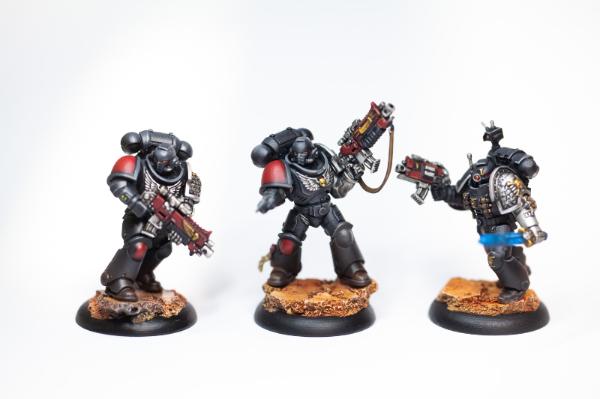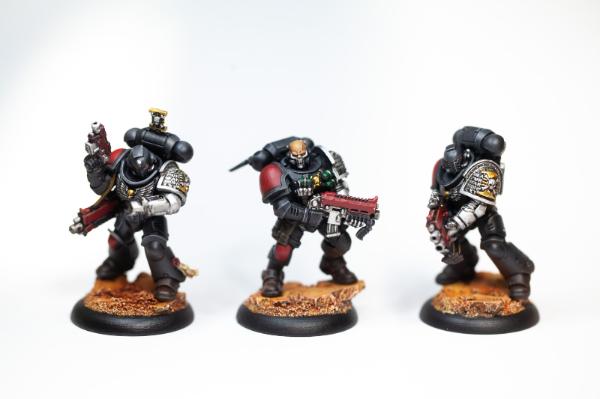 Although I have tried different techniques, the minis are comparable to the look. Depending on the Mini, only the Drybrush was used for the highlight, in other edge highlighting, or a combination of both. I used almost exclusively Vallejo colors, since I was very satisfied with these in the past. The black basecoat and a coarse highlight with gray are made with the airbrush, the rest is done with a brush. Without basing I need about 2 hours for a mini, which makes me very satisfied. Of course, character models get some extra love, but first I want to be a little safer with the brush.

Beside the shown minis I already finished a venerable dreadnought and an Inceptor Marine. Since they are currently not based I didn't take pictures of it but will do so right after the basing is finished. I will try to keep you guys updated regularly, next up will be the completion of my Intercessor Squad.
Comments and criticisms are very welcome!
-----
Oh my, I could cry looking at my old signature.