IMO
one of the best Night Stalker armies I've seen is by HaggisMacbeth: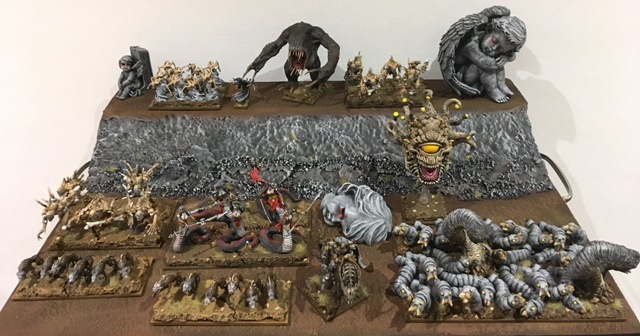 He's painted quite a few more units than what's in that army there, check them out on his plog:
http://www.wargamerau.com/forum/index.php?showtopic=184881
Another dude on WargamerAU did an
NS
army using Prodos Aliens, which is pretty great but has had all its images break? Here are some cached shots:
Before Mantic released its
NS
models, the classic tactic was to use Reaper 'Bathalian' minis for the bulk of the troops - not coincidentally, most early
NS
armies were extremely Fiends-heavy. Even post-nerf, Fiends are still pretty legit, and good ways to get unlocks for all the cool monsters
NS
have going on. Speaking of solos, Dread Fiends are extremely good, and I'm still shocked that they haven't been toned down.