Scenario: Light the Beacon
Attacker: Orcs (200 pt warband)
Defender: Elves (175 pt warband)
The under-manned squad of elves camped near the beacon, charged with tension over what they feared would come. A large army of orcs was on the move nearby, and while not many elves could be spared, protecting the beacon array along the ridges of their kingdom was key. Scouts had reported that this particular hilltop may be important to the orc war effort. While the main orcish horde appeared to have massed further south, lighting this particular beacon would send a signal to the elves to move their forces north - effectively leaving their southern borders wide open for the fast moving, hard hitting marauders.
Protecting the beacon was vital.
As the sun slid below the horizon, Kelvhan, loyal Seaguard to Prince Albert, saw movement in the nearby bushes. "My Prince" he stated calmly "I do believe we have company" and with that launched a volley of arrows that bounced harmlessly off the mottled hide of a massive war-troll that had just lurched out of the nearby undergrowth. The battle was underway.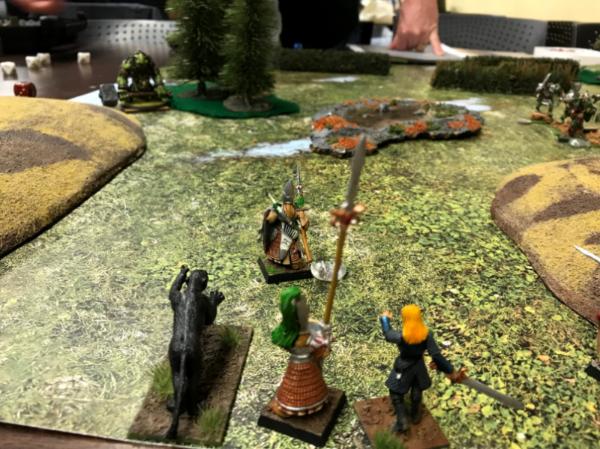 "My lord, I do believe that might be a troll in yonder bush?"
Very quickly the elves surmised their foe outnumbered them, and had set upon them in a pincer-type movement, with the troll leading a group of MoreAx and a single Gore Rider to the elves' left, while the Orcish Krudger was running up the right side with his MoreAx guards. The elves opted to fall back to just behind the beacon, taking advantage of terrain and height to rain down murderous arrows on their advancing foes. Initially, the strategy seemed to be working, as several MoreAx fell, and the Gore Rider was swarmed and brought down by an elvish Group Assault. However, the elves initial elation was short lived as the orcish strength became all to apparent once melee began in earnest. A pair of elvish citizen levy (i.e., grunts) leapt forward, in an ill-fated attempt to slow the green tide; they were struck down and swept away almost instantly. The troll crashed into the main elvish warband, gravely wounding the Prince, but the elves fought on, and finally brought the beast down. The devious Krudger was able to close with the elvish archers, bringing their sniping to a grisly end. At the last moment, an orcish MoreAx lept towards the final objective, however he was met by a brave Elvish Tallspear, and the distraction of sharpened elvish steel was enough to keep him from lighting the beacon.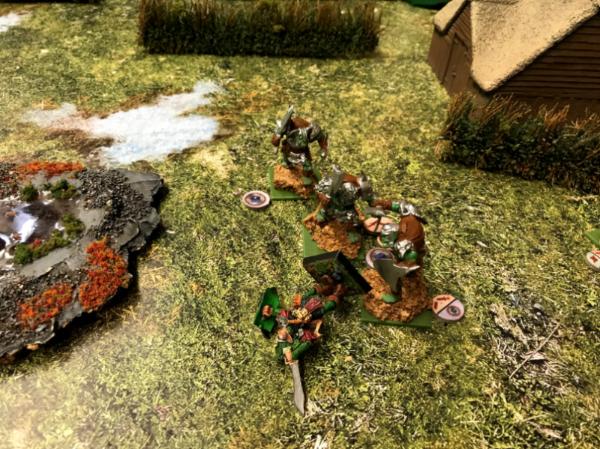 "

LOL

, speedbump!"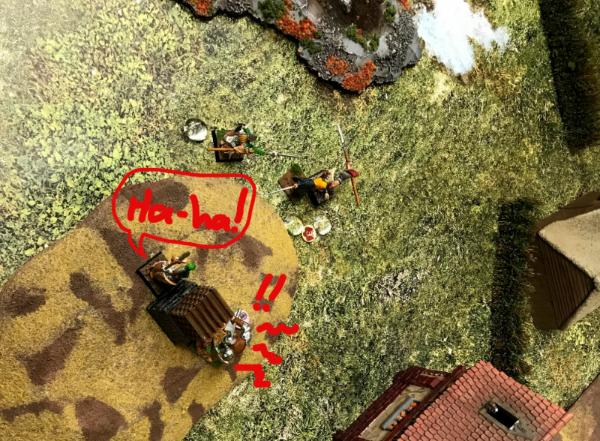 "Victory shall not be yours, foul orc!"
An exciting battle, with a very dramatic end - the elves felt very much in control of the battle until the last turn or two, when the brutal orcish strength was felt all too painfully. Thankfully, the virtuous elves were able to weather the assault (6 casualties, including a spearman whose mauled legs will forever slow him down!) and keep the orcs from achieving their devious plans. Dirty, stinking orcs!
"History is written by the victors"
Winston Churchill (who himself was rumored to be part elf)