So that was the Red Cross. But what about the regular Army Medical corps? What about all the other combat support arms, engineers, signals, transport? What about the myriad auxiliary forces and volunteer organisations that made up a vast part of the mobilised population? Well I'm glad you asked because here we go again.
Combat Medics.
Persons marked with the Red Cross, just like vehicles were not permitted to carry weapons or actively engage the enemy. Army combat medics were in the thick of the fitting alongside their fellow infantrymen but they faced the indiscriminate shells and machine gun fire unarmed. There was a convention against targeting them but it wasn't always adhered to.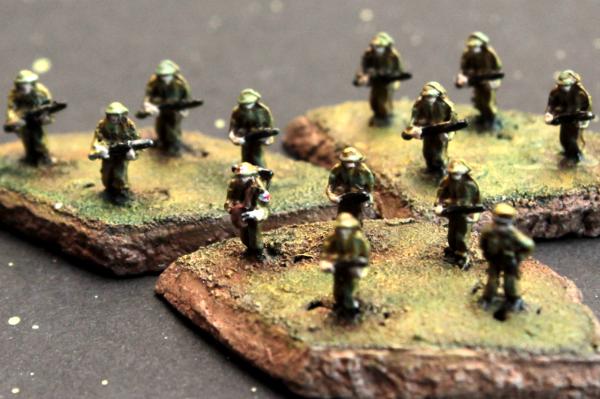 Assuming they survived, their task was to tend to the wounded and try to stabilise anyone who had a chance of survival before stretcher teams would carry them off the battlefield, either to a triage area or to an ambulance that would get them to a hospital for proper treatment.
But it wasn't all combat medics, stretcher teams and ambulance drivers. As well as the Medical Corps there was also the Dental Corps, Veterinary Corps, Sanitary Corps, Pharmacy Corps, Medical Administrative Corps, and Army Nurse Corps. Plenty of scope for the conscientious objector to roll up his sleeves and get stuck into.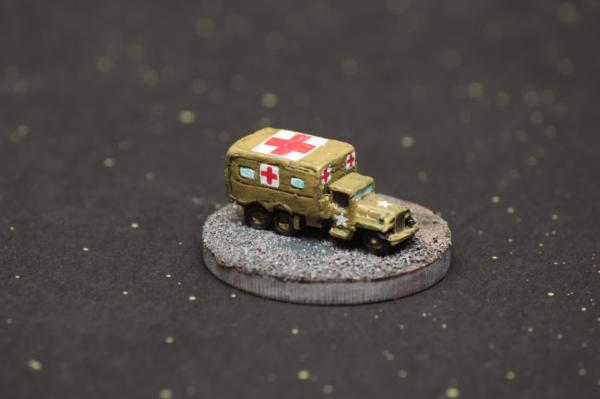 The GMC 6x6 was a highly versatile truck adapted for all kinds of uses by mobilised specialist corps. This GMC is based on an army medical optical repair truck. Many such box conversions served all over as mobile medical surgeries for optical repair, dentistry, blood units and even mobile X-Ray units.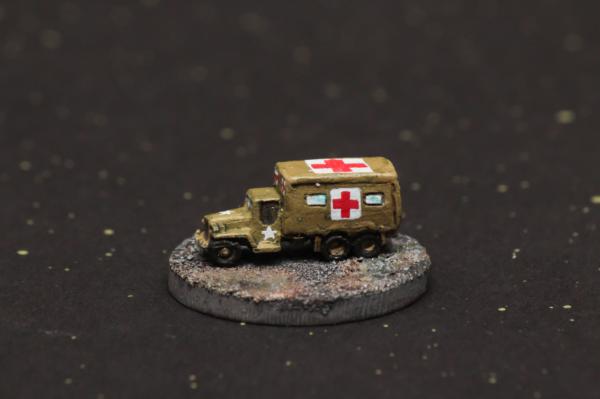 These rolling specialist medical services travelled in the rear echelon of the advancing armies saving lives and easing suffering wherever they were needed.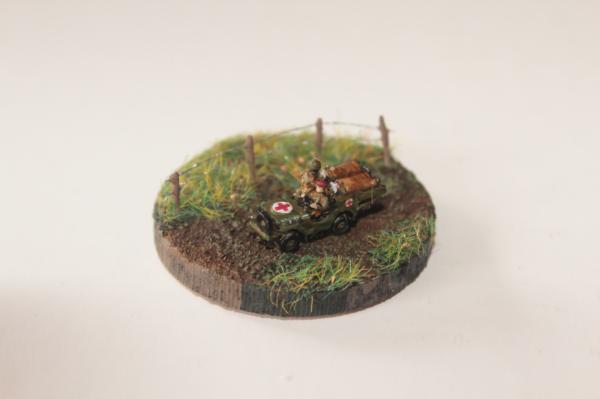 This airborne division jeep ambulance is carrying wounded men to safety but although there were Army Medical combat medics attached to the Airborne division the fella riding shotgun isn't a medic. There was another kind of support amongst them who I wanted to shine a light on. I tried to give his (pin head small) helmet a white cross to mark him out as a chaplain, sometimes called a padre.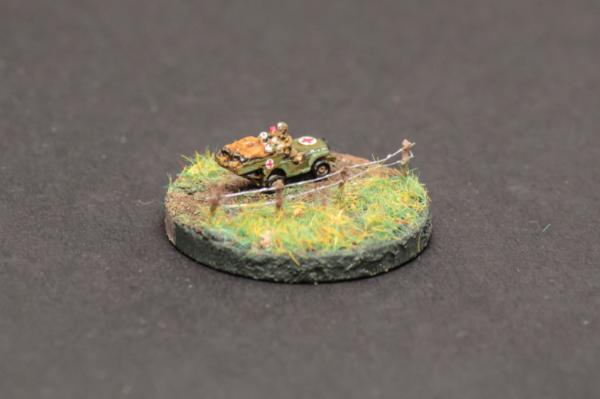 These guys took their ministry on tour with the troops. Often tending to the wounded, conducting funerals and other religious meetings and generally keeping up morale. But it wasn't all "more tea vicar" while the lads were out in the muck. Regimental Padres jumped in with the airborne troops and saw their boys through hell and back. They were a beacon of faith and hope in a time when it must have seemed like the whole world was lost in madness.
Infrastructure demolished by years of warfare? Need to get 25 troopers, an artillery piece or 5,000 pounds of general cargo over the Rhine without a bridge? No problem, just use any one of about 20,000 DUKW amphibious transports!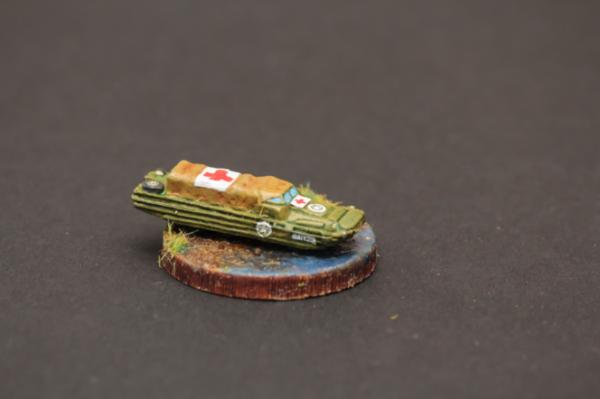 It's actually another GMC 6x6 in disguise (like the clubmobile and the optical repair truck, only I didn't build this DUKW conversion with greenstuff. Credit for this great little vehicle goes to H&R)
DUKWs were used by the infantry, engineers, rangers, artillery, and service support units, ferrying weapons and ammunition, troops and supplies to the beach landings or across rivers.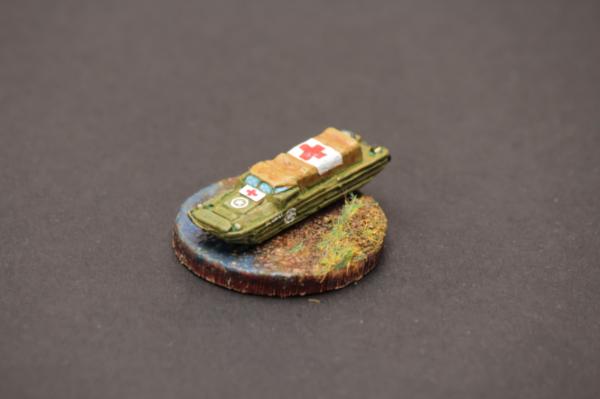 u
I've painted my DUKW with Red Cross banners. It is acting as an ambulance ferrying the wounded safely over the water back to the Allied held territory.
Of course not everything can be transported over the water like this, if you're looking to cross with an armoured brigade or two the best solution is to call on the engineers.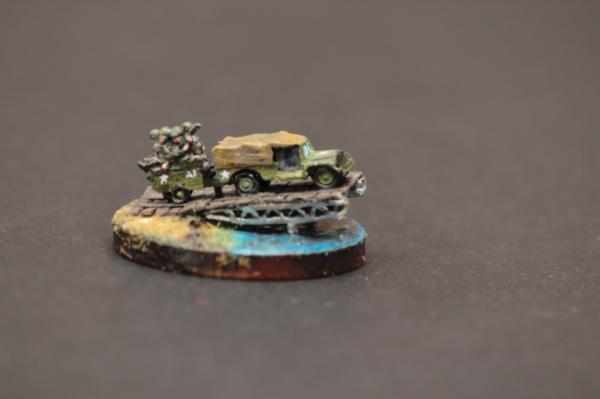 Often at the forefront of the advance Combat engineers were tasked with a variety of jobs such as breaching obstacles, destroying enemy strongpoints, clearing minefields and unexploded ordinance, bulldozing roads and constructing bridges, all potentially under fire in active combat zones. These highly skilled and resourceful units were on hand with the tools required to do whatever it took to keep the advancing armies moving forward.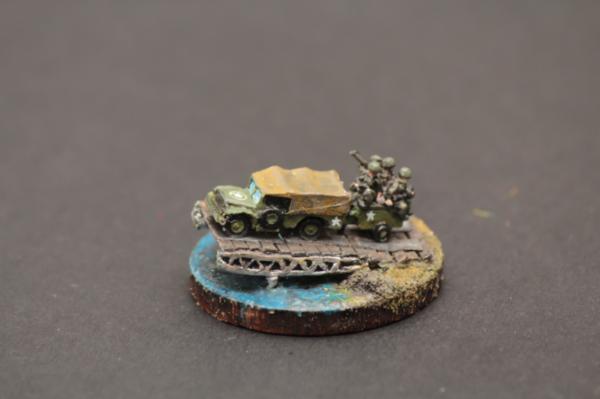 This little piece is the ubiquitous Dodge
WC
51, the American engineer's utility vehicle of choice. (Also, check out the huge mold line I left on this thing! Criminal negligence right there.)
Royal Corps of Signals.
In a time when "loose lips sank ships" and fifth columnists lurked in every switchboard you couldn't just pick up the phone and ask to be connected to Whitehall. So how did the top secret messages get around? By dispatch rider.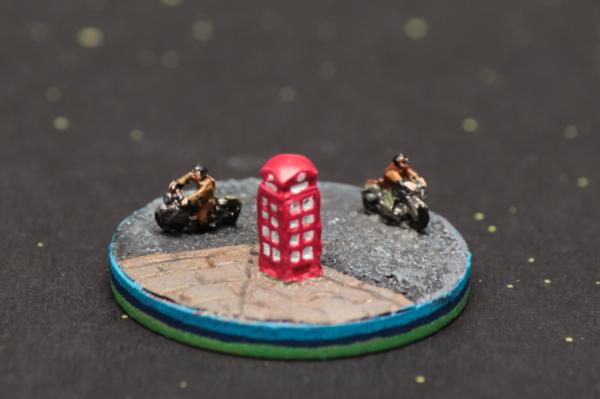 These riders braved rain hail and air raid to deliver their messages by hand, and German bombardiers didn't much care for the old adage "don't shoot the messenger."
The Royal Corps of Signals was tasked with all kinds of communications support for British forces both home and abroad. This kind of combat support role was critical and often they were the guys bailing wires under sniper fire and getting it in the neck when the radios didn't work.
Incidentally, these are the guys who until recently had a squad of stunt riders who mounted human pyramids on motorcycles at festivals and shows. Now THAT might have been a fun piece to make in 6mm scale!
Another role of the signals and communications units was cryptology. In December of 1944 a couple of American SIGABA operators at the Signal company message centre in Wiltz Luxembourg Harry Stuts and Richard Brookins decided to get out of the office and took the lead on an initiative that would have a lasting impact on the people of Wiltz for generations to come.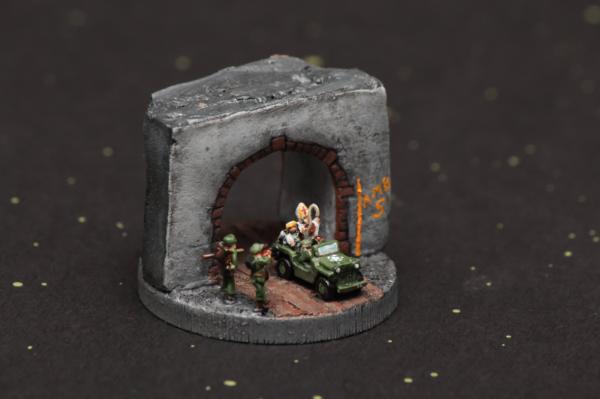 On the eve of
St
Nicolas day they arranged a big event for the local children. Brookins, dressed up in borrowed priests robes and mitre, beard and staff as jolly
St
Nick was driven about in an army jeep visiting schools and handing out treats for the kids. The GI's put on a show in the castle square. They sang songs and played games. The nuns made hot chocolate and it was even captured on film by a couple of combat cameramen who happened to be passing through.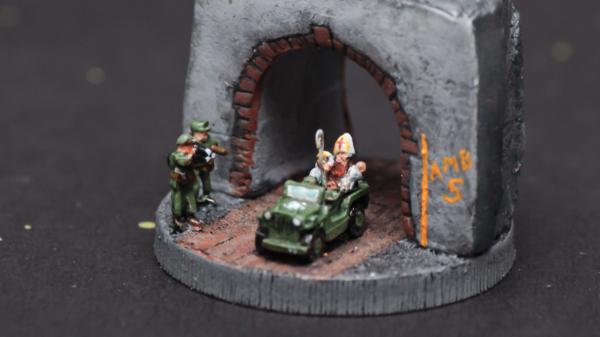 In 1977 Brookins learned that the people of Wiltz had continued to commemorate the event every year since and he was invited to return to play the role of the American
St
Nick again which he was delighted to do. In 2016 he was awarded the Military Medal of Luxembourg, their highest military honour. Brookins died at the grand old age of 96 in October 2018 and will be fondly remembered in Luxembourg for his simple act of kindness in a time of horrible oppression that left a lasting legacy of goodwill.
So that was the military support units. Keeping the fellas with guns healthy, supplied with food and ammo, on the road and heading the right direction. But who supported the support? The Auxiliary and voluntary services of course.
The war effort required as many men as possible to train and ship out and fight. And so there were formed Women's auxiliary services for the Army, Navy and Airforce to staff non-combat roles allowing more men to be released to fight. All unmarried women between the ages of 19 and 42 (50 for WW1 veterans) were required to either work in the factories producing war materiel or join one of the Auxiliary services.
Auxiliary Territorial Service -ATS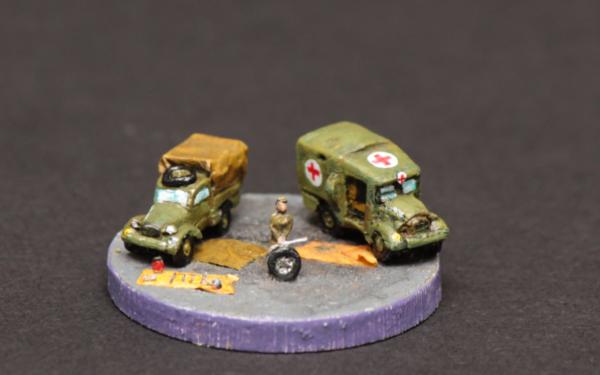 Princess Elizabeth Windsor Austin 4x2 light utility vehicle (Tilly) and an Austin k2 (Katy) ambulance.
The King's eldest daughter and the Heir to the Throne Princess Elizabeth Windsor saw it as her duty to do her part for the war effort. She joined the Auxiliary Territorial Service (the ATS) and trained as a mechanic and driver for the British Army.
The ATS also trained women in a variety of other roles such as radar operators, anti-aircraft gun crews and spotters, military police, communications personnel, munitions inspectors as well as cooks, clerks, storekeepers and many more no less vital roles.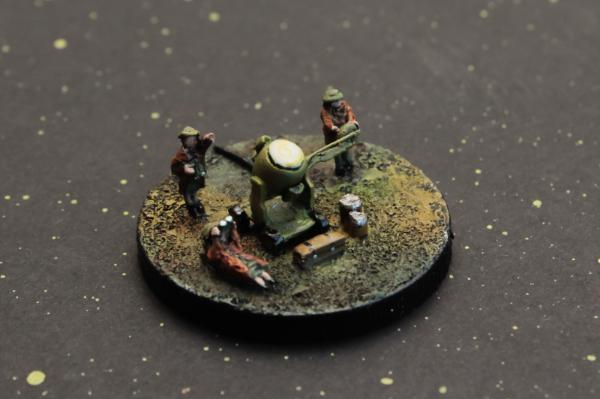 Another of these roles was operating searchlights during air raids. The crews would be out all night in often very remote locations scanning the skies for enemy aircraft.
Women's Auxiliary Air Force- WAAF
The RAF too had the Womens Auxiliary Air Force. Many women served in roles back home allowing men to be released to the fighting front. The WAAF's served in various administrative, intelligence and communication roles including the iconic control room plotters. Not all WAAFs however spent their wartime service entirely at home.
Immediately following the invasion of Normandy the first RAF transports, C-47 Dakotas carrying supplies and ammunition to the embattled expeditionary forces also carried WAAF nursing orderlies. They flew into the battle zone tasked with tending to the wounded who were being flown back to England.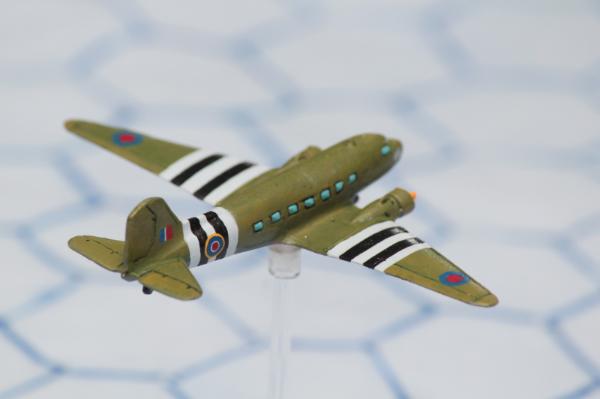 Dubbed the Flying Nightingales by the press these women bravely volunteered to go (without the protection of Red Cross markings as the planes carried weapons and ammo on their outbound flight) into harms way accepting the challenge of whatever they might face crossing the channel into occupied France.
Women's Royal Naval Service - WRNS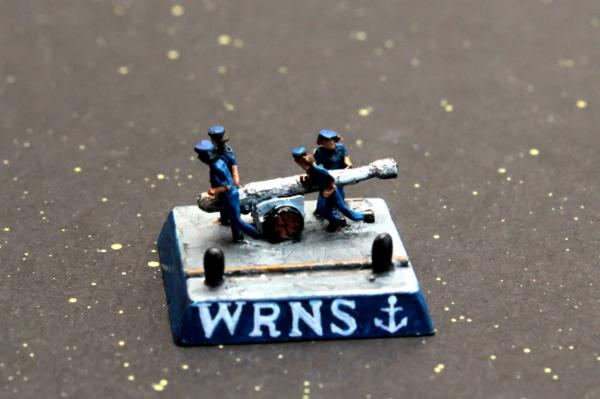 Like in the ATS and WAAF the women of the WRNS served in all kinds of administrative, intelligence, support and engineering roles from medical assessments to code breaking, signalling and operational planning, including the D-day landings. They served in Naval bases on the Homefront as well as overseas. After the war the WRNS became a permanent service and in 1993 were fully assimilated into the main body of the Royal Navy.
So that's the armed forces support groups. (ie any non-civilian in uniform that did something other than carry a gun and shoot at the enemy.) But that's not the end of it. There are many many Government run civilian organisations that were equally vital to the defence and protection of the nation. You might note that I'm mostly talking about Great Britain here. In Germany they had organisations like the Reichsluftschutzbund (RLB) (National Air Raid Protection League) and the People's Welfare but they were operated very differently and I'm not really getting into that whole history. I'm sure the US and France and Italy many others had their own similar organisations. But anyway, on with the jolly old British civvies.
Civil Defence and ARP
Air Raid Precautions (ARP) was set up by the Home Office early in the war to establish air raid shelters and train wardens and the civilian population in the best practices to keep safe during air raids.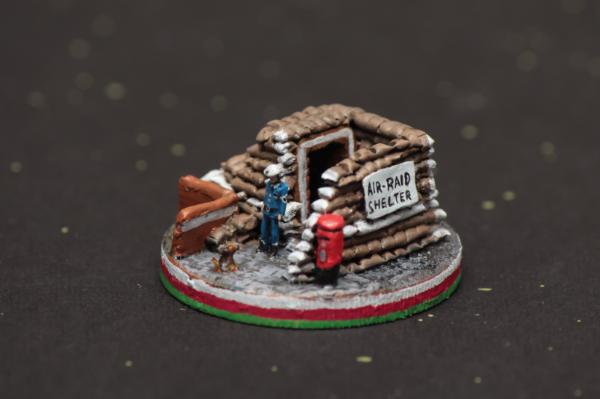 It grew to become the Civil Defence Service which encompassed many more emergency response roles such as Auxiliary Fire Service, first aid posts and rescue and stretcher teams.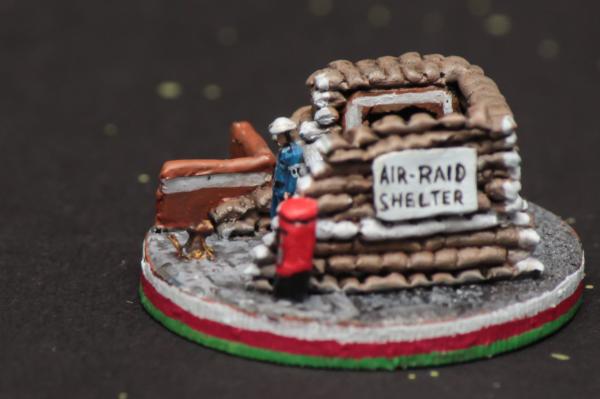 Another feature of my ARP warden piece is Rip the dog. Rip was found by an air raid warden in Poplar London in 1940 and became the ARP's first search and rescue dog. Rip received the Dickin Medal for bravery in 1945 in recognition of his service in rescuing over 100 people during the bombing of London. The colour stripes on the edging of the base are the colours of the Dickin Medal service ribbon.
Royal Observer Corp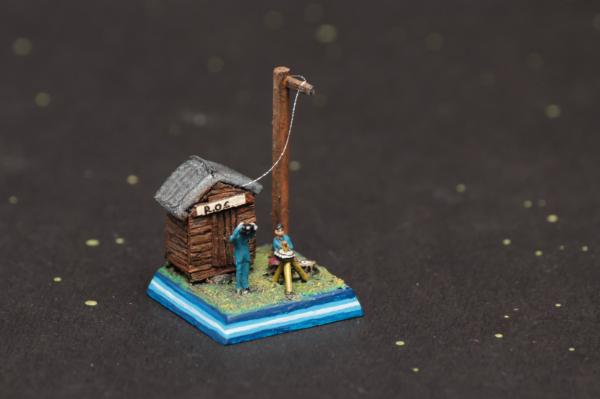 Another massive effort of civilian organisation in Britain was the Observer Corps. Keeping a watch on Britain's skies for incoming enemy aircraft these eagle eyed observers covered the coast and countryside for miles in all directions with binoculars, post plotting Instruments and aircraft identification charts, 24-7, standing by to phone in the number, position and type of any aircraft that moved inland past the coastal radar stations.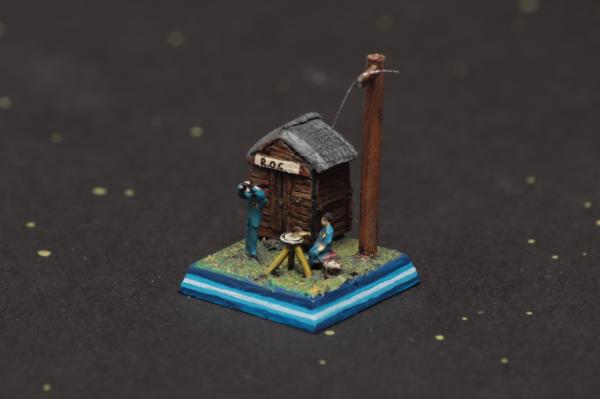 Once enemy raiders were over British soil the Royal Observer Corps became the cornerstone of the British air defence. As their moto "Forewarned is Forearmed" suggests their ability to spot incoming enemy planes and send word back in good time to activate air raid warning systems and alert RAF control to scramble a fighter defence made all the difference. From the Battle of Britain on through the D-day invasion and the fight against Hitler's V-1 buzzbombs the men and women of the
ROC
made an invaluable contribution to the safety and defence of the nation.
ATA
The Air Transport Auxiliary was a civilian organisation set up to ferry aircraft and personnel around Britain as required. They took civilian pilots unfit or unsuited for military service. Injured veterans sometimes joked the
ATA
stood for Ancient and Tattered Airmen, while their women pilots were sometimes referred to as Attagirls.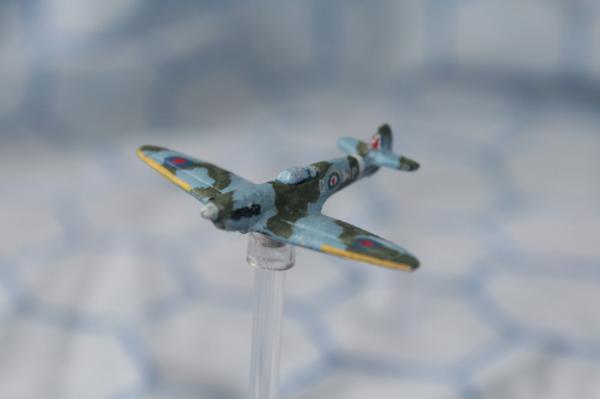 They flew almost anything the RAF used delivering everything from Hurricanes to Lancasters to wherever they were required. Initially in accordance with Geneva conventions these civilian pilots flew unarmed but after encounters with enemy aircraft they delivered their aircraft fully loaded, prepared to fight if necessary.
Women's Land Army
With much of Europe under Nazi control and U-boats prowling the Atlantic task of feeding the
UK
without regular and reliable food imports was going to be a tall order. The best help would be to cultivate more land for crops and produce more food at home. But labourers were needed and with so many men training for war the call went out for volunteers for the Women's Land Army.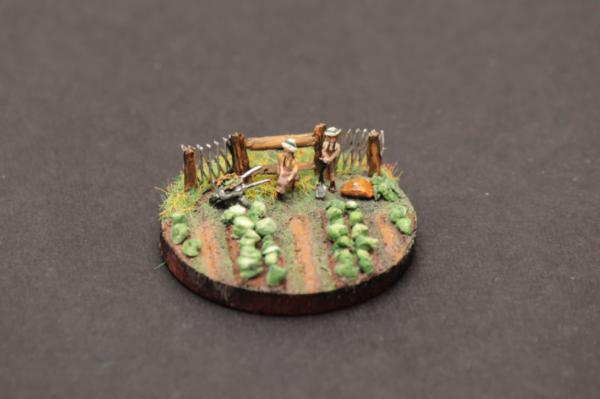 City girls from 17 and up were drafted as farm labourers, clearing land for agriculture, harvesting crops and tending livestock. Another branch of the WLA was the Women's Timber Corps who worked in the forestry industry. Its members were colloquially known as "Lumber Jills". Numbers in excess of 80,000 women and girls worked for the WLA not only during the war but for many years after hostilities ceased while rationing and food shortages continued.
Berlin Rubble Women
When the dust settled on occupied Berlin its residents were left with a ruinous hellscape of rubble, twisted metal, bodies and unexploded bombs. The women of the city who had lived through it all, whose men had not returned, whose lives had to go on did what had to be done. They did it for extra rations, to feed their families, to clear the streets to begin to set their lives in order.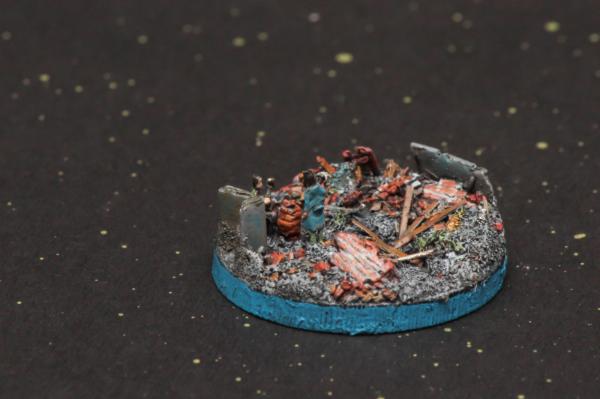 Well folks, that's most definitely it for this collection. One last shot of the whole lot, I think.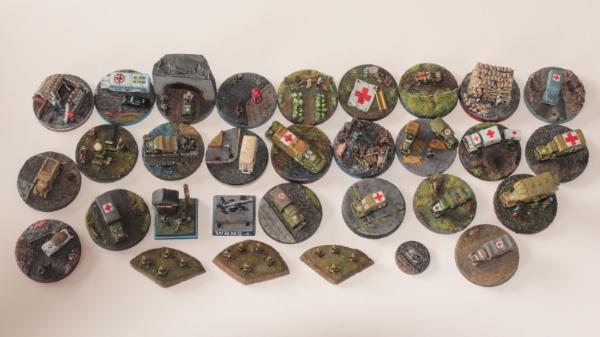 I hope you've enjoyed something a bit different that you maybe don't see everyday on the gaming table. I've certainly enjoyed looking into the history and celebrating the hard work dedication and everyday heroics of all of these folks. Do let me know what you think. I'm sure there's so much more worthy of note and discussion on the subject.