Hi folks. I've been having some fun with aerial antics playing a variation on this simple rule set.
Battle of Britain. (Again) by Mike Crane
I've been inspired to have a go myself having seen some folks having great success with these rules though they tend to use smaller planes, I'm all 1:300 all the time. Which I'll admit is a little too big for my hexes at times. Bomber tend to be too big for formations to be easily done, which is annoying. But I'm working with what I've got.
For an outline of all the changes I've made to those rules click the spoiler below.
I can't promise regular instalments but I do hope they'll be entertaining. So without further preamble here's game one.
Raid Number One.
Primary Target- Infrastructure (Bridge)
Secondary Target - Population (Uncarved block of balsa)
Order of Battle
Raiders

GB 1 - x3 Stuka
GB 3 - x3 He111
GF 2 - x2 Me 110
GF 4 - x2 Me 109
Defenders

BF
3 - x3 Hurricanes
BF
5 - x3 Spitfires
Now on with the Battle
~~~~Battle Before Breakfast~~~~
"I see them, lads. Keep in close we're nearly on them."
Acting Flight Lieutenant Gerald Tomlin pushed his Hurricane as hard as she'd fly, climbing for a smattering of black specs in the sky ahead.
"I'm with you, Tommy."
"Roger that flight leader, I see them."
Tommy looked back over his shoulder. His wingmen were badly out of formation and lagging behind. He could see Arthur's plane quite far down below some way off just hanging on its propellor.
"Bring it in lads, keep it tight!" He ordered, easing off the throttle a little. He'd not been too keen on formation flying back in France but now that Tommy was the flight leader he felt he ought to maybe act the part, or read the lines at the very least.
"Come on gents, tally Ho!"
Who was that? Tommy scanned the clouds and his eye landed on a trio of aircraft high off his 2 O'clock. Spitfires.
"My boys will keep the escort busy," the newcomer announced with confidence.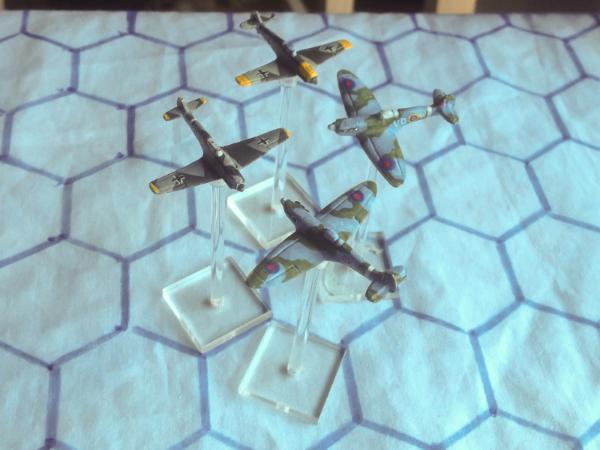 "So you gents can just follow my lead."
Tommy scoffed and rolled his eyes, watching the lead spitfire break off from the flight and dive toward the fast approaching bomber formation. Typical Spitfire jock.
"On my lead, lads." Tommy prepared for his attack run. "We'll hit that left bomber right in the greenhouse."
"Aye Tommy."
"Roger that Flight leader."
Tommy raced as the familiar silhouette of a Heinkel 111 grew in his targeting reticle. Suddenly the diving Spitfire was upon them, taring past the lead bomber at an oblique angle, a reckless deflection shot scoring a few messy hits on but the leader carried on straight and level.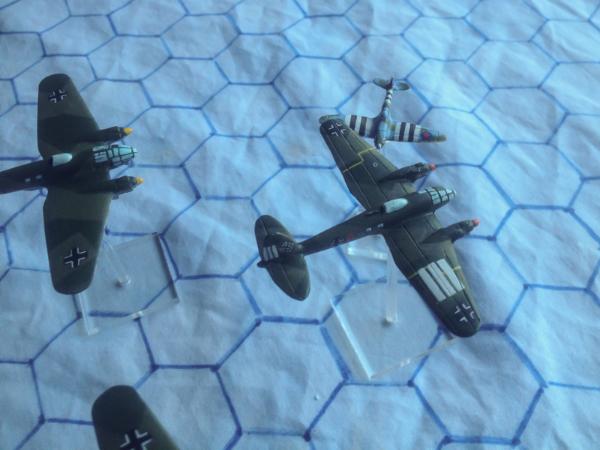 The Spitfire banked hard and pulled around behind the formation now. He was a decent pilot, if a lousy shot.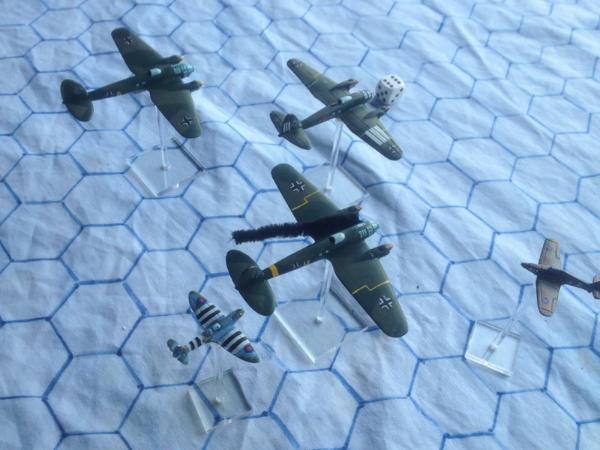 He made a determined effort at the rearmost bomber on the left coming in from behind and whipped back out over the top just as Tommy closed in for the kill.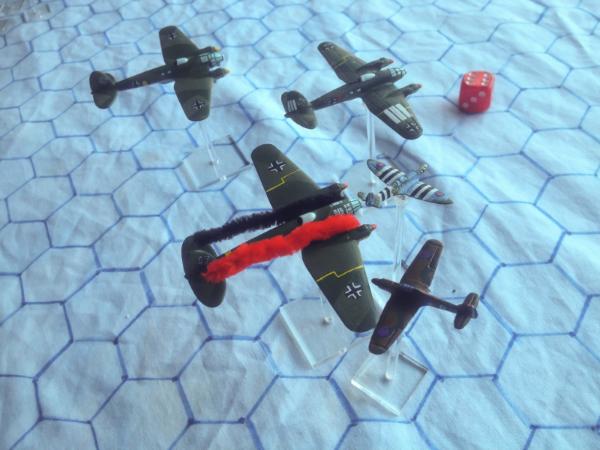 In a split second it was over. Tommy saw a pale German face, a muzzle flash and a few broken windows but by the time he'd passed all was smoke and the Heinkel was dropping out of formation. It wasn't at all clear who'd made the kill.
His wingman Michael Addington, a young lad, a local boy had followed him through.
"Nice shooting, Tommy."
"Never mind that, lad just bring it back around."
The pair of Hurricanes banked around hard trying to come back on the tail of remaining two bombers. Tommy's Hurricane was rattling with the effort. He gritted his teeth. He'd not be outflown by any Spitfire. Suddenly he caught a flash of something, two enemy aircraft diving in. He'd taken them for more bombers, twin engine, Dornier's maybe but no.
"Mike, look out!"
A pair of big Mescherschmitt 110 fighter bombers had been waiting to pounce. Tommy jinked and avoided the worst of it but Michael was focused on the Heinkel up ahead. His hurricane exploded in a ball of fire before he even knew his danger.
In that moment Arthur the lagging Hurricane, came roaring in on his own attack run. He came rolling up over the top of one of the Heinkels and right into the sights of the same fighter bomber that had just hit Mike. A moment of fire and furry and both planes were all smoke and oil. Arthur's hurricane dropped out of sight and Tommy gunned his engine hot on the tail of another bomber with an Me 110 close behind, and those damned hot-shot Spitfires where nowhere to be seen.
"A little help chaps if you can spare a man."
"Sorry, fella." It must have been one of the Spitfire pilots, a Northerner by the sound of him, Liverpool maybe.
"We're a bit busy over 'ere."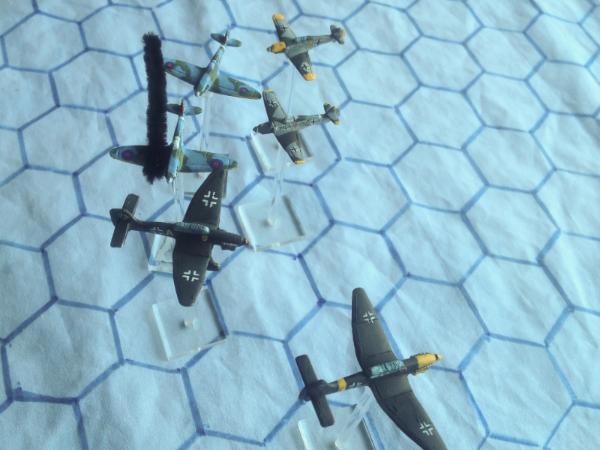 Tommy squeezed his trigger and the left engine of the Heinkel in front of him shattered and burned.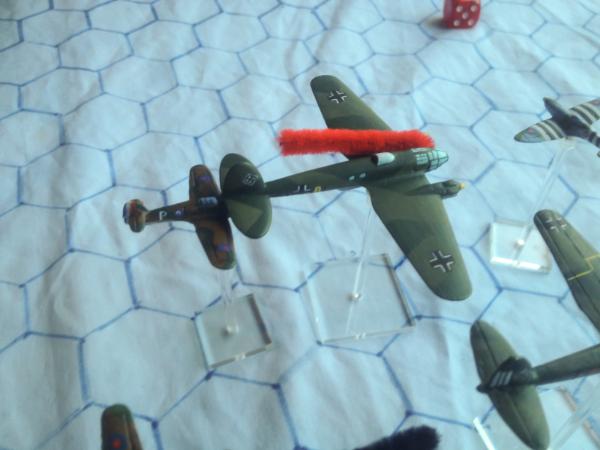 The bomber dropped into a downward spiral as the wing came away.
The Spitfire leader was breaking away off to his left. Tommy's eyes followed his heading to find a tangle of smoke trails in a veritable hornets nest of activity over there. One fighter had already fallen in flames, he couldn't tell which.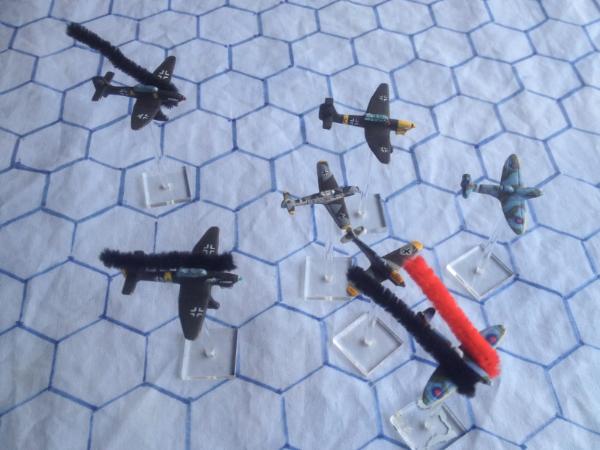 And a pair of the German bombers, both Stukas were labouring on clearly damaged. One of the Spitfires was on the tail of the lead dive bomber headless of the gunner's defensive fire but a pair of Me 109's scared him off.
"Get out of there Charley, bring him around and I'll see him off."
The Me 110 in Tommy's rear view was still giving chase and the one that Arthur had damaged was struggling to keep up, the right engine dead and propellor feathering in the wind.
Approaching the last Heinkel a little too quick for comfort Tommy snapped off a short burst all along the left side before he overshot his target.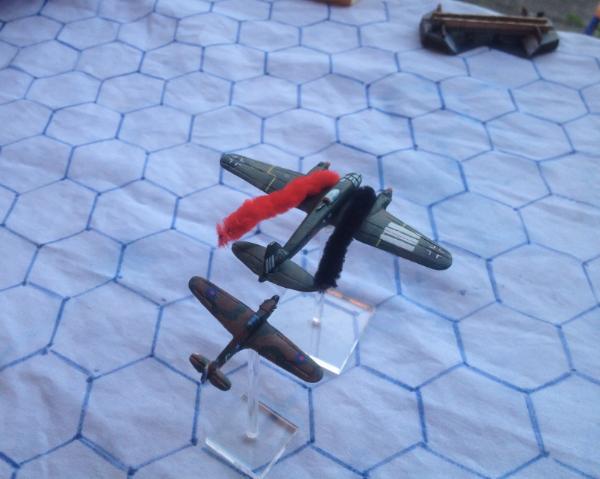 Pulling back around in a climbing arc he stole a glance over his shoulder. The bomber wasn't showing any obvious signs of fire or smoke but it was slipping into a shallow dive. He didn't have time to follow it down, instead, the last Hurricane on patrol followed the Spirfire leader up into the fray above.
"Sorry to crash the Stuka party gents but we're all out of Heinkels down there." Tommy expected a little back-chat from the Spitfire boys but they were having a bad time of it with the German fighter escort. The Lead Spitfire only managed a deflection hit against the last undamaged Stuka before a yellow nosed 109 chased him off.
"Spitfire, you've company!" was all Tommy could manage to say in time but the spitfire pilot again demonstrated his skill behind a stick and made a snap turn away.
Suddenly in a split second of motion and noise two fighters went head-to-head guns blazing over on Tommy's right. There was a brief cloud of debris and oil smoke where the two had clashed.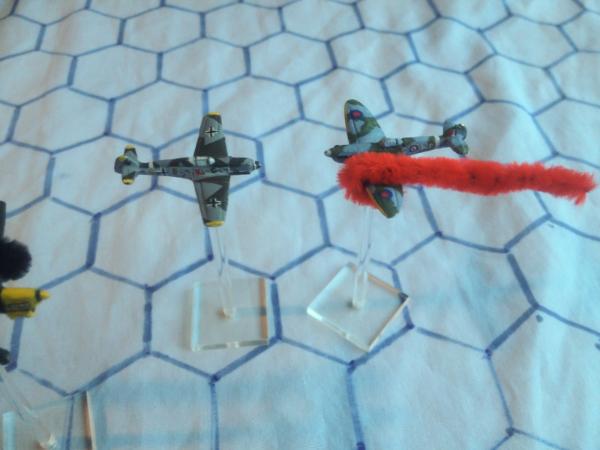 One of the fighters came out just ahead of Tommy's climbing Hurricane. He caught a glimpse of the squared wing tip of a 109 and instinct took over. The man must have been watching below for the Spitfire he'd just clashed with, Tommy didn't waste time to look as he dropped in on the raider's six and let the 303's do the rest.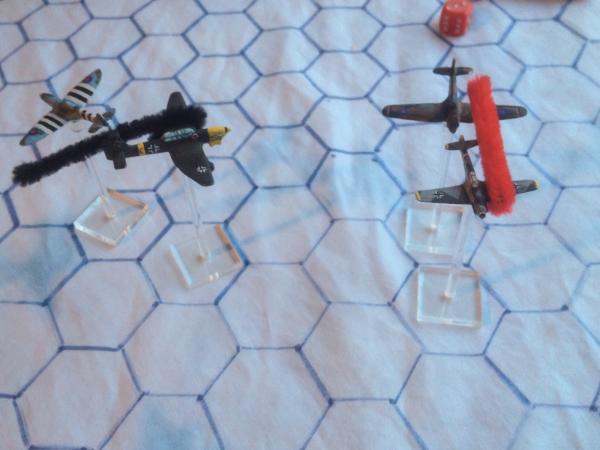 A big blue cloud of diesel smoke signalled another victory and he let the Mescherschmitt fall.
"Leave some for the rest of us, eh?" It was the voice of that cocky Spitfire pilot again. "Looks like it's just you and me, old boy. I'll keep this one busy, you have a pop at those dive bombers."
Tommy scanned around quickly. The man was right. He counted three smoking Stukas and the 109 that was keeping the spitfire busy. He knew those 110s were still up here somewhere too. Not waiting around to find out where he dived on one of the ailing Stukas.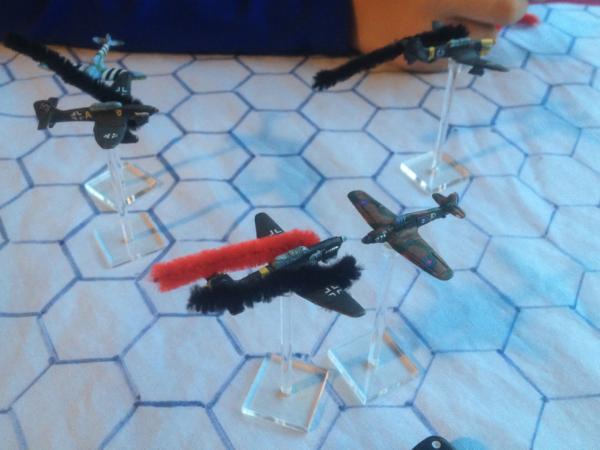 A quick blast into the canopy and the thing bucked and tumbled. He pulled back up into a climbing loop and surveyed the sky.
The Spitfire had shaken his tail and had another go at one of the two Stukas. Both were trailing blue smoke.
"It hasn't been my day, old boy." The Spitfire pilot was a posh lad but he seemed to know his way around a fight. "But I'm going for the leader."
"Copy that, Spitfire. I'll try to keep up." Tommy loaded the reply with plenty of sarcasm hoping the radio static wouldn't drown it out completely. He let his Hurricane turn lazily hanging back to allow the other hapless dive bomber to drop into position.
"That's got him!" Came the Spitfire jocks excited report, "my luck's changing after all."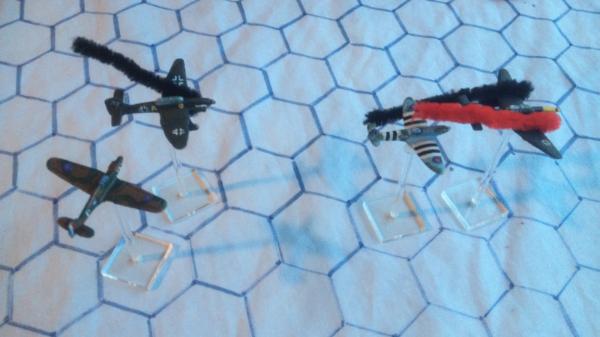 Tommy didn't reply, he was crawling dangerously slowly willing the last German bomber forward just a little quicker.
"Eyes behind Hurricane leader, that yellow nosed bastard is gunning or you."
"Well see'im off, lad!"
"I'll see if I can't do better."
Tommy kept on target for the last Stuka, expecting a trickle of defensive fire that never came.
"He's off, old boy." The other man reported, "Take your time and get in close."
"Much obliged." Tommy replied in mock upper-class tones. He did get in close, right up close. Nothing from the smoking Stuka, not even an evasive jink or a turn. The men inside were likely either dead or barely clinging on. It was the easiest shot of his life, or would have been had his ammunition not run out after the briefest flurry of rounds. Still it seemed it was enough. The enemy plane dipped and rolled belly up as he passed overhead.
"That's the last..."
Tommy's report was cut short at the sudden reappearance of the Me 110 diving right across his path. The thing was surprisingly big up so close and there seemed nowhere to go. He slammed the stick forward in an effort to make a last ditch evasion. There was a loud bang but he emerged from the shadow of the raider intact.
The same could not be said of the fighter-bomber.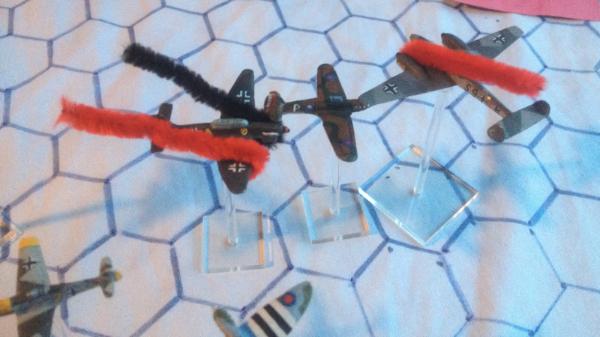 A rear stabiliser fin had been shorn away by the impact and the left side of the aircraft's tail hung in tatters as the pilot lost control. A man emerged from the rear of the cockpit and dropped over the side, followed by another from the front. Two parachutes opened as the aircraft spun down and down.
"By 'eck that were close." Tommy sighed.
"They've had it," the Spitfire pilot reported, "The blighter's turned tail and dived off."
Tommy scanned around, a white trail of smoke led away out of sight. A damaged 110 long since out of the fight was limping home perhaps escorted by the fleeing 109.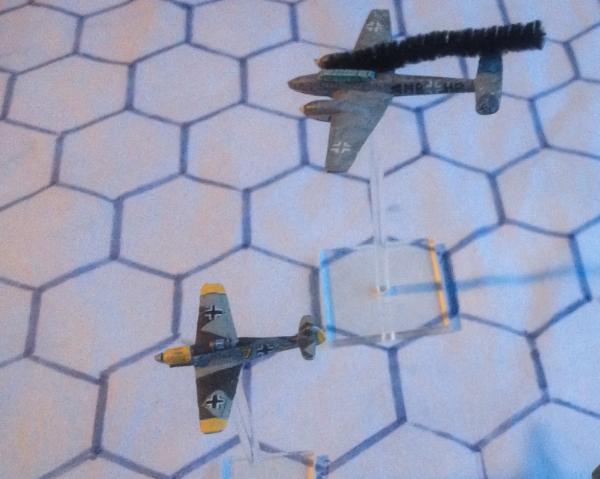 "I say, good show old boy."
"Aye." Tommy was exhausted. "You can't do that in a Spitfire." The Hurricane had a rugged and heavy airframe.
"I make that two for me and five for you!"
"Not that there's a Gerry alive that'll admit it were an Hurricane what did for him."
"I'll go on the record. Flight Lieutenant Harrington "Harry" if you like."
"Pleased to meet you. Names Gerald Tomlin. 366 Squadron out of Kenley. Call me Tommy."
"Not Gerry?"
"No, me Mam won't 'ave it."
"Ace in a day, Tommy. I'm sending the Press down to Kenley."
Ace in a day... He could hardly believe it himself. "Oh, no. No thanks. I'll settle for a pint, I reckon."
"Jolly good."
Harry had pulled up alongside Tommy's Hurricane. He snapped a cramped salute in the confines of the Spitfire's tight cockpit and rolled over and away turning home for Tangmere.
Tommy let out a breath he'd not known he was holding. He checked his instruments and pointed the nose on his own homeward vector. It was definitely time for breakfast.
++++++++++++++++++++++
And that's it for the first mission. Heavy losses on both sides. A squadron of He 111 and another of Stukas both completely destroyed. And both fighter squadrons reduced to one aircraft each. The last 109 escorting a limping 110 back to France.
The Brits paid the price for their victory though with two Spitfires lost, one apiece to the Me 109 pilots, and two Hurricanes lost, again one apiece to the Me 110s. Only one of the British pilots didn't make his survival role. Mike's Hurricane exploding into flames in the air. I do survival roles on occasion mostly for the story. It doesn't affect the squadrons, a plane lost is lost regardless of the pilot's survival. (Unless I decide to make changes as I go along)
I was surprised how text-book it went. The spitfires for the most part took on the fighters and left the Hurricanes to go after the bombers. The German fighters didn't leave the bombers to chase after their own prey and did a reasonable job of defending them for a while. In the end it was a battle of attrition and the bombers just couldn't hang on.
Defensive fire from the bombers didn't make much of an impact this round. And of course no bombers made it to the target so old Blighty is safe for now.
And lastly of course we have an ace on our hands already!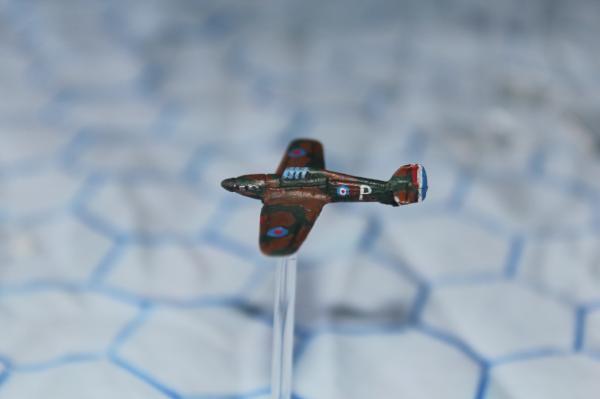 Gerald "Tommy" Tomlin receives his Distinguished Flying Cross and now re-rolls his attack dice and gets a plus one modifier when someone shoots at him. (6 is always a hit though)
And "What Ho, jolly good. We'll give this man a pat on the back too.
Flight Lieutenant "Harry" Harrington might have claimed a full kill for his clearly shared bomber victory early on but given that he was sharing it with a man who had a full five more to spare I figured I'd give it to him. He had rotten luck on his rolls to hit but consistently rolled high on movement. A nifty pilot but not so hot on the trigger. I look forward to following the careers of both, now lone pilots as we go along through the missions.
Their surviving German counterparts each claimed a victory to their scores. Their names in my notes are Helmut in the 110 and Franz in the 109. They'll no doubt be back to avenge their fallen squadron mates soon.
We drew some Strategy Cards at the opening of the game. The British had the Royal Engineers bomb disposal squad standing by but they weren't needed in the end. The card is retained for the future.
On the other side of things the Germans got a "Loose Lips sink Ships" card. So thanks to some blabber-mouth German U-boats stopped a major convoy in the Atlantic and the Royal Navy are feeling the first effects of the week's action. 1 point off the starting line to victory by crippling the country's Naval Supply.
Let me know if you enjoyed that and want to see more and i'll keep on posting the rest of the campaign for you.