►NEW RELEASE - BOFORS ◄
►AND ANNOUNCEMENT! ◄
We are over the moon to present to you our latest release - the 28mm version of the Bofors 40mm AA gun, with some fantastically characterful crew.
Sculpted by the incredible Rob Macfarlane, this piece is truly a work of art and sure to be the centerpiece on many gaming tables.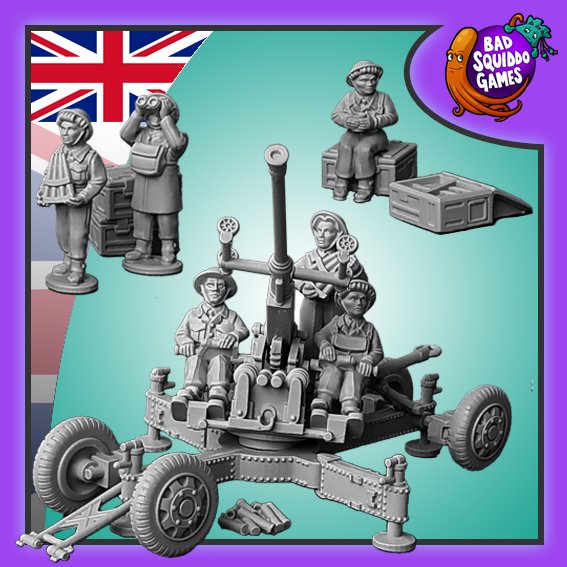 https://badsquiddogames.com/shop?fbclid=IwAR139IJlwOKKOGqu8Vrs7mSJRg8ochD9ZgYLR-ie8lQvjp7gUa6vngkEUpM#!/British/c/36713219/offset=0&sort=addedTimeDesc
If you click the link you will see lots more information and pictures. There's even an ATS lady having a cuppa. It comes with male and female options for the firing seats, the former if you want to use it historically and the latter if you want rule of cool or for pulp gaming/Sealion scenarios.
All these photos are of casts, not renders or prints.
► ANNOUNCEMENT◄
Following up from this excitement, we are delighted to announce a whole wave of home font British WW2 miniatures to accompany our existing range. This will be via the medium of Kickstarter during late November.
You are encouraged to join in with the project - like a school group! We're already working away sharing pictures and information to bring you just what you - and the wargaming community as a whole - need. Come over to Baggy's Cave (The Official Bad Squiddo Games Group) and WARGAMING OPERATION SEALION (on facebook!) where the fun is at! You'll get more input on this than any project we've worked on yet.
More details will be dripped at you over the next month, but just think now how amazing your table is gonna look with WAAFs, WRENs, Lumberjills............pigeons! And lots lots more.
The bofors will be in the
KS
as an add on but at the same price as this pre order deal - so it's entirely up to you on how long you can wait, but if you pre order the bofors on the website now you SHOULD get it for Christmas (can't promise but looking likely) and you can back the
KS
for whatever amount you like minus the bofors (or with, if you want more!)
Please do share around, this is wonderful news!
Thank you!
Annie