Narrative 1st: Pictures below:
This will begin a new era for the family, thought Gaius. It is well known that he is the proud scion of a very wealthy family (his ancestors being very successful pirates and smugglers). Unfortunately, it has been far too recently that the family gained citizenship, when his grandfather served in the navy during the last war with Carthage. Captained his own ship he did. Wealth and property, but Gaius, Gaius Julius Iglesias in fact wants more! He longs to be a Senator.
The old families of Rome, however, have no intention of allowing such prestige to come to such an impudent upstart. They are willing to use his wealth of course but will make sure he does not receive any credit for victories but are more than willing to lay the blame for any defeats.
Somewhere in the northern Italy, there is a possibility. Gaius will give his daughter in marriage in order to solidify an alliance with an important Celtic chieftain. Unfortunately, Rome has lost contact with Hannibal's army. Rumor says that the Carthaginians may send some Celts to intercept, but probably just old men and young boys. You'll be home by the solstice they say. Hannibal is nowhere nearby.
Rome will give one legion along with some cavalry under two experienced commanders, but he must raise and pay for the rest of the army himself. Gaius has decided that he does not fear the fates so much, and the (hoped for) rewards are so great, he does, in fact, "dare to win or lose it all."
The Commanders:
Gaius Julius Iglesias: Army commander
Rex Leonum: Commander of the Roman Legion. An experienced soldier
J. Tiberius Kirkus: Commander of the Roman Cavalry. Aggressive young hot-head
The Spartan: Real name unknown. Mercenary general commanding allied cavalry
The Forces:
XII Legion: Trained and experienced unit
Forgotten Legion: Partially trained unit raised from the scum of the earth
(both contain 12 skirmishers, 24 hastati, 24 pricepes & 12 triarii)
Italian allies: 2 units of 24 spearmen + 12 skirmishers
Greek mercenaries: 30 hoplites, 24 spearmen & 12 skirmishers
Roman Cavalry: 2 units of 12 heavy cavalry
Allied cavalry: 10 medium cavalry & 10 Light cavalry
But of course, Hannibal has tricked the Romans yet again. He just couldn't bring his entire army.
Commanders:
Hannibal: The best there is
Hasdrubal: His brother, in command of the heavy cavalry
Hamilcar the Less: a forgotten uncle, commands the Numidians
The cavalry:
4 elephants
2 units of 10 Gaulish cavalry
2 units of 10 Spanish cavalry
3 units of 6 Numidian cavalry
The foot:
2 units of veteran spearmen (18 & 20)
1 units of Spanish (24)
2 units of Gauls (18 & 24)
3 units of skirmishers (12, 12 & 10)
2 units of slingers (8 & 6)
The plans:
Roman:
1. The Legions will aggressively attack the enemy center
2. The allies will hold back to delay elephant onslaught
3. Right flank cavalry will hold back and delay enemy cavalry
4. Allied cavalry will try and push through Numidians
Carthage:
1. Use Heavy cavalry to overpower Roman right
2. Hold back in center while elephants do dirty work
3. Numidians keep skirmishing
Turn 1: Not much happens as armies approach and maneuver into position
Turn 2: Carthage wins initiative (after 3rd roll off)
• Skirmishers shoot it out with little effect: most units cause 1-2 casualties
• Gauls charge Roman cav2 – win by one, but Romans stay
• Spanish charge Roman cav1 – win by one, but Romans stay
Turn 2: Roman Phase
• Allied Heavy cav charge Balaeric slingers – lose one fig, but slingers are overrun
• Allied light cav charge Spanish slingers – no losses; Spanish escape
• XII Legion skirmishers charge and route Gaulish skirmishers, but allow them to escape so they don't collide with steady infantry in support
• Forgotten Legions skirmishers charge and route Spanish skirmishers, they are overrun but they pursue to far and dissipate against the veteran spearmen
• The Gaulish
HC
again beat Roman Cav2, but they stay
• The Spanish
HC
again beat Roman Cav1, now joined by Kirkus, but they stay
The Allied
HC
are a little bit to close to elephants for their horses comfort, but the riders maintain control.
The Gaulish skirmishers rally behind the Carthaginian vets
Spanish slingers flee off board
Turn 3: Carthage initiative
• Elephants overrun allied skirmishers with little trouble
• The cavalry fight on the Carthage left is same as always: Gauls & Spanish win, but both Roman units grimly hang on under the stubborn Kirkus – who is wounded
• The nimble Numidians deploy to skirmish with allied cavalry
Turn 3: Roman phase
• Sensing trouble on the right flank, the Roman Triarii maneuver to guard the flank from a cavalry breakthrough
• Roman skirmishers kill 2 veteran spearmen
• The Legions advance to charge range
• The allies brace for (elephant) impact
• The Allied cavalry decide they will never catch Numidians, so try and charge through
• The Gaulish
HC
continue to defeat Roman Cav2, but they hang on again!
o They have passed morale tests of :7, 6, 5 & 4)
• Roman Cav1 finally breaks and is overrun by Spanish. Kirkus is not found – Roman cav2 is unphased by their route
• The Numidian "leopard shields" are outnumbered but just hold against the charge of allied light cavalry.
Gaius contemplates his fate while his daughter, Impedimenta, parties on: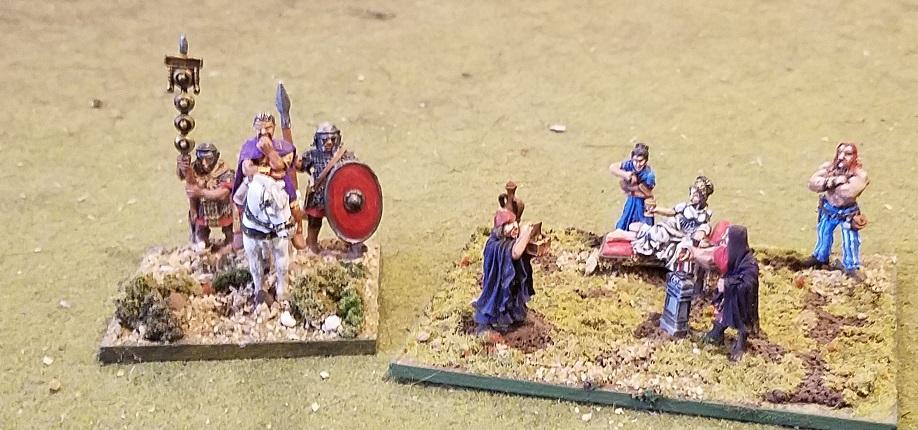 Hannibal attends to his duties by observing the daily sacrifice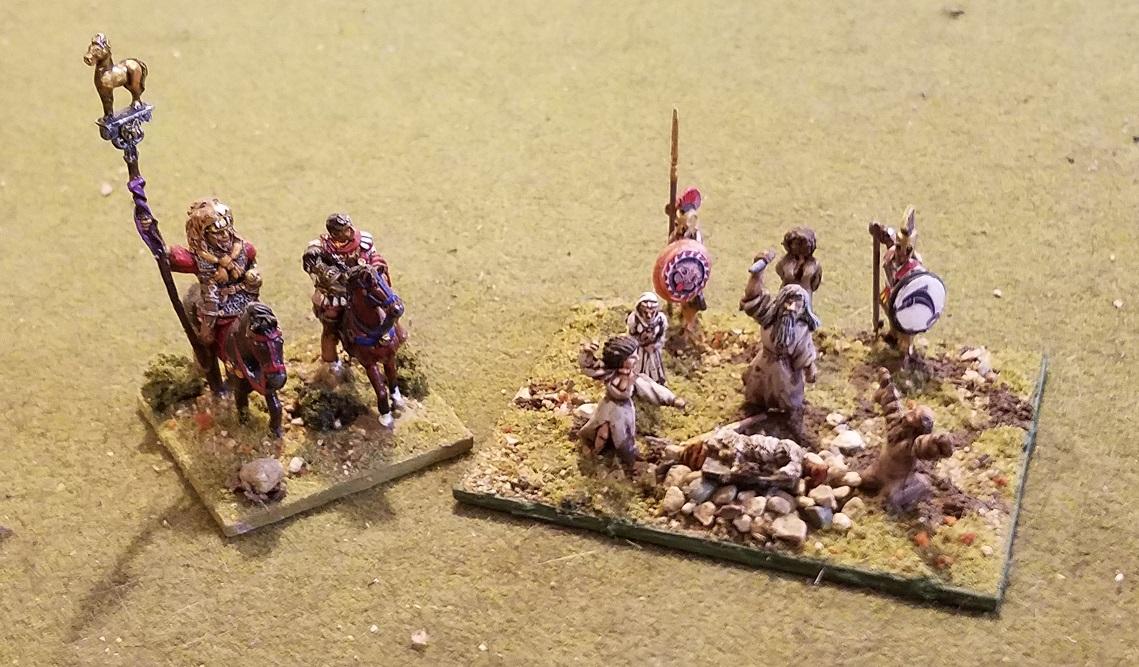 Cavalry engage on right - mid turn 2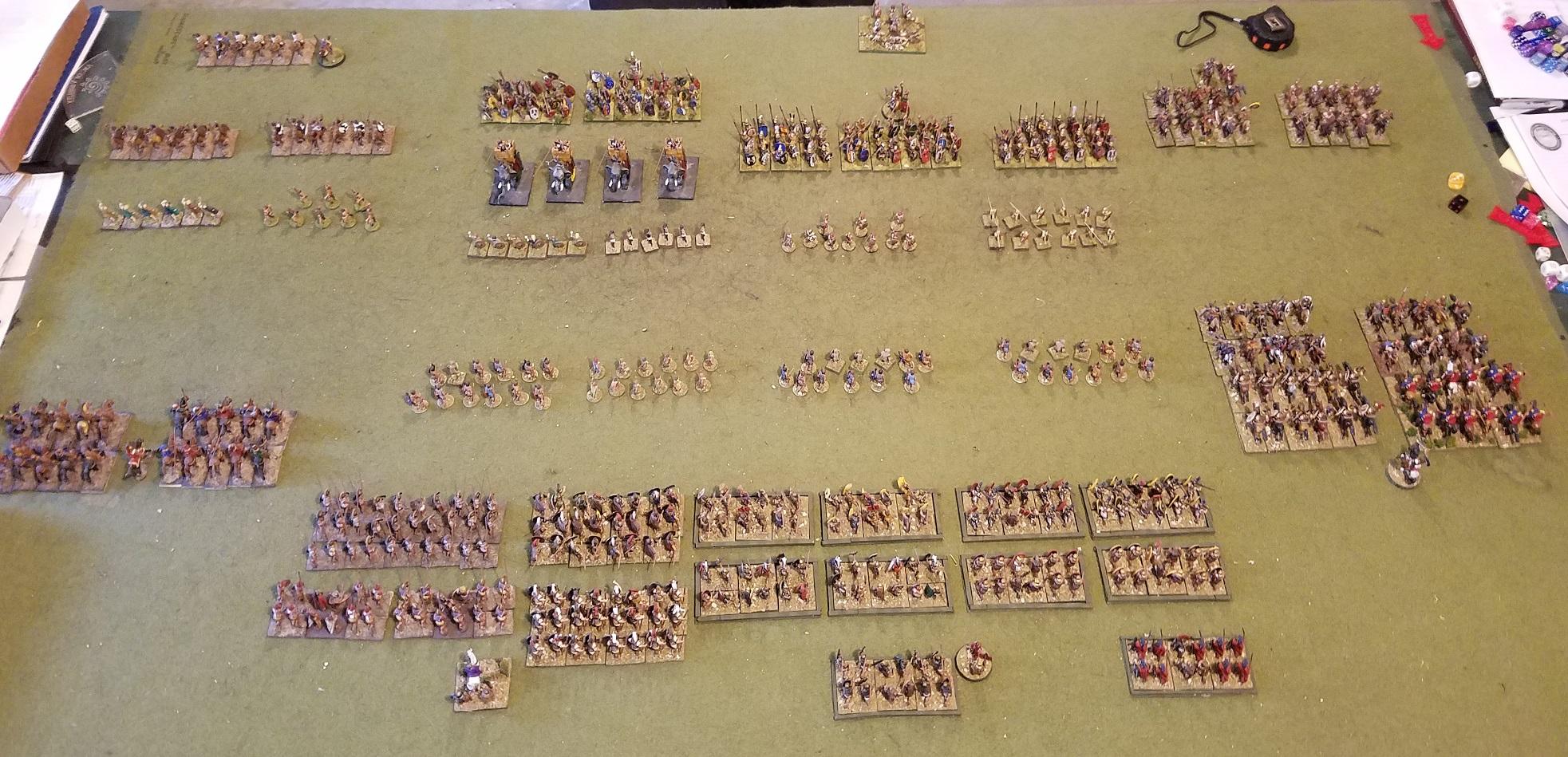 J Tiberius Kirkus prepares his cavalry to receive the charge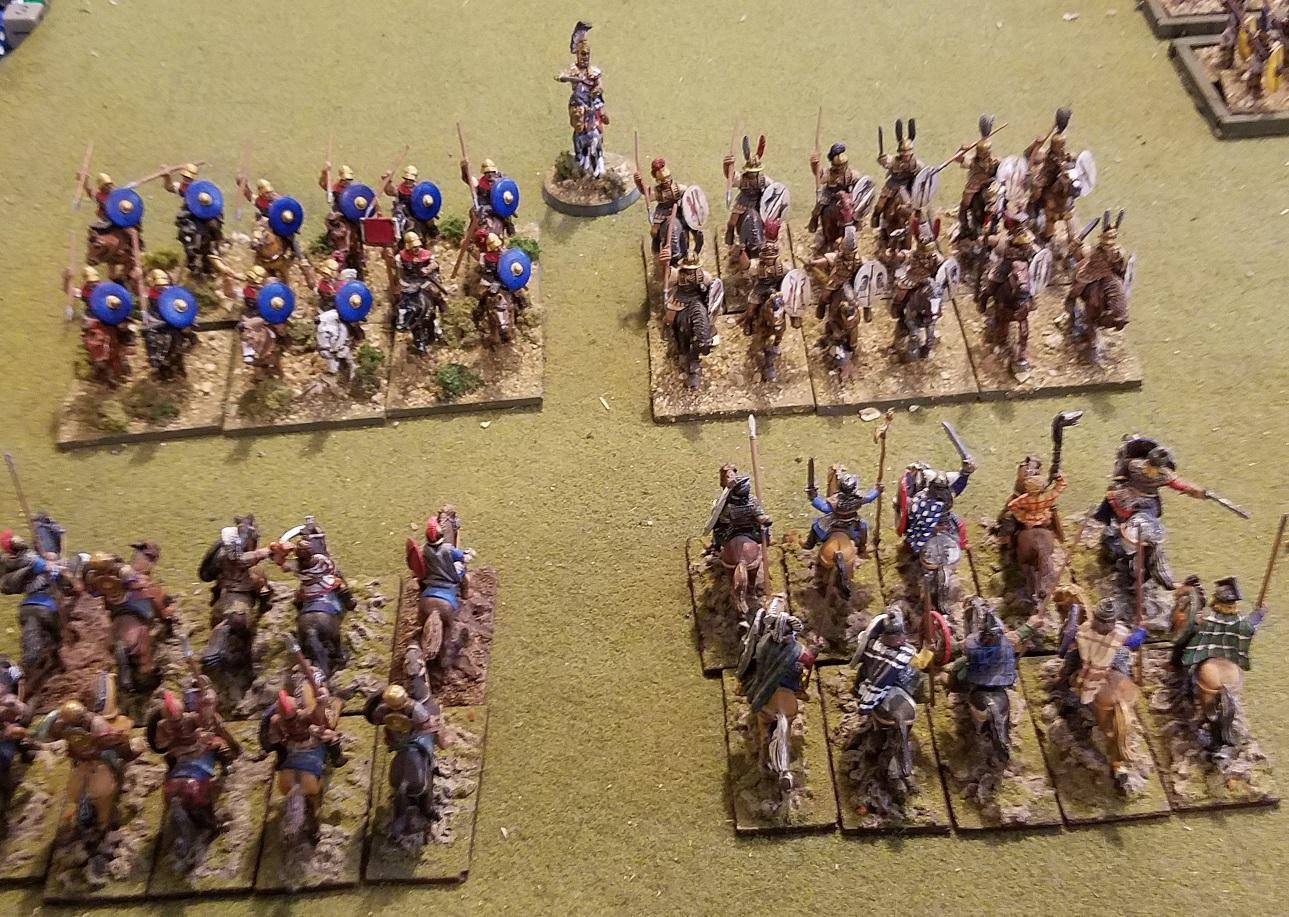 Automatically Appended Next Post:
Roman Allies learn what it means to "Face the Elephant"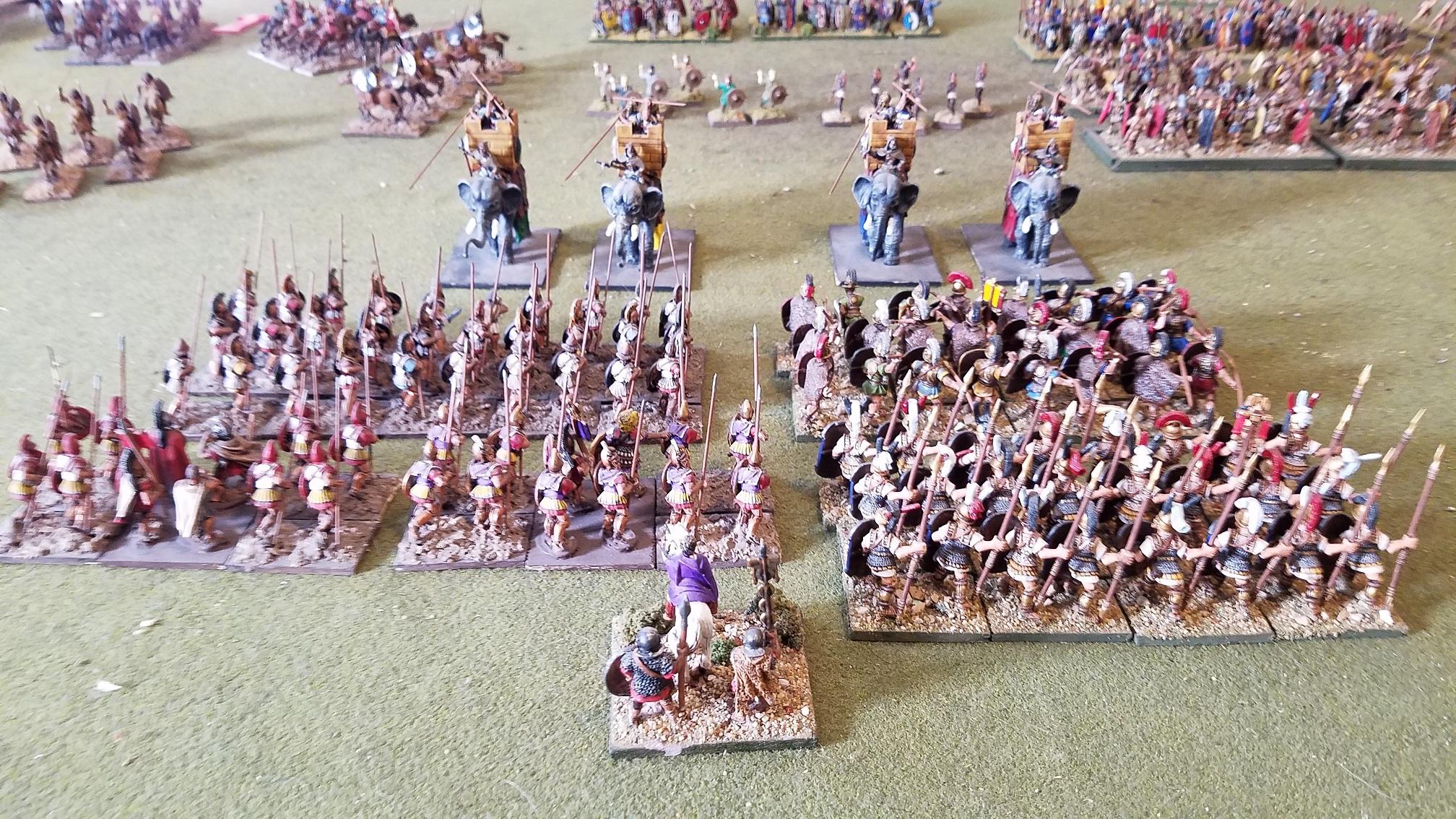 Sensing the right is close to breaking, the Triarii march to seal off the threat to the flank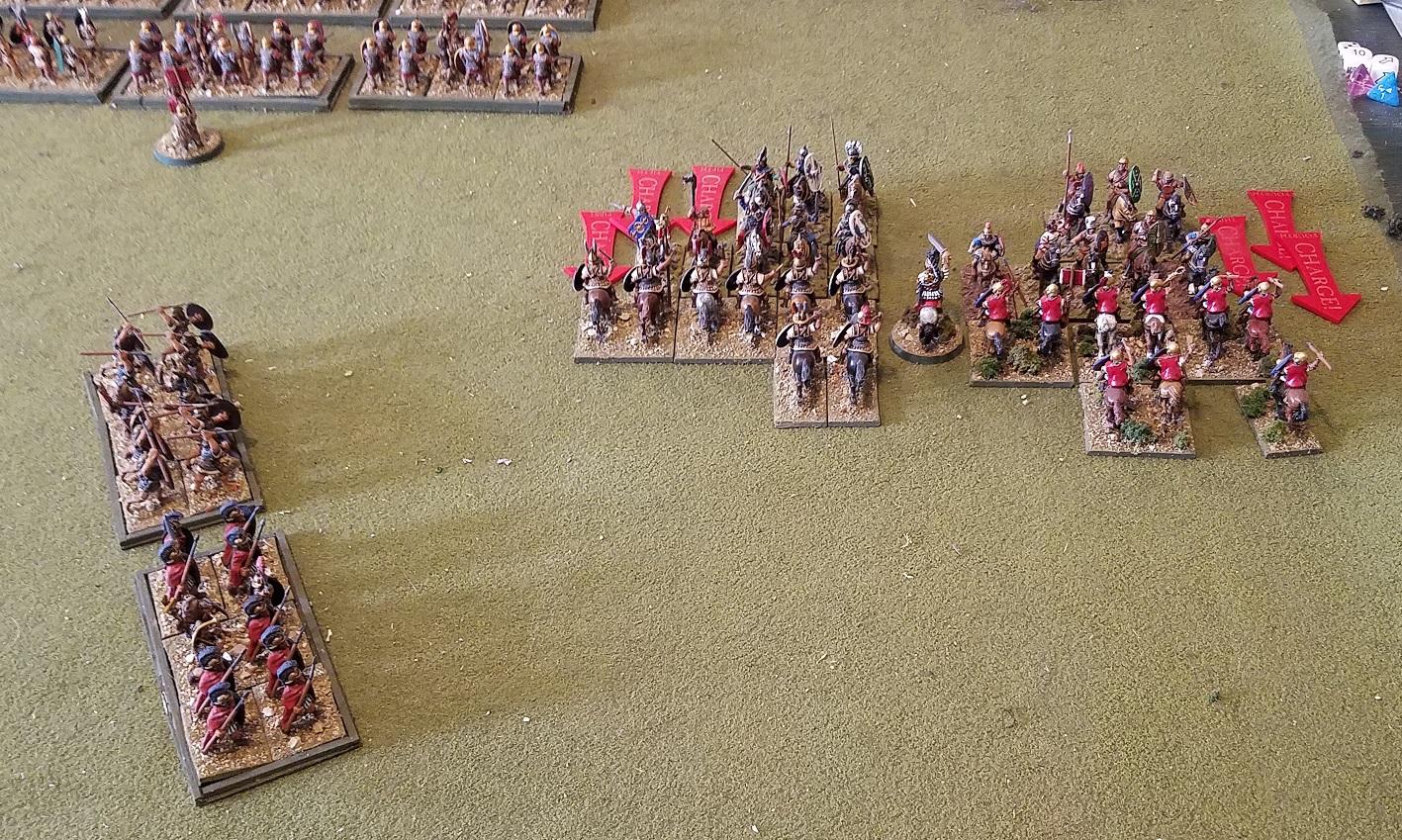 Kirkus' last fight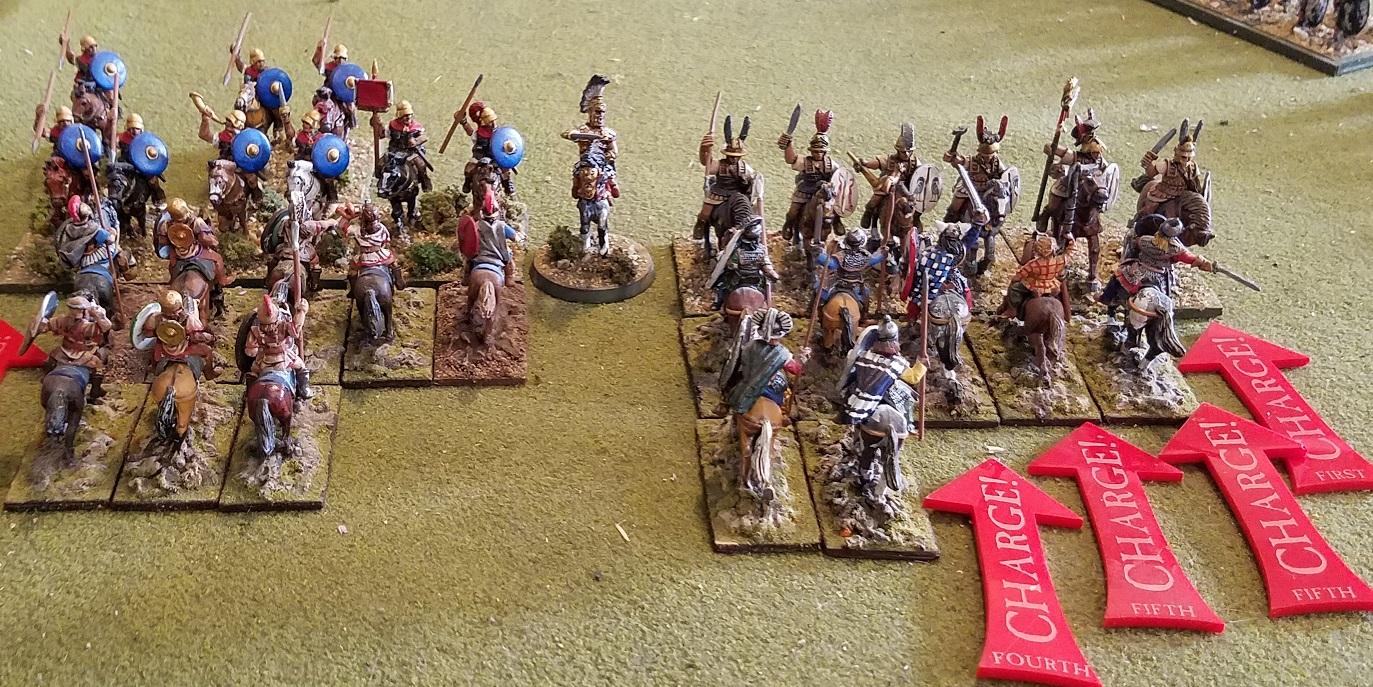 Numidians doing their thing as Allied cav tries to ignore them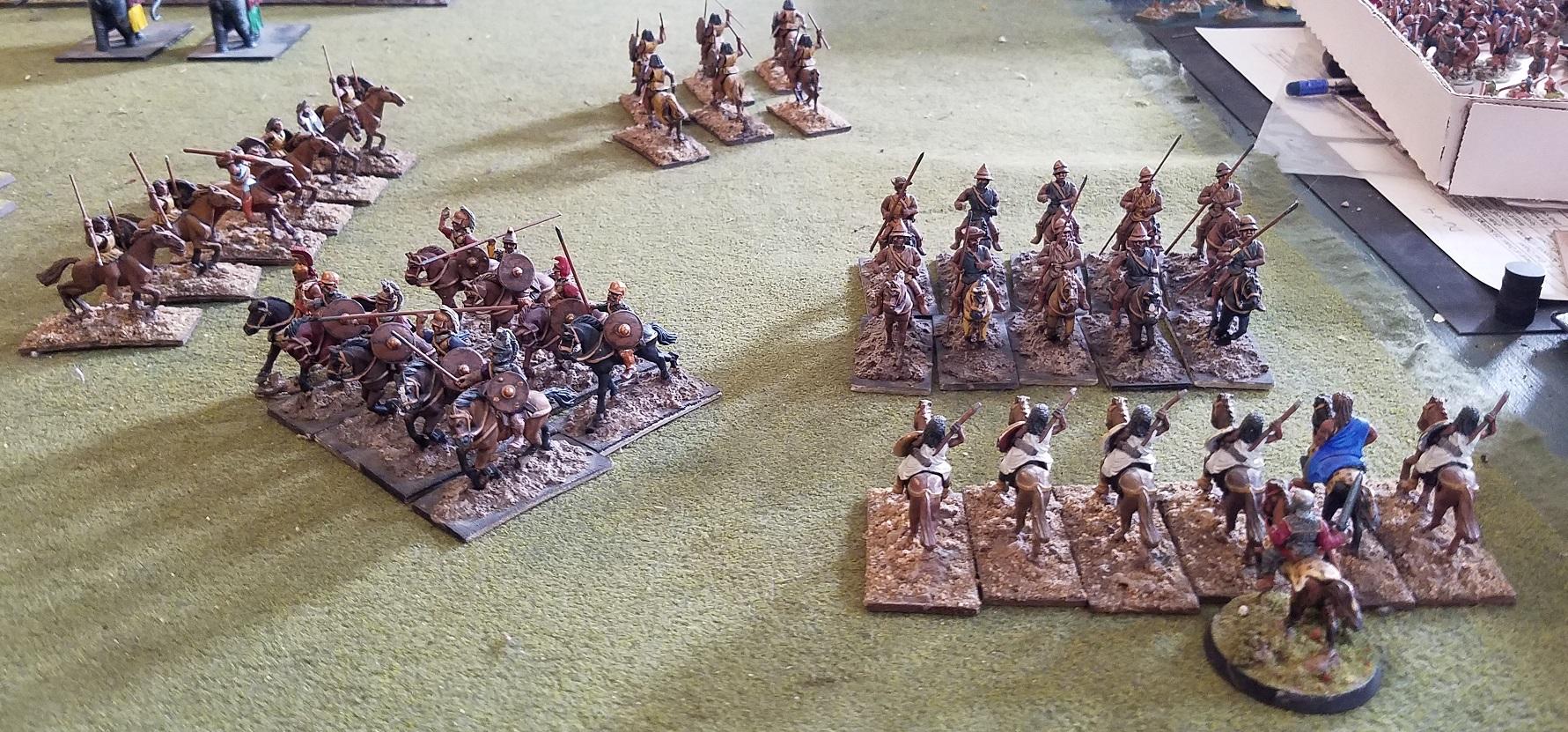 Automatically Appended Next Post:
End of turn 3
Romans failing on right, pressing on left and about to get serious in the center