Ok, I'm back from boot camps for the week end and I have time to finish this, I am very sorry I couldn't before leaving.
TURN 2:
Imperial Guard:
On my left flank, my wounded hellhound closed to the center objective, aiming at the full squad holding the objective (there is a half squad on the objective, too). My tank vanquisher tank commander moved a little bit to be in range of his plasma tank commander with my own plasma sponsons, and my punisher tank commander arrived behind the chimera holding my left flank objective: I couldn't make it arrive closer to the ennemy, as he deployed pretty well.
On my right flank, the thunderer and the leman russ battle tank dived into the street facing them, followed by the chimera while my stormtrooper squad moved toward his deployement zone, while hidding in the ruins. On more turn and the center would be mine.
My hellhound opened my shooting phase by burning the central objective ennemy squad, while my punisher destroyed another infantry squad hidding in the ruins of his right flank. My tanks on my right flank decided to shoot at his infantry too, killing about two squads facing them.
My vanquisher wounded 7 times his tank commander and forgot to use its orders.
My chimera killed one or two guys, and a few fleed by attrition, finishing about two squads.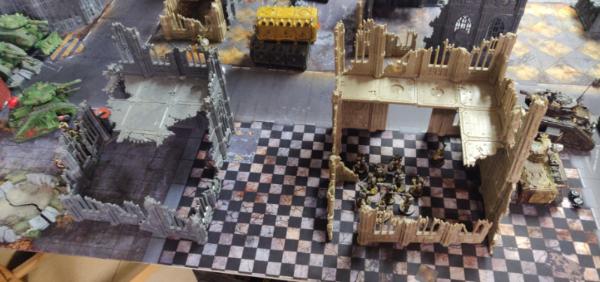 All in all, about 40 traitors died this turn.
I was happy because I was reducing his scoring abilities very fast while he was still holding only his side of the game. He still had a lot of infantry though !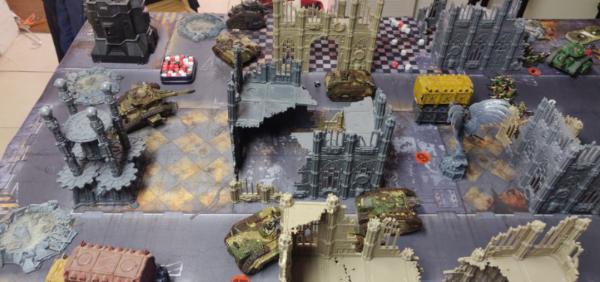 Traitor Guard
He had to react quickly, and he did:
he got three plasma squads to move at high speed from his right flank to the center and another infantry squad got into the objective. He rounded up his left flank men into a crater, and went into his shooting phase.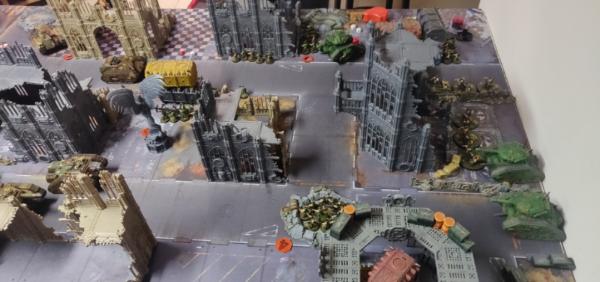 He used a stratagem to destroy my vanquisher tank commander despite his being less than half strenght (from Psychic Awakening), but failed several time to even wound my thunderer until a leman russ from his right flank, still not moving, wounded it 9 (!) times (using another stratagem to shoot 12 times). He destroyed my hellhound with two of his plasma squad (the third one failing to wound my thunderer).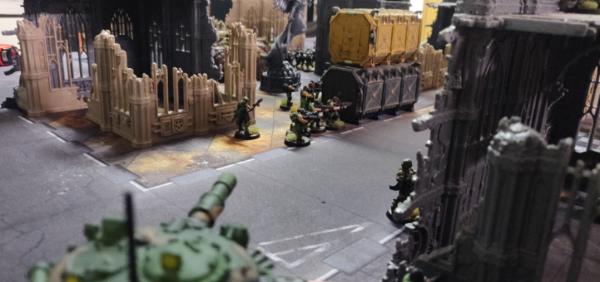 TURN 3
Imperial Guard
He might be loosing infantry fast, but I was loosing vehicles almost as fast !
I disembarked my veteran squad from the right chimera, making them move in rapid fire range of his center squad, and the second squad on my left flank in a ruin.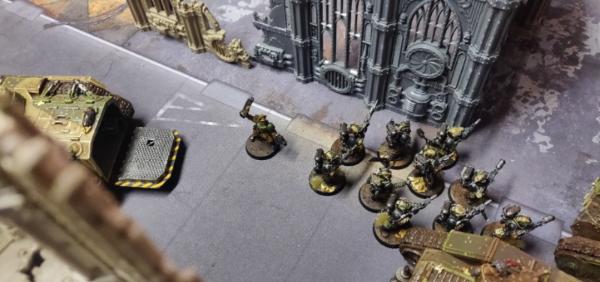 Finally, the first lasrifle fight ! My stormtroopers and my last chimera containing my command squad arrived on his left flank, more easily accessible for strategic reserves while my ruins stormstrooper squad stayed in the ruins.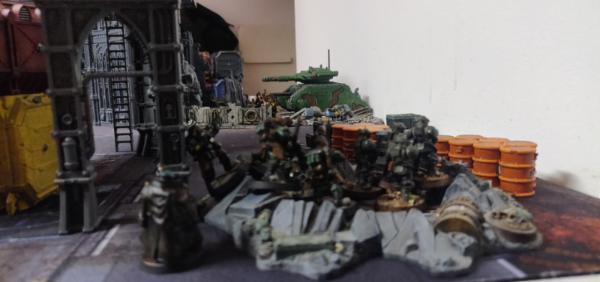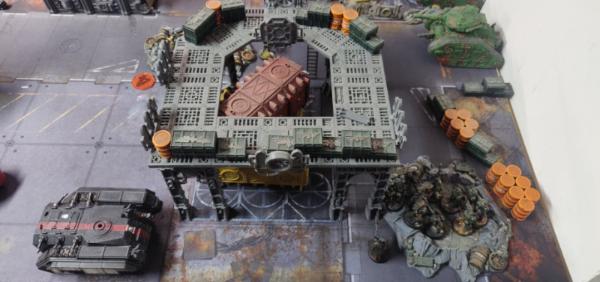 My new stormtroopers and my leman russ battle tank promptly destroyed one of his leman russes (the first one !). My chimera, punisher and veterans killed the all the plasma traitors and my right flank veterans his center squad, except for 1 flammer guy, and my right flank tanks kept shooting at his crater infantry, killing half (they were several small units, so I couldn't spread damages).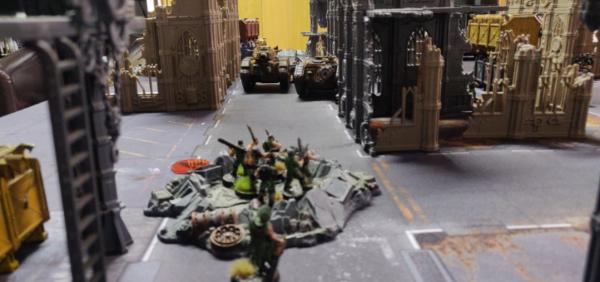 Traitor Guard
He made his some of his men, still hidding in his deployement zone "gogogo !" toward my recently deployed stormtroopers, and moved his russes toward to get better
LoS
. My punisher faced his end to the hands of two chaos russes, including a tank commander, while my center infantry squad got shelled by his mortar team (and got 1 dead by the flammer guy).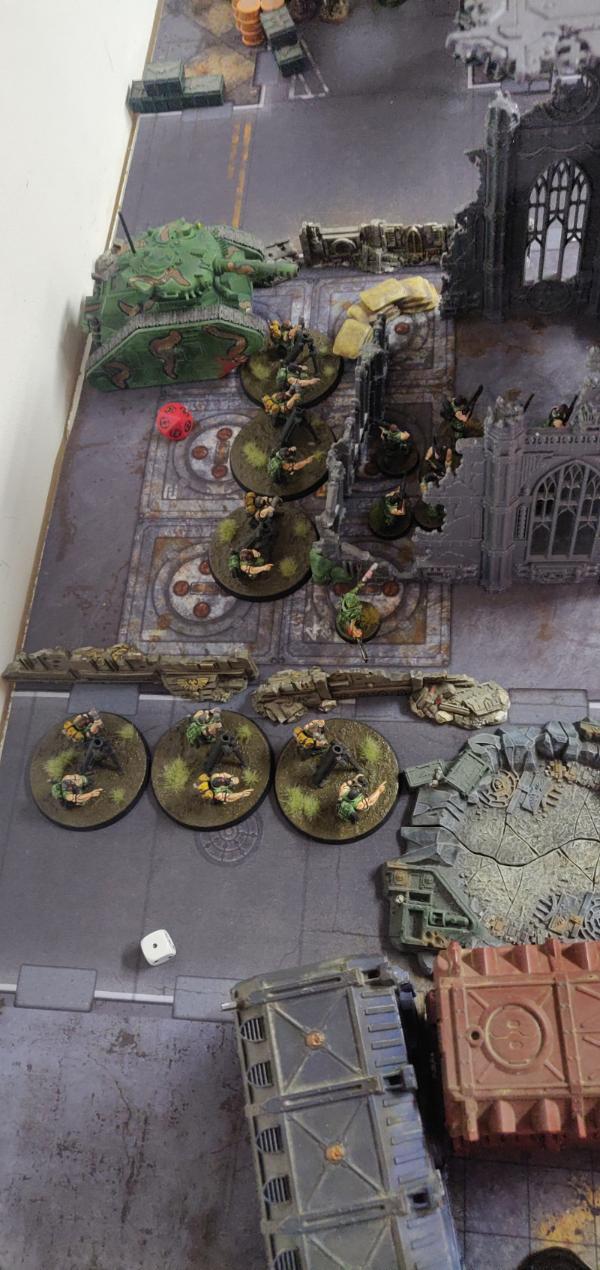 He destroyed my command squad chimera too, killing the astropath in the explosion. He failed to wound my thunderer with lascanon from his russes but wounded my last russ about 8 times.
TURN 4
Imperial Guard
My last two melta wearing veterans and their officer take control of the center objective, while my other veteran squad got out the ruins,at melta range of his tank commander. My thunderer goes to face his tank commander too. My black armor clad stormtroopers finally arrived at the crater and with the last melta wearing command squad veteran and the company commander, clean it from heretic scum by shooting and assaulting them, loosing a trooper though. Right flank objective secured too !
My thunderer shot at and destroyed his tank commander, and my big veteran squad had nothing else to destroy but the last flamer guy threatening squad 131.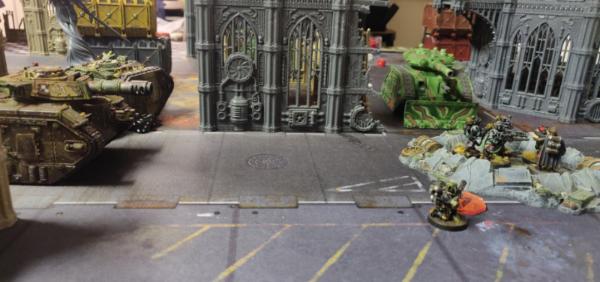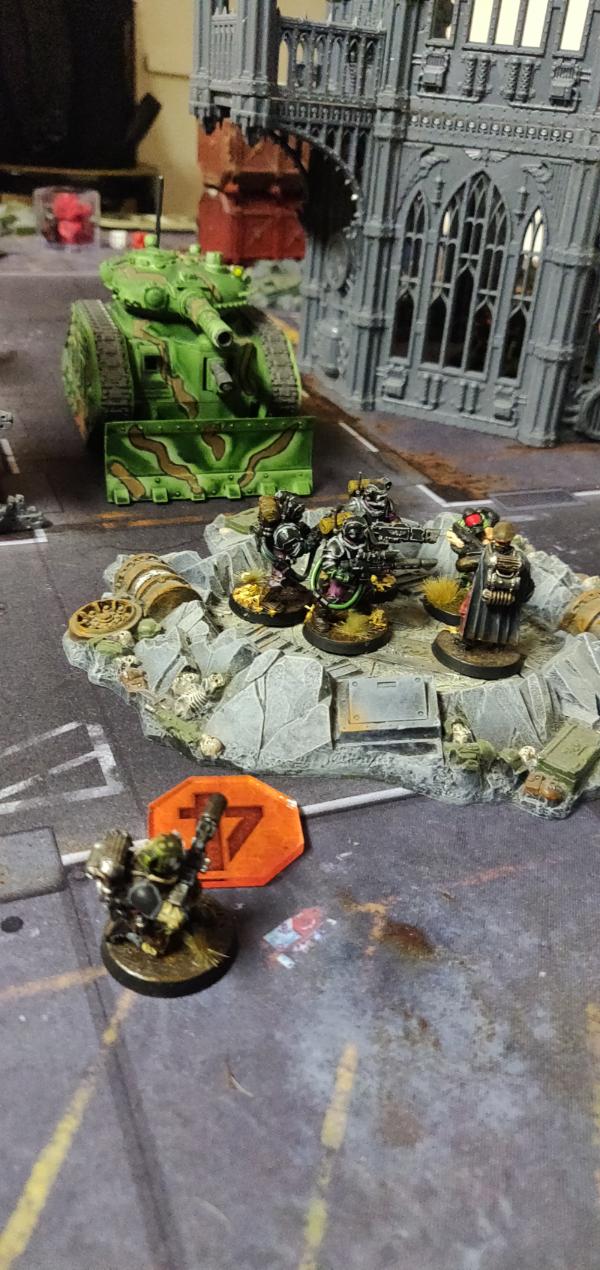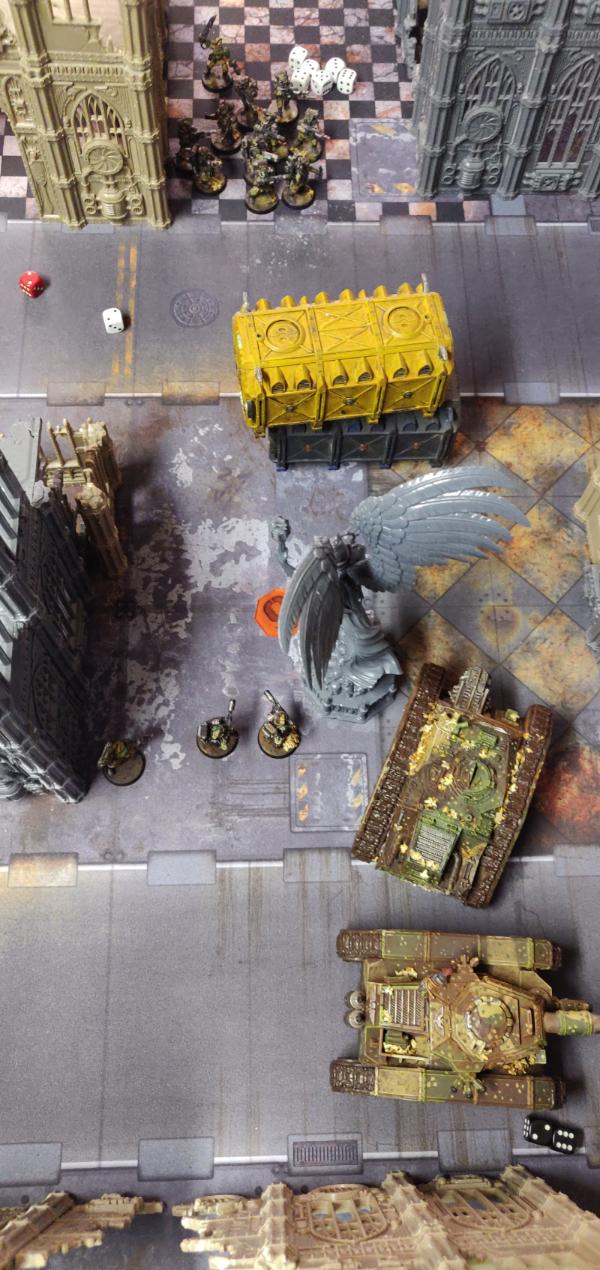 Traitor Guard:
Last turn, and he didn't move a lot: he used his russes and mortars to kill my two last veterans of squad 131 and my stormtroopers in the crater.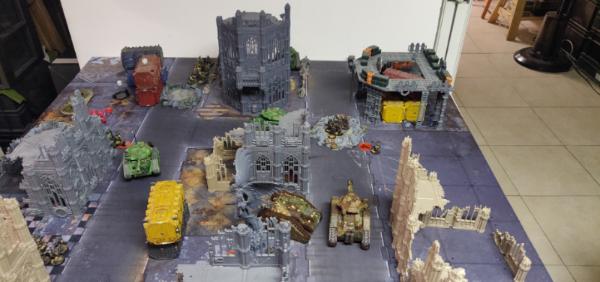 We decided to stop here, as it was already past 1 am and my opponent saw no way he cound win with one more turn: he could deny me one objective but not the two I just took control of, and with only 1 on his hands, I would beat him at primary points easily (I still have two stormtroopers squad, a tempestor, a company commander and leman russ on his right flank and a full squad with an officer at melta range of one of his tank and probably in range if they advance with the order of the central objective + an officer already on it).
The score he counted at this point was 53-53.
It was definitely and interesting fight, very brutal and we used two very different strategies, and I think mine was more suited to 9th, focusing on the objectives with my armored units while he kinda used his infantry as screens while his tanks were holding back, like when I started playing guards a few years ago. I am super happy to be able to play and win with my armored battle company list as it was intended to be collected and played many moons ago, unlike 7th/8th where I was almost auto loosing without infantry.
Hope you enjoyed !