Update time
I've gone through my existing range of vehicles to see what I could convert for my Deathwatch Army and found a few Land Raiders, Predators and Dark Talon I could use:
Land Raider 2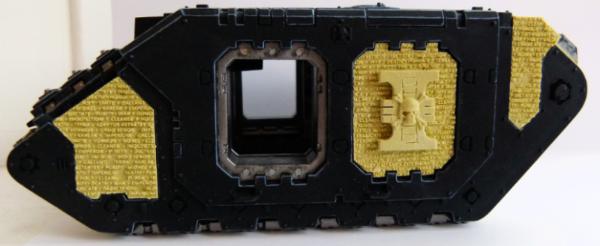 I made templates out of plasticard and then cut out from "scripture" the inserts for the door and the armour. I added a number of magnets to the front hatch to have replaceable weapons.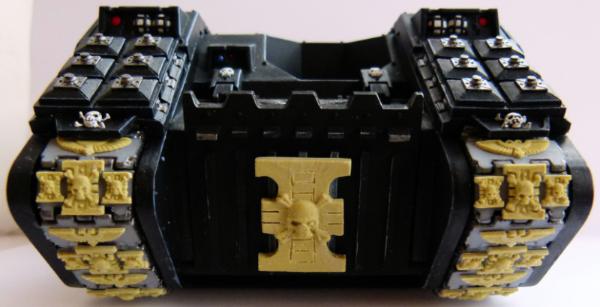 I decided to go with the same tread design as my first Land Raider, so after lots of milliput moulds and cleaning up, I got to this finished shot. I added another large Deathwatch Icon to the front hatch as well.
I only added scripture on the rear hatch on the right side.
I'm hoping that this Land Raider shouldn't take too long to paint, only the scripture and Deathwatch Icons will need to be painted as I had already painted and edge highlighted it previously.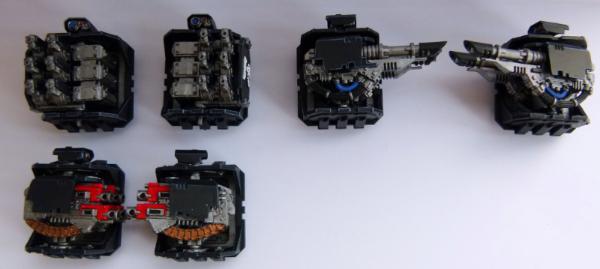 I just need to decide which sponson weapons to use: Hurricane Bolters, Quad Heavy Bolters, Twin Las Cannons, Twin Frag Cannons, Heavy Demolisher Cannons or Quad Lascannons!
Land Raider 3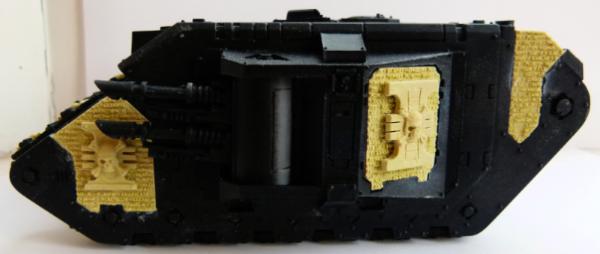 I also had a black undercoated Mk2b Phobos Land Raider that I thought would look good in Deathwatch livery. Using the plasticard templates, I cut out the "scripture" inserts again and then using a rhino hatch as a template, cut out "scripture" for the door and an icon was added at the front and on the hatch.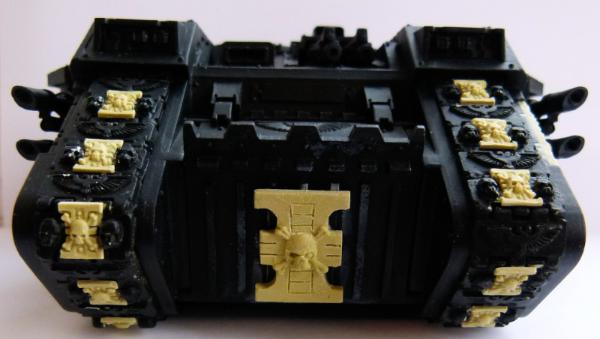 I made a small conversion to the existing tread, removing the middle skull and replacing with a Deathwatch icon. Another large Deathwatch icon was added to the front ramp as well.
I hate edge highlighting, so this will probably take a long time before it gets painted!!!
Deathwatch Dark Talon 2
I had one more Dark Talon semi built that I thought could be converted to a Deathwatch flyer....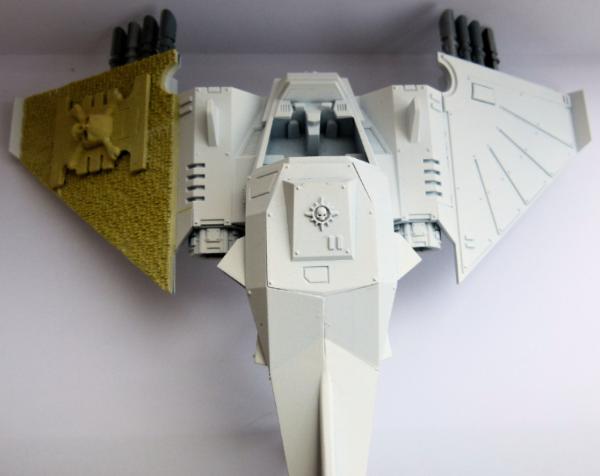 I had already undercoated it white, so I'll need to re-undercoat it in black when I get around to painting it. When the Dark Talon first came out, I bought loads of bits from bits suppliers in sales etc. and have built at least 6 of these now. The only thing I haven't got is the clear plastic canopy. I'll keep an eye out on ebay and bits suppliers but in the end, I may just make a quick blu-stuff silicone mould and make a new one out of milliput. I can always paint the "clear" windows black or red - they can always fly by sensor/video feed and don't actually need to see out of the windows!
I added scripture all over the left wing and a large Deathwatch Icon. Whilst building my Land Raiders, I came across 8 Lascannons that I could use on the Dark Talon. I chopped off the barrels and added magnets, so I can swop out the Lascannons to other weapons if I want.
At the moment, I plan on having an Avenger Cannon, 2 Volkite Culverins and 8 Lascannons on this Dark Talon.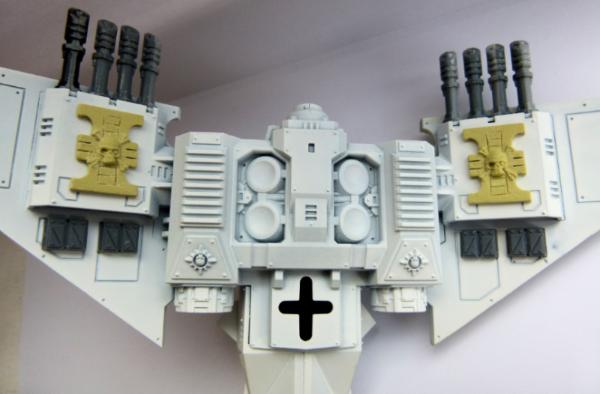 I added Deathwatch Icons on the underside of each weapon mount and added Lascannon batteries to the rear as well.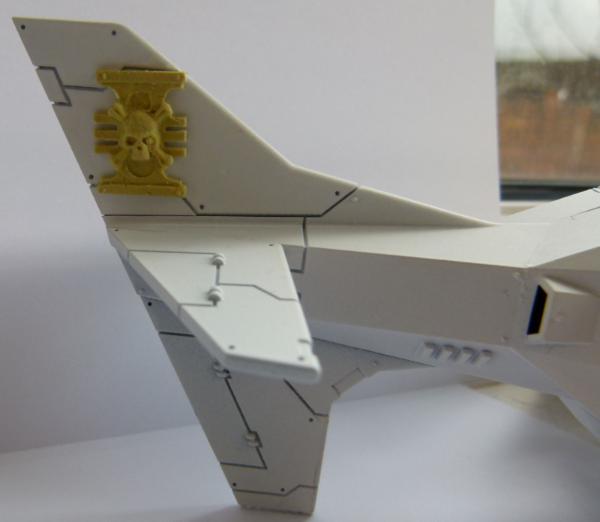 And to finish off the construction, I added Deathwatch Icons to the tail.
"Baal" Predator 1
Like my Rhino, I added "scripture" to the front with a large Deathwatch Icon. I added milliput to the trackguards to remove the gaps and make it look more streamlined. I changed the tread design as well, going for alternating small Deathwatch Icons. The Twin Assault Cannons fell out when I accidently dropped the turret. I'll add these back on when I finish painting the rest of the vehicle. I also added a Deathwatch Icon to the top of the glacis plate of the turret as well.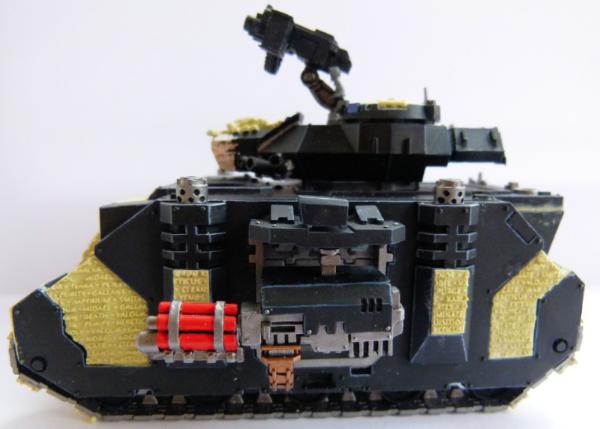 Again, using plasticard templates, I added "scripture" inserts to the left side. I converted the Heavy Bolter Sponson to Assault cannons by adding spare Assault Cannons from another Baal Predator Turret spares that I had. I also added a pintle mounted Twin Heavy Bolter from the Master of the Ravenwing kit that I had available.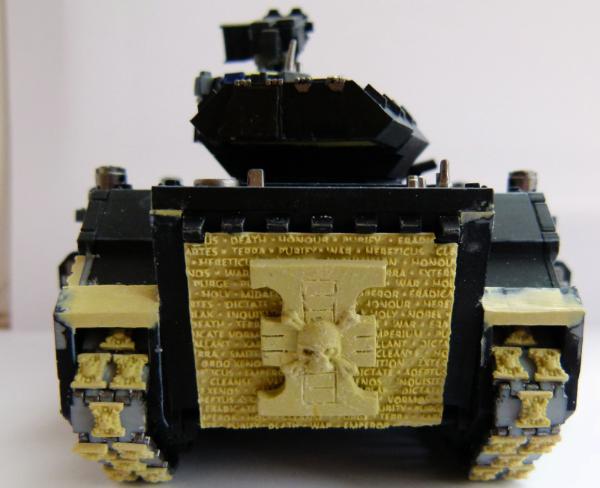 I added more "scripture" to the rear hatch and added a large Deathwatch Icon. The trackguards were also smoothed out with milliput.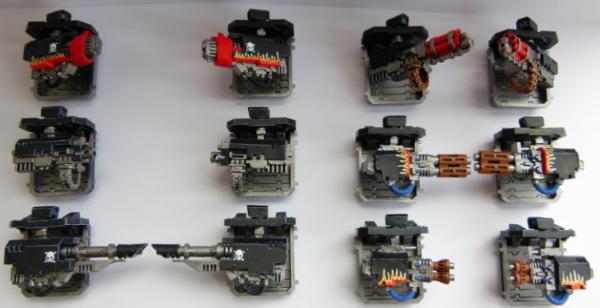 This shows the magnetised sponson weapons I have available for the Predators: Plasma Cannons, Heavy Bolters, Lascannons, Assault Cannons, Multi Melta and Heavy Flamers.
I've almost finished a second Predator and will add some more updates soon.
Finally, just to show you that I do paint - here are some completed Deathwatch vehicles I've finished:
Deathwatch Termite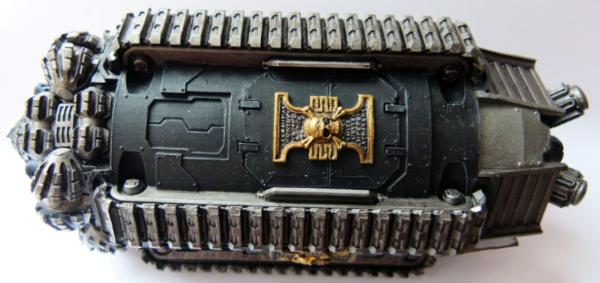 Deathwatch Corvus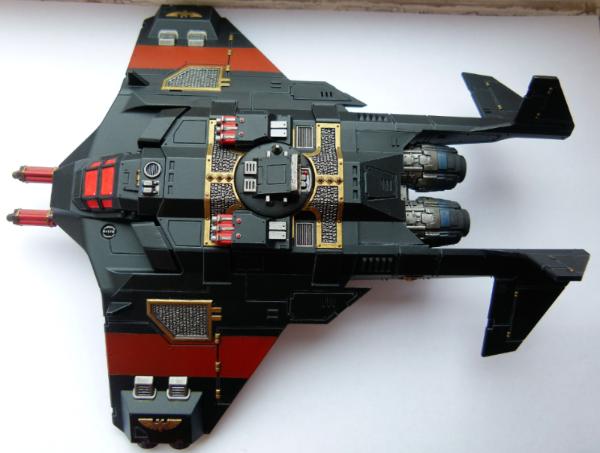 Deathwatch Storm Talon Interceptor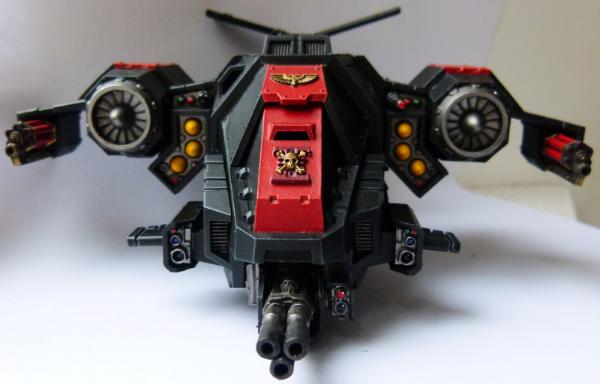 Deathwatch Dark Talon
Till next time.............