| | |
| --- | --- |
| 1st Generation Genestealer Hybrid IP | Created by MajorTom11 |
| Paintjob Rating: Need 1 more vote | Number of Views: 3116 |
| Coolness Rating: Need 1 more vote | Number of Votes: 4 |
This image needs more votes. Please use the vote box on the left to rate this image.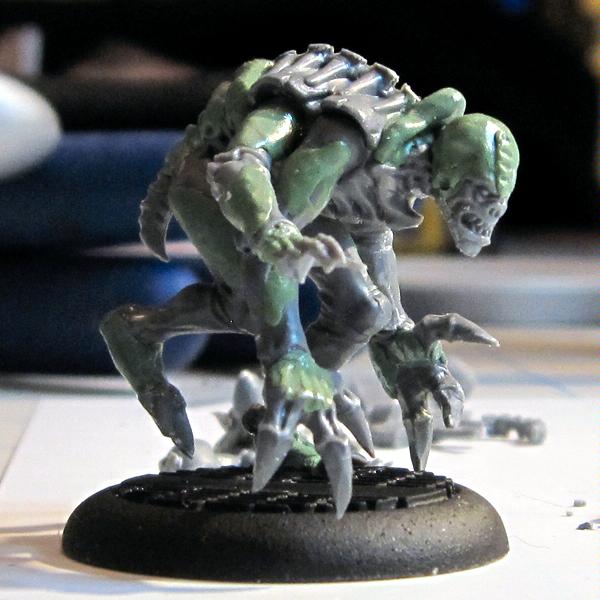 Image Description:
An IP 1st gen hybrid, heavily converted from a stealer and ghoul parts, lots of GS. My first real gs conversion actually, work done includes sculpted ghoul head details, replacing hands on 'normal hands' arms with ghoul hands, bulked out wrists, shortened arms. Smoothing of rending hands and shortened rending claws. Shorter tail and sculpted lower abdomen detail. Feet made more human like and flattened, mostly gs, legs repositioned into a more human-like stance. All limb ribbing details smoothed except at joints. As per the concept art, he will have a heavy weapon mounted on a harness on his back, and a leather tabard. The idea is that they are intelligent enough to be told where to go, and strong enough to carry the weapons on their own, but the harness has a built in targeting system that allows a 4th gen 'handler' to fire the weapon remotely. Came up with this to get around the fluff that says they are still not 'human' enough to understand technology beyond absolute basics.
Image Tags: This image has no tags yet.


Comments:
No comments have been added yet. Be the first! People love to hear what others think about their projects so please let them know.

You must be logged in to post comments.