HalfChesterCity B.B.C.
My Third BloodBowl Team.
I made this team on a whim. My first two teams were choosen with a eye on the stats... This one was choosen because it looked fun! they just arn't cut out for this sport they are slow and and have no real skill. So far they havn't won a game, but for me, with halflings, a draw seems like a win. At the end of most games I have only 4 halflings left on the field the rest are knocked out or injured!!! the day I get a win will be a great day indeed!


I painted them Blue/White like manchester city because I knew they will never win anything? Ha ...
this team is finnished.
Click to see bigger picture
Models Used:
Second edition BB Halflings x 13
Puggy Bacon Breath x 1 (i clipped his spike off... I didn't like it...)
LOTR Ents x 2
~~This team is fully painted/finnished/nothing more to add.~~
HalfChester BloodBowl Club - Team Roster.
1) Halfling
2) Halfling
3) Halfling
4) Halfling
5) Halfling
6) Halfling
7) Halfling
8) Halfling
9) Halfling
10) Halfling
11) Halfling
12) Halfling
13) Halfling
14) Halfling
15) TreeMan
16) TreeMan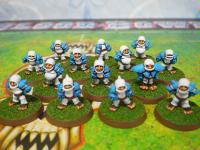 Click to see bigger pictures.


By PaniC...