Army List
Lord Wormwood, Angel of Rot (Chaos Lord, MoNurgle, Daemon Weapon, Wings) 165
Squad Bilious (7 man Plague Marine Squad, Champion, Combi-Plasma/Powerfist, Plasma Gun x 2) 241 Rhino 35
Squad Fester (7 man Plague Marine Squad, Champion, Combi-Melta/Powerfist, Melta Gun x 2) 231 Rhino 35
Raptor Squad (5 man, Icon of Nurgle, Flamer x 2 Champion with Powerfist) 200
The Sullied (Lesser Daemons x 7) 91
Vindicator (Daemonic Possession) 145
Vindicator (Daemonic Possession) 145
Total 1288
Whole Army Photo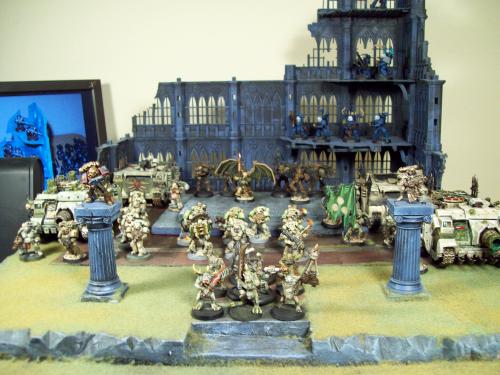 Unit Photos
These were taken at the Adeptus Orlandicus Team Tourney by another gentleman.
Another user here (Mahu) was shy an army and ended up using mine, though he didn't do as well as he would have liked. He got sick during the tourney. Ironic, no?

A shot of the squads and their rides: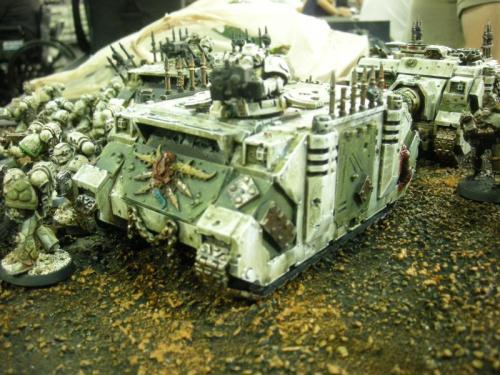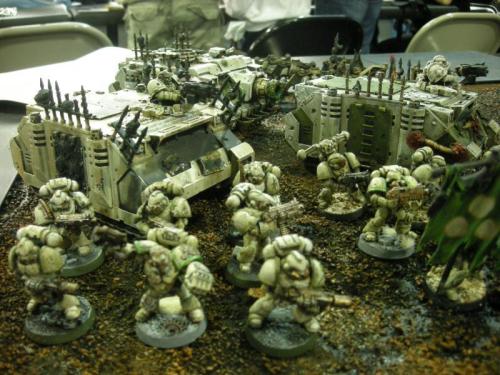 Note that the sgt in the second shot is from an alternate squad. My friend played around with the list and didn't want a combi-melta in Squad Fester.
Here's Lord Wormwood, the Fallen Dark Angel who's gone over to Nurgle.

One of the vindicators. I call him "Soup Kitchen" as he's modeled as being full of corpses and bile. Those aren't shells he fires...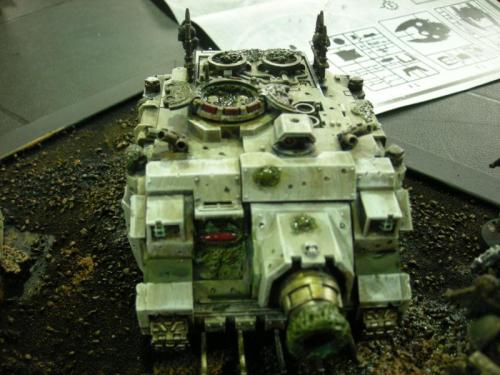 The following are a bit better shots, at least lighting/focus wise.

He looks nice, doesn't he? Too bad I'll likely never use him outside of Apoc games where I can flank march him... Stupid Crazed rule...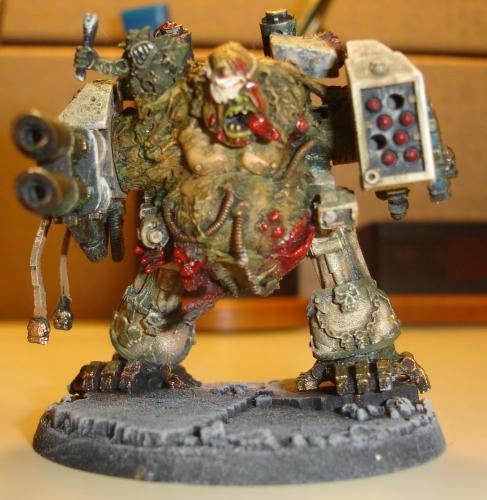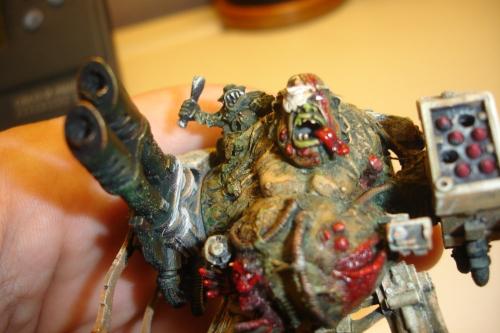 And here are some more squad shots: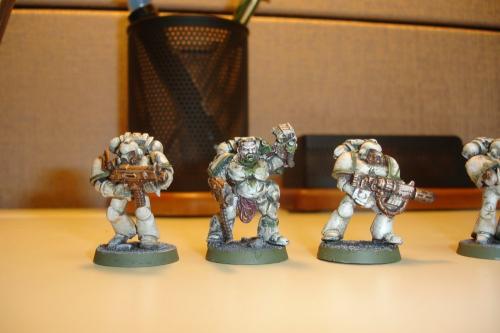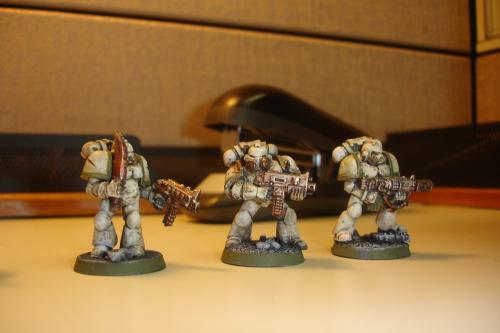 Why I Started This Army
It was all because of an event our local club (Adeptus Orlandicus) held called Nurgle's Birthday, on 7/7/07. Club members donated models, converted into them into Plague Marines and painted them up. We then raffled them off. With me donating a large portion of the models, I got more than a few tickets. I ended up winning most of my donated models back. :)
The basic idea of the army is that Lord Wormwood is a Fallen Dark Angel, sworn to avenge his other Fallen Brothers. Nurgle has blessed him, and with his daemon weapon, RedRot, he has climbed to the top of a warband of Death Guard, leading them against the Imperium as a small but elite raiding force.
I mainly use them in smaller friendly games, or as part of or Apoc battles to incense the Dark Angel Players. :D