Another camera shot of Yellowbeards
SW
Lord Erik YellowBeard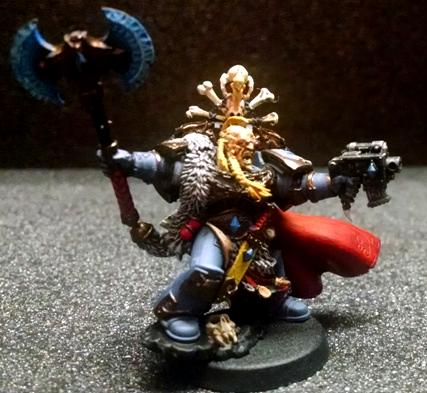 Now back to the battle….
Yellow beard had..
Wolf Lord with 10 Grey Hunters in a Storm wolf. Several Plasma weapons In this squad
Rune priest with 10 Blood Claws in a Storm wolf
5 Wolf Guard termies in a Land Raider
I had
Astorath? Joins assault squad In Storm Raven
Libby in Termie armor w/5 man Command with Apoth novice, champion and 3 grav's In
DP
2 Furioso Dreds w frag cannons and
MG
in
DP
5 man
Tac
in
DP
5 man Scout , SR's and Hvy Btlr
10 man Assault with 2 inferno pistols, combat squad'd into 2 Storm Ravens w/
MM
and
LC
)
Vindi
Vanguard deployment, I go second.
YB deploys his
LR
w/ termies In back corner. I deploy my vindi in my corner on objective. Scouts deploy near his corner on a elevated overpass.
Turn 1 his
LR
moves forward but due to position unable to see vindi so nothing happens. My Vindi stays put on objective. Drop pod drops Furioso dread behind his
LR
and destroys it with the
MG
. Termies all survive.
Tac
squad Drop on another objective.
Turn 2 His
SW
come In. One outflanks behind the vindi and destroys it.
CC
termies destroy the Furioso but it manages to kill one termie. My
DP
Csquad comes in and Other fruioso
DP
both drop close to Termis squad. Massive shooting nothing. Blood lance does nothing. In CCSW termies kill Libby, all but 1 veteran of the Csquad. 1 termie dies.
WTF
! SR comes in and shoots everything at SWolf .. manages only to knock out a weapon. WTF2
Turn 3 SWolf blows up SR. Assault troop manages to walk away. 2nd Swolf goes into hover and drops Rune priest and blood claws near
tac
squad. Ensuing shooting and Assault wipes the tacs out. Furiso in
CC
kills all the remaining termies . Bout time! Flying Swolf shoots up scout squad and leaves only 1 Standing. Assault squad from destroyed SR jumps and runs to capture close objective. 2nd SR comes in and destroys the flying Swolf and it crashes into the hovering Swolf. Loses a hull point. I take a gamble and drop Astorath and his assault troops out of the zooming flyer. Luckily they hit behind cover and don't scatter. Lone C squad jumps on objective .. remaining furiso dread runs.
Turn 4.. Hover
SW
flyer moves toward Wrecked SR assault squad on objective . It drops the wolf lord and Grey hunter. They move toward the Assault squad. Shooting kills all but 1 assault squad. Blood claws sit on objective. Storm Raven destroys 2nd Swolf by Hull points. Astorath and his Assault squad jumps Rune priest and Blood claws. People start dying on both sides. Furioso runs again. Remaining Assault marine charges Wolf lord and manages to get a kill before being hacked to death.
Turn 5 Wolf lord move claims objective.
CC
with the Rune priest unit and Chaplain units result in more
SW
dying. My SR shoots hovers and shoots at Wolf lord and the Grey hunters and kills more. Astorath challenges Rune priest and kills him outright. The remaining blod claws all die. Game ends.
Conclusion: I thought the two lists were really balanced against each other. The Randomness of the Objective cards allowed me to get a lot of victory point early on. YB seem to get the more difficult objectives or non location cards. If this had been a external war mission I would have lost. I had very little that could have matched his Wolf Lord and the number of Grey hunter remaining. Admittedly my dice were pretty average. Thou the timing and the circumstance of the rolls were timing bad ( such as the
CC
with the termies ). I also spent more time on trying to secure the objectives than YB , thou having more units to do so worked in my favor.
Automatically Appended Next Post:
So 1/2 day of work tomorrow and then 9 days of holiday. Hoping to get the 10 Grey Hunters finished and the 2nd Stormwolf. After that I'm looking at putting together some more Death company. I think I'm going to strip the ones I did for Adetipicon and repaint them. I'd like to get about 15 total of each (
JP
and non
JP
)