0) Respond to feedback.
I might actually have to do this if I were more active round here...
1) Picture of the painting desk A.T.M. unless absolutely no progress.
Morats A.K.A. Psycho murder space monkeys.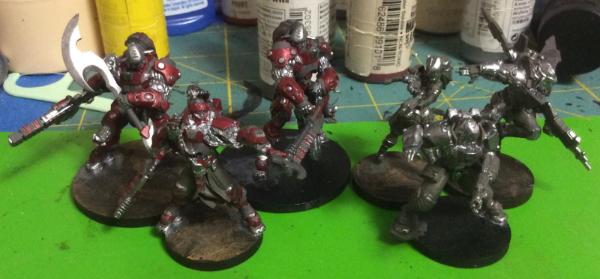 2 Sogarat Tempest Regement
HEAVY
Infantry, General Kornak Gazarot aka "Iron Guts", a Raicho
TAG
Pilot, a Raktorak Sgt. Major, and a Rasyat "Diplomat"
2) Overall goal for the year, otherwise only "hoping to ___ later today" goals.
Last year's leftover Morats are on the table.
... and so are 4 newbies.
And 4 more are waiting in the wings. For the
Morat
sectoral.
3) Simple clear record of progress on goal.
+ 20 zeds needing dipping!
I really need to get my butt in gear and dip!
+ too many Infinity added to the pile!
4) Finished pics.
Eh he he, not really gotten anything actually finished recently.
5) Ramblings,
So I really wanted to get back to work on my Morats so I ordered the 2nd Sogarat so I could do them together, the Raicho Pilot so it would be 100%, the next unit for them and a couple random things to get me free shipping.
A couple days later I found out the
FLGS
is doing curbside pickup during the shutdown.
I
HAD
to support my kick

FLGS
. I had to!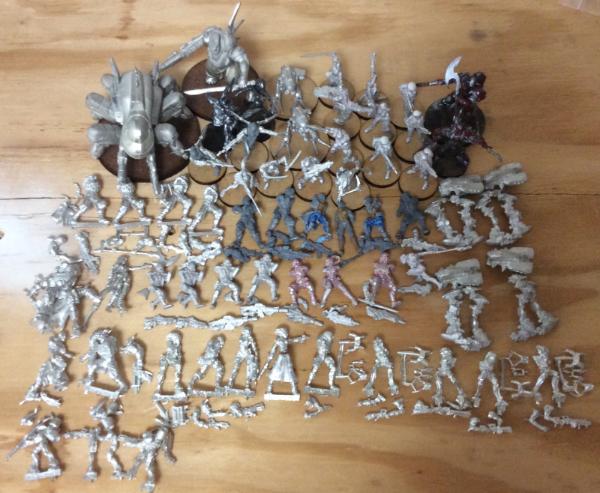 So for infinity I now own/have on order ... a likely bad list's worth of Haqqislam, a small O-12 army, a likely okay Yu Jing army, a starter Sygmaa er "Spiral Corp" list, and a Combined Army which could probably be broken into Shivastii and Morat armies without noticeably weakening them.
Of the 69 new minis pictured I only 100% intended to get 25. Of 69.
The extra 44 were a grab bag the
FLGS
had. I blew $40 in hopes of getting something easily useable like this out of it: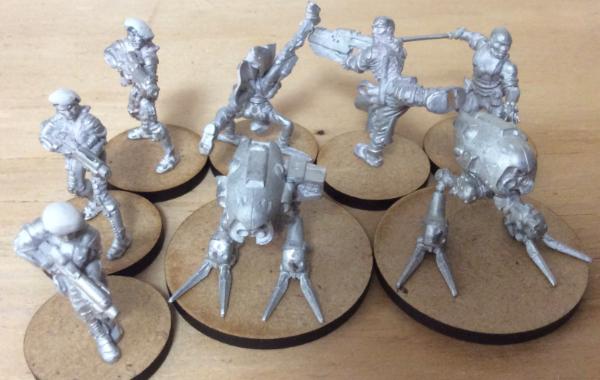 A couple duds, a few decent sculpts, and maybe a hidden gem or two.
Instead I got this: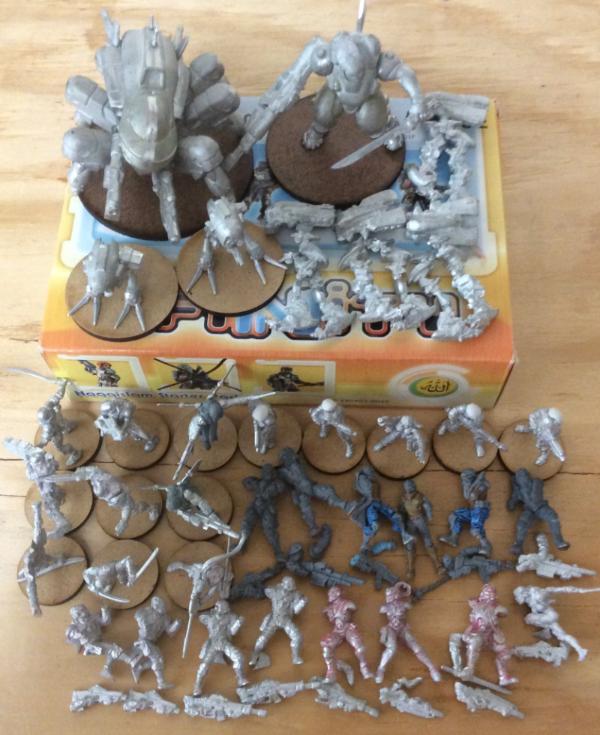 11 gems, including 4 Tachikoma style bots, and 2 mecha. So worth about 4x the cost in my opinion.
12 good ones I'd have actually considered buying. Again, I'd consider these worth about twice what I paid.
9 decent ones, not bad but I've no great love for them. They'd have been worth it alone.
8 decent that I'm giving to a friend and only 4 duds.
Everything 100% intact, only 2 joints assembled in the lot, and everything in good condition.
And if that's not enough my family just got a laser cutter/engraver. 1ft X 2ft bed, precise enough to make friction fit base adapters. I'm already planning several things.
And the Necromancer's fluff: (Y'all thought I'd forgotten didn't ya?)
When the plague came we couldn't keep up. The dead piling up, unburied, for the most part and of the few being buried only a handful getting proper rights. Then She showed up, a Priestess of Nekrawth.
It's followers are odd folk, not exactly what you'd call living but sure as hell not dead. The chill and pallor of the dead in the shape of a healthy person. They won't raise the dead for anything but they're a bit too cozy with the grave, and what comes from it, if you catch my meaning. But for all their oddity decent folk, and apparently untouchable by the plague.
Her assistance was a godsend, every night a new mass grave and another few dozen laid to rest. It wasn't pretty but it did the job. Soon enough headway was actually being made with the dead in the ground and not on the streets. We came to call her friend. When other gravediggers died she'd make sure there was a hole just for them. When our priest died she gave him a proper funeral despite her obvious exhaustion.
We didn't know how she dealt with so many every night, beyond the clear fact some sort of magic was involved, and at the time didn't care.
We really ought to have been concerned.
We'd finally gotten over our unease at her and asked her to become our new priestess. We were overjoyed when she accepted.
That night our city burned.
They came at midnight, a tide of undead. She stood on a hill just outside the city, surrounded by necromancers. The dead she had buried all rose. She knew everything about us. She guided the necromancers to us. And somehow she hadn't betrayed her god...
6) Graceful, polished, and witty ending.
[foams at mouth in smugness]