So, after mumble weeks of lurking I've decided to make a go of actually posting regularly again. That said, my previous blog had already been resurrected... too many times. Part of the problem was framing device and foolish emphasis on clear-cut, planed results. Therefore I decided throw it out and start over with clear plan for what and how to write new posts.
0) Respond to feedback.
1) Picture of the painting desk A.T.M. unless absolutely no progress.
2) One overall goal for the year, otherwise only "hoping to ___ later today" goals.
3) Simple clear record of progress on goal.
4) Finished pics, I'll need to see about a simple "photobooth" setup.
5) Ramblings, including product opinions, fluff, techniques, and whatever I want to rant about.
6) Graceful, polished, and witty ending.
So, on to the first post:
0) NA
1)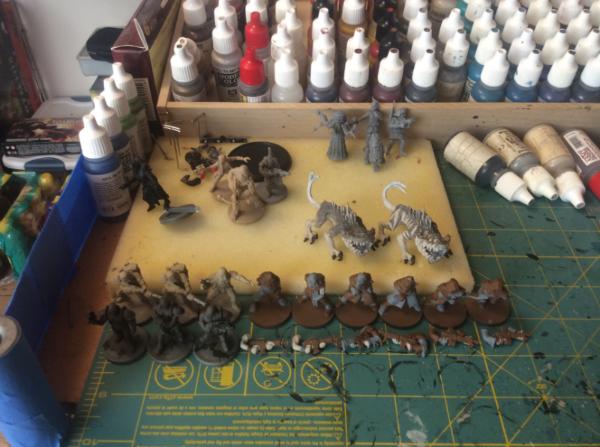 Taken earlier today, I currently have a Karist Nova, my "Movie Accurate" Imperial Assault figures and newly acquired Legion test dummies chilling waiting for appropriate "want to" or "don't wanna." The Nexu, Heavy Weapon Stormtroopers, Kayn Somos, Karist trooper leader and 2 special weapon troopers, and 6 Autorifle Cultists are the "true" current
WIPs
.
2) My goal for the year is to finish any new "The Other Side" models I get, my Chaos and Genestealer cults, KillTeam: Rogue Trader, Blackstone Fortress, Battle for Zycanthus, and Star Wars stormtroopers. I actually have it all spreadsheet'ed up! Which leads into...
3) How I'm doing on my goal: Red is need to do, Green are done.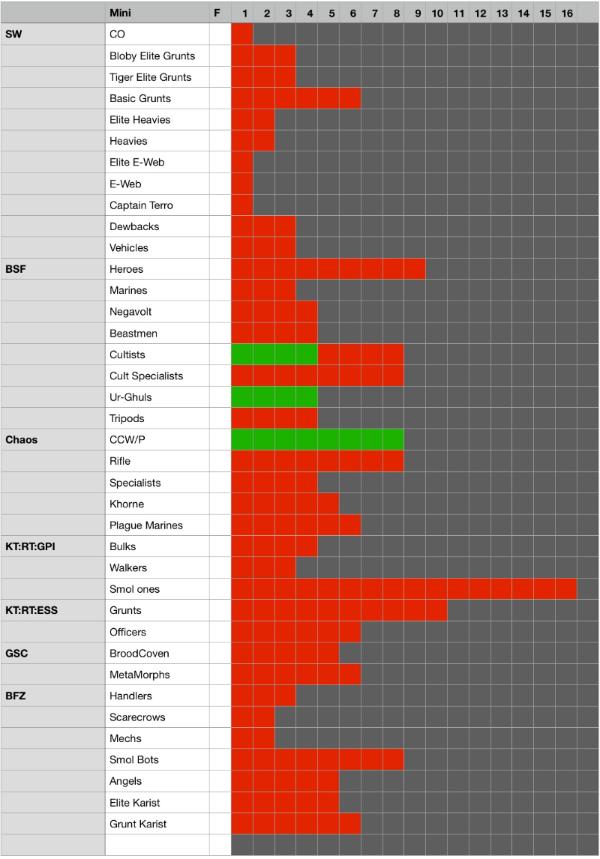 In picture format: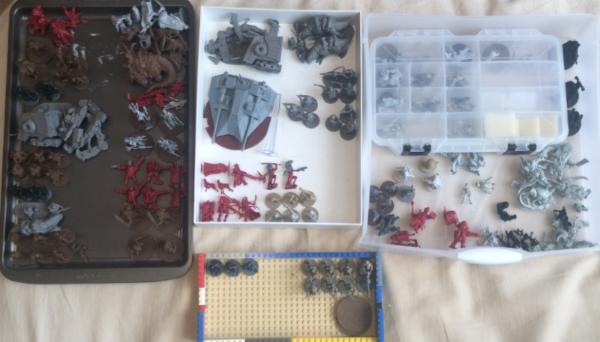 Cookie sheet is the short-ish term planed order, white tray is khaki or khaki/olive drab paint schemes, plastic is other paint schemes, and the LEGO tray is a "holding cell" for
WIPs
that are waiting for more to get to the same point before I move to the next step.
4) Finished: 12 Cultists and my Ur-Ghuls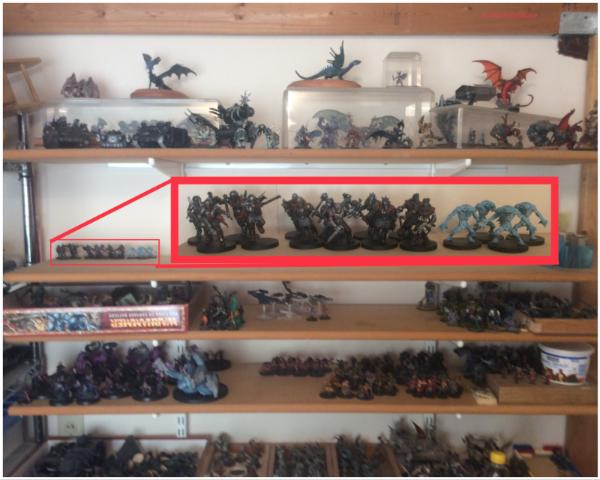 Also I have repeated an previous bit of encouragement and cleared a shelf for this year's achievements.
5) Ramblings, stolen from earlier today/the
"What are your most recent game purchases?"
thread:
SW

Legion Imperial Specialists to see just how bad scale is between Imperial Assault and Legion.

My findings indicate good enough for me. Imperial Assault models are the scrawny 5 foot nothing people and Legion is the 6'6" slabs of muscle.

Also 5 Blick Red Sable 00 watercolor brushes for $18ish. Gave me around a 50% discount, there the right size for most of my work, and I'm hard enough on brushes it makes sense.
6) ... AAAIIIIEEEGGG!!! RUN AWAY!!! AAAAAAAAAAAAAAAAAAAAAAAAaaaaaaaaaaaaaaaaaaaa
aaaaaaaaaaaaaaa
aaaaaaaaaa