Yeah, I have a ton of hobbies but I only seem to really be able to focus on them one at a time.
Got a bit more work done today.
I changed the front armor to something a bit more curvy and more like the
GW
model.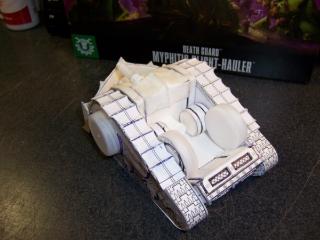 Glued down the gears that the Cannon sits on.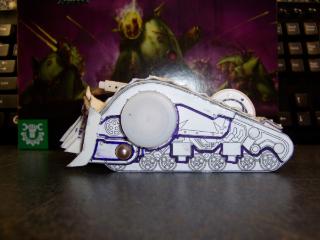 The new 3 of each dataslates per army thing may bite me in bottom. I have a FIRST STRIKE, 2 KNOW NO FEAR, and 4 DARK IMPERIUM's worth of Death Guard on deck to be built and painted.
So a quick search of the
GW
website, some cut and paste plus, basic math and my Death Guard Collection looks like:
- 6 Death Guard Lord of Contagion , a huge, terrifying Chaos Space Marine covered in spiked, corrupted Terminator armour armed with a plaguereaper.
- 4 Death Guard Noxious Blightbringer armed with a cursed plague bell, plasma pistol and a tocsin of misery;
- 4 Death Guard Malignant Plaguecaster armed with a corrupted staff and bolt pistol;
- 41 Death Guard Plague Marines – 5 armed with boltguns and plague knives, 1 armed with plasma gun and plague knife, 1 plague champion armed with bolt pistol, plaguesword and power fist; 8 armed with boltguns and plague knives, 2 armed with a plasmagun; 1 wields a boltgun, 1 is armed with a blight launcher and 1 – the Champion, who leads the unit – has a plasma gun, power fist and plague knife;
- 6 Death Guard Foetid Bloat-drone – a huge, buzzing machine held aloft by rusted turbines – armed with plaguespitters and a plague probe;
- 106 Death Guard Poxwalkers – the rotten, shambling core of the army – armed with improvised weapons (hammers, claws, bayonets and metal pipes are featured.)
- 1 Myphitic Blight Hauler
- 1 Plague Burst Crawler - Heavy Stubber and Plague Spitters
During my
40K
down time I also acquired a 7E Nurgle Chaos Army that I can pull models from. I'm pretty sure I'm going to convert 2-3 Biologus Putrifiers