Sorry for the delay, I've been busy with other things (*cough* Dawn of War II *cough*) but I finally managed to finish a few more pics from my shooting session at the
GW
store. I'll try doing this as a tutorial, hopefully someone will find it useful.

Note: I'm using Photoshop, but there are other editors out there that can do most of the things Photoshop can (Gimp and PaintShopPro springs to mind). I will not go into details about the specific tools, since these are already covered in the help files or in other tutorials that can easily be found on the web.
Please don't repeat my mistake and start shooting without proper lighting. If you really want to show off your painting skills, it might be a good idea to build a cardboard studio box to get more diffuse lighting, but for this you should be fine with just a desk lamp. There are a few excellent guides covering miniature photography out there already, including these:
http://www.dakkadakka.com/wiki/en/Dakka_Modeling_FAQ:_Photographing_Models
http://www.hodgenet.co.

uk

/minpics/index.htm
http://www.librarium-online.com/photography/miniature-photography-2-987.html
http://www.cheddarmongers.org/prod/blog/uncle_phil/uncle_phils_miniature_photography_guide
Before you start, turn off the flash. If your camera has a macro setting, turn it on (assuming you are taking a close-up image). Never hold the camera without support if you can avoid it! If you don't have a tripod, put your camera on a box, a piece of terrain, anything. If you just hold it, the image will get more or less shaky. The best option is to use the timer, and not touch the camera at all. However, it's usually very hard to do that AND get a good shot.

Take a lot of pictures while you're at it, try different angles etc. An image that looks good on the camera display may turn out to be nearly impossible to work with later, so you can never have too many. Well, almost never.
This it the image I'm going to use for this tutorial: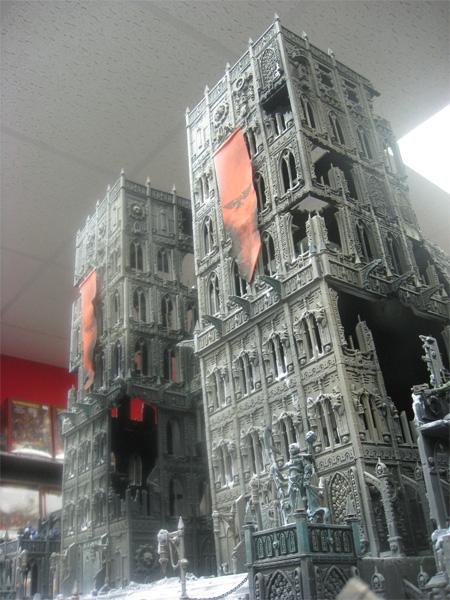 Kudos to the guys at
GW
Gothenburg for creating this awesome building!
For almost every image, you'll probably need one or more of these things:
Skies
Using a different sky can really change your image, and sometimes you may even want to combine several skies. Just make it a habit to snap a shot or two whenever there are cool clouds in the sky and you'll end up with more sky images than you'll ever need.
Aged Paper
Overlaying an image of old, yellowed paper onto your photo will give it a worn, weathered look. A good way to get this is to scan a page from a really old book. The title pages usually don't have that much text on them, and by using the Clone Stamp tool in Photoshop you can get rid of what text there is.
Smoke
You're not very likely to have direct access to that black, billowing bomb smoke we want (at least I hope you don't), so search the web and the local library for old war images, burning oil fields and the like.
Snow
For this image I'll also need some snow. Taking a good photo of falling snow can be tricky, I've found it's easiest to do it at night, with the flash enabled. Should you get good conditions, be sure to take several photos so you have some to choose from.
The first and most tedious thing we need to do is cut out the image from the background. In Photoshop, the background layer is usually locked for editing, so you may have to make a new copy of it. Just drag the layer to the small "Create a new layer" icon, then hide the original background layer (having the original image around is very useful if you make a mistake). Then carefully erase everything that you don't want in your image (in this case the roof and walls of the store). If you're lucky you can use the Magic Wand tool to quickly select large areas. For more detailed parts I suggest zooming in and using the eraser with a small brush.
This part can be painstaking, but it will pay off in the end. This is what I ended up with: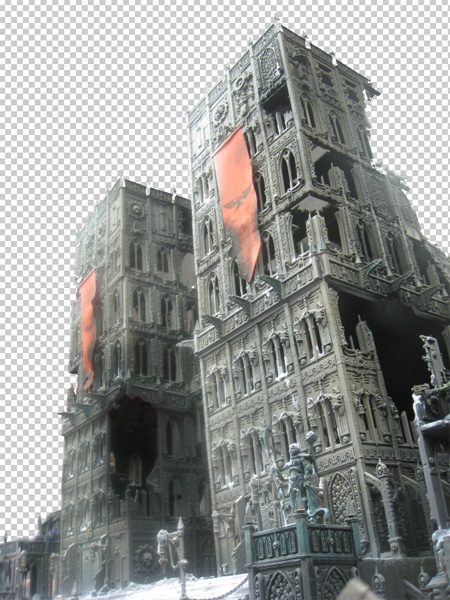 As you can see, the background still shows in some of the windows. We can't just fill these in with black, since it wouldn't look the same as the other windows. If you look closely, you'll see that the windows aren't really black, but a dark-grey noisy mess. To make it look good, we need to duplicate this for the other windows using the Clone Stamp tool. Using the texture from window A as a source (alt-click here to set the clone source), carefully draw into window B until it looks more or less the same. Repeat this for all the other windows.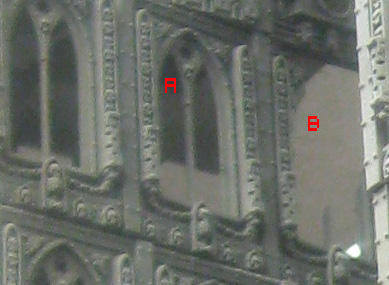 Now it's time to get that sky in there. For this, I used two images, one for the sky itself and one for the smoke. Just put them underneath your main layer.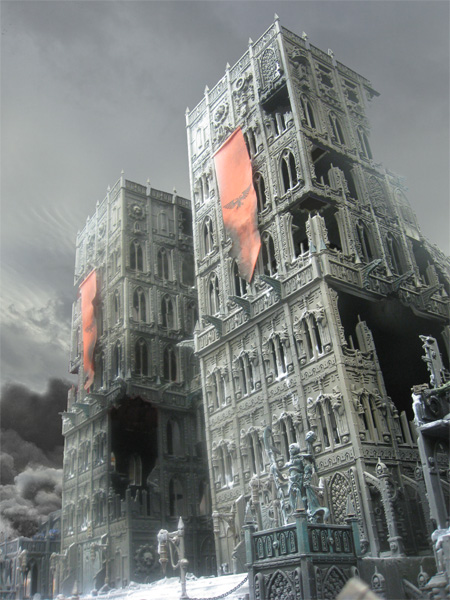 Miniatures, even the dark and gritty ones of
40k
, are often painted in bright colors that stand out on the battlefield. In order to make the image look more aged and war-torn, we need to dull the colors down a bit. (This also helps hiding the Ultramarines standing at the bottom-left roof, that I forgot to remove after taking the picture posted earlier in this thread

)
Instead of editing the color saturation of every one of your layers, go to Layer->New Adjustment Layer->Hue/Saturation. This will give you a layer that you can use to tweak the color settings for the entire image until you get it right.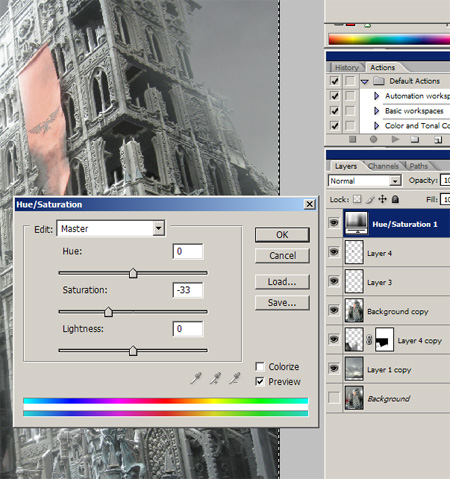 Now, drag that old paper texture I mentioned earlier on top of your image, and resize it (
CTRL
-T) until it fits your image. Change the layer mode (the roll-down menu in the layers section) from Normal to Overlay, and set the opacity to about 15%. Now make a copy of this layer, and set it to Color Burn mode. You may need to fiddle around with the opacity numbers to make it look just right for your image. 15% worked good for this one.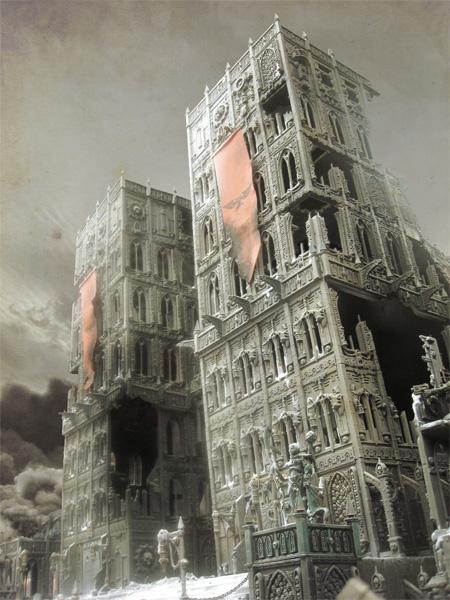 Finally I'll add some falling snow to the image. If you have white snowflakes on a black background, you can just set the layer to Screen, and only the snow will show. You'll probably have to resize the snow layer until the size of the flakes fit your image.
Done!!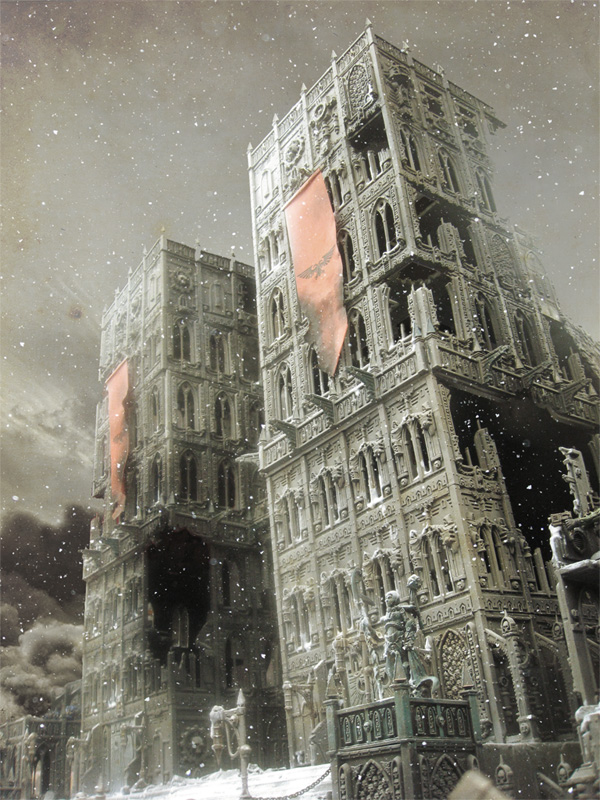 And another using the same materials: