Before I start, I want to link this
Speed Painting Article
for further tips on how to paint assembly line style. I'll go over my own techniques in detail, but this article is worth a look as well.
Chrispy's Guide to Table Ready Ork Boyz
Since I've posted pictures of my
Ork Boyz
I've had questions on my speed painting technique. I hope to show you here how I achieved the look. Using this techniques, I've painted over 75 Boyz so far, and I'm working on my next batch of 36. Each individual boy has only taken me about 10-15 minutes. The whole point of my technique is that one will rarely scrutinize a single boys from 6" away. More likely, each one will be seen at arms length in the middle of a table with 150 other boys to gather your attention. As such, effect is more important than perfect painting. The effect of 150 models all painted up is better than an army of grey plastic with one unit, even if that one unit looks awesome.
Tools/Paints
White Primer
Large Brush (I use size 3)
Paints (
GW
or Vallejo equivalent):
- Devlan Mud Wash
- Thraka Green Wash
- Goblin Green
- Bubonic Brown
- Ultra Marine Blue
- Codex Grey
- Scorched Brown
Finally, a unit of Ork Boys, assembled.
1. Prime
I personally prime my boyz
White
to start. For some reason, though, most people are fanatical about their black primers, and refuse to switch to white for any reason. Let me try and change your mind. For my technique, the process is pretty simple. It's basically lay a base color down, and use
GW
Washes to darken the color and shade everything. If you start with a black prime, you will have to work up your colors from dark to light. If you start with a white prime, all your colors can be applied evenly with a light, watered down layer of light paint.
2. Base Coats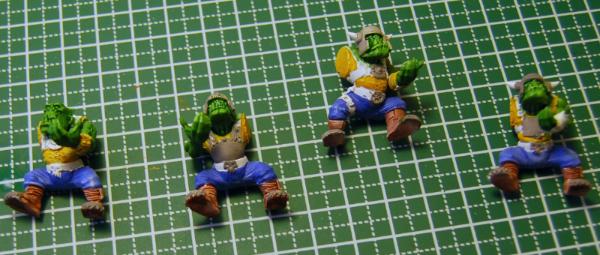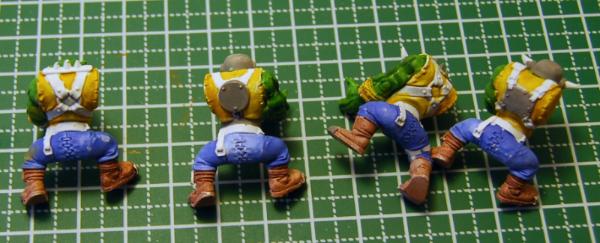 Paint your skin with the
Goblin Green
, the pants with
Ultramarine Blue
, the shirts with
Bubonic Brown
, the shoes in the
Scorched Brown
, and finally pick out all the metal parts with the
Codex Grey
. I usually wash my skin right after painting it, to limit the mess. Also, this way I can cover any splotches with the next colors I paint the base boats in. I know that your orks will look a little silly and bright. Trust me. Mine definitely do in my pictures. Leave all the fiddly straps white. They'll be colored nicely in the next step, which is...
3. Washes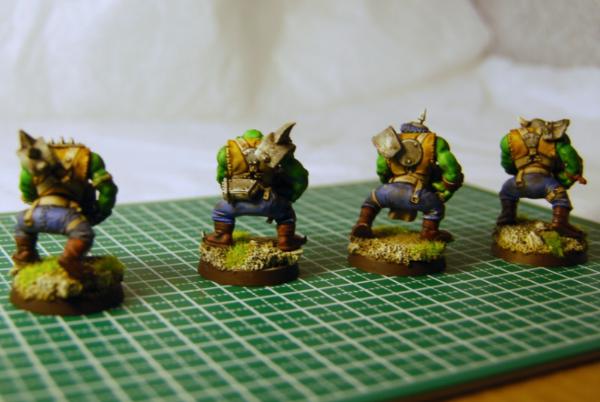 In this step, use a loaded brush to slather your entire model with the
Devlan Mud
. This does many things. First, the Devlan Mud will fill in all the crevasses, giving you your shadows. The properties of the wash will also allow the peaks on the model to really show through. Since we used such bright colors as the base, it makes it look like a simple highlight. Next, the wash mutes all your colors, so they aren't so bright overall. The wash will also color in all your white straps, which were left to save time and energy. Now, instead of white, the Ork straps are all a light brown color. Finally, any mistakes you made will be blended into the model.
This is really my entire process. Prime, Skin, Base Coats, and Wash. The total time for each individual boy model, from prime to done, is 10-15 minutes plus basing time and waiting for the washes to dry. I can get through a unit of 18 boys in about 3 hours.
4. Details, then Dull Cote
After picking out the teeth and eyes, you are pretty much done. The orks are now table ready. The final step is to Dull Cote. I really can't recommend this enough. Dull Cote protects like a varnish, but it also takes paint like a primer, so if you want to go back and, say, add more highlights later, you can do that at any time in the future. In fact, after this Dull Cote step, I play with my army, with the plan to return later and add details such as Skin Paint and Clan Glyphs. Dull Cote. Trust me.
This technique also carries to other boys. Here are examples of my Lootaz, done using the exact same process.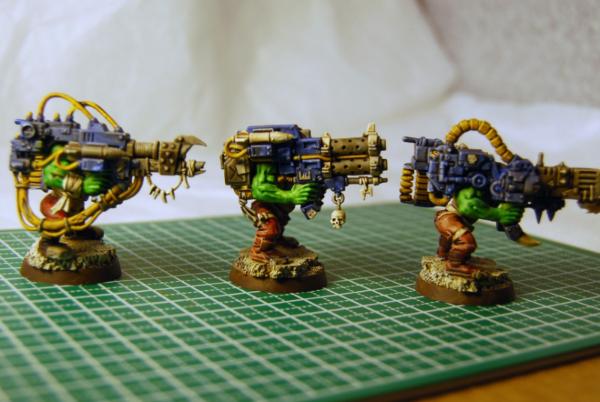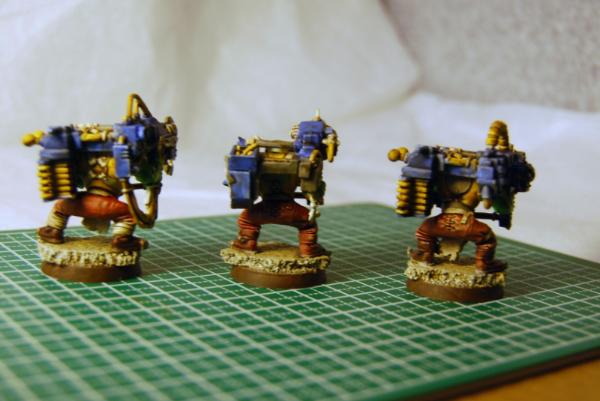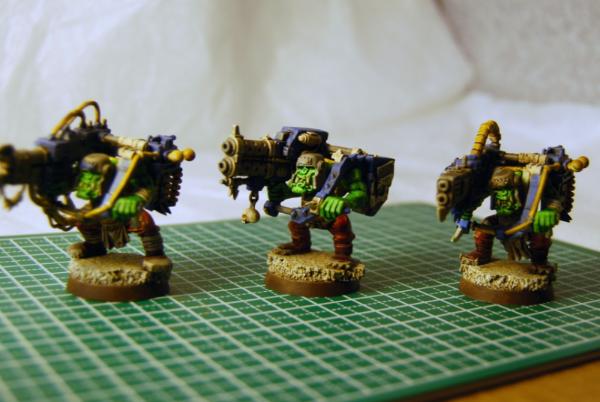 Finally, I want to add a few general Speed Painting Techniques.
+ White Primer.
It saves you the trouble of adding multiple layers just so you can get a light enough layer on top. Stop wasting time going from a black primer to a dark blue to a lighter blue to your final blue. Just prime white, and start with your light blue.
+ Washes.
Quick and easy.
+ Biggest Brush Possible.
Just load it, up, and apply your paint without having to reload your brush. It's a waste of movement, and even if you make mistakes, no one is going to notice it under the wash.
+Assembly Line.
This saves me tons of time. I do all my Ork skin first. Then all my pants. Then all my shirts. Then all the metal bits. Each time, you'll get faster and faster at applying the same color to the same area. Save yourself some wasted movements.
+ Water Down your Paint.
Paint at a milky consistency will cover well, without leaving lumps and bumps. Water it down a bit, until you get what works for you.
I hope this will help you paint your mobs and mobs of boys faster, so you can have time to really focus on the big stuff. Good luck, and feel free to
PM
me if you have any questions.