Hey all, it been a while since I shared anything. I was working on my Dwarfs last month so I thought it was a perfect time to share them. Dwarfs are probably my oldest Warhammer army, I started them and Empire around the same time in the early 90s. I have worked on these guys of and on for years. Last month I finished the Rangers, Gyrocopters, Miners, up dated the Hammerers and gave the whole army the Minwax treatment. I have probably collected more for this army than any other. I still have two drawers in my bits cabinet full of Dwarfs but this is what I have painted thus far.
The army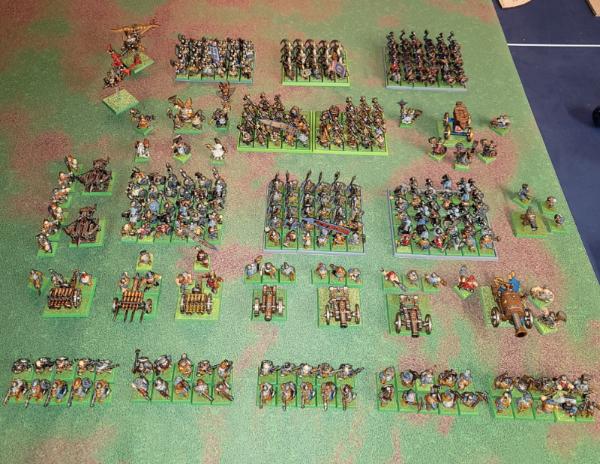 Last month I finally got around to painting a Lord on Shield Bearers. I had a couple different options. I have original Alrik model, The White Dwarf 30th anniversary model, Bugman on the Barrels and some bits to make a some customs. For now I decided to go with a custom figure. I had this Kazador model laying around and I really like it but found that I had other models I like more for a Lord on foot. Now that he is on the Shield Bearers I have a good reason to let him hit the table, he really stands out now. Plus when he was on foot the horn always smacked into things, now he fits in with enemies much easier.
Runesmiths! The old Crag the Grim model in the center is usually used as a Runelord.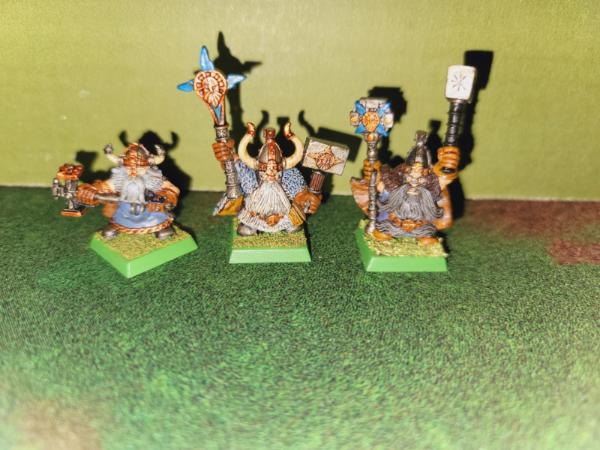 I know in 8th ed the Anvil of Doom is not the most competative thing but I do find myself including it in most of my Dwarf lists these days. I love the old model! I originally painted this back in the 90s. I gave it a face lift and added some shields to the guards. These guards are awesome, if I could ever find enough of them I would make a whole unit of them.
My
BSB
is a conversion of one of the Dwarf characters from Mordheim. The axe is from the old Dwarf Warriors command bits. The banner itself is a collection of banner bits and the very top is the front of a Dwarf battering ram that I think was briefly released for 5th ed Siege.
For a lord on foot or a Thane I like this model converted from the limited edition
BSB
and an Iron Breaker standard.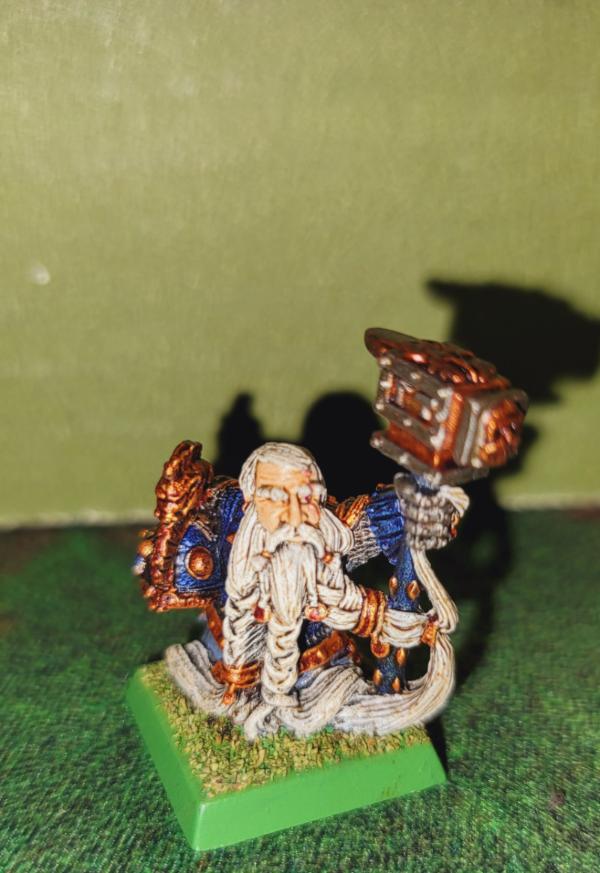 I also like this to use this model for a Thane, painted many years ago. He was originally the Champion from Bugman's Rangers but he is too cool with his peg leg and eye patch to be just a champion, and there is also no reason to take a champion in a unit of rangers.
Last month I also finally painted up The White Dwarf from issuee 300. He has only been rolling around the bits bin since 2004, dude deserves some paint. I did modify the axe a bit. The original axe was a bit plain so I swapped it out for one from the old plastic command sprue.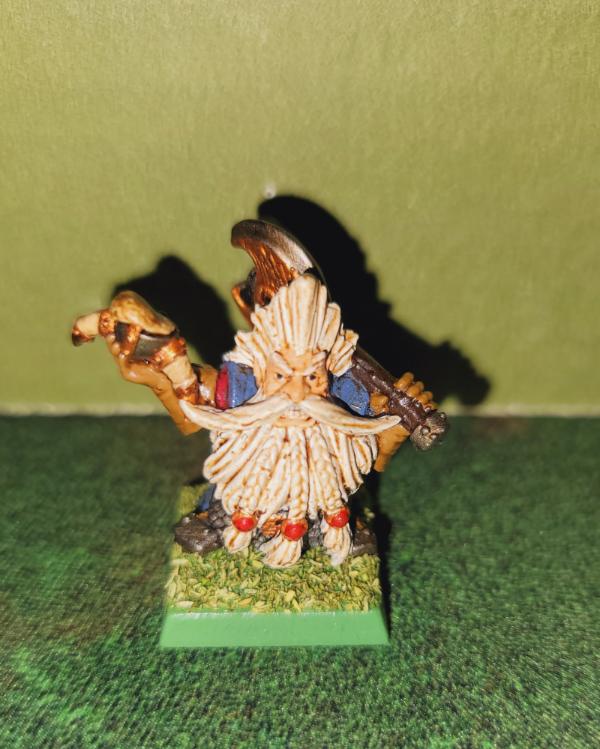 I have two units of hand weapon and shield that I use as either warriors or Long Beards. They are a mix of 4th and 5th models. There are also a handful of figures by Kev Adams when he was sculpting for Harlequin Miniatures. I have a handful of the old Drunk models and try to get them into as many units as possible.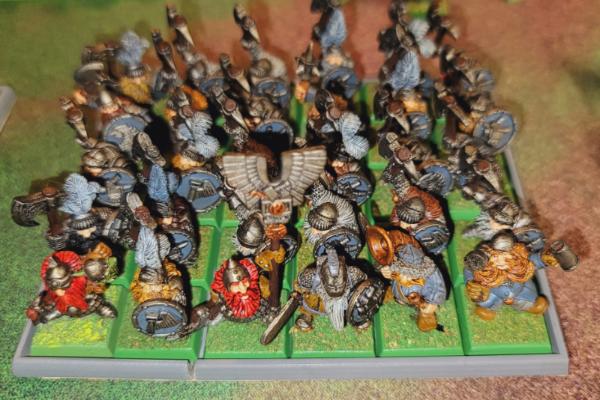 Great Weapons! Mostly the plastics that came out at the end of 5th and very popular in 6th.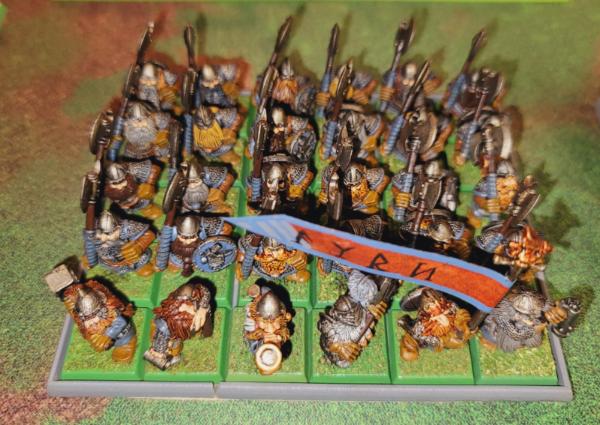 I have 3 units of Thunderers painted up. Some are 5th ed models but most are these guys from 6th.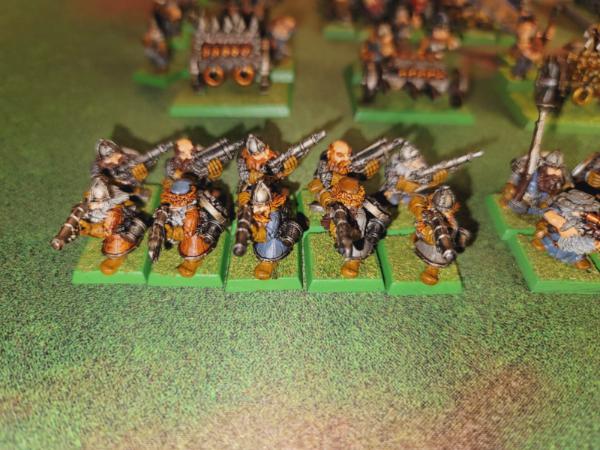 I have 2 units of crossbow painted up. They are a mixed bag of 5th ed metal, drunks, plastics, and converstions.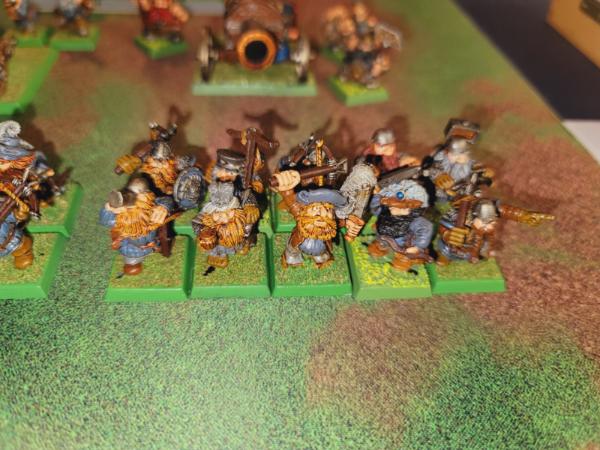 Back in October I cleaned up my old Hammereres, mostly adding details and painting all the gloves the same color. I added a few more models to the unit, with some unit fillers they are up to 40 strong.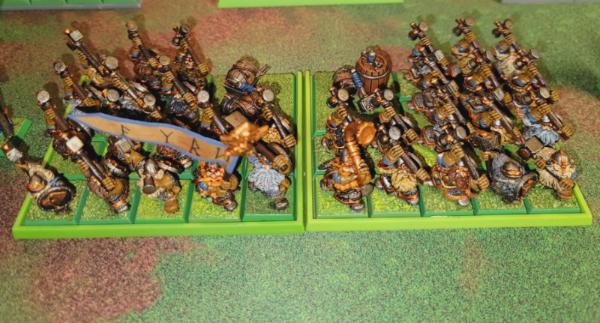 The Hammerers even a have a Drunk of their own, converted out of the Dunk Miner.
Speaking of Miners, they were one of the units I did last month. Old metal command and Drunk along with some Skull Pass Miners. While painting them I wasn't sure how well they would turn out but I was really pleased with how the candles looked after Minwaxing.
Another unit I painted up last month was Bugman's Rangers. 24 strong being lead by Bugman himself. I really get a chuckle out of the guy reading the map in the front rank. It just cracks me up to think about a unit of lost rangers.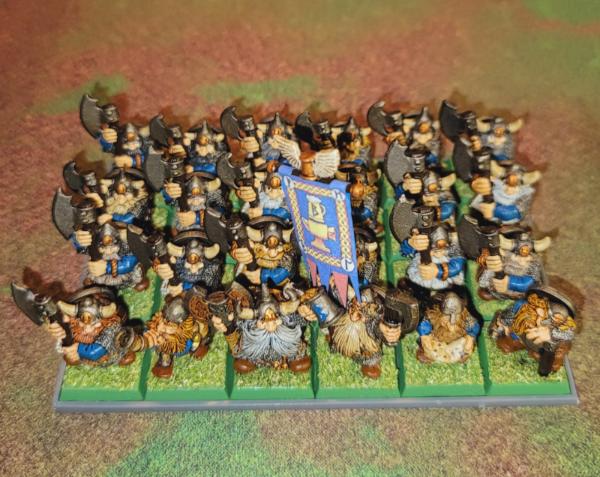 30 Iron Breakers all 6th ed. I love that these guys are just metal and beard no flesh to be seen.
Most of the Dwarf artillery is from 4th-6th ed. The bold throwers I am using are from 7th. I particularly like this crewman from the 4th ed organ gun. Just love the look and how he is lighting the gun with his cigar.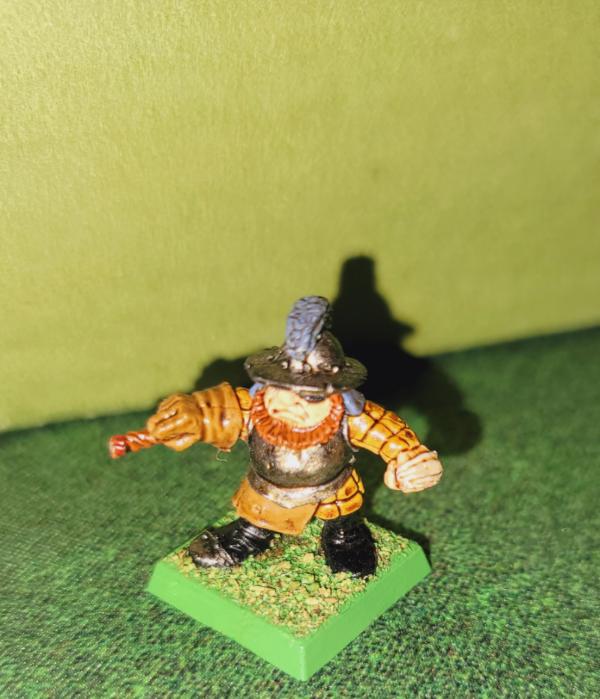 Here is a treat for you youngsters. The original Flame Cannon from 3rd I believe. I get a kick out of the two guys holding their ears.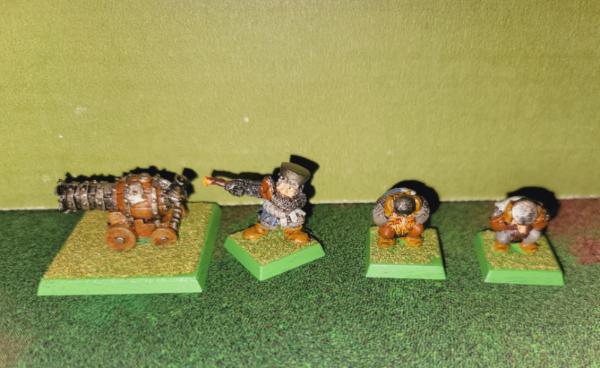 Gyrocopter #1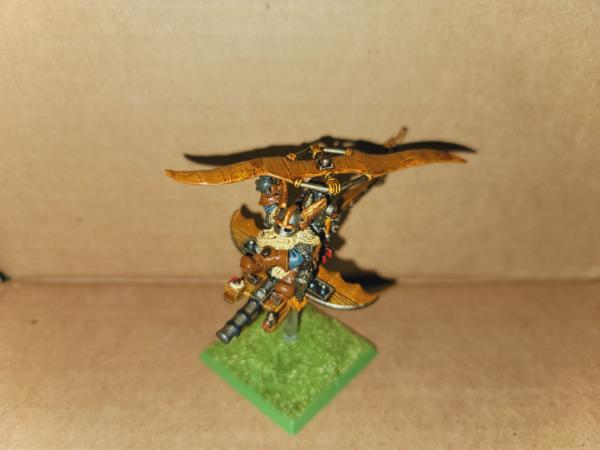 One of my favs, the Bearded Barron and his blood read Gyrocopter!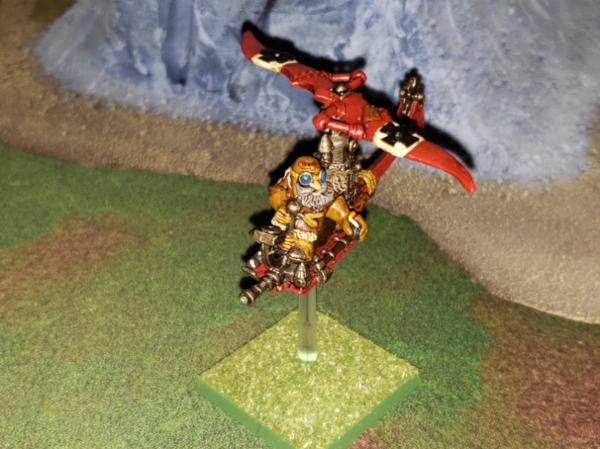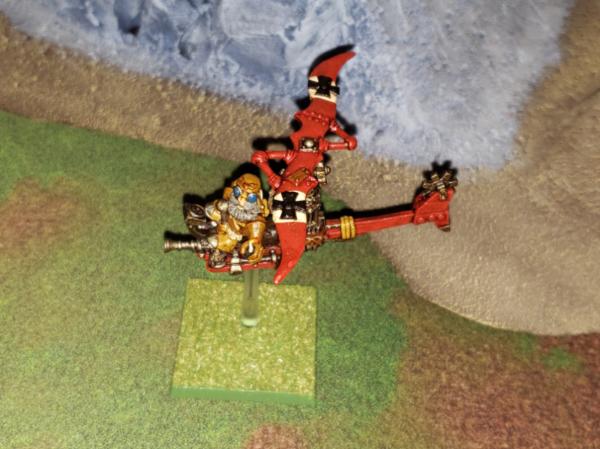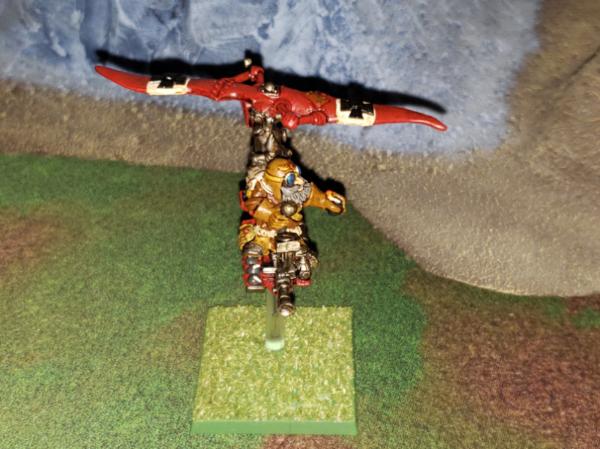 I can't talk about Dwarfs with out mentioning SLAYERS! I started these guys back in 6th for Strom of Chaos to play as the Slayer Army of Karak Kadrin. I still use them the Slayer list works surprisingly well in 8th ed.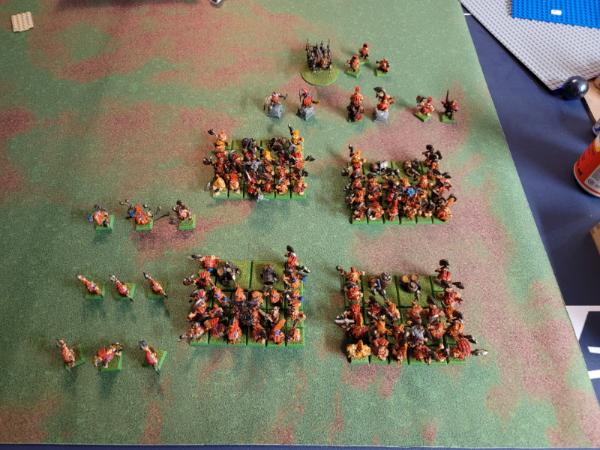 Some day I may paint up Ungrim Ironfist but for now the army is lead by a Daemon Slayer. It took some work to trim down the Daemon head so it would rank up, but it works.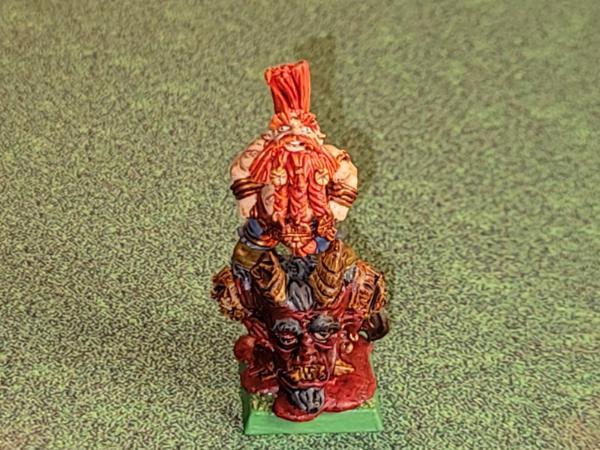 I put all the Dragon Slayers on stones to make them stand out from the rest of the army.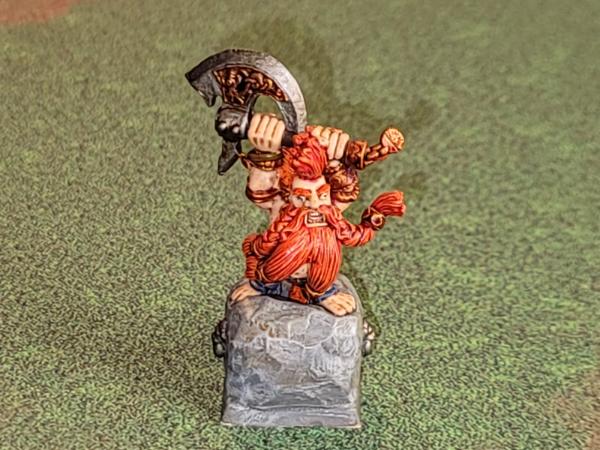 This guy is probably my favorite in the army. Made from the Mordheim slayer, just a great pose and cool face.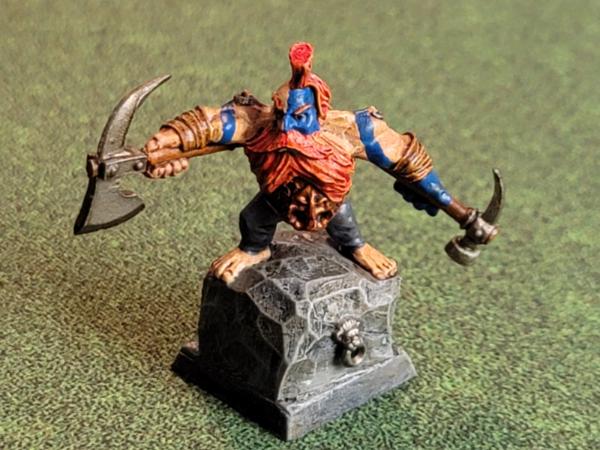 This model is converted from the 30th Anniversary White Dwarf Gotrek, just one of 3 versions of Gotrek in the army. I gave him a torch in the arm that was holding up the white dwarf and repositioned the axe a little.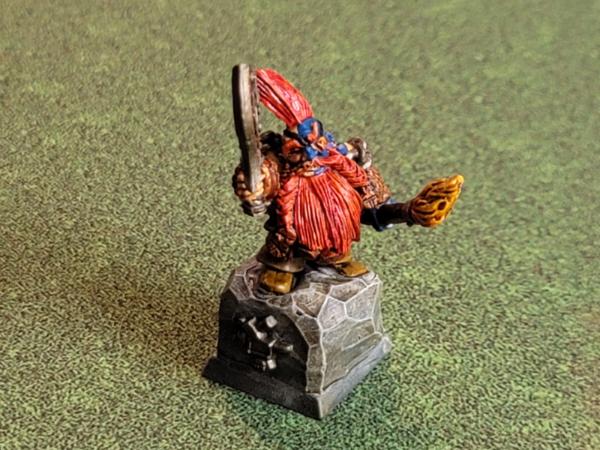 Elite slayers protected by magic wards The Brotherhood of Grimnar. Standard slayers with tattoos and a standard top from the limited edition standard bearer.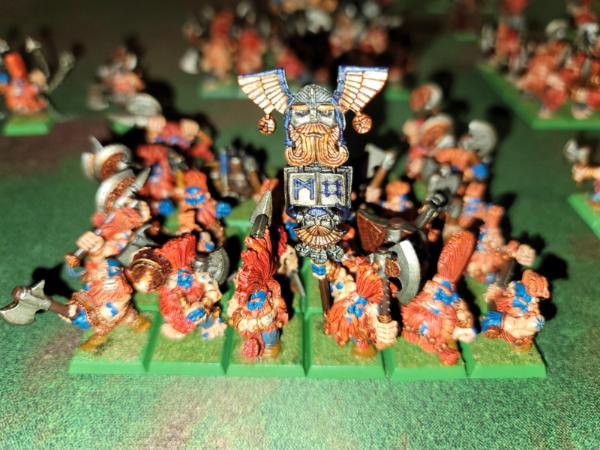 Slayer unit #1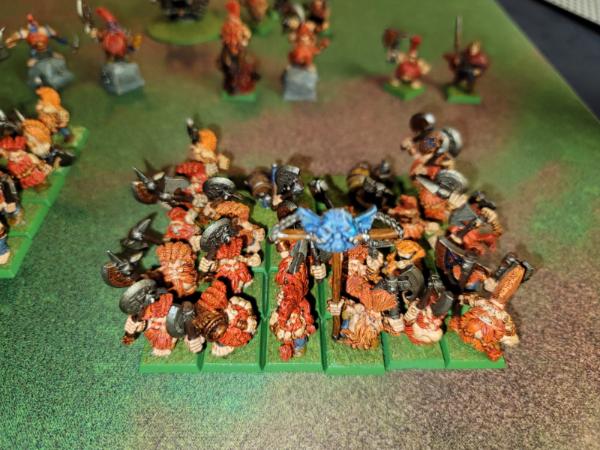 Slayer unit #2, the banner is from a Bloodthurster head I had laying around.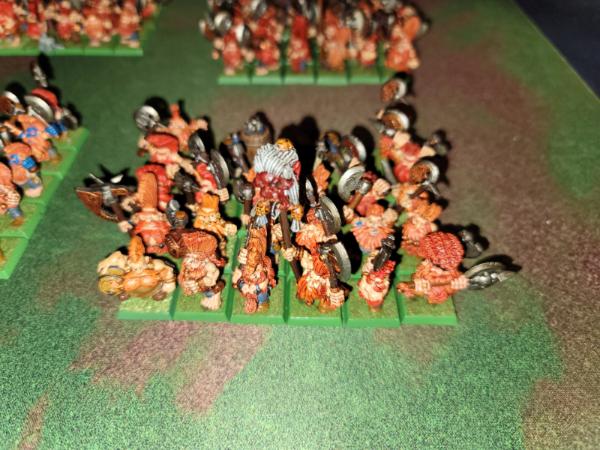 Slayer unit #3, being lead by another version of Gotrek.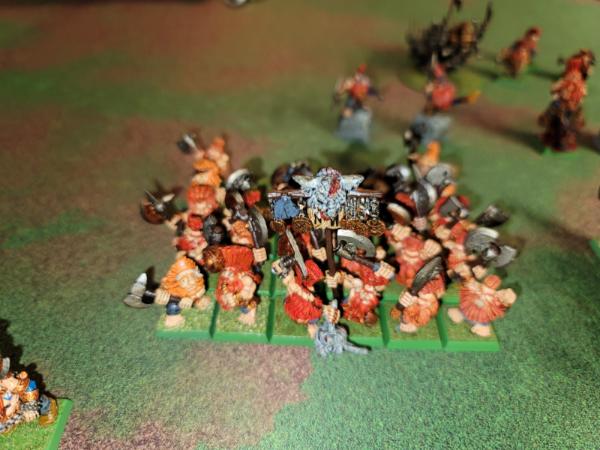 The Slayer army would not be complete without the Doom Seekers! Originally I wanted to use only the Mordheim Troll Slayer model, they just look like little buzz saws ready to cut through anything. Though as the army grew I had to add more and that figure became harder to find.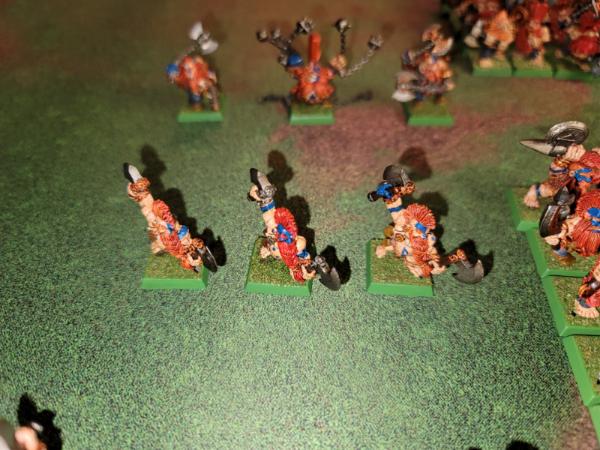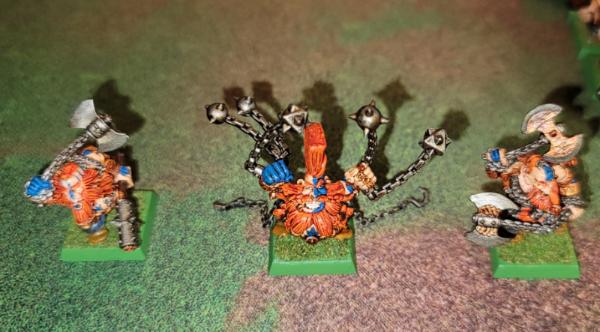 A friend of mine converted this guy up for me. I think he intended me to use him as Gargrim Ironfist but he works as a Doom Seeker too.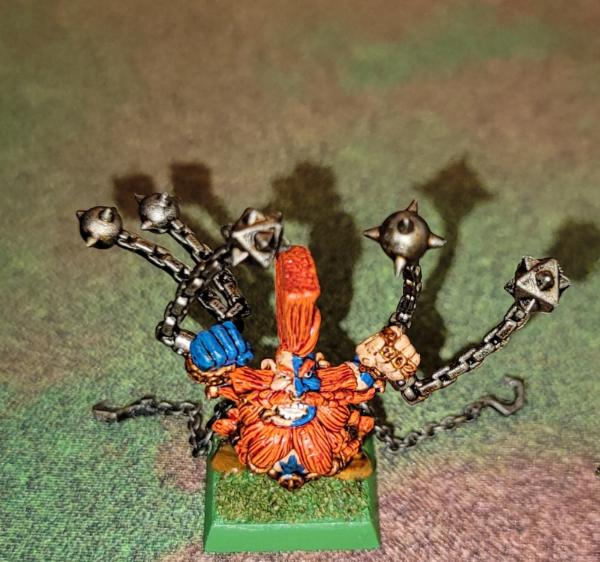 You can't play Slayers without a Goblin Hewer. It was a beast in 6th an 7th, it is even better in 8th with all these giant units running around. Even if not playing the Slayer army it makes for an awesome Organ Gun proxy.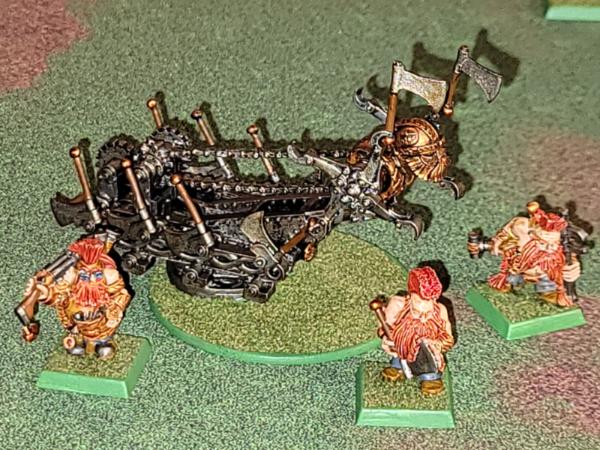 Gotrek and Felix are always ready for a fight. I just about always include them in this army.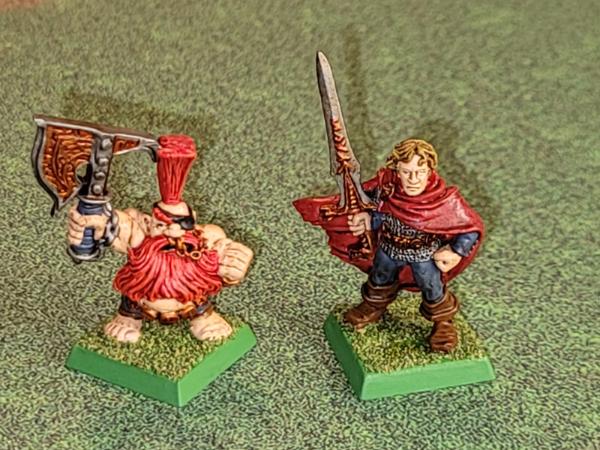 Close up of some of the unit fillers.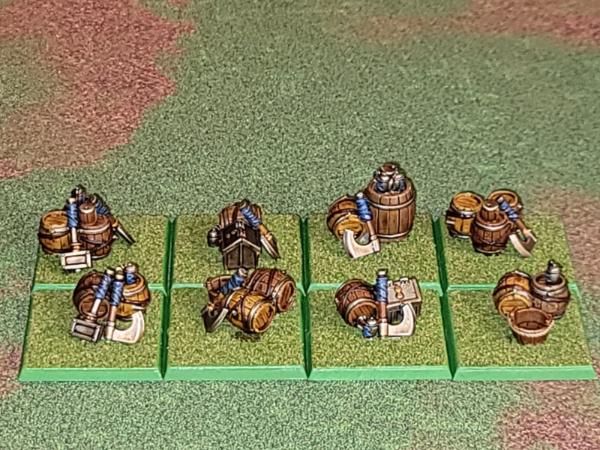 Well that's about all the painted Dwarfs I have for now. I have a few more things I want to add to them but will have to wait until some other projects are finished first. Sorry some of the pics are a bit off. I upgraded my phone last week and still figuring out the camera.