SO! A blog. First for me, besides that one involving a Thunderhawk that never quite made it from the planning stages to the third dimension (the printed plans look rather forlornly at me every time I move them, which is fairly often. One of these days...). Yes, I know, the main force of this tour will be the guys everyone either hates or loves, the men who like blue a bit too much, the Ultramarines! Now Kaesar, you may ask, why Ultramarines, the most used/ cliche force in the history of tabletop wargaming? Well, they were my first army, and I fell in love with that sea of blue. And what better company to support than the Second! Yes, I know, the most original work since Vanilla Ice. Yes, there will be some daemons, yes, there will be some corruption, but these will still be the stone faced stonewall Jacksons they always were, with the exception of a completely offcolour chapter master, Kaesar II, from which I derived my current identity.
Another of the ringers featured are the Imperial Guard, a (roughly) impenetrable bulwark of humanity, the last defense against the nasty denizens of the galaxy. There is, however, a twist. Instead of being led by the heroic, valiant captain or general who doesn't retreat even in the face of impending death, they will be led by a Rogue Trader, who has had some... rogue... trading... in his days, giving me a good background for having a Lord Inquisitor on my crowded desk, as well as some Tau from the An'ar'ka sept (Aren't I just the most original guy in the room? My sarcasm's off tonight, sue me). However! No pictures will be supplied of them right now, as I wasn't feeling very motivated to shoot them as well.
And, as for updates, they might turn out to be a bit... sketch... if you will, as I lead such an active, busy, and social life (these days, that's actually approaching a bit of truth, believe it or not). Come on, this is what I have to work with: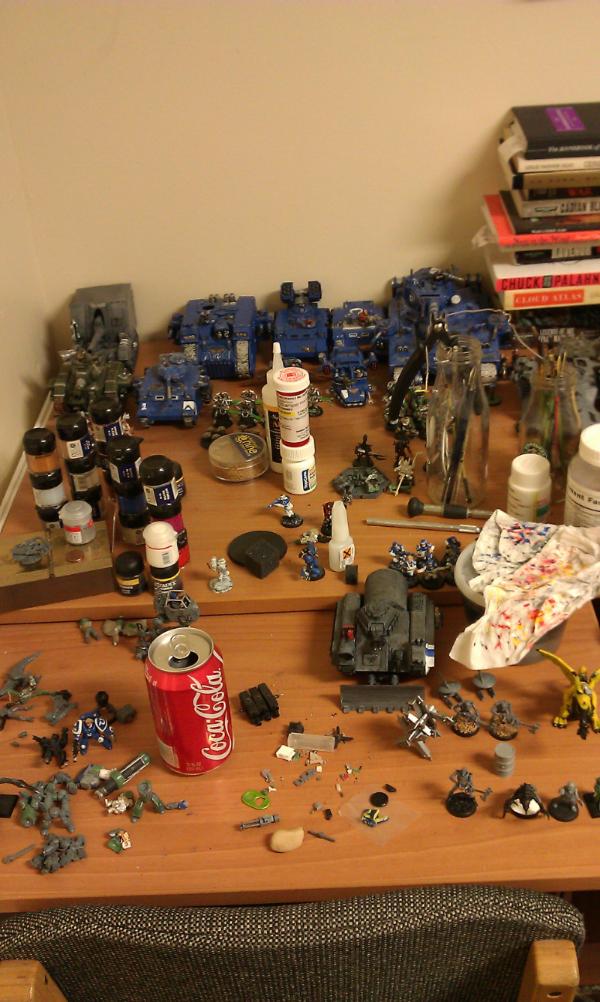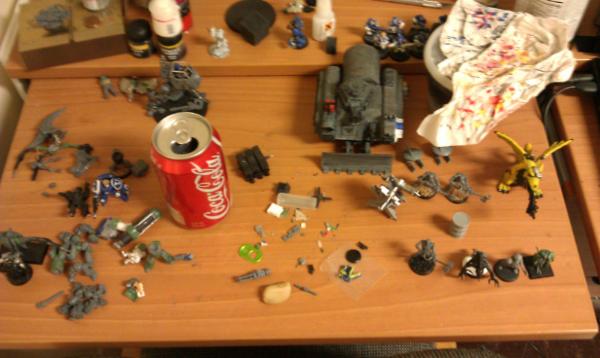 Anyway, just to show you proof I mean business, here's an overload of pictures showing my current Ultramarines force! With the other armies to come... some time... And no, I currently have no big group army shot, as I tried and couldn't get the right lighting, which is another thing you'll have to deal with here- weird lighting.Anyway, I believe some pics were promised...
Chapter Master Lord Kaesar II
Chaplain Essoses
Honour Guard (not yet completed)
Terminator Squad (to be refinished)
Terminator Sergeant ___, aka "the Kidder" (I haven't an idea how my originality has been on the overdrive so much today)
Sternguard Squad (beware: this squad is far from completion, and likely will for some time yet)
Sternguard Sergeant Demarkes (the most complete of my Sternguard so far- he just needs a suitable base)
Dreadnought Dissartes
First Squad, Second Company: "the First and Last," led by Sergeant Larkyses
Second Squad, Second Company, led by Sergeant Michael (because they're bad![ly painted])
Third Squad, Second Company: "the Knights of Eternity," led by Sergeant Septurnus
First Assault Squad, Second Company, led by Sergeant Alonius
Bolter Scout Squad, Tenth Company (no named leader or squad name for them until they do something more than die

)
Sniper Scout Squad, Tenth Company (no leader for them until Telion and completion)
Motor Pool
Tank Sergeant Chronus (to be refinished as well, after looking at his mug more closely)
Land Raider "Steadfast" (real story behind its name)
Predator
Whirlwind (doubles over as one of the rhinos; guess which and you win!)
Rhino 1 "Purty Stonewall"
Rhino 2 "Untested"
Land Speeder (yes, those are kill fins)
Land Speeder Typhoon
Well, that's all the basic pictures for now (more can come showing individuals, freehand, markings, etc. when the time comes) and more will, hopefully sooner rather than later, be coming in, courtesy of yours truly and my newest piece of high tech, a Droid that takes better pictures than my dusty camera (And I beseech the Omnissiah to have mercy on my blasphemy against one of your sacred gifts to Man, etc. etc.). Comment if you are so inclined, and, as per usual, leave all the holding back of criticism and give me as full a torrent as I need until I get better, which will certainly take quite a bit of work. Until next time, this is the ever listening, ever watching Lord Kaesar II.