OK, so here is a brief disciption of how it's done.
You will need: 2 barbed strangler cannons, 4 devourers (termagant version because the monstrous are rare) 1left hand from the barbed strangler or heavy venom cannon (the part with the ball sacks) and finaly and adrenal gland from a termagant or genestealer sprue.
Right Hand:
This is the easy side. Just slice of the Barbed strangler as in this picture and glue together:
[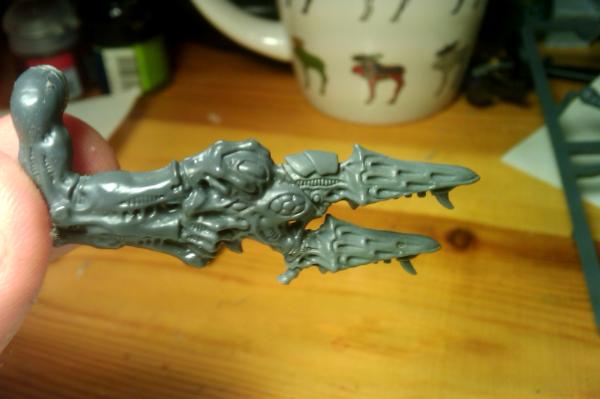 As a general rule give yourself plastic to work with. You will have to shave the edges so that they meet each other flush so remember to leave enough plastic to shave off! Also dont forget to check alignment from the side and from above.
Left Hand:
This side is trickier. Repeat the process as above except before gluing the devourer heads on do the following. Slice off the barbed strangler just above the elbow with a diagnal cut as seen here: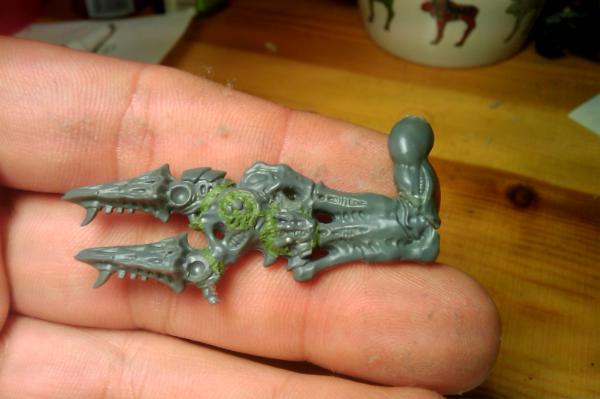 (If you want to magnetize drill now!!) Next cut the left arm with the same cut and shave until they fit each other. Dont glue together just yet.
Finaly you have to make it look like a left hand. Take care of the hole first (that you would normaly stick the ball sack into) with a bit of the adrenal gland. Next I chose to put fingers on it to hide the thumb. Shave the thumb till it is flat and then shave the fingers of a heavy venom cannon to fit on the flat bit. Some green stuff and fiddling will be required at this point!
GL