Hey guys,
So I've never actually made a P&M Blog before, which is a bit of a shame considering the number of projects I've done before this. But I guess nothing's been altogether distinctive, until (hopefully) now.
I'm very compulsive when it comes to getting my hands on armies. Ordinarily I'm not a huge fan of the Orky style; mostly because of the way the Boyz and the like look (the helmets/bodies). Anyhoo, I came upon these one day whilst doing my normal hobby prowling online:
And I was quite taken aback at how easy it looked to give Orks a nice WW2 aesthetic, something I never did for my guardsmen. Furthermore it seemed a lot easier to 'do' Orks as a non-serious spoof than Guard. I'll admit that I too have a little shudder when I read 'Nazi' in the topic-line of any thread on Orks. I decided I was going to simply theme the Boyz around a 'militaristic' theme, no iconography and no strict enforcement of historical colours in my painting.
So I was feeling pretty swayed toward Orks, but it's not unusual for me to do a 'hypothetical' and simply say an army is a workable idea rather than an obsession to make me want (and finish) it. The final impetus that pushed me to actually work on the project was recalling the KV tank from World of Tanks. When playing it, my friends and I would say it's pretty darn Orky and hell, it is:
I even saw pics of a chap converting one up:
http://www.the-waaagh.com/forums/?showtopic=30018#entry424883
A final sway for making one was some stuff I came upon from Puppetswar and Micro Art Studio (the latter of which I am going to mention again):
It appeared that 'Germanic' Orks could have some company from a few Russkies >

So I am not on the course for making a Speed Freaks-style army (though I think the Clan, if I choose one, will probably have to be Blood Axes, given their adoption of filthy 'umie gear). The Russian element will be themed around the big KV-2 battlewagon; at it stands, the Russian Orks stand with the KV-2 and a Tankbustaz squad (the latter of which I shan't work on for a long while, mind). The 'Germans' get twenty Ork boyz, two trukks (converted from 1/35 scale Sdfkz. Halftracks), a looted wagon (based on the S35 Somua), and a squad of Nob Bikersz with a Warboss.
The Warboss'll be a big ol' General:
But it is a poor P&M Blogger who spends so much time building up an idea, with people hopefully being interested, and yet chooses to not include pics. Although my work on this only started yesterday (I had vowed not to start until my
GKs
were finished), I do have some (very)
WiP
shots on the S35 Somua, the Looted Wagon:
This was my first time working with plasticard, it took about two and half hours with a *lot* of slacking off (I was at my gaming club) The model is an
OOP
S35 Somua from Heller, 1/35 scale. I felt a little guilty 'Orkifying' the thing, since I had won it on eBay as property of a deceased man, the packaging is certainly old. Rather like butchering an historical artefact...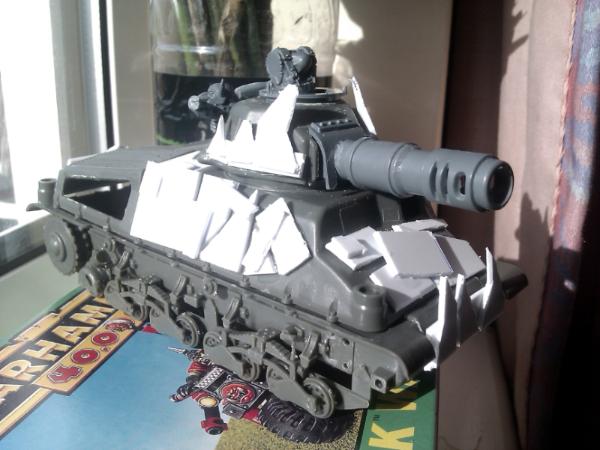 Observe the peepy hole for an Orky driver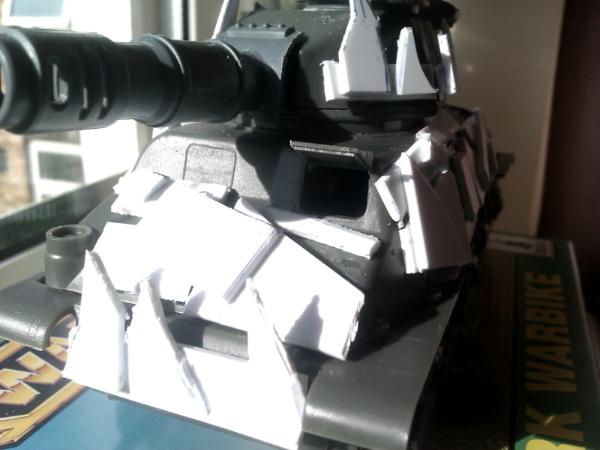 The Commander's hatch is a good vantage point for any Grot gunners hoping to take pot-shots!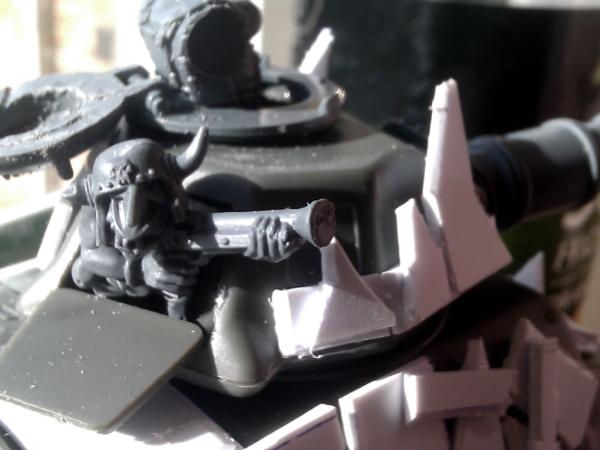 I hope to get another update on the Wagon by Friday, I may not get much done today as I'll be distracted by the bothersome occasion that is my birthday. Hope y'all liked what you saw

Update:
As soon as I got in I felt hyped to start on the Battlewagon... it'll actually be pics of that I think that will be posted, the KV is basically built, it's just the conversion to come!