During the heresy the sons of Angron took to the field against the sons of Dog the Bounty Hunter. The chap I was playing wasn't aware that his Space Wolves were pre-heresy. but they were the right colour, so I made the decision for him.

I thought it would be cool to write up a short battle report, chiefly because this was one of the few times I have had actually got to play against a painted army. Out of the last half dozen games or so I have played, just 2 of them have been against painted armies. The rest have been an amalgam of unpainted marine armies (or else multi-colour, where the painter has got bored after finishing 2 marines and switched to another chapter), sometimes even unassembled. Seriously, in a game a few weeks previously I had a tactical squad assaulted by a marine squad consisting of several models with no arms, heads, and one of them was just a pair of legs. I honestly don't know how people aren't embarrassed when fielding this kind of stuff, and it's not like its something pro-tem as the same pair of legs seem to make an appearance week after week, smiting in the name of the Emperor. You can imagine the legs in a display cabinet, gathering dust. Anyway, even though my stuff isn't exactly 'Eavy Metal standard, at least it represents something of an effort on my part. I spent ages trying to make my stuff look like the guys in the Horus Heresy artbooks, armour marks and correct weapons etc. This guy presumably just stuck a pair of legs on a base and said "that'll do!"
This was a game about wind production, and I'm not talking about the fat guy who was stood behind me with loosely fitting, amplifying cargo pants. My World Eaters took to the field against Space Wolves led by Njal Stormcaller, who had travelled back in time to protect a as yet unborn Leman Russ from a time travelling Android whose objective was to kill him before he could rise to become a great military commander and lead humanity to victory. Or, the alternative explanation is that the Space Wolves being led by a Rune Priest who had abilities roughly analogous to Njal.
The important issue was that Njal made wind - a
lot
of wind. In the course of the game my marines were hit by various tornadoes, cyclones, hurricanes, and presumably had their lovely white armour ruined by soggy leaves.
Here is my army on the parade ground: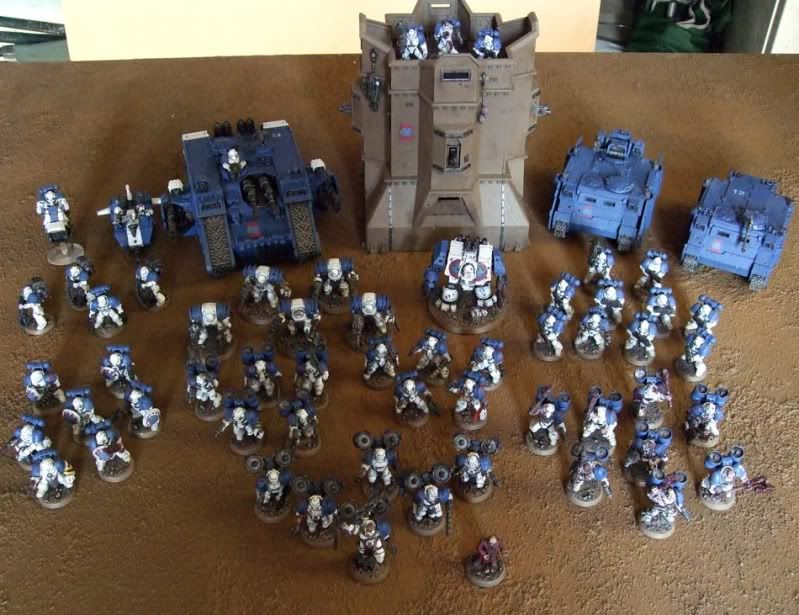 For my World Eaters I used the Blood Angels codex. I had a collection of tactical, assault, devastator and terminator marines, led by a 'counts as' Astorith the Grimm (a bad-ass with a big axe). Because of Astorath's presence on the battlefield, all of my marines would succumb to the 'red fury' on a roll of 1 to 3 (in this case, indicating that they had Angron's cortical implants installed). Somewhat predictably, every squad failed this roll with the exception of the Devastators. This seems to happen every game.
The game was 'seize the objectives' represented by 3 sets of fish bones on the tabletop, representing another bizarre and impossible to explain twist to the plot. Luckily I managed to steal the initiative, so my cowardly set-up tactic of hiding all my marines behind tanks and buildings was completely unnecessary. We had a few turns of trading ineffective fire before closing in on each other: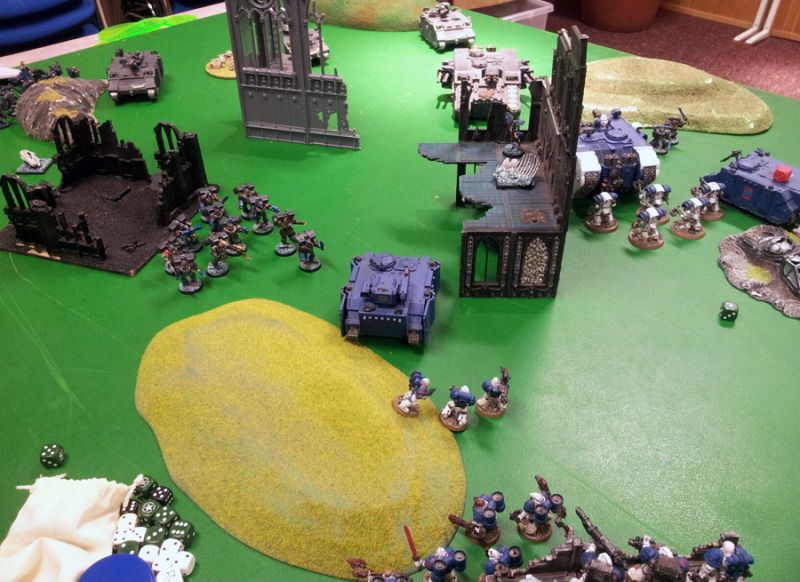 Next to the US armoured rifle platoon dice, the berserkers were ready to jump in any take on the Blood Claws who were making their way to the Razorback. The reason they were stood there huddled in the corner? Njal had been brewing one of his hurricanes, a real trouser-splitter which eminated deep from within the bowels of his Land Raider, which automatically applied a dangerous terrain penalty to any jump pack-equipped unit within 24 inches.
Even if the model did not move. And it doesn't effect the Space Wolves, implying that it is some kind of selective, sentient wind.
Another thing, what the hell is going on with that dangerous terrain rule? Every time I play a game of
40k
it comes up, and every time it makes me think it is the least sensible rule in the history of tabletop gaming. It means that a gretchin equipped with a jump pack (OK, I know they can't have jump packs, but theoretically) might land badly and have exactly the same chance of dying as a hundred year old marine veteran who is a genetically enhanced giant made from almost impenetrable ceramite armour. It makes absolutely no sense at all, why not just apply a
str
x
Ap
'-' hit to anyone that rolls a one? Do people really have that many dangerous terrain tests in a game that an extra roll of the dice or 2 would destroy the flow of the game? I would argue that collecting the 60-odd dice, and a tray to roll them in for my 'first rank fire, second rank fire' for my
IG
takes more time, but I digress. Anyway, predictably one of the berserkers had his jet pack clog up with leaves, so he landed awkwardly and cut his knee. ("You guys go on without me, I'll be OK! For Angron!")
The Blood Claws about to charge into combat with the canon-breaking Razorback, which technically should not exist (Angron doesn't care, what's the Emperor going to do anyway?!) Wind not visible, but you can see the effects of a flash of lightning, fired dodgy Manga movie-style from Njal's penis (sorry I'm to lazy to make up any more double-entendre style descriptions)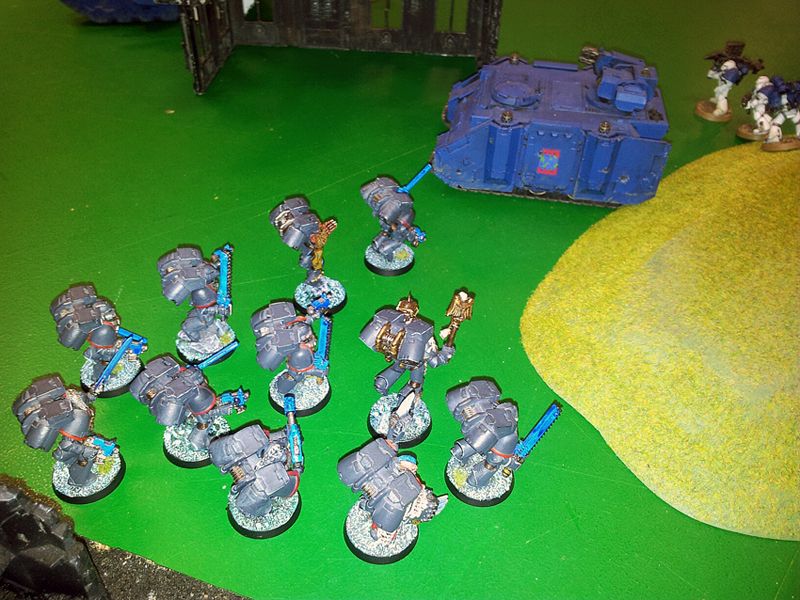 While the tactical marines, sporting a fashionably retro rogue-trader missile launcher, ran towards the objective the Berserkers flew into combat. At this point I should post that crappy Xhibit meme of him saying, "Yo dawg, I heard you liked re-rolls with your re-rolls?" There were re-rolls, and a lot of them. As the berserkers (death company) were being lead by Astorath, this meant that they got re-rolls to attack,
and
re-rolls to wound. The chap I was playing then said, "at least my Wolf Guard has an invulnerable save!" "Ah-ha, not so fast" I replied, Astorath's special ability meaning that he would have to re-roll any successful invulnerable saves. At this point my head exploded (It's just such sloppy and inelegant game design - the various disparate bits and pieces of rules in different books fit awkwardly together, like jigsaw pieces that don't quite fit, and the whole thing just feels jarring and ill thought out).
Predictably, the combined Assault and Berserker squad tore the Blood Claws a new one, although they resolutely refused to run (thanks to the Wolf Guard who circumvented the crappy rule design and managed to survive)..
Meanwhile, the two land raiders closed in on each other, blasting at each other at close range like that scene from Police Squad. The last remnants of a Grey Hunter squad make a brave but ultimately fatal charge into my terminator squad.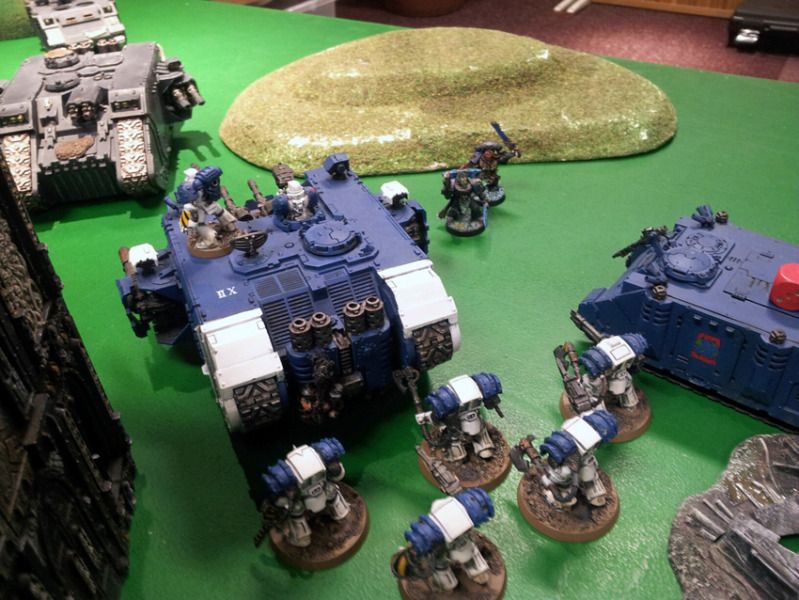 I was doing my best to whittle down the Space Wolf troop choices, therefore denying my opponent the ability to claim objectives. My
BA
'counts as' force, being blessed with a more recently released codex, had assault units that were able to claim objectives. Being some of the more useful and powerful components of my army anyway, this was a massive advantage. My terminators struggled to walk into the wind emanating from the Land Raider, my own Land Raider being hit by multiple hurricanes. What kind of wind speed velocity would you need to overturn a vehicle weighing 80-90 tons (plus the fat people inside it?) ....OK I'll stop it now

In any case, statistically my Land Raider was blessed, and managed to survive. Conversely, everything I threw at my opponent's vehicles seemed to get a 5 or 6 on the damage roll. Which leads me to..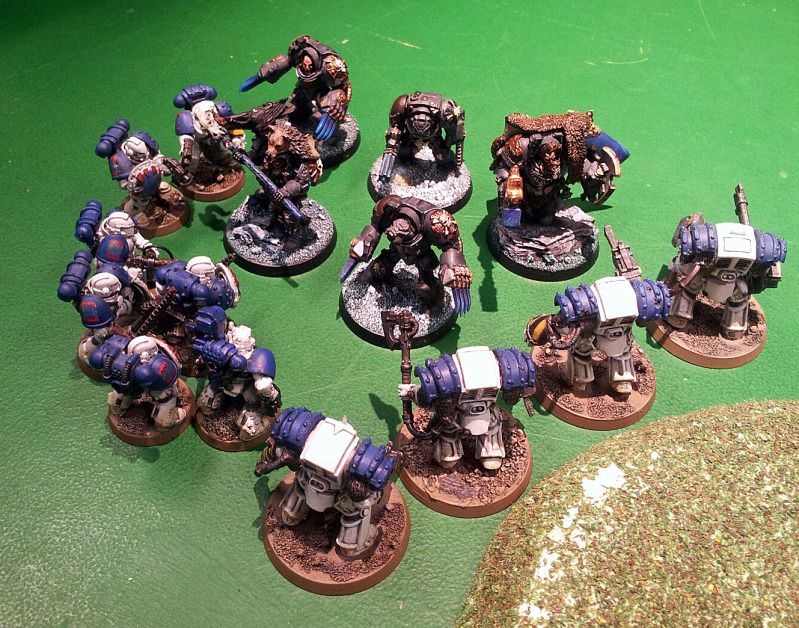 My terminators, and assault squad that had been hiding in the Land Raider, charged out and surrounded the Land Raider and started rocking it in a sequence that resembled the London riots of last year. The wind had stopped as Njal had decided to focus on firing his penis-laser instead (thankfully ineffective) allowing the assault troops to charge in. The result was an exploding land raider, exposing the Assault terminator squad inside (led by some big guy), who then charged into combat and proceeded to make mincemeat of most of them. One of them got killed by the cyber-bird, which was kind of cool!
Lets go over this again in detail, and try and conceptualise what must have happened here: There are a load of guys inside an armoured vehicle - that vehicle is then smashed to bits by their opponents outside. Now presumably, considering that you have to remove the vehicle model, it's going to be a considerable explosion. What kind of wreckage would it produce, and what kind of state would the occupants be in? Should it really be such a low
str
hit? And then climbing out of the vehicle to attack:
The troops outside the vehicle just stand there politely, watching and waiting while the prior occupants of the vehicle pull themselves out, painfully and slowly, tuck their shirts back in and then proceed to attack and kill all the guys outside.
Suspension of disbelief is murdered horribly, reincarnated, murdered again and then has its ashes spread to the four corners of the wind. This isn't sour grapes that my stuff got killed - in fact, I expected it to happen, and their sacrifice let my tactical squad (out of shot) claim an objective, just a comment on a crappy rule. I hope a future rule is introduced in the future where a giant Monty Python Hitler-fish swims in and eats all of them if you roll a double 6, just to confirm that everything going on in the game is firmly on the side of fantasy.
The Conclusion
Sadly, we ran out of time. The World Eaters claimed 2 objectives to the Space Wolves 1. Had we had another turn, perhaps his terminators could have pushed through mine and moved onwards to contest another objective, at least giving him the possibility of a draw. It was a remarkably unbloody battle considering the protagonists, and in fact turn 4 before we had our first assault! However, when it did come, there was a fair old scrap in the middle of the table with our respective special characters turning the fights into pretty one-sided affairs.
I have to say it was great to play against such a gracious opponent, who had such a wonderfully modelled and painted army! Hope you enjoyed the battle report if you got this far