I'll give this report more attention, since it was the last game. I don't take notes and only took one picture, but I'll do the best I can from memory.
Game 5:
Opponent: Jeremy Litzman (sp?)
Army: Grey Knights
Mission: Seize Ground, Dawn of War
Secondary: kill Elites, Heavies, and fast attack. Select 4 units from those categories as targets. Each one is worth a point for a total of 4 secondary objective points. He chose my chosen, two defilers, and one of my dreadnoughts. I chose his two stormravens, his techmarine, and one of his dreadnoughts.
His army:
Coteaz
Librarian, Might of Titan, Warding Stave
5 Terminators, hammer, psycannon, 2 halberds
5 terminators, hammer, psycannon, 2 halberds
3 henchmen, heavy bolter razorback, psybolts
3 henchmen, heavy bolter razorback, psybolts
3 henchmen, heavy bolter razorback, psybolts
3 henchmen, heavy bolter razorback, psybolts
techmarine with grenade suite
stormraven, assault cannon, heavy bolter, psybolts
stormraven, assault cannon, heavy bolter, psybolts
dreadnought, 2x t/l autocannons, psybolts
dreadnought, 2x t/l autocannons, psybolts
dreadnought, 2x t/l autocannons, psybolts
He won the roll to go first [again I lost! Rolled a 1 every time, too. I rolled a 2 once, but so did my opponent, and I rolled a 1 on the reroll], and decided to take it. He started deploying, which I thought nothing of as each stormraven went down, but then he deployed two dreadnoughts in a building on the flank that was, I thought, way out of his deployment zone. He reminded me it was Dawn of War, so it had the expanded deployment zone. I reminded him all he gets is two troops and an
HQ
. So after a double fumble on our parts to remember what the hell was going on, he decided to deploy nothing. I deployed two empty rhinos meant for noisemarines and a daemon prince far on the right, behind the building he had attempted to occupy and out of
LOS
. Everything else was in dawn of war reserves.
I roll to seize the initiative and get a 6! ....and coteaz forces me to re-roll. D'oh!
Turn 1:
He moves everything on 6" and tries to take some potshots, but doesn't do anything. He puts two dreadnoughts near the building where my prince is hiding behind, and the one I'm gunning for in the middle of the board between his razorbacks.
I move two squads of noisemarines on, load up, and blaze forward 12". Every other rhino comes on 12" as well, chosen nestled between them. Dreadnoughts come on and run, defilers come on and run. All vehicles pop smoke. Other daemon prince flies 12" on my far left, then runs behind a building. Daemon prince on the right flies into the building, wounding himself, and then runs to get behind the other wall and avoid being shot through a window.
Turn 2:
He flies one of his stormravens off to his right of the field and immobilizes it on terrain. Luckily for him, he didn't turboboost. He flies the other to be in front of it. Razorbacks shuffle forward 6", dreads move up as well. Gunfire stuns one noisemarine rhino and immobilizes one of my defilers, but that's all. He tries to shoot my prince on my left [his right], but all he can see is a wing, so I tell him he's out of
LOS
since wings don't count. He wasn't aware, and claims that was the entire reason for moving there, so that he could shoot two missiles at the prince. I give him one missile since he'd already made the move and it caused him to get immobilized. Luckily for him it's a dead-on hit, I suffer a wound from the perils, and he gets lucky and causes another wound from the S4 hit. So one prince is half-dead, one rhino stunned and a defiler immobilized. Could be worse. I feel I'm in a good position now.
My turn my prince flies out of the building and charges a dreadnought. Everything else moves up, ready to weather another round of fire before making my move. The half-dead prince moves up and charges his flying stormraven, on the off chance I can wreck it without having to chew through his 3+ invul save. Defilers try firing battlecannons but can't find the mark or penetrate the dreadnoughts. My own dreads run, one of them blood raging and running after his stormraven, though it's across the board. Prince charging stormraven fails to do anything, and I figure it will at least give him something to shoot at besides my rhinos. Other prince kills the dreadnought and consolidates further in his backfield.
Turn 3:
He backs up with his razorbacks, and turboboosts the flyable stormraven away, across the board to slightly off mid-field. His terminators and techmarine disembark from the downed bird in front of my prince, leaving the techmarine in base to base. His shooting amounts to little, just shaking two rhinos and putting a wound on my other prince. He does manage to shoot down the prince that was already half-dead, but if he hadn't the assault would have finished him.
Time to strike. A squad of noisemarines disembarks, moves, and prepares to double-charge his two slow-moving razorbacks. Remaining prince charges another dreadnought. One of my dreads fire-frenzies, the other blood rages up onto a hill in the center, still out of range to charge the turboboosted stormraven. I shift the rhino wall left, dump out, and murder all but one terminator with a psycannon and sword. I also dumped out my chosen between two rhinos to try to down his stormraven. I've got eight meltaguns all told that can fire at it this turn, so I'm hoping one can get through the 3+ cover save - and who knows, maybe it won't go off? The charge of the noisemarines sees one dying to dangerous terrain from sanctuary, but they succeed at immobilizing one razorback. My meltaguns fail to down his stormraven, and my prince kills his second dreadnought and consolidates. This was one of the target dreads, so that brings my secondary total to 2 out of 4.
Turn 4:
This is the beginning of the end, though it didn't seem like it at the time. It just set a tone that would continue for the rest of the game. Seeing that the game is pretty much lost as he's backed away from the objectives, has a daemon prince running around killing everything in the backfield, and a wall of chaos marines between his little henchmen units and success, with a defiler and two dreadnoughts on the right flank to handle anyone that tries to approach, he moves the stormraven 7' towards the center, dumps out the terminators and librarian, and prepares to kill the chosen just to have some fun. His lone terminator moves up to a squad of noisemarines that had been part of the fusillade that killed his brethren.
Well things worked out well. His remaining dreadnought blew the battlecannon and an arm off the still-mobile defiler, a razorback got a 6 to glance my hill dreadnought and another 6 [it ALWAYS happens, S6 weapons rolling a ton of 6's] to immobilize it. Out of the fight. His downed stormraven fired both main guns and the three remaining mindstrikes at a clustered together squad that killed the terminators, getting some real good wound rolls and doing 18 wounds. Followed by some below average armor saves, 8 of the 10 marines died including both meltaguns. His terminator shot the noisemarines, but only killed one. Some razorback shooting killed two more. The librarian and his terminators charged the chosen, but rolled terribly to hit [this is what ended the game, really - him FAILING in this combat. I know right? A failed combat round winning the game?] and only killed two chosen and wrecked a rhino. My noisemarines tried again on the razorback they charged since it didn't move, but even hitting automatically couldn't do anything. The lone psycannon terminator also performed poorly, failing hammerhand and killing only one noisemarine. He won the combat by only 1 and the remaining aspiring champion passed his fearless roll. The chosen pass their morale check and stay in combat, so I can't shoot his terminators. Bloody hell!
My turn 4:
My prince charges his last dreadnought. Gunless defiler moves up to contest an objective in case one of his right-side henchmen squads makes a break for it. Non-immobile dreadnought tried to move up to counter-charge terminators. A rhino moved forward to use its combi-melta on the stormraven while a 10-man squad with 2 meltas stayed in their rhino and moved 6" to try their hand at it as well. The rhino that carried my noisemarines that were messing with his henchmen moved 12" onto an objective near the center of the board just outside his deployment zone. My other 10-man squad, seeing they couldn't shoot the terminator, decided to go for the razorbacks that the noisemarines were having trouble with. I figured when that one terminator was done with my noisemarines, I'd have the shots to take him down and if he charged my
CSM
squad, their 20 attacks could bring him down. I needed to stop those henchmen! The two survivors of my third 10-man squad mounted back up in their rhino and moved onto an objective behind the psycannon terminator.
Shooting brought down the stormraven, and meltaguns failed to do anything to his razorback, meaning I'd have to charge it. Defiler shell stunned a henchmen razorback, and that was about it.
In close combat, my daemon prince failed to do anything to his dreadnought, meaning I would be in combat through his turn - ok! My dreadnought rolls crappy difficult terrain thanks to sanctuary and can't get to his terminator squad. Coteaz cast sanctuary from his stormraven, and I lost two normal marines AND BOTH MELTAGUNS from the squad that charged his razorback. Nice. I did wreck it, though, and the squad inside was pinned. Noisemarines charged the other razorback and annihilated it, sending that squad of henchmen running off the board and killing one of the pinned other squad. His lone terminator finishes off the noisemarine champion while his librarian's squad finishes off the chosen, losing one in the process.
Turn 5:
His lone terminator shifts to stand next to the objective my 2 marines are trying to hold. Coteaz jumps out of his stormraven to charge the 6 remaining marines he so handily killed with Sanctuary. One of the two henchmen razorbacks on the right moved 12" to stand on the objective contested by my empty rhino. His terminators moved up onto the hill to destroy the rhino holding 10 marines that was on the central objective that had just killed his stormraven.
Coteaz shoots his bird at the
CSM
, but does nothing. Psycannon terminator shoots at rhino with two marines and annihilates it. Stormraven that's immobilized shoots the rhino, but does nothing. That's about all that can do anything, so it's onto the assault phase.
Psycannon terminator charges marines from the wreckage of the rhino, passing his saves and killing one. He runs away. Coteaz charges 6 marines messing with henchmen. They do two wounds, but he kills three of them. They hold. Terminators and librarian charge rhino with
CSM
and annihilate it. Squad not pinned, but loses some members. Daemon prince once again whiffs against the dreadnought [uh-oh...] and will spend my 5th turn doing nothing useful.
Here's how the board looks during the movement phase of the top of turn 5, before I begin making my last bids: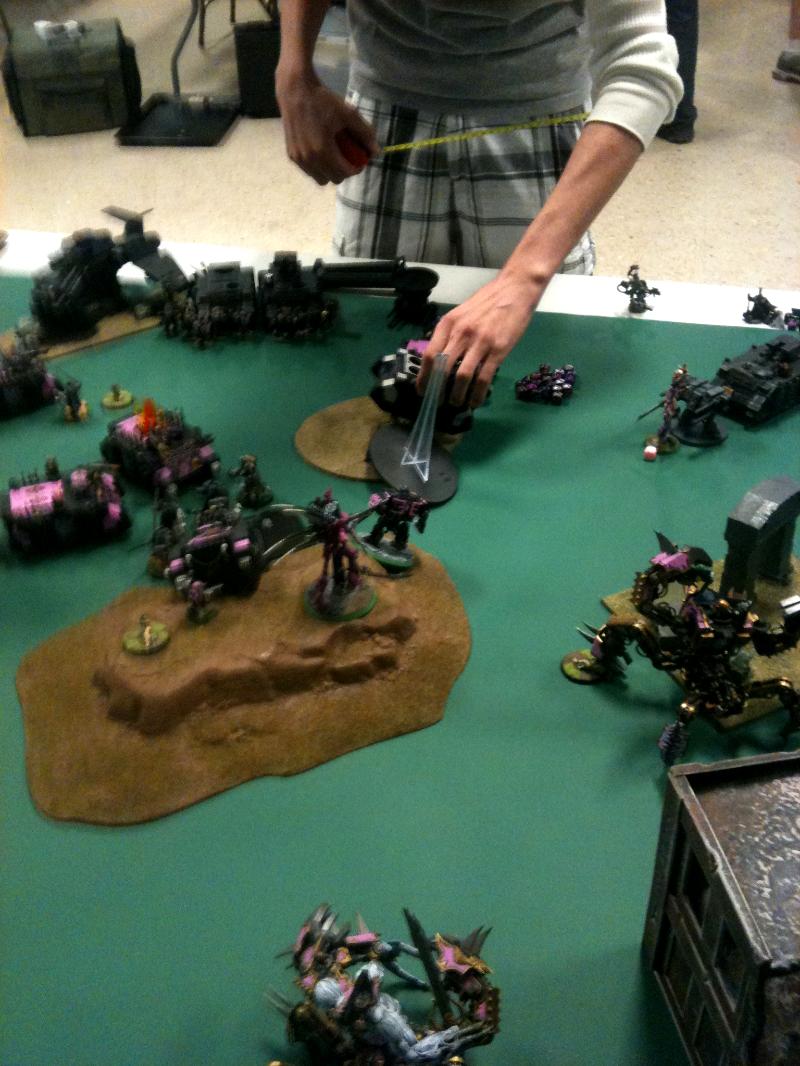 The defiler at the bottom and the wraithlord-dreadnought conversion on the hill are immobilized. That razorback on the right is stunned. You can see my marines all clustered up by his razorbacks in the top left. Terminators aside [terminators as troops is such an awesome thing in and of itself], his scoring units are all over the place and not able to get where they need to be. Being that I can't get through his 2+ saves, though, that's all he needs...
My turn 5:
Dreadnought in position to charge his terminators fire-frenzies. Dammit! Defiler moves away from the objective it's holding to try to charge his terminators, figuring if I can get it involved with my chaos marines, I can do ok. Chaos marines have moved to contest the central objective and shoot his terminators. If the game ends here, it's a tie as all objectives are unclaimed or contested. Empty rhino tank shocks his terminator squad. Daemonhammer tries to death or glory and fails, but they pass both the tank shock morale check and the check from casualties in the movement phase. Marine gunfire kills one terminator, and defiler doesn't run enough to get into
cc
. I try taking potshots at his lone psycannon terminator but he passes his saves. Terminators pass morale from shooting casualties. I have a difficult decision. If I can kill his terminators or make them run charging with my marines [there's only one and the librarian!], I will win if the game ends because the others are contested. Even if I fail, the game is a tie if the game ends because I have an empty rhino contesting the center objective as well. I go for it and charge. Unfortunately I do nothing at all, he gets all of his wound rolls and hit rolls and wipes out the squad. On the left side, coteaz kills a single marine without losing his last wound and the other two go running. My prince finally finishes the dreadnought he's been playing with and consolidates.
I roll the die, and the game goes on.
Turn 6:
Coteaz walks onto the left side objective as the formerly pinned henchmen move forward. His final razorback moves 12" and dumps out some guardsmen onto the right-side objective the defiler used to be contesting. My marines run again, but not very far. He tries shooting a few things, but his shots bounce off.
Terminators charge empty rhino contesting central objective and wreck it. They have the objective at the moment.
My turn 6: Daemon prince flies forward and tries to lash his lone psycannon terminator off the left side objective. Cancelled by librarian. Defiler without a battlecannon moves onto central objective to contest. Empty rhino on the objective central but by his deployment zone holds position. Two remaining noisemarines move, then run onto the objective by the psycannon terminator. Dreadnought doesn't shoot birds this turn, moving over and killing the henchmen that tried to take the right-side objective.
Nothing is in combat, everything is contested. I just need the game to end....
Nope. Turn 7. Dammit!
Turn 7:
He moves the last two henchmen on the left side of the board forward, shooting the noisemarines and doing nothing. Coteaz shoots the daemon prince with that damn bird of his, gets 6 shots, and kills him. Other shooting strips the empty rhino on his deployment zone's objective, but it doesn't go down. Psycannon terminator shoots noisemarines on his objective and they pass all their saves. Librarian and his unit charge the defiler. With might of titan [I HATE THIS SPELL], they get lots of penetrating hits but only strip two more weapons off. I make a mistake, forgetting the librarian has a warding stave, and attack him instead of the last terminator in the unit. He passes, and we stay put. He charges my two noisemarines with two henchmen and the psycannon terminator. One noisemarine kills both henchmen, but his terminator passes his saves and kills one noisemarine. He then passes his morale check, barely.
The game is still a tie at this point. All objectives are contested.
My turn 7:
Dreadnought decides to fire frenzy again instead of doing anything useful like turning around and shooting bolters at stuff. We pretty much go straight to close combat. His lone psycannon terminator rolls box cars, getting perils. He then proceeds to pass BOTH invul saves, his armor saves again, and kills the last noisemarine. That pretty much ends the game there, but then his librarian and terminator buddy finish off the defiler as well with some more Might of Titan goodness.
Result: Loss
Secondary: 3/4 possible
I couldn't catch a break. Turn 4 when all my units decided not to lay down and die like they should and my daemon prince decided to toy with the dreadnought while my own dreadnought shot birds twice just turned everything around, along with a tiny handful of terminators that just wouldn't die and butchered everything they touched. If only the game had ended earlier! I just couldn't keep up once things started dying, and my propensity to fail morale checks when I DIDN'T want to haunted me my last two games.
I really thought I had this, and the one picture I have shows his forces all spread out on the outskirts of the board while a host of marines in the center looks on menacingly. Then it just all fell apart. I'm very disappointed, as I felt like I did very well through most of the tournament and up until turn 4, this game was beyond "in the bag". My opponent even declared it was a lost cause, and just thought he'd throw the terminators out there to kill a unit before they got killed.
What could I do differently, then? Well, the 10-man squad that went after his henchmen razorback didn't have to charge through sanctuary - they were in the way of the objective, so if his henchmen wanted to come out and play they'd have to go through them first, meaning if coteaz wanted to give it a go he'd have 10 marines to deal with, not 6. Assuming that combat still went the same way, then at least as the squad fell back I'd have had meltaguns to shoot the problem terminators instead of just bolters! My daemon prince also could have stopped going dreadnought hunting to go and mess with the terminators in the middle, though I don't think he was in range to actually get to them - it would have helped, surely, but who knows what that dreadnought could have done afterwards to the defilers or dreadnoughts. It may have been the better decision in hindsight, but there was no reason to think that my prince would flub TWO rounds of combat, so I can't fault myself for that. I also think that my marines that tried to shoot and then charge his terminators may have been better suited moving AWAY from the objective to shoot. That takes me off the objective, but it was still contested for the moment by the empty rhino in case the game ended, and if he wanted to kill the marines he'd have had to move away from the objective, and if he killed the rhino the marines would be fine and able to shoot again the next turn.
I think my reasoning was that even if he had to move away, the consolidation would put him back into position. Still though, there would still be the rhino to contend with. I went for the win rather than playing for the tie, which is all I needed to win the tournament. I don't really like playing for ties...
But that's how Chaos Marines almost won the Alamo
GT
, and I mean aaaaaaaal-MOST! If I hadn't PASSED those stupid morale tests, there would be no more terminators after that one turn and I'd only have a few henchmen to contend with. Stupid leadership! I can't get a handle on the damn thing. They pass when I want them to fail and fail when I want them to pass. It's my curse in fantasy as well!
So once again, failure comes down to a lack of discipline. CURSES! 2nd best general. Not sure how I fared in the whole lineup of battle points with paint and sports and such. One of my opponents gave me a bad game score, and I believe it was round 2. Last year he was upset that my list had 18 meltaguns in it, and wasn't too happy to find that this year had "only" 17. Add to that my good rolling and I think he just didn't enjoy himself. Had I those 4 points, I'd have been tied for best overall. For that matter, had I the secondary in game 4 I'd have it too....or tied this game