Hey guys!
For anyone who has thought of wanting to try out Infinity, or just play some games, a friend and I are running a special
Introductory Event
at
Total Wargamer
on
Saturday October 20th
- full details below!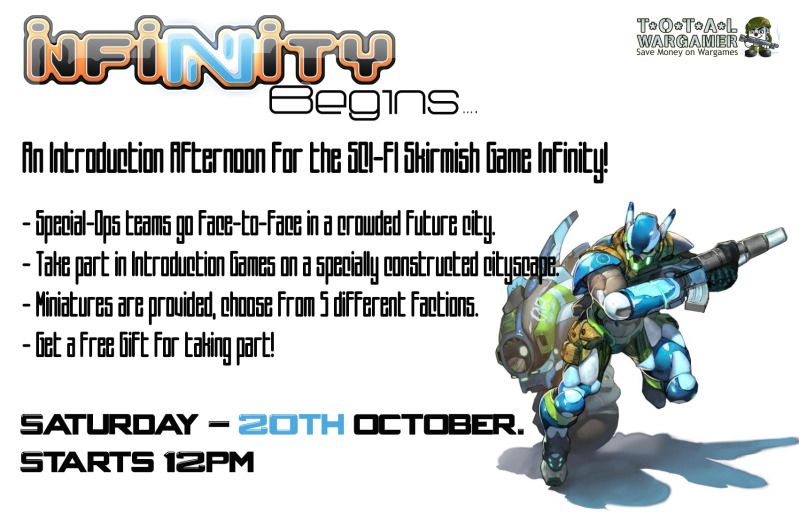 This event is designed as an easy introduction for anyone who wants to give the game a try! Or, perhaps someone who has collected some of the miniature range but not taken that step of having those miniatures duke it out on the tabletop!
The games will be taking place all afternoon on a
specially constructed-for-Infinity City-Scape
, featuring some of the latest range of Micro Arts and Sarissa terrain products.
Miniatures will be supplied for the games, with players able to choose from 5 different factions (Aleph, Haqqislam, Nomads, Yu Jing and the Pan Oceania Knightly Order). But, please feel free to bring your own if you already have a collection!
See the
Infinity Website
for more details about the game, and miniature range:
http://www.infinitythegame.com/infinity/en/
We will be running introductory games designed for people who have not played before, and also some 'fun' games later in the afternoon.
The event is being sponsored by Corvus Belli, who will be supporting the event with the promise of goodies for anyone coming along and taking part!
The event will take place in the wonderful
Total Wargamer
store, near Evesham. Full details about the store here including directions:
http://www.totalwargamer.co.

uk

/total-wargamer-shop-evesham.html
The store is a real Aladdin's cave, with a wide range of different wargaming and miniature products, and now a recently expanded playing area!
Some photos below:
So we hope this will be a chance for anyone local (or not so local!) to have a fun day out! Also, to help build a focal point for Infinity players who live in the vicinity of the South West, and hopefully act as a precursor for future events!
A drive through the scenic Cotswolds, a fun introduction to one of the most fresh and vibrant games on the market, and a visit to a shop that would be worth a trip by itself! We hope we can make the event a worthwhile day out and welcome anyone who would like to come along.
Any questions or comments about the event please leave a comment below! And, I hope to be able to meet any Dakka-forum users who are able to attend on the day!

Thanks, Graham*

(*please note - my avatar is for display purposes only, for anyone hoping to meet a Squat on the day and then being disappointed!

)