Most people that will know me will know me from my Blood Ravens blog, which I changed into
FearGFX's

WIP

thread
in which I tried to create a Blood Ravens Spacemarine army but as some of you people might know, I have a really hard time focusing

So in an effort to change all that I started a new army, something completely different then Space Marines this time to keep me interested and give me a new "challenge".
I asked around the guys at my
FLGS
and came to the conclusion that Necrons kind of suited my needs and wishes the most. It would also be a great opportunity to test my new airbrush, the Harder & Steenbeck Ultra. While looking for inspiration for a paintscheme I ran across some pictures of an Necron Immortal owned by
MajorTom11
and I loved it! Its bone colored body gave it an ancient look and a very Egyptian feel
IMO
. So I set out and got myself a Necron Battleforce, a Doomscythe and Nemesor as my
HQ
.
I also ordered some "modern" Gaus rods from Shapeways.com to replace those really old school clear plastic rods
GW
kept for warriors but ditched on all their new models.
(lazy bastards)
Those 3d printed rods should look like this:
They where pretty inexpensive but I hope they turn out as I hope, if not I'll just have to paint the clear plastic ones.
As for colorscheme I'm gonna use will be a 2 colored scheme consisting mainly of a bone or cream color and a dark grey for most troops and vehicles. I'm gonna try to implement some
OSL
on consoles and weapons. for
HQ
and elite units (don't have any elites yet but still) I'm gonna paint some turquoise accents.
Paints I'm going to use:
Vallejo Surface Primer:
German Panzer Grey
Vallejo Air Color:
German Grey
Sandy Brown
Sand Yellow
Sand
Pale Green
White
Vallejo Game Color:
Cold Grey
(some other colors will be added for different weapons but I haven't decided on those yet)
Now for the progress pictures so far:
I cleaned 20 warrior legs and glued them to the bases with superglue so I can snap them off later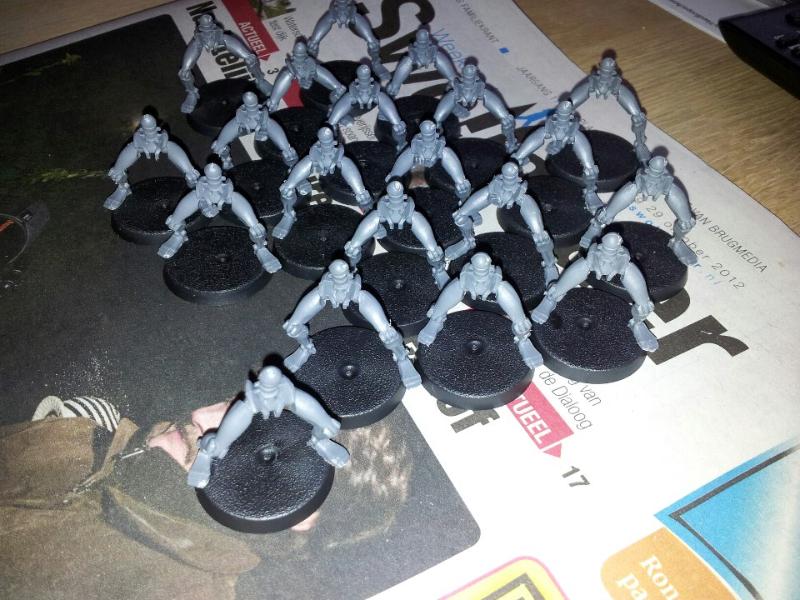 Added the torso's to the warriors, tried to get the seams as smooth as possible using sanding pads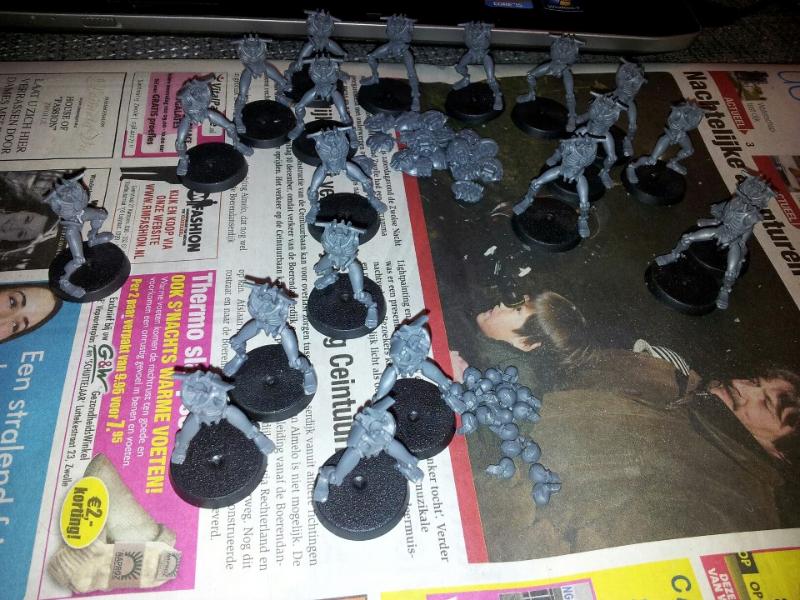 Apparently I build them a little to straight up. The problem that creates is that the warriors will be looking upward when you attach the heads. I tackled this problem by extending the the necks with greenstuff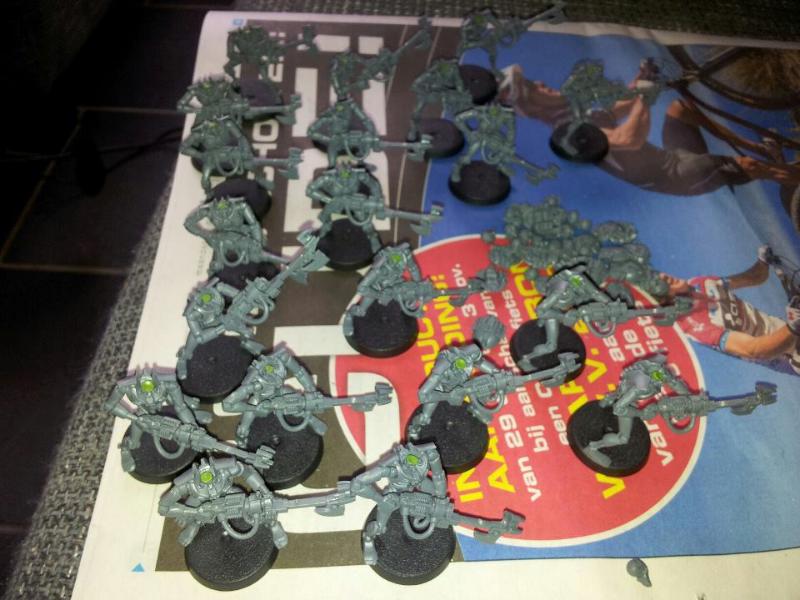 20 Necron warriors all build up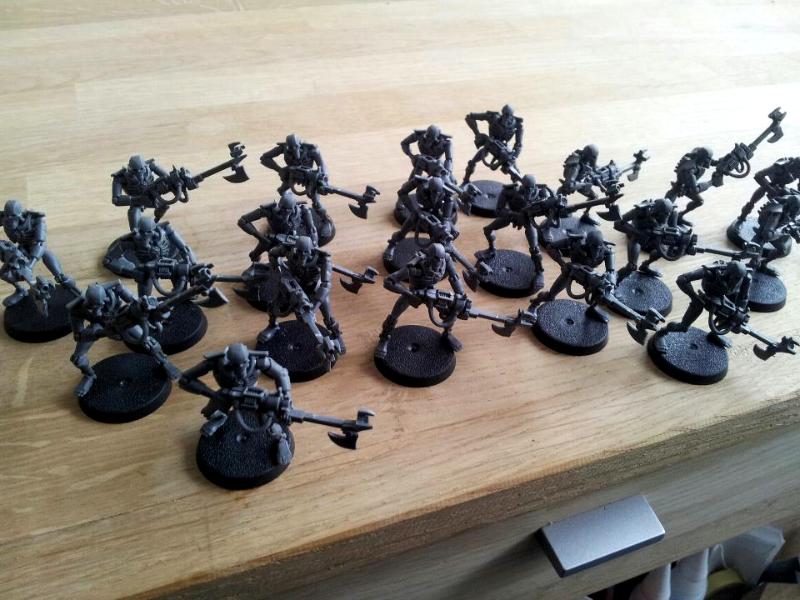 Immorals cleaned and build up. tried to get the shoulderpads as smooth as possible with sanding pads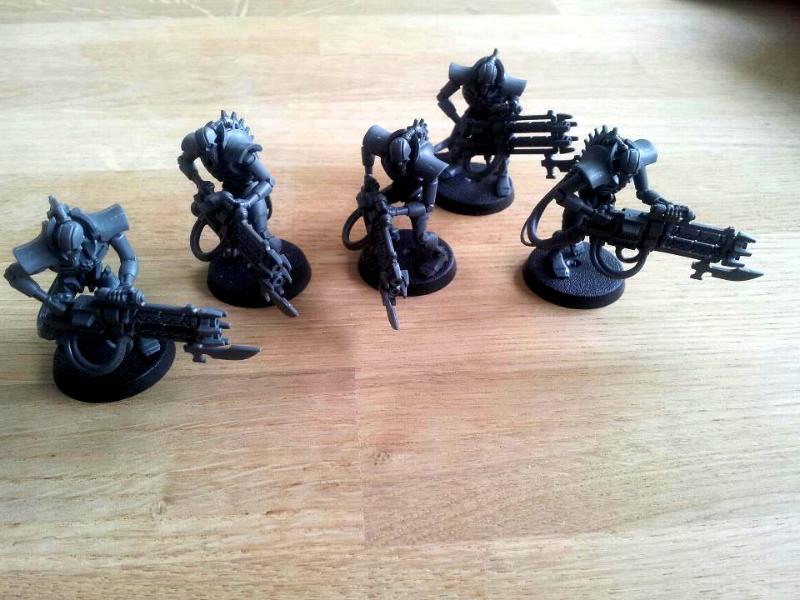 Building the Ghost Ark. Here are the damaged necrons that are in Ghost Ark. The rest of the Ark is still in pieces because everything has to be painted separately. OMG spooning Necrons!!!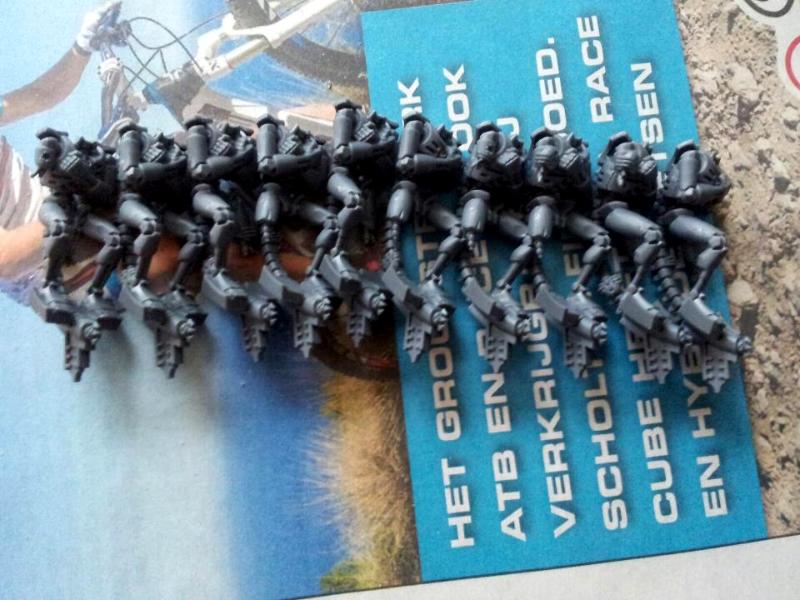 I had to paint the pilot of the Doomscythe before further assembly. This is also my first attempt of
OSL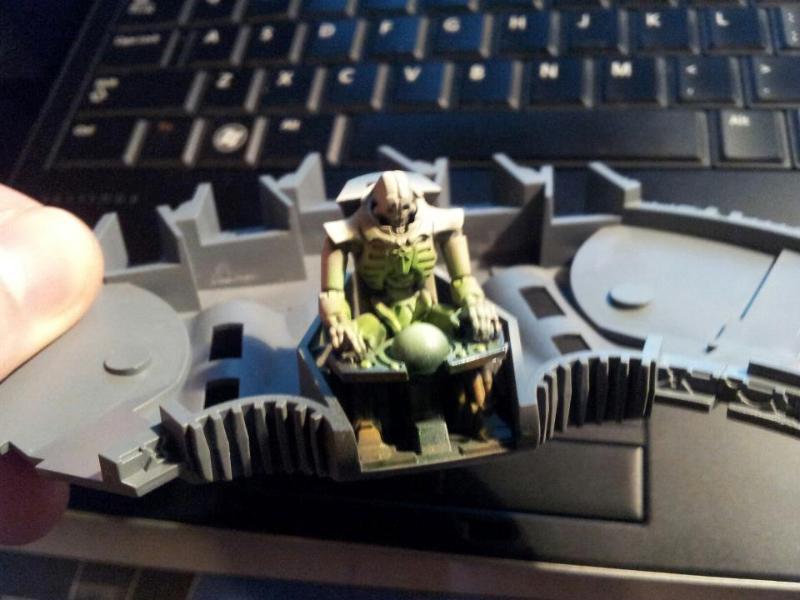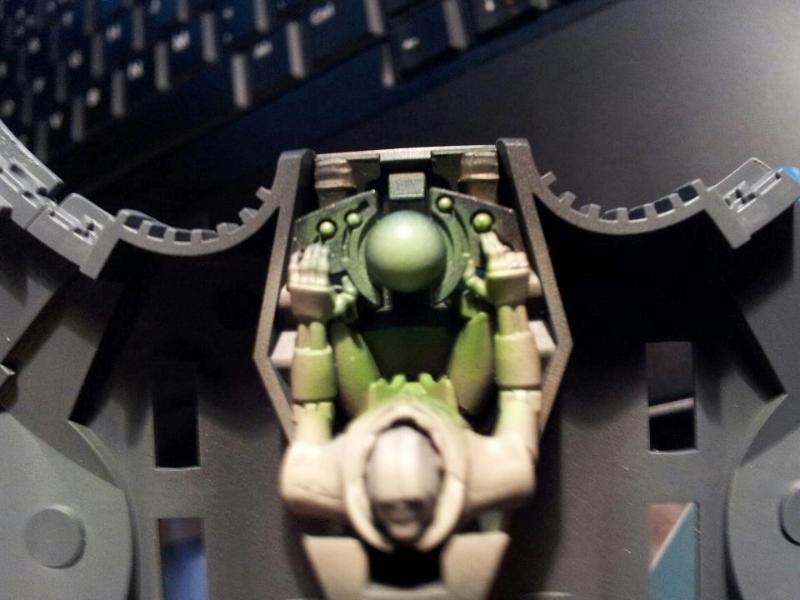 Finished building the hull of the Doomscythe. Decided im not too happy with the lightsource of the
OSL
.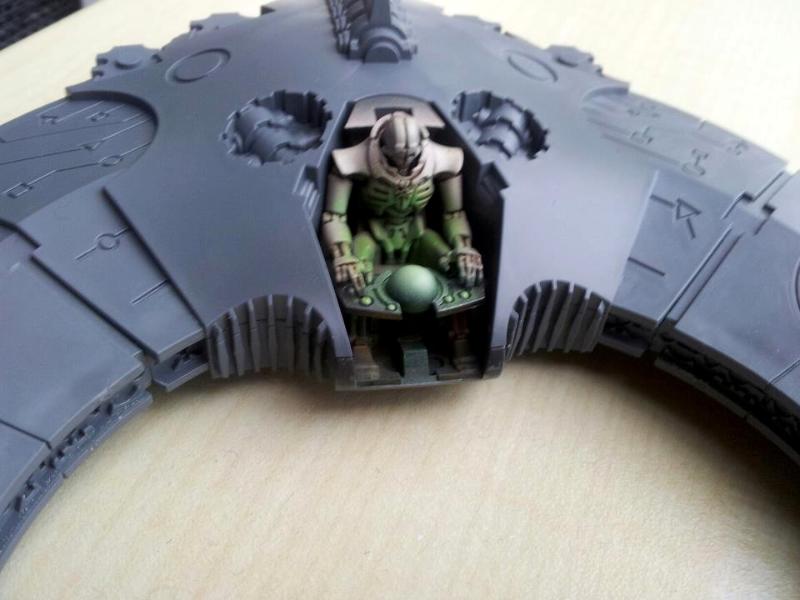 Fixed the lightsource of the
OSL
to a degree I'm happy with and added a gloss varnish to the orb. Also primed the Hull.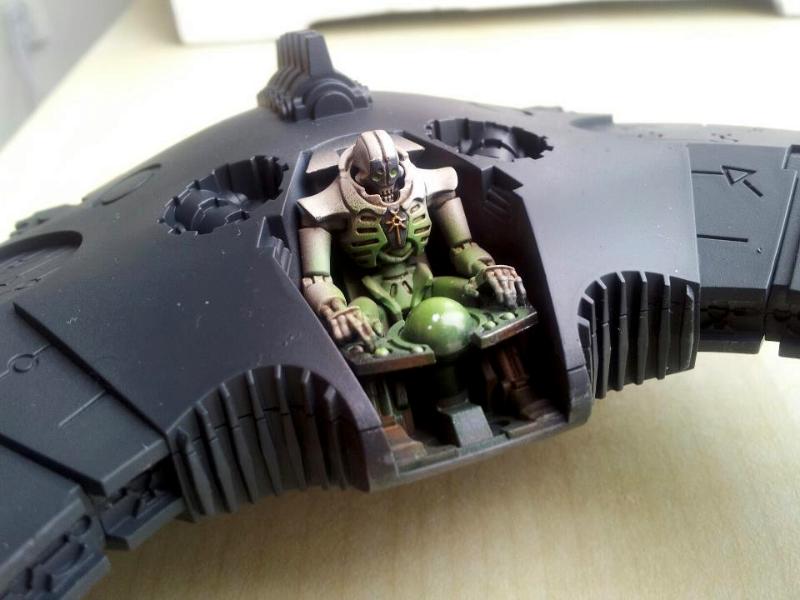 I used Vallejo Air Color Sandy Brown as a basecolor for the canopies.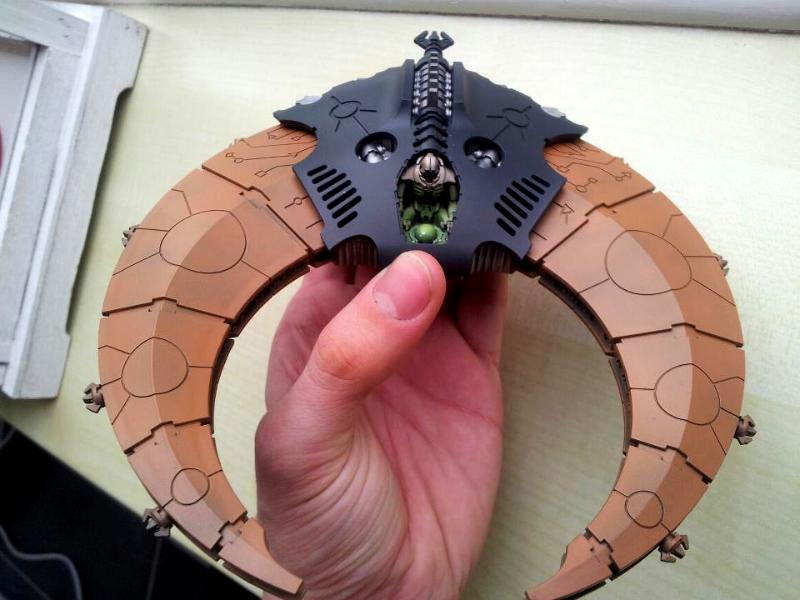 Added the "mid color" Vallejo air color Sand Yellow to the canopies, i tried to leave a little bit of Sandy Brown on the edges and in the crevices
Added the final highlight color, Vallejo Air Color Sand. This is the final stage of the initial airbrush work.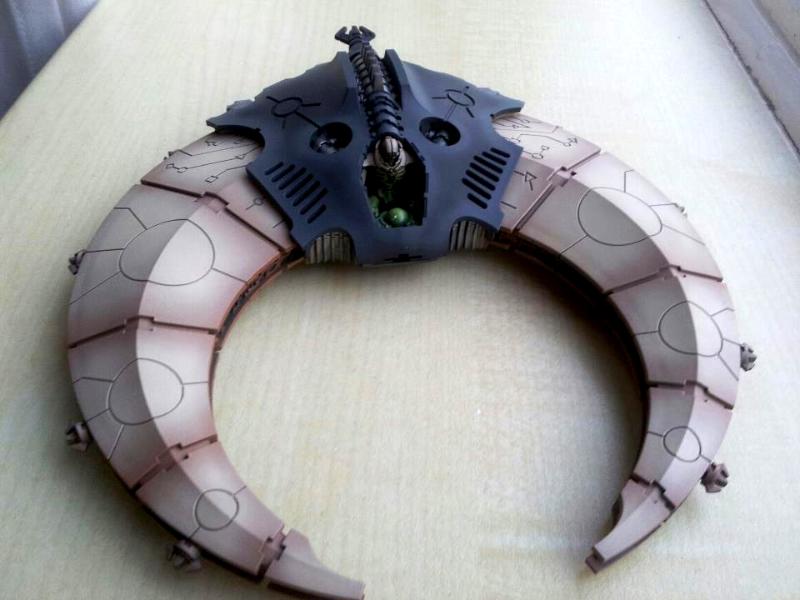 I colored the lines inside the panels with a sepia colored micron pen. Made this picture with artificial light so it shows the color transitions really nice