"They are a sickness that ravages every level of the Imperium. They are the threat within made manifest."
- Lord Inquisitor Alcides of the Ordo Hereticus
+++
Introduction:
Hello, Warhammer
40k
enthusiasts, Legion Operatives, and Ordo Hereticus investigators and welcome to my Alpha Legion Blog. My name is on a strictly need to know basis, but you can call me Alpharius, Shane, or Darth Bob. I have been involved in this hobby since 2001 with some on an off breaks over the years, and during that time I have jumped around between many armies. I have often been accused of having a case of Army ADD. However, I finally came to the conclusion to start Alpha Legion because, in all honesty, I
always
wanted to and just never got around to it. The Alpha Legion has always interested me because of the overall methodology and philosophy that surrounds them. They really fit with my views of how
I
would wage war; striking from within with adept, almost preternatural precision. Dan Abnett's development of their character is a concept that I find refreshing and incredibly intriguing, and with that in mind, it only made sense that I would want to start this army.
I will be using this first page as a reference point for you, the reader, so that I may gather all my thoughts into a condensed and easy-to-access summary. This blog will contain personalized fluff for my army, tutorials,
WIP
and completed models, as well as the occasional blurb or rant about what goes on through my head (scary, I know). As a preface for the contents of this blog, allow me to address each section in more detail:
Background:
Of all the aspects of Warhammer
40k
, the background material is perhaps the most important to me. If it wasn't for the plethora of interesting concepts, engaging lore, and interesting stories that saturate Warhammer
40k
, I highly doubt I would have such a strong interest in this hobby. It's one of the core reasons that I've never really been interested in other miniature wargaming systems. One thing, however, that I love more than the official Warhammer
40k
fluff, is the ability to make your own. I firmly believe in the importance of narrative, being a frequent practitioner of various
RPG
systems, and this has lead me to include more-or-less in-depth background stories for my armies. The Warhammer
40k
universe is so big, that as long as it doesn't conflict egregiously with the established material, anything is possible!
With that said, it is important to understand that I have a very particular view of how the
40k
background "works". I view the sorted background of Warhammer to be told from the perspective of Imperial archivists and historians, as well as other heretical and xenos sources, telling the stories and legends of over 40,000 years of galactic history. Of course, as with the many different historical accounts in the real world, there are discrepancies and differences. I see the many "retcons" and "contradictions" in the officially-provided
40k
fluff to be different historical perspectives rather than strict retcons or contradictions. Think about it, the Horus Heresy happened over ten thousand years ago. Surely there must be some discrepancies between what is said to have happened and what actually happened. For example, maybe the Necrons were once viewed as soulless, life-harvesting automatons by Imperial scholars, but as time went on, the true nature of their existence in the universe was better realized and identified.
The
40k
universe is so grand and wonderful that it leaves it to you to decide what you want to believe really happened; to pick and choose parts of the fluff that you agree and don't agree with, just like any ancient historian would do. That being said, I would like it to be known that a lot of the fluff that will be in this thread is my own fabrication, and I don't want to upset anyone by "making stuff up". Of course, all that you see will be based and founded heavily on the established material, but I really want to bring my vision of the Warhammer
40k
universe to this thread, both in the models and the background. To me, they're both equally important.
Specifically regarding the Alpha Legion, it's important to note that it is not my goal to demystify the intricacies of the Alpha Legion. I think part of the fun of the Alpha Legion is just how nebulous they are; it leaves open so many possibilities for one to imagine. Still, it's fun to speculate, and that is exactly what I'm going to do. The blurbs and fluff you'll see below outline just some of the possibilities and theories regarding the XX Legion. That being said, the actual that I am building is Legion Cell: Iota. They are a powerful and secretive Legion Cell who has been operating and functioning since the Great Crusade. The army I am building specifically, including the many characters within, are those that were a part of Legion Cell: Iota during early M36, around the time of the Age of Apostasy. I like to think of this as a snapshot of their history, when the Cell was at their prime. That's the guiding principle I have with regards to the direction I want to take in the background section of this topic, as well as the direction of the models themselves.
Painting and Modeling:
Gosh, this guy sure does talk a lot about non-hobby stuff in his hobby thread, doesn't he? Yes, well let me talk about that. The general thing to keep in mind with this army is that I'm going to take my time on this project. I want it to be clear that there is no set goal for this army, and it isn't meant to have any sort of deadline. I'm not building this to fit any sort of quota or army list, and this is an ongoing project that I plan to handle with the greatest of care and passion.
If that means spending hours upon hours converting a single, 15 point model then so be it! I want this army to showcase what I am capable of. Not to sound snotty, but I want to inspire people and provide ideas that might help them in all of their tabletop gaming adventures. Second, this army isn't particularly guided by any of the established Codices by Games Workshop. I've never been a huge fan of the Warhammer
40k
game itself, and I don't like how the Codices and their various options stifle the many options for creativity that a hobbyist may delve into. There may be things in this thread that don't really serve a purpose game-wise, but I'm not building this army for "gaming". I'm building it because I love the hobby and I love the background; any gaming is just a bonus!
Finally, I want the work I put into each model to represent my commitment to this army. I have jumped around with armies so often that I almost feel bad about abandoning projects. I don't want to abandon this. I want this to be something that I can be proud of. So without further ado, welcome to the Legion. I am Alpharius.
+++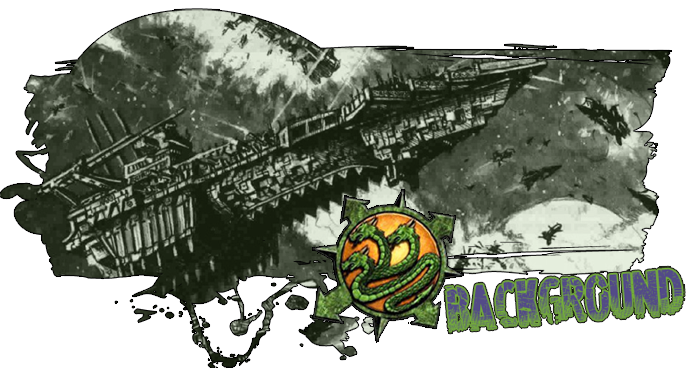 Below, you will find an assortment of background information to help you understand who my Alpha Legion are. The section is divided into eight parts; each focusing on a specific aspect of the Alpha Legion. The first section describes the Legion's history. It outlines all events between the Great Crusade and the 41st millennium that shaped the Legion into who they are in the current timeline. The second section outlines the Organization and Leadership of the Alpha Legion and will give some insight into how their system of leadership and organization operates and maintains control of the various subsections of Legion governance. The third section is about the Alpha Legionnaires themselves. This section focuses specifically on the Astartes of the Alpha Legion, giving insight into their personalities, customs, tactics, and equipment. The fourth section outlines their Goals and Motivations. This section is more theoretical than the others, but gives some insight into some of the greatest mysteries surrounding the Legion. The fifth section outlines the Human Auxiliaries that act as close allies with the Legion. This section will explain the workings of this human military, their equipment, and their relationship with the Space Marines of the Alpha Legion. The sixth section describes the sinister and mysterious workings of The Cult of the Hydra; the infamous, Legion-affiliated cult that infests much of the Imperial infrastructure. The seventh section goes into the Alpha Legion's dealings with the traitorous Dark Mechanicus. Finally, the eighth section will reveal much about the Alpha Legion's mysterious and obscure relationship with the malevolent forces of Chaos.*
*Keep in mind that much of the development of this background information is subject to change and is as much part of the army's development as the models.
I
II
III
IV
V
VI
VII
VIII
+++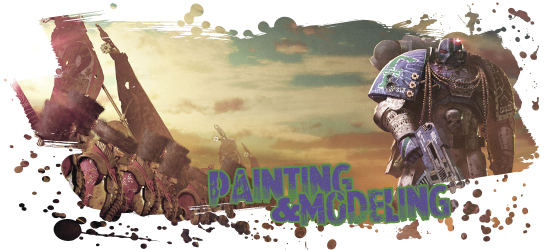 In the future, this section will give links throughout the blog to the various squads and individual models contained within the army. This will allow you a quick reference if you want to see particular models in their finished state rather than having to scroll through tons of pages to view a specific model.
+++
Here are some of the first models for the army! I've got two Legionnaires and a few cultists for you today:
For the marines, I decided that the opportunity to use Dark Elf scale cloaks was just too good to pass up. I really like the way they came out. They're a pain in the ass to shave down and attach just right to the torsos, but the end result is really quite nice looking. I'm especially happy with how Hylas turned out, especially his helmet. It's a head from the champion sprue that I lopped the horns off of. I think it gives the helmet a sleek and sinister look. I'm going to try my best to put the metal
GW
Alpha Legion pads on all of my marines as I just love the symbol that's on it. They're expensive, though, so I may have to find ways (

) to get more in an easier manner.
As for the cultists, a friend of mine who was abandoning his Iron Warriors sold a huge lot of them (total of around 80) to me mostly assembled and all unpainted. The challenge goes to me to take all of them and emblazon them with enough Alpha Legion flair and uniqueness to make each and every one stand out since there's only around 20 variations among them. I decided that weapon swaps, the addition of green stuff hoods, and the addition of patches of scales on their robes would help to break up the monotony. Variance in the color schemes of identical models will also help to break them up when viewed in a group. I'm looking for names for the cultists, so I'm welcome to suggestion! There's a lot of names to sort out, haha! As for these cultists in particular, I love the way Shiv came out with his hand-blade and bionic eye. Durge's stubby stubber was actually a modification from the friend that sold me the cultists and I absolutely
love
it. I'm also really happy with how the collar and scaly shoulder pad turned out. The unnamed Leader hasn't had much done to him except for the scales. I've got four of this particular figure and he's probably going to be the one that stays close-to unmodified.
Brother Ires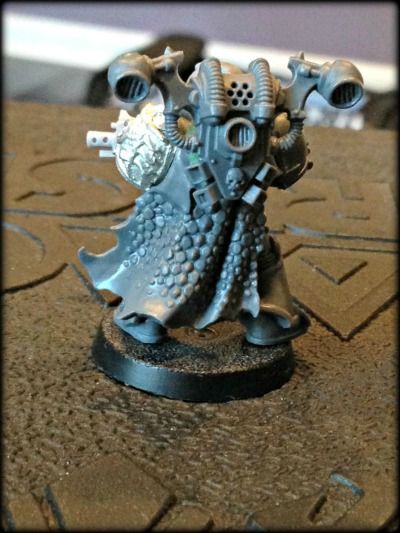 Brother Hylas
Cultist Leader #1 "????"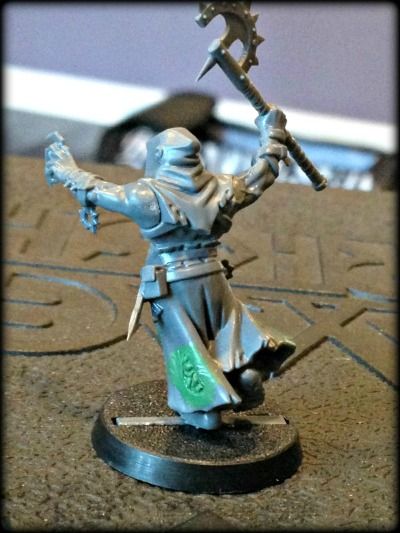 Cultist #1 "Shiv"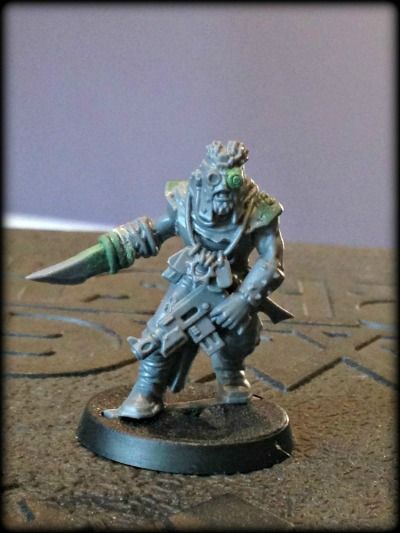 Cultist #2 "Durge"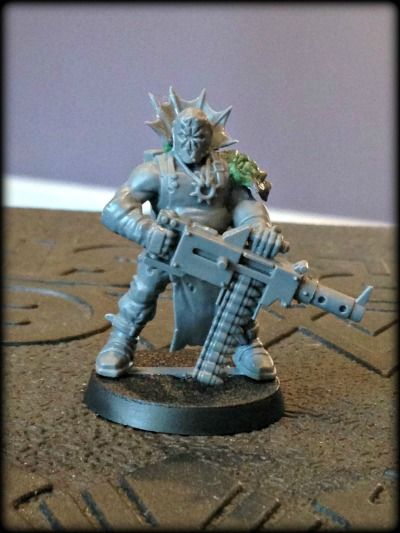 Enjoy!

Thanks go to my wonderful girlfriend for making all of the brilliant banners that adorn this thread!