Shoot, it's been a while hasn't it? I've been away on super secret Alpha Legion business, but I have not been
completely
without any progress.
First, I just want to point out that I've redone a bit of the front page, since the direction of this army has changed a little bit. For my own sanity, and for that of my readers, I've reduced the size of some of the walls of texts and made the grammar a bit more well-presented. The overall direction of this army has changed a bit philosophically, and I wanted the change in the intro to reflect that. As for painting and modeling, I haven't done much with the exception of what I'm really good at, which is buying more stuff to sit in my cabinets, awaiting their day to be assembled and painted. I have, however, done some work in regards to conceptualization and testing. I figured out a paint scheme that goes back to my initial repaint plans of doing metallic blues, and developed some concepts for different characters for the army as well.
This is a dry fit concept for Hydalion the Imperishable, Serpent Lord of Legion Cell: Iota. He's the overall leader of my Legion Cell; think Chapter Master, if you will. I knew right off the bat that I wanted to use Autilon Skorr, the exclusive Forge World Alpha Legion model, for this character. However, after dry fitting the included parts (including the admittedly awesome axe and the command baton) I realized that he lacked a certain distinctiveness from the base model. This is my centerpiece model for the army, so he has to be distinct. So, in the end, the only part from Skorr that is actually being used on this model is the body/leg combo.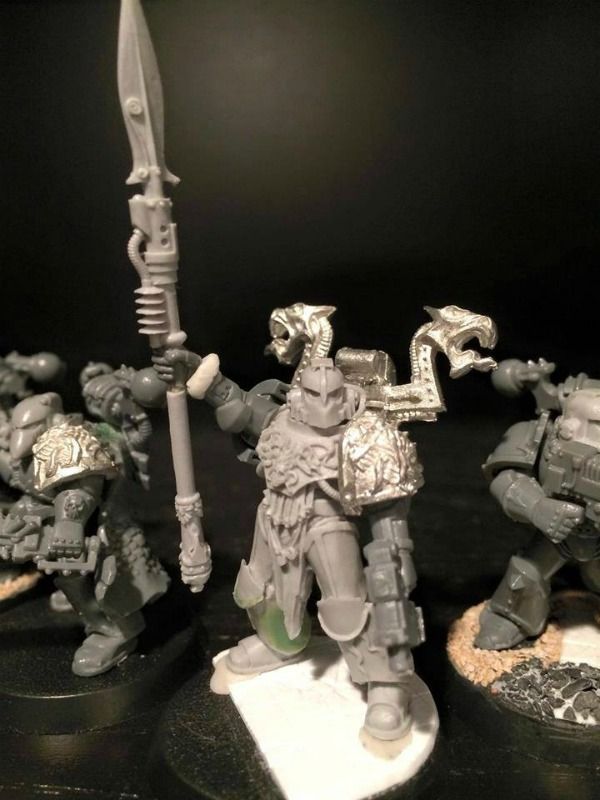 I changed out the head for one of the new Alpha Legion upgrade heads from Forge World, and decided that the old Chaos Sorcerer backpack would be perfect for him. I love the illusion of 3 heads that the backpack gives; two on his backpack, plus his actual head. As for the weapon, I immediately knew that a spear would be his weapon of choice. With Alpharius being iconic for carrying one, and spears being my favorite form of ancient/medieval weaponry, it seemed the obvious choice. And what flashier spear is there than that from Asterion Moloc of the Minotaurs? I carefully cut the spear from his hands and applied it to that of a Grey Knight's, and after a bit of posing I found one that I really like. I think it echoes the final speech/charge scene from 300, where the blind guy is leading all the Greeks across the fields of Plataea. As for the ranged weapon, I decided on a pistol, but it's getting changed out for something flashier than; specifically an infernus pistol.
Next up is an attempt at a concept that is something I really want to touch on with this new vision for the army, which is an extensions of both ideas I had for my Alpha Legion and of established fluff. This is a currently unnamed sniper character who, as you can see, is wielding a pretty unique rifle. I'm pretty sure I've said it before, but my view of the Alpha Legion is that they are very indiscriminate in the methods by which they achieve their goals. They will
do
what they have to and
use
what they have to in order to get the job done. With that in mind, I was especially intrigued by the little hints of fluff in the third Horus Heresy book that listed several pieces of equipment that the Legion utilizes rumored to be of Xenos origins. Frankly, I find this fantastic and very characterful, as its a niche that no other Space Marine chapter (loyalist or Chaos) really touches on. With that in mind, I decided I'd try to outfit a character with one of those awesome Synaptic Disintegrators from the Necron Deathmarks.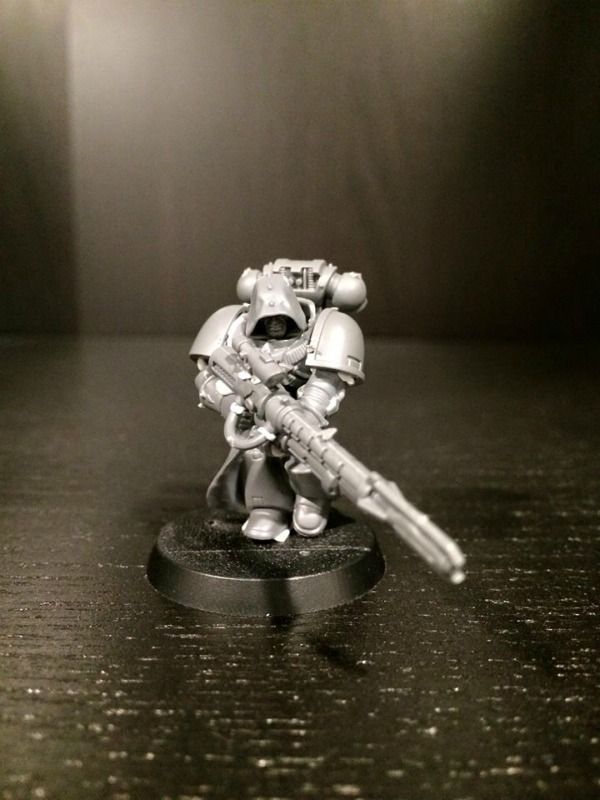 I tried to make it look like it was still definitively of Xenos origin, but like it had been modified for use with a Space Marine; like it was a Necron weapon that the Dark Mechanicum got a hold of and "improved", later falling into this guy's hands. It's still
heavy
work in progress, but let me know that you think!
In other news, somewhat related, I've started the Daemons that the Alpha Legion may or may not call upon to aid them in their long war. The link to the blog is in my signature, so if you're interested in seeing some neat Chaos Daemons done up all grimdark, please take a look! Otherwise, that's all I've got for you today. Keep on being awesome, Dakka.
Hydra Dominatus!