It may still be barely the height of Winter in the real world, but somewhere post the Winter of 1945 things are beginning to heat up once more.
...And with that's going to be the last of any crap puns for the foreseeable future.
Yup, its been over a year since my last update in this particular thread. In the meantime I've worked on various other settings. Tsk, I now have two modern collections going. However, recently events have transpired which have pushed my towards wanting to return for a bit to my WWII models (read: Nazi Zombies).
For phase two things are taking a different turn as I look towards developing foreign elements outside of the Nazi German military. To date the games which I've played involving these figures have been strictly blue on blue, in a German civil war affair. Which, well, isn't all the great. I mean the models have been fine, but well, its just a little dumb to have the same army facing off against itself.
So here we are today, with the start on the forces of the Soviet Union. Despite Germany being ascendant compared to its real world counterpart come 1945, the War in the East rages on to a stalemate, as Soviet technology keeps a pace with their enemies.
With that needlessly long preamble, what's actually been done since my last post? Well, not much. I mean, tonnes has gone on with all my other miniatures, but WWII's been sitting at a bit of a well ...stalemate, with all those half built and unpainted models from where I last left off largely remaining in that same state. However, I'm beginning to creep back into handling these things. A few of those
WIPs
are now sitting in my immediate "to do" pile, and I've started some more (...yes, despite the actual "to do" pile remaining as large as ever).
I'll go into my plans for the Soviet forces later down in this post, however, I've nattered on long enough without showing anything off. Here's what little I've completed over this past week, besides my modern and other projects.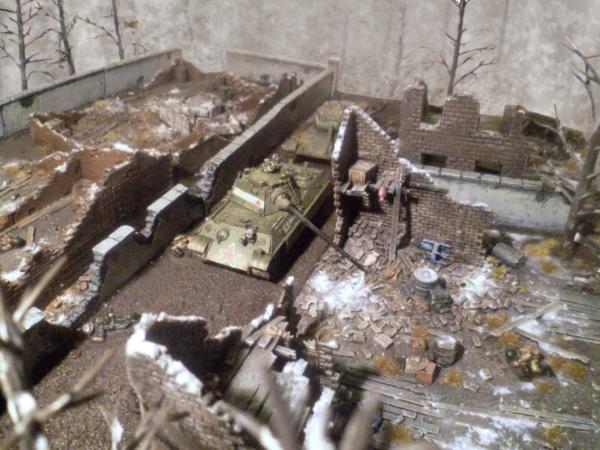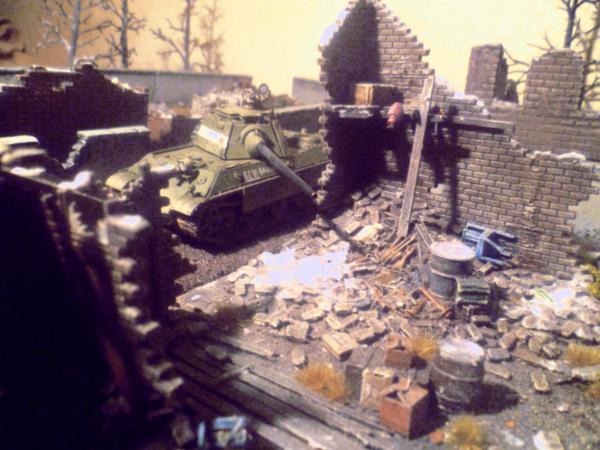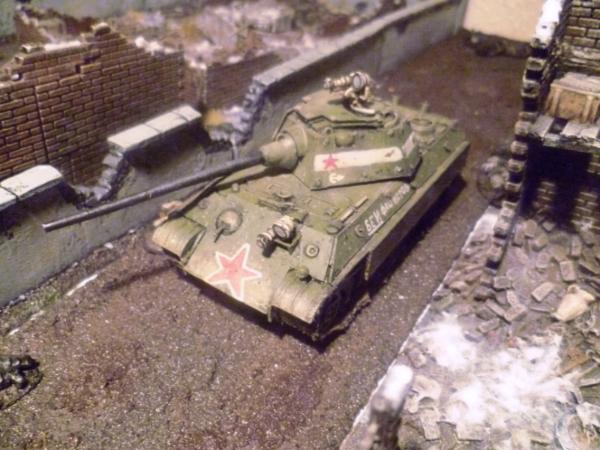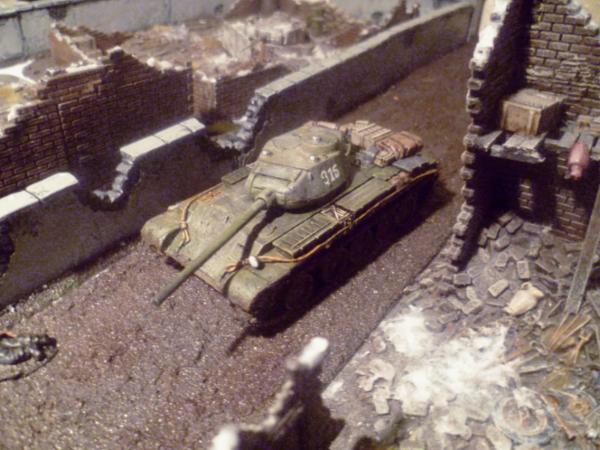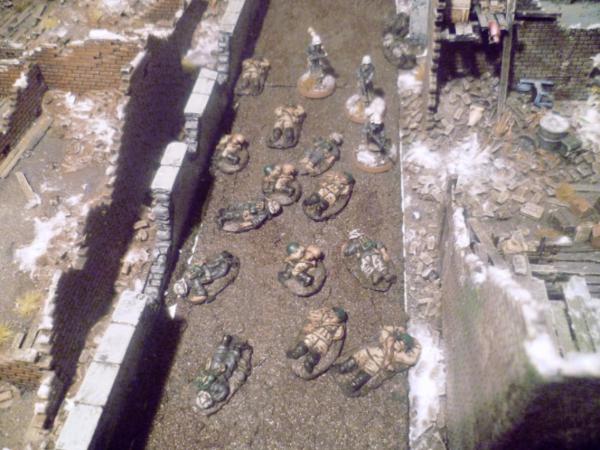 Soviet T-5/2
Known in German service as the Panther II, this vehicle flips what I've been doing with my Axis forces on its head, and gives the Soviets a taste of their own medicine. Originally this vehicle would have been destined to complete a trio of similar looking Panther IIs in my Germany forces. However, it would have been just another (if anything about the Panther II could be called atypical) model among that force. With a Soviet paint scheme and insignia it looks far more interesting.

I may have given the history of the Panther II earlier in this thread (its been a while, and like hell am I fact checking myself here!), but I'll lay it out regardless. It was a real vehicle, though my representation of it isn't fully accurate. The Panther II was intended as a successor to the original vehicle which would offer more parity with the Tiger II, both to ease production and improve the model. The project became too ambitious, and was curtailed into a simpler upgrade, and eventually its role would be intended to be filled by the later E-50 tank (which itself was never built).
My own Panther II incorporates design elements from the real vehicle and later Panther Ausf.F - i.e. the new turret (the Panther II had a less developed variant of this "Schmalturm" turret). In my post-1945 world these Panthers serve as a stopgap vehicle, using existing production tooling and parts as the Reich prepares to build E-50 in quantity. Functionally, with its improved armament (an 88'), armour and engine (though in this case I chose to go for a conventional diesel instead of a gas turbine like one of my others had), it would remain an acceptable vehicle at the front, if outmatched by Soviet heavy armour.
A note on its namesake as well. In Soviet service German tanks were given the designation "T" (i.e. whatever the Russian was for Tank) followed by a Roman numeral for whichever model the vehicle was. Thus a Panther was called a "T-V". I just added a 2 at the end.
This, like most of my prior Panther IIs is built from a few kits. The base model is a Rubicon Panther Ausf.D. This is paired with a turret and infrared sights from Heer 46. With that I then added extra armour made of plasticard (the real vehicle has a thicker front glacis, and I added to that with a welded on plate - which given the Soviet's production of some truly monstrous tank destroyers by the end of WWII, is definitely warranted). The spaced armour on the sides and turrets is an extension of the real style of spaced armour the Germans were using (at first to protect against anti-tank rifles, and later HEAT munitions), in response potentially to the Soviets rushing production of the
RPG
-1 (which was being tested as early as 1944 in the real world).
I kept the paint scheme fairly basic. With the vehicle looking like a more recent capture than the beat up old warhorses the Panther IIs in my German force look like. In reality the Soviets didn't make use of Panthers, preferring Panzer IVs for their reliability and glut of spare parts, but I'll make excuses that the II was a bit more of a robust beast, or at least an asset enough to warrant a new paint job in the short term. The stars could have been painted better, and if I was doing them again I'd go for sharp instead of rounded points, though its hardly like a factory stencil was used on the real ones.
There's lots more German vehicles laying unpainted for now. Whether any more are destined to oppose their original owners is a possibility (I know I have plenty of captured Soviet vehicles in German hands), though I'm not want right now for Soviet vehicles to build either.

T-44
Succeeding the venerable T-34 design, the T-44 brings a more modern chassis to a tried and tested armament. This is in fact a touched up model which I've already shown off here. Coming back to this project I'm not all that chuffed on the quality of some of the paint jobs, and with this Soviet focus, it seemed silly not to tidy the model up a bit. Currently this is the first of a few T-44s and its variants planned, in its regular guise as opposed to the up gunned and later variants.
Historically the T-44 is in fact a real vehicle, and was produced in decent quantities (though not quite up to Soviet production figures) during the Second World War. However, it was built too late. Either due to not wanting to commit unnecessary resources for the final push, or potentially in an attempt to hide this new vehicle from the Western Allies, the T-44 never left Russia. At least not until later on during the Cold War when they took part in quenching the Hungarian Revolution.
These initial T-44s, like many of the vehicles featured here, weren't without their teething problems. Nor would this truly by the model which defined this chassis. Rather after a series of prototypes were developed, a vehicle based on this chassis would see serial production. Whilst there was a T-44 tank with a 100mm gun, it wasn't until it received a larger turret and other improvements that the vehicle would be renamed the T-54, and well, the rest is history.
Currently nobody makes a T-44 kit in 1/56, however Clockwork Goblin had recently said that they intend to produce one for their Konflikt 47 range (and have rules, albeit with a non-existent hull Machine Gun in their main book). Mine is made from a T-54 kit from Blitzkrieg Miniatures. I swapped out the turret for a modified T-34/85 one from Rubicon and widened the turret ring. The early T-44s had solid road wheels, so I also filled in the ones on the kit. Other than that it was a case of removing some more modern components like the fuel tanks and trim vane, and the vehicle was ready for stowage and some paint.
This one's painted in its WWII guise, rather than the paint scheme which would be adopted post-war. So less of the standardised insignia we'd see during the Cold War, and instead some fanciful numerical unit designation and big slogan on the side.
Planned Projects
Now other than that pair, more stuff is in the works at the moment. Primarily vehicles, though I do have some ideas for infantry (however, the rules I'm using are mostly geared towards tanks, so they aren't currently a priority).
First I'll show off what I've been thinking about when it comes to real vehicles, before delving into the silliness.
SU-122/44
The Tank Destroyer variant of the T-44. It had a Jagdpanther style casement, as opposed to the more angular one of the SU-122/54 (which actually saw (limited) production). Like the T-44, none really saw service, though in this case it didn't make it past the prototype stage.
Uralmash-1 / SU-101/2
A T-44 based tank destroyer which used T-34 parts. It won out over the SU-122/44 for production, though still, didn't see service. Designed to replace the T-34 based SU-100, which had problems with its gun ramming into the ground on inclines, meaning that the gun casement was moved to the rear (which was a feature also seen on late-war German tank destroyer prototypes).
Object-704
KV-2/3 hybrid Tank Destroyer. Something which I'm already in the process of making (or rather continuing from where I left off last time). The turret's pretty weird, and tantamount to just how cramped Soviet fighting compartment's were (preffering to go wider rather than taller when it came to making space... "German's had no head, Soviets had no shoulders").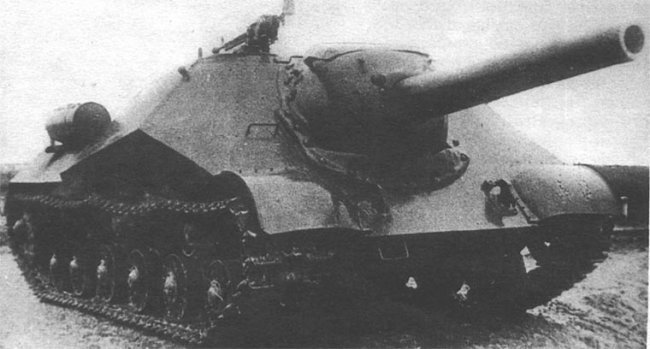 SU-57D/ 76D
The Soviet "Hetzer". T-70 based Tank destroyers with an enclosed casements. Similar to post-war airborne ASU-57 tank destroyers.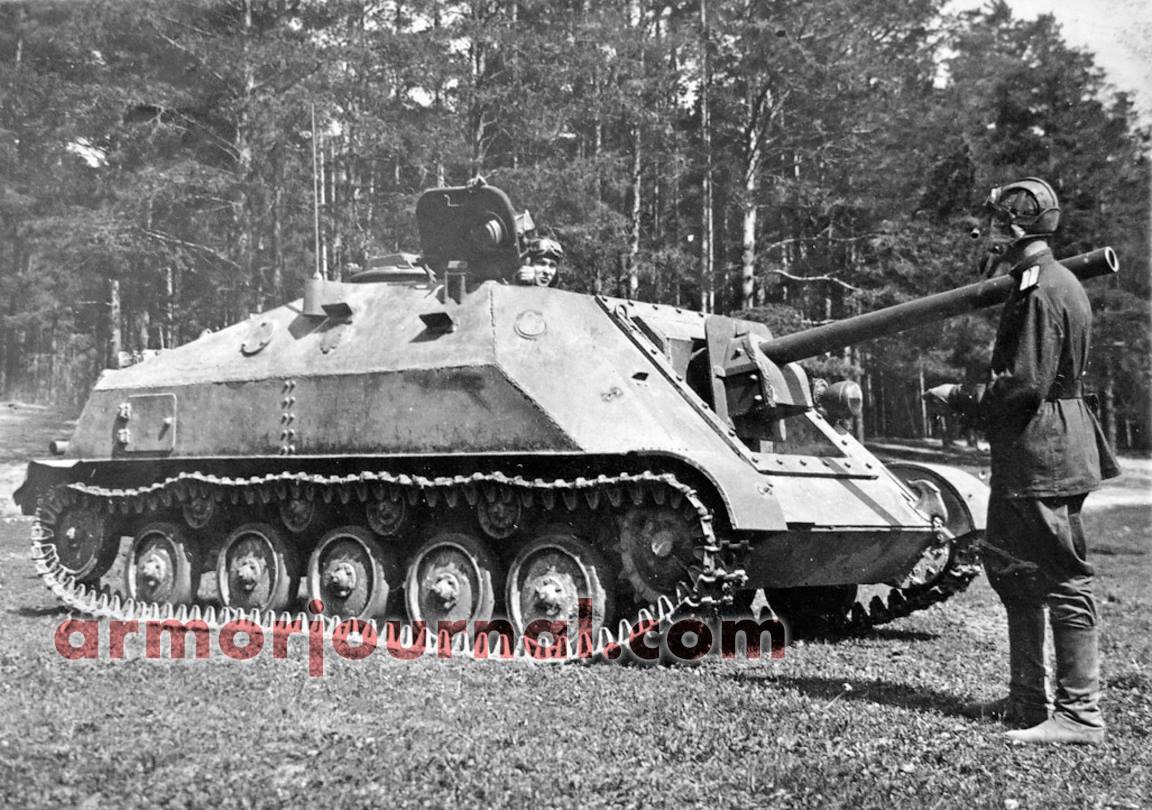 Gaz SU-85
Another T-70 based Tank Destroyer (the chassis was so popular that it would live on even post-war, despite being obsolete in its original role) which lost the bid to the T-34 based vehicle which used the same namesake. Same chassis length as the SU-76 production model. ...I'm just into the blocky forward mounted casements on these things.

LTTB
An intended successor to the T-70 Light Tank. As tankettes were seeing the door even before WWII, such vehicles didn't have much prospects in seeing development. The T-34/85 is a fictional additional from World of Tanks, but I'd be doing the same with my own model.
SU-122-2
"Hey Vladimir, you know how our 122mm guns are already enormous and adequate at taking out most German tanks already? Yeah, how about we stick two of them on a tank? ...So it can fire faster ...or something"
Besides those, which being they're based on real vehicles and largely existing chassis aught not to be too much of a paint to begin work on, I've had some ideas for fictional vehicles too. Yes, pictures will be coming, but till then deal with these ramblings and ah ...paint a picture in your mind or something.

* T-34 armoured artillery tractor. A cross between a Japanese Ho-Ki APC and BTR-50. ...Maybe with a ZPU-4 on the back.
* Vichy French Tank Destroyer. Looking like an even more Germanic AMX Chasseur
de
Char (read that as the post-war French built their tanks out of German parts, so an alt-history Vichy French tank would be the same ...but ah, with more ...Fascism. Hmn. Still junk though)
* Something to do with a spare IS-2 kit I have. Not another Object-704. At this stage I have no idea, as the IS-2 really didn't see much in the way of prototypes, and Warlord already sell an IS-3, so there's no use in turning it into that. I could get silly and transplant something like this onto the chassis I suppose.

And... Well that's my rambling to date. Things will hopefully progress over the coming weeks, with more tanks and a bit of terrain planned. For the moment I'm working between this and other projects, so it'll be down to what's being played at my local wargames club what takes president (though I have a tank game this week coming, and ideally I'd like to have one more thing done for that). Which yes, does include some WWII zombies, but ah, I'm not sure if I want to further taint this thread with stuff like that. The walkers and power armour were bad enough...
Till then, well, hopefully you guys find this sort of thing interesting. If you want to check out more of my stuff then I've kept a few other threads here and
other places
over the years ...not necessarily WWII or Modern miniatures of course, and hope to start some more weird stuff in future (something about a Sunless Sea I've heard...). Thanks folks.