Here's me dropping in again to this project, as it takes my fancy to work on some more tanks.

I've been working on bits and bobs for my WWII collection in the past while since my last post, though progress tends to be sporadic as its split between this and the dozen other things which catch my interest at that moment. Recently then I have managed to paint a few things fairly quickly, though many other projects remain a work in progress obviously.
Here's the handful which're done.
E-75 in Soviet Service (T-E-75?)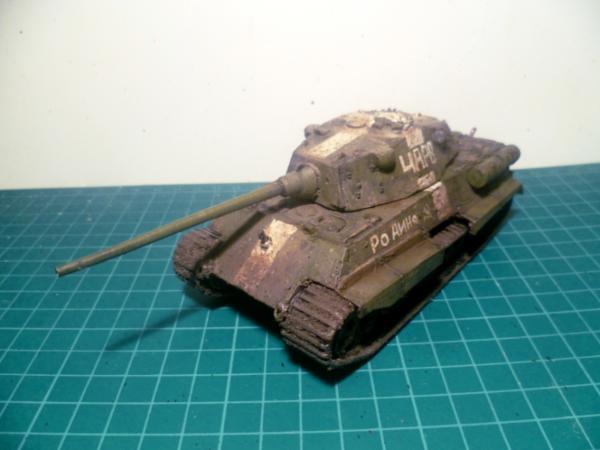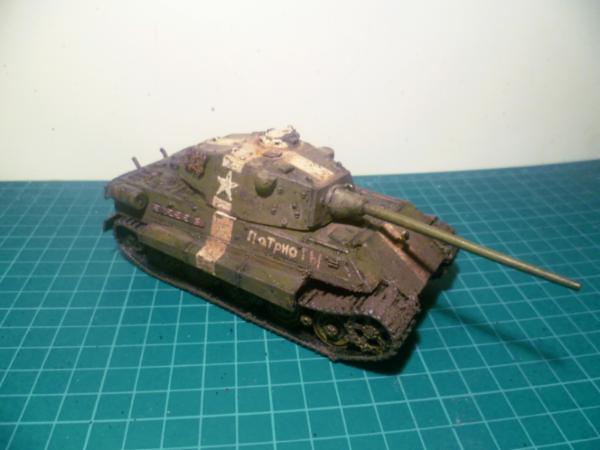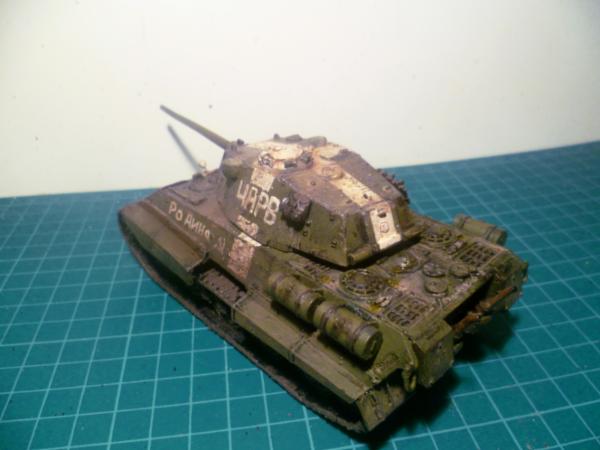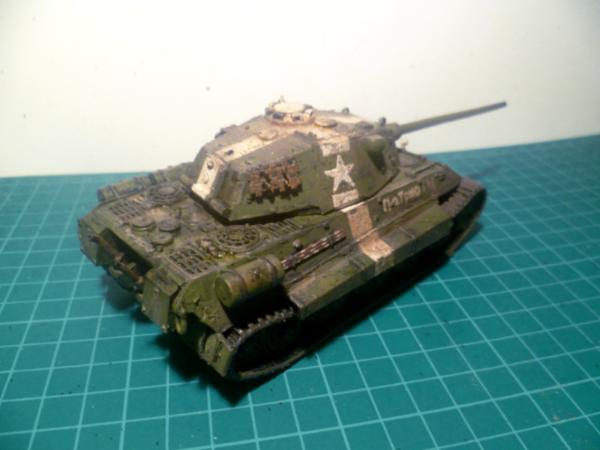 After an order arrived from Die Waffenkammer I hadn't expected I found myself landed with a few kits which I'd otherwise reorganised my plans for. See I'd wanted another E-75, but with this order falling off the map for the better part of a year I had bought and made a pair after this hadn't arrived (Jeff at Die Waffenkmmer was able to resend it – twice – even in the troubles he'd been having recently, so I can't slight him for the muck up).
Which meant I was landed with a kit and no idea what to do with it. The thought of doing something weird crossed my mind, though Warlord's plastic Tiger II makes for a better platform for conversions. Instead I was boring and turned the Tiger II into an E-75 (of a sort) and just painted it up in Soviet colours like the Panther II.
Its not too outlandish a conversion of Die Waffenkammer's model. These E-75s are becoming a bit mundane to be honest. Take off the hull
MG
, add on a rangefinder, and then do some other weird stuff if you feel like it. I didn't bother replacing the engine deck this time as there was enough going on, though did give it the gun from Heer 46's Schmaltrum kit to make it look a bit different. Otherwise with it being in Soviet use there's some of their modifications – with a pair of bins and fuel drums from a T-34 at the back, and a replacement headlamp at the front.
I could have been more adventurous, but it seemed interesting enough with the new paint scheme. It'll be another in a line of foreign tanks in Soviet service as I find excuses to give them more vehicles from models I've already built (i.e.a crap tonne of German stuff). Just slapping on Soviet colours to these already alt-history vehicles keeps them unusual enough for my liking, without delving into the gas turbine engines and other oddities that I find myself adding to the German kit.
Soviet E-10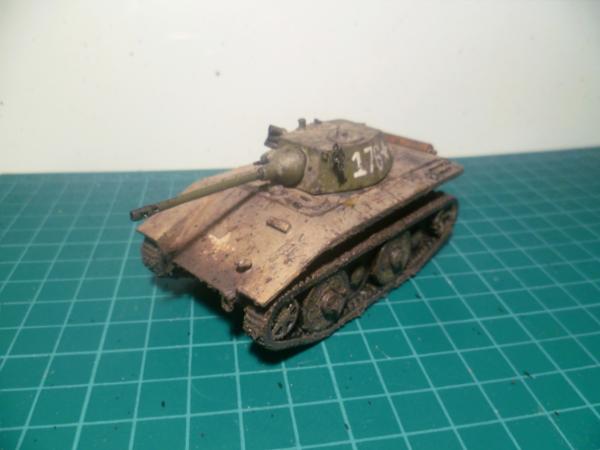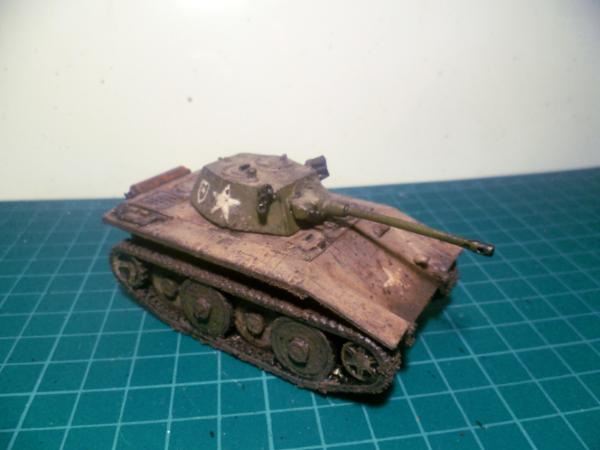 Speaking of captured German equipment...
This time its less of the green splurge, and I instead mixed in a repainted turret on top of the original German paint scheme. Otherwise it remains pretty basic - with all the grime covering up for the lack of any camo scheme.
Regardless, another light tank for the Soviet forces- as I know I'm going to be inevitably as short on those as I have been for the Germans, as even with a few lighter vehicles being built, the heavies are always so much more fun to play with.

Chi-Ha / T-70 Hybrid Recce Vehicle (Y/T-70?)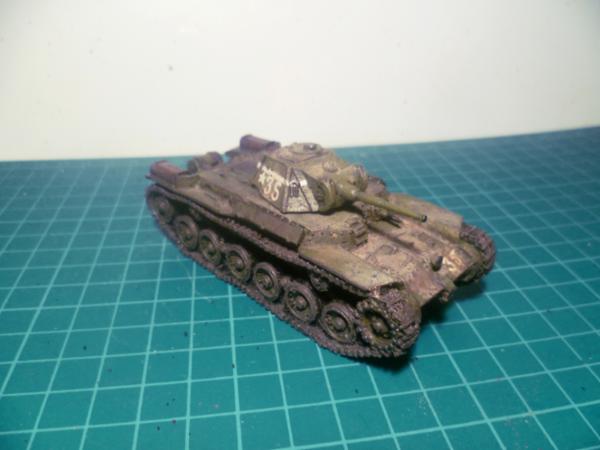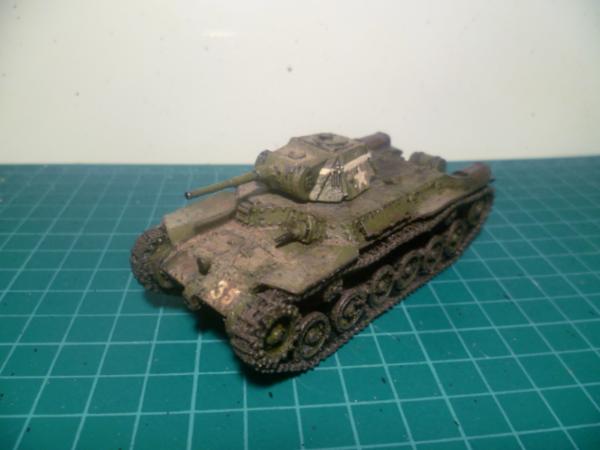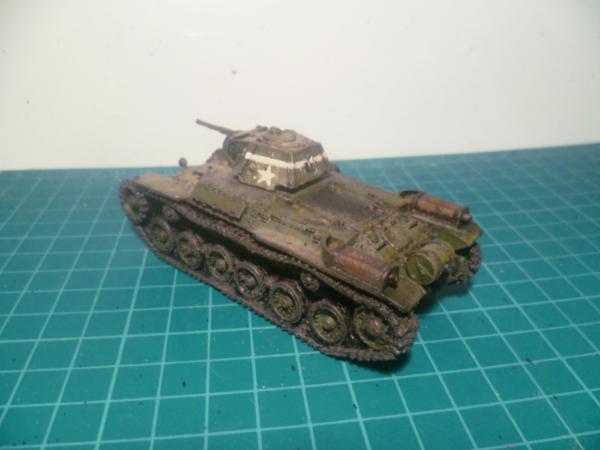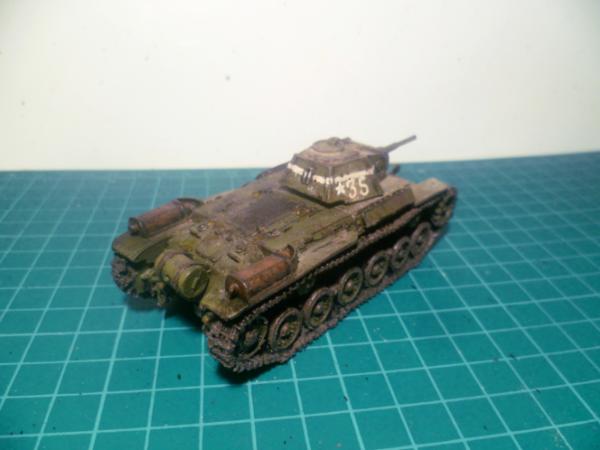 The dumb things you do when you buy a kit, forget about it, throw it together into a dumb vehicle and say "meh, good enough".
My Japanese alt-history project remains where it was from the last time I posted anything about it. With Warlord releasing their plastic Chi-Ha kit, that made the resin vehicle I'd bought from them less appealing for conversions. There was other ideas (like sticking a Zis-2 on the roof), but this seemed like the most suitable for the resin kit without needless tearing it apart.
Not a lot of thought went into the background when throwing this together. I think it'd suit as a glimpse into the war on another front. Perhaps with things not going so well for the Soviets leading to the need for conversions like this. Or maybe its in service with local fighters somewhere in China – in a similar workshop to the one the Germans had in Romanian for converting captured vehicles to their standard? The Japanese front tends to be overlooked in alt-history media centred on Germany, so who knows what the state of the war over there is with Britain bowing out of the war in Europe (who knows, the Colonial powers could be duking it out the Far East, or around Oceania/ India).
Whatever, as I said I need more light tanks and this was a simple build. Just a widened turret plug to fit the Blitzkrieg Miniatures T-70 turret and some spare parts from a T-34 to Russiophy it. I've no idea how practical this would be as a real vehicle, but it looks neat. Like some parody of post-war cinema making mock up enemy vehicles from whatever tank they could get their hand on.
Chelovek iz Stali (Soviet Soldier in Captured German Panzermensch Suit)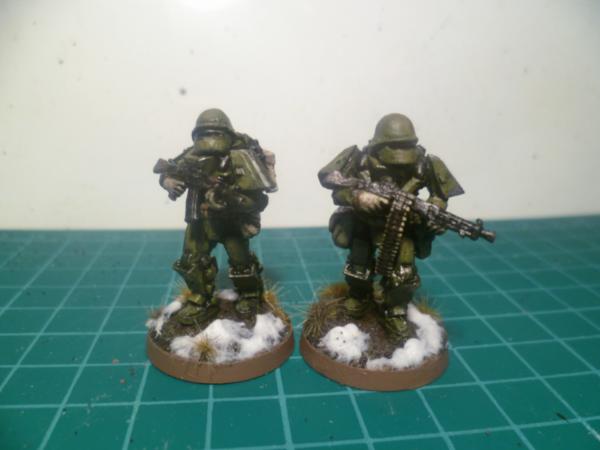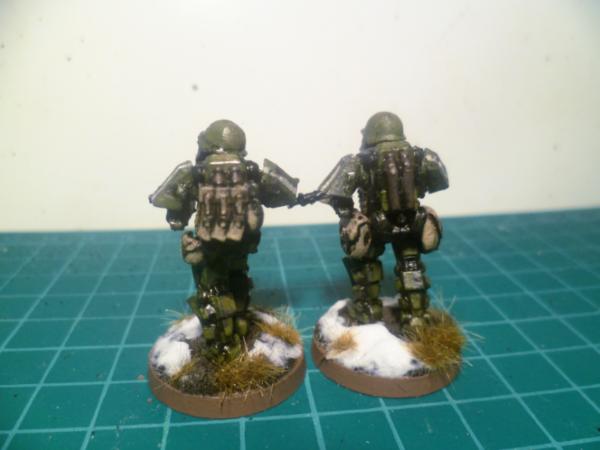 Clockwork Goblin's German Power Armour suits have a nice dieselpunk look which suits the era perhaps a bit more than their other stuff. They're good and chunky. Once some of the sillier details are removed (like the spare magazines on the power plant - how is the wearer supposed to reach them with those shoulder pads?) they're pretty nice models.
With the squad of German Panzermensch I made (in need of a new paint job...) the idea was they were some super secret experimental program. Hidden away in the German heavy water treatment plants or deployed rarely in the field from E-50 based Heavy APCs. This Soviet example then would have had to be a rare capture (perhaps more common as the Panzermensch trials escalate), though indicative that at least a few had been captured, and this was one suit being field trialled to record the results.
It didn't take much to turn these into a Soviet figures. I just got rid of most of the StG-44 magazine pouches, replaced their heads with a Soviet ones with a sculpted on ballistic mask, and gave them a modified
DP
-27 LMG and AK. The
DP
-27's in the style of post-war modernisations, so I guess top of the line for the time. Just a bit of silliness to probably use in Zombie games or whenever I actually use infantry (I think we've played maybe one game involving infantry, otherwise we just use this stuff for World of Tanks style games – pretty fitting given the subject matter obviously)
Zombies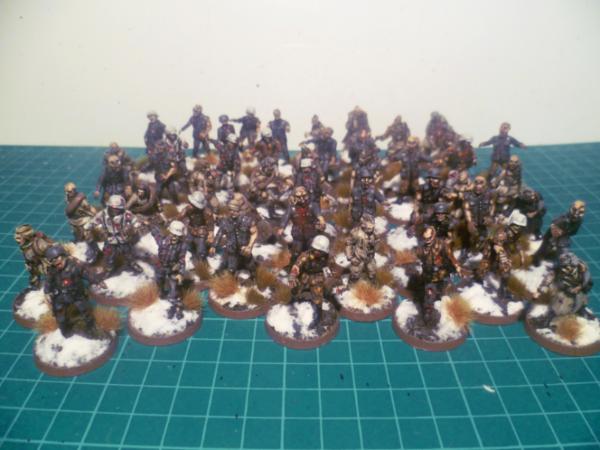 I suppose now would be the time to show off some of the zombies which I'd rushed through for a game a few months ago,so hadn't had the time to post any pictures of.
These have been used the once for a The Walking Dead game set in WWII. Where a group of Soviet special forces were sent out to discover the fate of some secretive Nazi weapons program, only to find the site overrun with zombies and a group of
SS
remnants fighting for their lives.
...At least on paper. All of the zombies wound up being killed by turn two or three and it turned into a shooting match. Um, because The Walking Dead doesn't seem to balance itself well for every model having a gun. Hmn. We'll have to rework things more in future so there's more zombies, but that'll mean painting more of these things.
Here's some snippets of the some 60 Zombies I now have. Depending on whether we run a WWII zombie game again I'll probably have to keep my eye out for more suitable figures at shows, as I suspect another 30 wouldn't go unused the next time we play .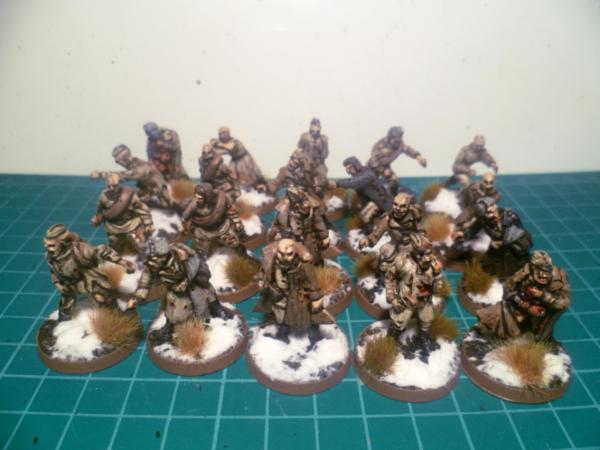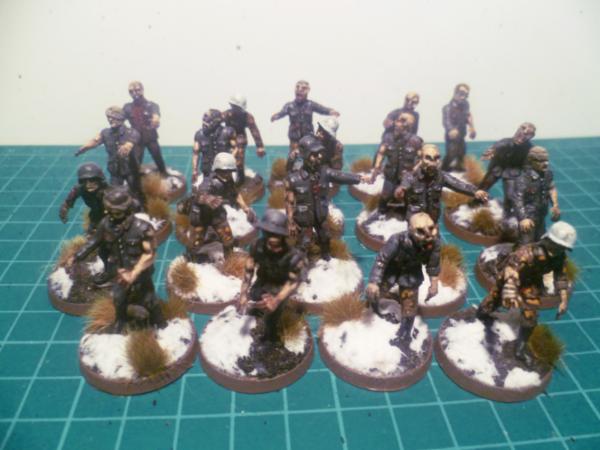 The figures are a mix of Clockwork Goblin, Studio Miniatures and West Wind. With some of the Studio Miniatures models having West Wind heads for a bit more variety. There's a mix of camo in use by the Germans to give them more variety (if I paint more I'll add more patterns), as are the West Wind Soviet zombies a nice addition to break things up a bit.
I do have some 40 Zombies made from Warlord Games plastics. Those are chunkier and less animated however, which is why despite having made all of them, I rushed out to buy models from those three other companies instead. I could maybe salvage 10 or 20 to mix in with the zombies which are already painted, but the dedicated zombie models look better (I did sculpt over a few of them, but they just look too animated compared to the sluggish poses on the other figures).
(From left to right - Clockwork Goblin, Studio Miniatures, West Wind)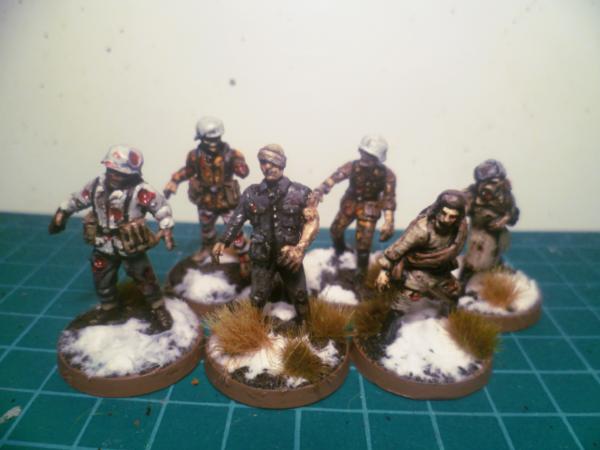 The Unpainted Tat
As for the state on the still yet incomplete vehicles.
Things have progressed somewhat on previously discussed models -though not to an extent particularly worth showing currently. ...I tend to work on too many things at once, so yes as those who follow my threads here will find individual progress can be slow. I'll relent and post some images of a few unfinished projects, which yes, I don't tend to like to show models off before they're ready for paint either, so these aren't at as complete a state as I'd like.
T-34-54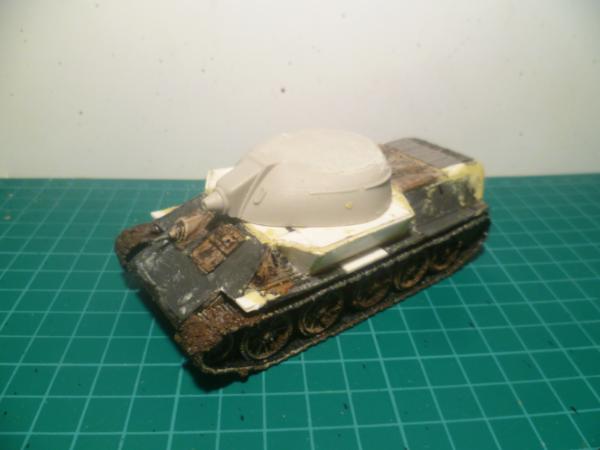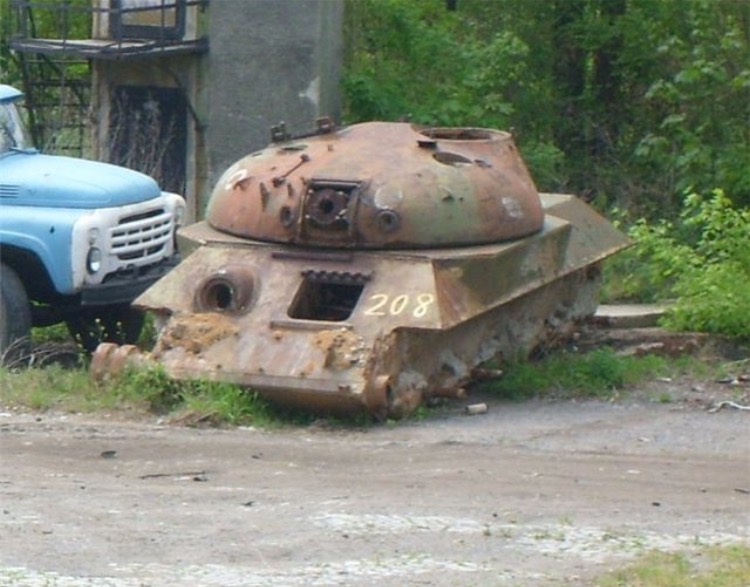 This crept up on me a bit as I was looking for a spare T-34/85 turret for a T-44. I didn't intend to make this vehicle from an existing model, but having stolen the turret from on of the German captured vehicles I'd made previously, I had to do something with the chassis. Of the T-34 Beutepanzers I have it was the least visually interesting, and with any long project you look back on older work and see their flaws (I want to repaint half these models...), so it was for the chop.
As for the actual conversion. It hasn't been too bad. Its based on another scale model representing the Bulgarian T-34/ T-62 hybrid if it were a functional vehicle. In particular with the engine deck being set back to allow space for the turret (unlike the real one where its removed entirely and plated over), giving the vehicle a bit of a M48 Patton look with its extended engine – and perhaps a bit more modern a style than the T-34.
The T-54 turret obviously still needs work. I've torn off the details on the original model which were overly simple to recreate them later. That's largely what's left to be done with this, other than rebuilding the front a bit where I'd removed details to add some extra armour on the original model.
LTTB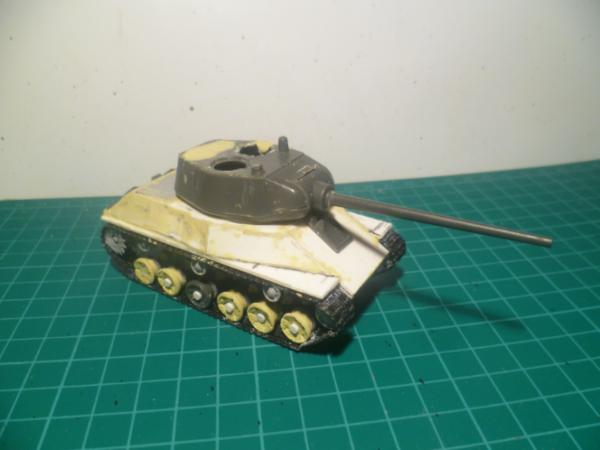 Another thing which has been on and off my workbench as it slips between flights of fancy. The underlying model is a 1/72nd scale IS-2. Working from an existing kit, albeit a modified one, makes builds simpler – even if of course that may mean the resulting vehicle isn't as accurate as it could be. ...I just hate building running gear.
The initial shape of the hull is lain out, but work on tidying it up and adding detail is still to come. Its not as accurate as I'd like – with the rear section being too wide due to the donor engine deck I used being larger than on the real vehicle. Though I'd like to think that was a simplification caused by using existing parts rather than manufacturing new ones. Which with a decent chunk of this vehicle being fictional due to the lack of complete blueprints, is something which can be overlooked.
Otherwise its also in need of a turret. The one it has on it right now will likely find its way to another T-44. The turret this vehicle has in World of Tanks is basically off of a T-34/85, meanwhile the T-44 variants can be a bit modified, making this plastic turret more useful for those than one which I can find in another kit. I may just buy a spare turret from Die Waffenkammer and pop that on. Nothing's a priority then.
Oh, and the road wheels are stand ins. I just needed something round to work from. Those will be redone later.
T-44
Still early days on this one. Ideally the plan is to produce a bit more period accurate a model than the T-44 which I already have. Adding in some details which I otherwise missed (like the extra vision block on the side of the hull for the driver – not found on later models), bulges on the turret, etc. As I have another two T-44s after this to build ideally this one will be a basis for what to change, though obviously the real vehicle were made over a number of years, so there will be some differences between models.
The idea for the moment is still to do the Assault Gun and a T-44-100. Which will have one vehicle using a static casement, and the other would be a modified T-34/85 turret – which is why I'd rather keep the plastic turret for that. I'd been looking at early T-54s (Object 137) as well as an alternative to the T-44-100, creating a turret from scratch to save the T-34/85 turret for the LTTB, but I think I'm more inclined towards the WWII era prototype rather than its post-war child.
German Armoured Car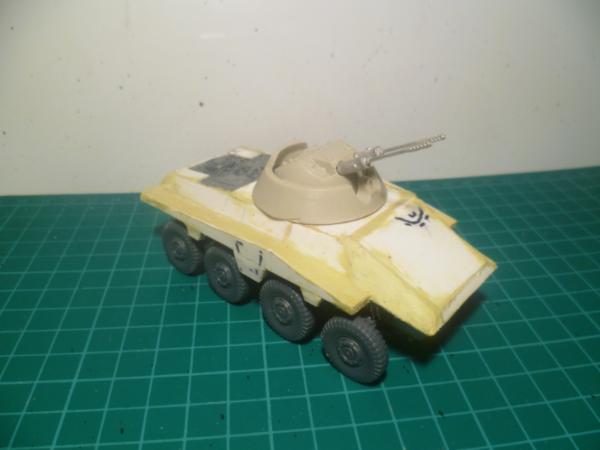 The last thing with enough work done to be worth showing is something else German. ...I have to stop myself from making more Axis stuff instead of giving the Soviets a competent force, but I keep finding new ideas I'd like to build...
This one is a cross between a Puma and a post-war Spähpanzer Luchs. I think conceptually an attempt to make the Puma chassis more suitable for modernisation (it was difficult enough sticking a 75mm gun on it), in the style of Post-War French armoured cars. This isn't the base variant of this armoured car, rather its some weird offshoot mounting the Kugelblitz turret. With the original idea being to create vehicle with that turret styled after the BRDM which then evolved into this. The base vehicle would instead be using a large calibre autocannon or gun in an oscillating turret, but this is still fine as it is.
The underlying model is a widened Warlord Puma kit, with part of the engine deck from the Panther at the back (just to keep things period consistent, rather than creating a more realistic one from scratch) and a turret by Heer46. Its a hybrid of those two German designs I mentioned – like a post-war vehicle made from WWII parts -, with some contrivances to fit this concept (the separate mud guard) which otherwise would have had it looking too modern for the setting. I'm chuffed on how it turned out; its modern enough looking for some games set in a later period "Man in the High Castle" style.

Mudguard wise they're based on a mix of both vehicles – though they don't reach all the way to the front as that's how they are on the Luchs. However the Luchs has a trim vane, which seemed a bit too advanced for the era so was left off. I may extend them further in the style of the E-10 with some thin sheet metal – there just to stop and dirt – something would then be removed in later models perhaps to allow for a trim vane.
Terrain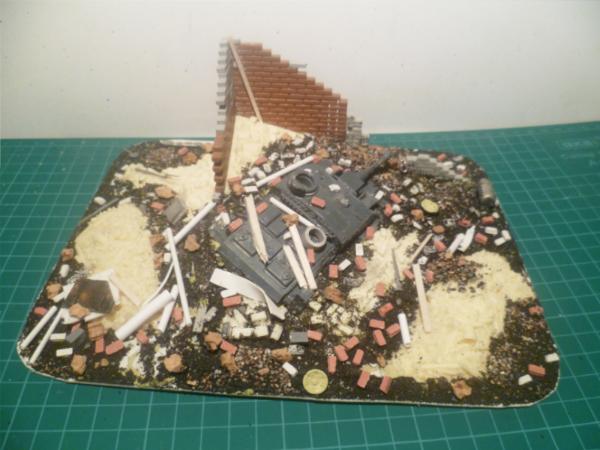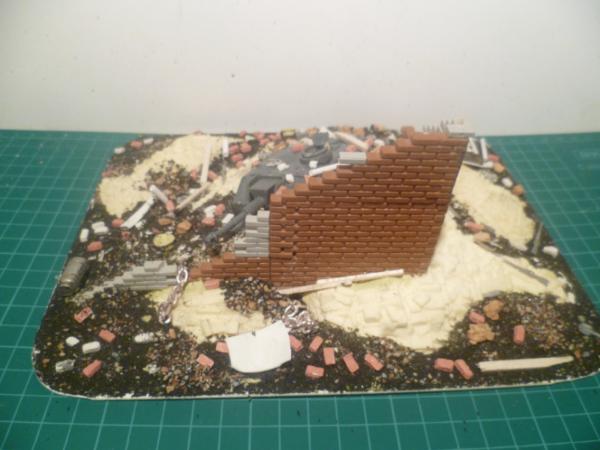 Segwaying into other things (is this the half way point of this post yet...? I had to add bloody headings to keep things from becoming just a word mess in this essay). Here's another ruin also in an unpainted state.
I may have shown off the one with this one before, as its been sitting around since I started building the ruins for this project over a year ago. It was bought to steal its tracks from for one of those Hanomag/ Panzer III hybrids I made. Looking back I could have used it for another conversion, but having wrecked tanks as part of your terrain is a nice feature (even if it does limit them to just WWII games ...unless your games happen to be taking place on an old film set).
Other Project Options?
Elsewhere I've been doing some research into the T-70 as a platform for conversion. Earlier some variants were discussed, and I've since found some more which may have potential.
My current intent is to have a go at making some vehicles which used the T-70 (or similar vehicles like the T-80 as a base, typically through extending the chassis). Currently I have two T-70s, one by Warlord games previously painted as a German vehicle, and another by Blitzkrieg. The German one an serve as a donor with a repaint.
As far as these variants, here's a few more which seem like they have potential.
VT-42 t-70
An attempt to increase the longevity of the T-70 chassis – a concept seen on a few vehicles. Done by replacing its main armament with a 45mm long barrel gun with excellent armour penetration (purported to be able to take on German heavy tanks).
This would be a simple conversion – just replacing the barrel on the existing tank. Obviously this project ignores the realities of the real vehicles (
which sites such as the Tank Archives go into in more detail, as to why these projects failed
), and in the fashion of World of Tanks or War Thunder which I'm somewhat aping, I don't tend to modify these prototypes to be a bit more suitable. So yes, the tank with the one man turret would get a larger gun and not address its other shortcomings.

T-80
This one is perhaps less outlandish a model, being a vehicle which did see serial production. The T-70 had numerous flaws, which the T-80 attempted to address. Particularly in increasing the turret to two men so the Tank Commander didn't have to deal with three separate jobs including operating the gun. It saw limited service, as the time for light tanks was over.
A bit more involved than the 45mm gun tank, but not that extensive a conversion. I don't believe that anyone makes a 1/56th scale, but I could be wrong and Die Waffenkammer may have it in their archives somewhere. This could also feature the VT-42 gun, though that may muddy the concept a tad. Regardless, the background of the T-80 and its obscure nature would make it suitable for this project – even if it actually being real docks it some points.
ZUT-37
One concept to use the chassis for an AA gun. Perhaps more competent than the dual DShK armed prototype, though maybe not as able a platform as those vehicles using extended chassis. It was armed with a 37mm gun and intended for usage against both air and ground targets – though didn't see production due to its cramped interior.
Another potentially simple conversion of the T-70. This would involve creating a new turret from scratch and be open topped – something I'm not too fond of as that means making an interior and crew. I'm more inclined towards the 45mm armed vehicle, however if I had the time the turrets could be interchangeable between these models.
IS-10 SPG
When a request was made for a new SPG based on the T-70 chassis, two plants were tasked with the project. A third plant volunteered its own design, being the Grozny concern which had developed the Zis-3 gun. Their design was fairly simple – a casement on the T-70, with hardly any modification to the rest of the vehicle. Concerns were raised on the limited access to the engine due to the casement extending a bit further than the turret's plate at the back, which among other concerns caused the project to be shelved (I'd note however that this is an issue on the original T-70, where you have to remove the turret and its mounting plate for the same task).
Among all the SPG on the chassis, of which there were a few (even more than the hand full I mentioned in my earlier post ...really, there must be a dozen), this one seems like the most expedient to make. Which is saying something for the nature of Soviet tanks. I like this vehicle as it would suit the Blitzkrieg T-70, which is now lacking a turret, and be something similar to that Panzer II Luchs SPG I made in concept. Just a casement built over the chassis.
There are those other SPGs on the table for conversions as well, though those will come once I can settle on how to do the tracks. I'm still inclined towards the vehicles with the more Hetzer style casements than the variants on the look of the SU-76 (and there were a few of those as well... honestly the amount of attempts at using this chassis for SPGs is silly, though given that we were still seeing conversions Post-War its not unexpected).
For one however, I am always in need of lighter vehicles for actual games. I find my collection filled with heavy vehicles which whilst nice to look at ...don't always offer the most balanced force for playing games with. I'm not want for concepts at least, its just finding the time and inclination to actually build them – and for the moment at least my To Do pile for the Soviets seems to be filled with heavier vehicles as usual...
(Other) Other Project Options (not T-70s)
Otherwise I have came across some other ideas for vehicles not on the T-70 chassis which may be worked on down the line.
IS-2U
My continued effort to find something to do with this IS-2 may have finally ended. ...Its like the Soviets just jumped from the KV-1 to the IS-3 in terms of weird prototypes. I managed to find this prototype which seems to fit the bill – an IS-2 with progressed towards the pike nose of the IS-3.
The vehicle seems to be largely an IS-2 just with a modified armour layout similar to the later vehicle. Presumably being a prototype which was rolled into a bunch of other improvements to create the IS-3. Luckily a good chunk of the IS-2 seems to remain intact (engine deck/ turret/ running gear) unlike on the IS-3, so seems like a viable conversion compared to just buying an IS-3 kit.
Sd.Kfz 222 in Soviet Service
(Uh, this, but with big stars on it I guess)
I'm also kind of inclined into making one of these. Yes, it would mean more German stuff – but that's just a short term problem. As I finish more of the half built stuff I'll have plenty of actual Soviet vehicles and the captured German kit will be a minority.
Anyway, I like the look of the 222 and Rubicon now have their plastic kit. I was thinking of one armed with a PTRD Anti-Tank rifle done up with the usual green paint job and Soviet insignia. It could be interesting (and again I'm picturing some propaganda film – where lacking actual enemy equipment older vehicles are used done up in their colours instead).
BMP Prototype ...Things
There's a 1/56th BMP-1 somewhere in my collection which isn't being used. Whilst this is more wistful thinking than something which will likely be turned into anything – it is a thought.
Similar running gear to the BMP-1 appears on many earlier Soviet vehicles. If I could use the tracks from the kit which I already have (Sloppy Jalopy I think) then that could work for some of those vehicles and prototypes to complement the T-44s period wise – giving the Soviets some more post-war equipment in opposition to the lighter E-Series I suppose. Just a musing.

Closing (yup, seriously I had to add bloody headings as this was getting too long)
Here's another of my usual "I've not touched a project in a while, deal with this content dump" posts. Um, I could ask if more shorter consistent posts are preferred, but I know I can't keep to a schedule, so well, deal with it.

For the moment I'll try and wrangle some of the guys at my club to run another tank game at some point. The main thing putting that off is that I want more vehicles for the Soviets so that its less of the "German Civil War" battles we've been playing with all my Axis vehicles, so I'd like at least a few more painted before that happens. Another zombie game ideally will be on the table too, which may be less involved depending on how things are balanced (i.e. Not a repeat of the last game where we just unloaded AKs into the horde and it turned into a shooting match).
In either case more terrain is in order, namely those ruins, more soldier corpses and tank traps (the latter two being stuff I'd lost in a box and only painted a portion of). As we've been playing mostly tank games the sparse boards are all right, and I have enough terrain from the rest of my collection to fill in the gaps on your average board, but my preference has always been to fill my boards with about twice as many pieces as every other board in the club that night put together, so there's always more work to be done...
Anyway, more crap to paint.

-----------------
I'll give an addendum to this post to say that I always maintain other Social Media on my projects. So this thread's somewhat slipped by some of the progress I've made in the past.
As such
here's a link to a thread on another forum I keep on this subject
, though here's the highlights from what I missed out when updating this one. But I'll try and keep everything updated as and when I can remember...