Products available from Spartan Games at
http://www.spartangames.co.

uk

/
Here are all the Halo: Ground Command Pics. There are a lot, be warned!
Preamble:
Did someone say Halo? Well, strictly speaking no, no one did. Actually, even generally speaking they did not. I'm sitting - alone, in my office and not speaking. BUT, I did think the word Halo like someone had said it, so I should probably rephrase that start part, which I will below. UNLESS you actually did say Halo, you know, right before you entered this thread; in which case I just blew your damn mind.
Alright, so remember, you didn't read that above part or this part explaining, we're just two newcomers to this thread looking to find out some goss from Spartan Games, got it? Cool, cool.
Did someone internally think the word Halo, but not literally speaking say the word???
Option A - You did: Well then, you've certainly come to the right place!
Option B - You didn't: I don't really know what to say. You come into a Halo thread, and are not hyped for Halo? It's in the description man, did you misclick? Either way, your lack of enthusiasm is both noted and unappreciated. We don't need that kinda negativity here. I suggest you watch this and come back when you're ready. You don't need to rush this, I'm here for you, we can get through this together.
Okay, now with that out of the way I want to again apologise for my absence this last little bit, I have had real world things that needed attention, but I am back in all my majestic (Or should I say Crimson, geddit? Spartan Ops? Still no?) glory.
This post has a lot of fantastic stuff from Spartan Games to juggle. It has to both welcome new people and update veterans, with so much content, control + c the following phrase:
HURRY_UP_AND_GET_TO_THE_GOOD_PART
then use that phrase to control + f and skip through the glossary sections. I'm really sorry for the formatting of all this, it's a tough thing giving this a nice layout when I'm pretty useless at formatting at the best of times, but I promise I'm doing my best!
- Intro
- Glossary <--- you are here
- Halo: Ground Command - What is it?
- Halo: Ground Command - coming/recent releases
- Halo: Ground Command - what do we know about the rules
- Halo: Ground Command - older but still perdy pics of figures from Salute
- Halo: Fleet Battles - What is it?
- Halo: Fleet Battles - coming/recent releases
Welcome Spartans (and curses to any Covenant listening in on this comms channel), Halo Fleet Battles is out! I've read the rules, played the game and am happy to answer any questions/put up any photos that may be had, due to work circumstances, I had to go to rural Australia for a bit, so apologise for the lack of updates. The models are crisp, the rules tight. I am truly excited by this game - which in turn, only makes me more excited for the soon to be released Halo Ground Command (
GC
).
Halo: Ground Command - What is it?
HURRY_UP_AND_GET_TO_THE_GOOD_PART
Halo: Ground Command is a 1:100 miniature game (that's 15mm for people like me who use the metric system- compared to
40K
's 28mm, for reference) that focuses on getting the fast paced, high action environment of the legendary
FPS
onto the tabletop. People purchasing Fleet Battles have voiced concern over having to buy 'groups' of models, instead of individual figures (such as the Massives like the Punic and CAS), however, Spartan Derek has confirmed that models such as the Scorpion tank will be coming in stand alone boxes, so you can highly individualise your forces.
What forces can we expect to see? Well at this point we have a great deal of info indicating that the Flood and Forerunners will be making eventual appearances, however, there is nothing overtly saying they're coming anytime in the next 6 months - they're more of a down the line deal. As for the Covenant and UNSC, we really are being spoilt rotten: Phantoms, Pelicans, SCARABS, Marines, ODSTs, every type of Spartan, Warthogs, Grizzlies, Scorpions, Wraiths, Ghosts, Banshees, Falcons, Hornets, Marines, Grunts, ODSTs, Jackals, Elites, Brutes, ODSTs (I'm a little excited for the ODSTs, you might be able to tell), Halo Wars Units specialist units, EVERYTHING is coming. #thehypeisreal
I will expand this section a little more soon, I have a lot to get updated!
Box art revealed, along with the rulebook (big thanks to Tallgiraffe):
Halo: Ground Command - coming releases
HURRY_UP_AND_GET_TO_THE_GOOD_PART
Yes, that's right, the fast pace 1/100 scale Halo miniature game is shipping July 27th, that's only a few short sleeps away folks! Not only is the base set up for grabs, but also scale models of the Pelican and Phantom; let's have a look at those bad boys.
Yes you PeliCAN:
DUN DUN DUNNN DUNN DUNNN (for those of you that don't know DUNNNN Music, that was an excerpt of the Phantom of the Opera):
Magical.
What about the actual boxed contents I hear me pretending to be you ask?
I'm glad you asked, here are some pretty, pretty pictures and a description from Spartan Games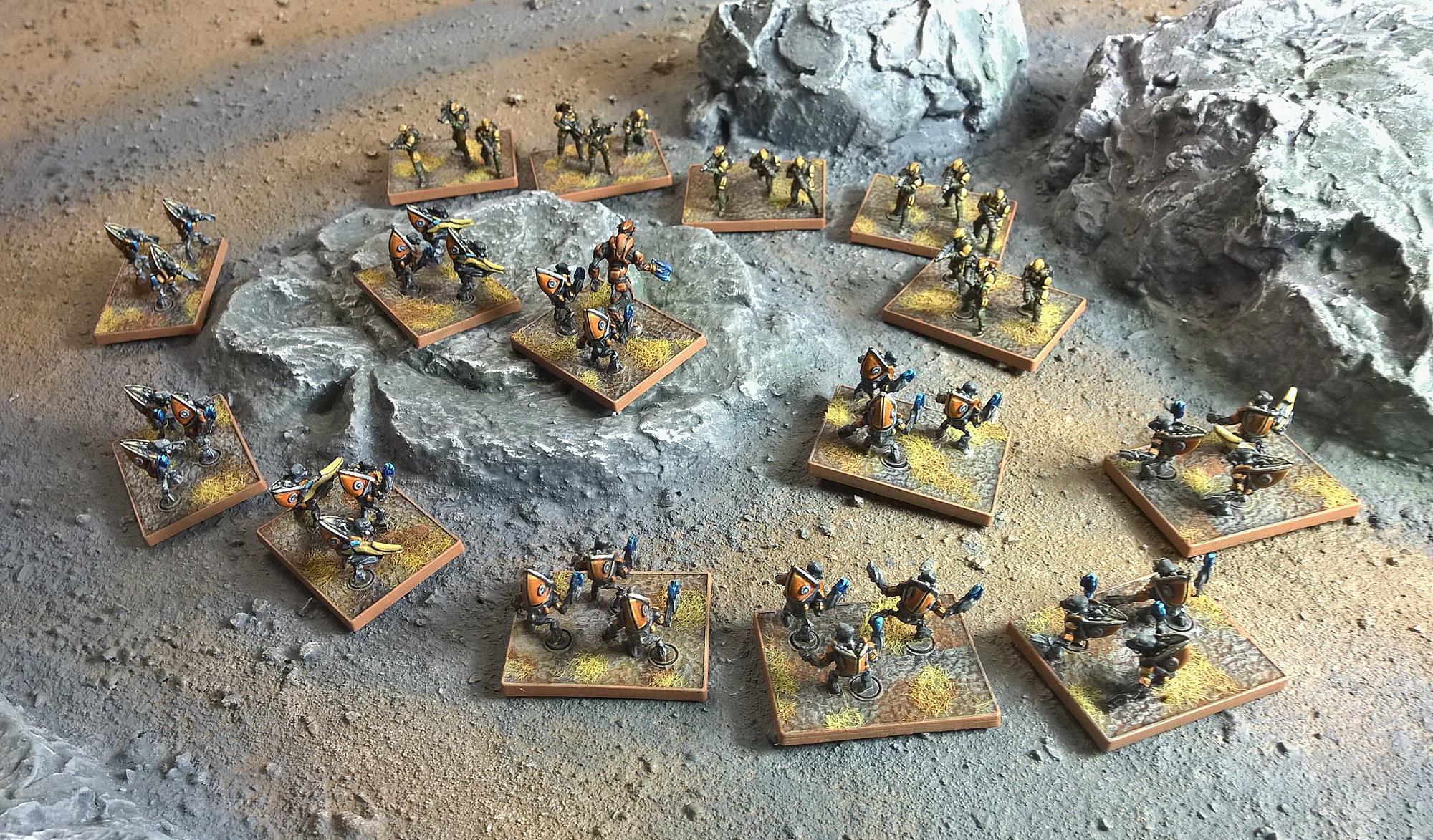 • Full colour Halo: Ground Command Rulebook
• Statistics Sheets (detailing UNSC and Covenant forces)
• 20 x Custom Halo Dice, 6 x Halo Order Dice and 4 x Normal
D6
• 40 x Game Tokens (Damage, Activation and Cooldown)
• Shadow Templates - UNSC Pelican 
and Covenant Phantom Dropships
• Quick Reference Sheet
• 2 x Commander Cards
• Halo Scenery - Bunkers and Scatter Terrain
• UNSC 1,250 Point Battle Group
• Covenant 1,250 Point Battle Group
And here's an in depth breakdown of the forces
UNSC Battle Group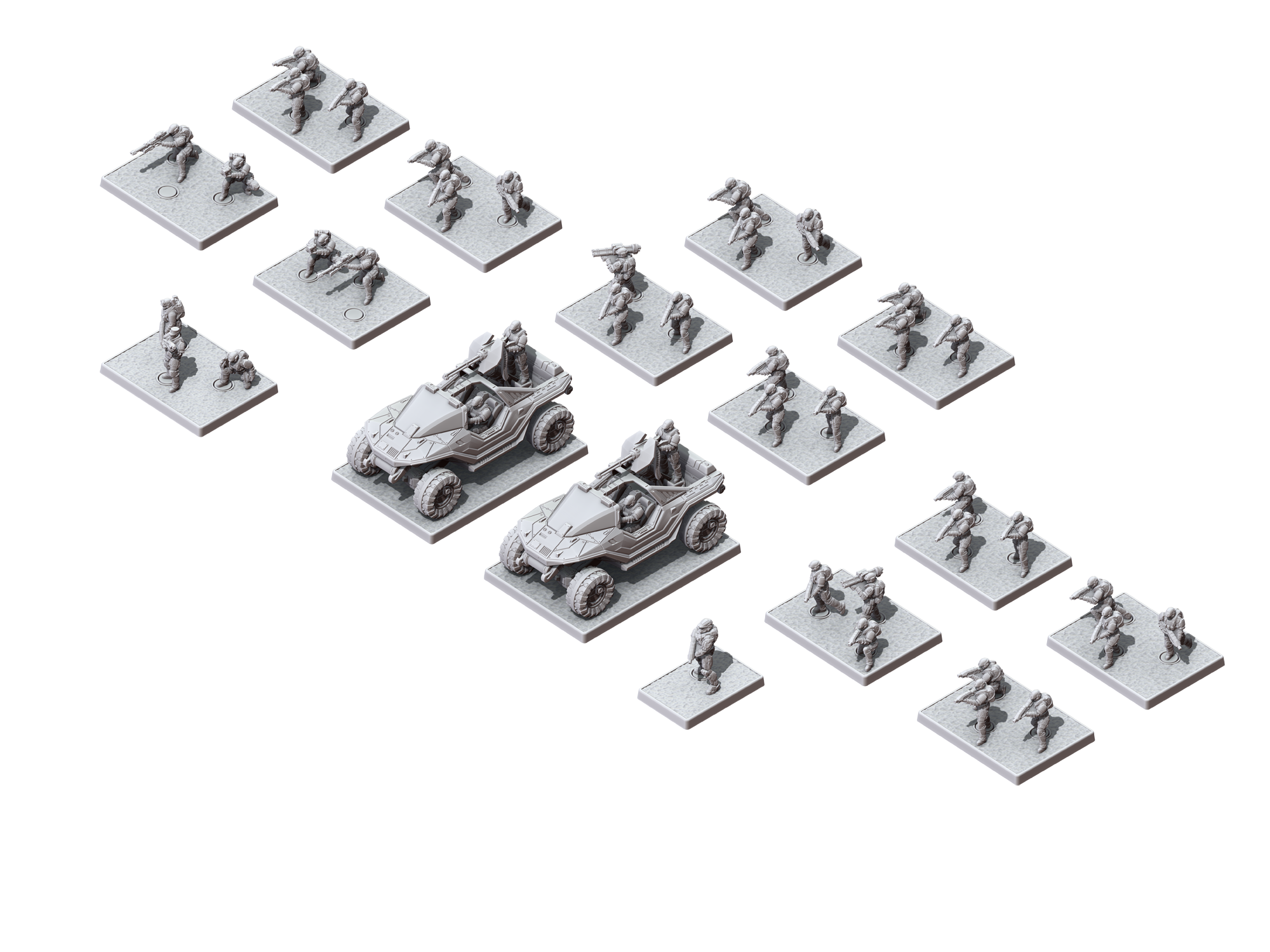 Covenant Battle Group
Random pics
Halo: Ground Command - what do we know about the rules (coming soon)
HURRY_UP_AND_GET_TO_THE_GOOD_PART
Halo: Ground Command - older but still perdy pics of figures from Salute
HURRY_UP_AND_GET_TO_THE_GOOD_PART
Some older pics, updated with some light hearted thoughts
TL

R - Halo: Ground Combat rocks
Halo: Fleet Battles - What is it?
HURRY_UP_AND_GET_TO_THE_GOOD_PART
Halo: Fleet Battles (
FB
) is a 1 : 20, 000 scale miniature game set in your favourite scifi universe. Models and rules are made by Spartan Games in both plastic and resin (to clarify, I'm now talking exclusively about the models here - not the rules. Be a little weird if they were made out of either of those materials) depending on whether the ship falls under the core or specialist category.
This is just my perception, but I believe that the game offers a great deal of tactical flexibility. In it, the various bases (which are called elements) are made up of select types of ships that can group together, or stand alone. Sometimes that will mean all frigates/corvettes, other times that might mean frigate escorts for huge warships and battlecruisers; some elements may be a solo ship with no others on it, other ships may take up multiple elements! Individually, these elements are powerful, but when formed up into battle groups they become really mean. Battle groups are functional units of elements(which must maintain a coherency of 6 inches to remain a whole battle group), and are both pre-specified before games and alterable during combat. Being in a battle group enhances the fighting ability of units, but at certain minor trade-offs that are far exceeded by the advantages. After casualties, battle groups start to lose efficacy, and as such there are orders issued by the fleet commander that allow 2 dwindling battle groups to form up into a stronger one.
Units are activated turn by turn, and the rules seem to capture a great deal. In particular, I am impressed with the terminology, which is all quite accurate, and adds a sense of immersion. Instead of shooting at the enemy, you make firing solutions that target elements of opponents battle groups (sounds cool, not so?). Loving the damage mechanics, anyway, if you have any questions ask away!
This is an elaborate overview of the rules as a preamble to the following video, where there is a game
This is the game that was spoken about in the previous video
Halo: Fleet Battles - coming/recent releases (coming this weekend)
HURRY_UP_AND_GET_TO_THE_GOOD_PART