Greetings!
I have been buying tons and tons of kits recently as a sort of 'reward' for started back at school as a 'mature' student (read: old !) , and though I've been busy with school work, I'm painting more than ever. I started building and painting inquisitional warbands in 6mm a while back, but whilst that is a very personal project, I wanted to improve my painting in larger scales and use up some of the mass of kits I have!
I'm not planning anything too much ahead of time, other than the ideas that are swimming around in my head, and hope to see my world building develop naturally from the outline I have, something that was started with my 6mm stuff. I dont have time to up keep a full blog (school is too important for me right now) but want to look back this time next year and see how far the story comes. I'd like to keep everything through the log as a 'draft' then have a updated post with the 'official' story line, which I will try not to retcon as more insane stuff leaks out my head!
The basic premise is that there is a system that is so difficult to travel too, and almost impossible to locate, that when the Imperium did stumble across it, and they found it to be so rich in materials that they decided to send out a huge fleet of terraformers to take over the system and to work in secret. They were to store items of great importance, items they wanted kept from their enemies, hidden away, and to use the mineral rich planets as a way to create huge stashes of weapons, and prepare for the day that man kind would need them.
Only trouble is that the imperium hid all the records of the system so well, that the system has been completely forgotten about, and as hundreds of years have gone by, the people of the system have lost the ability to escape the system- due to warp storms, and failing technology.
As the years flew by, the people of the worlds have become more and more backwards, and yet some still retain the ability to make and use some of the machinery that still functions. meaning you might stumble upon a village of peasants, armed with just sticks and stones, but the lord of the land retains use of huge war machines. Ships will travel with in the system, to huge oil rigs, to bring back fuel but after a few years away, they might return to find their once huge imperial base is now nothing more then a wooden platform and shanty box!
As wars with the other races broke out, and cities were left in ruin, and rather than rebuilding them, people would build directly on top of the old (being that they had so much
raw
material to hand, it was a lot faster, and less dangerous not having to clean the old city out first) meaning that the worlds are like no other- that whole settlements are living under one another, forgotten about, buried underneath both cities and rubble.
Some of my inspiration for including more fantasy elements comes from what I have seen of the outgard project (Hoping that its seen more as an imitation as flattery rather then as copyright infringement! haha!) but also so I can make use of a lot of the
AoS
models I'd love to paint but dont really have the time or want to collect a whole army!
Other then that my main influence comes from the judge Dredd books, The berserk anime, and from Ian millers graphic novel of James Herberts 'the city'.
The plan so far is a skaven warband- when the humans first entered the system, they brought onboard with them millions of rats, just like the sailing ships of old europe, which have evolved into mutant, human sized rat creatures through out the system. The rely heavily on warpstone- a substance of chaos, which spreads like a fungus, corrupting everything around it. They use it for everything, from powering weapons, to using it in foul flesh experiments. They out number every other race in the system by millions, but kill each other just as much as would another race. Their main goal is to find away to escape the system and spread through out the rest of the universe. I am also working on a skaven
AoS
army, and some of my minis have been planned with both systems in mind, two birds one stone kind of thing!
Tzeentch warband, mostly an excuse to get my hands on some of the new minis, but also a chance to paint some more blue minis for my other half. No real story planned for them yet, but have started picking up kits of them already. Will include a lot of things like dark eldar models, odds n ends, and stuff that my girlfriend picks out- just painted in bright blues! I will be abusing the burning chariot kit as much as I can!
The Imperium- There will be several warbands too cover various aspects of humanity. Still loyal to the imperium, but they have been so long removed from the governing bodies that they have morphed into something completely different to what we all know the imperium of mankind of the
40k
universe to be! This allows me to do what some pretty radical things with them, with out having it go against 'official fluff!'
All sorts of weird and wonderful oddities! There will be a lot of 'one of' models, game specific models, as well as some really bizarre things cropping up. One of the strange things I am working on right now is a small band of ghost orks! There will be lots of things like this cropping up, mostly when
GW
make a kit I really want to use but dont want a whole force off!
Terrain- I love making terrain! There will be lots of your standard stuff, but also a lot of civilian vehicles, and a mix of both sci-fi and fantasy buildings.
Some of the images I will use have been stolen and repurposed from my epic army logs, but hopefully with the holidays coming up I will have time to work on the fiction side more and replace some of the more rushed bits.
---------------------------------------------------------------------------------------------------------------------------------------------------------------------------------------------------------------------------------------------------------------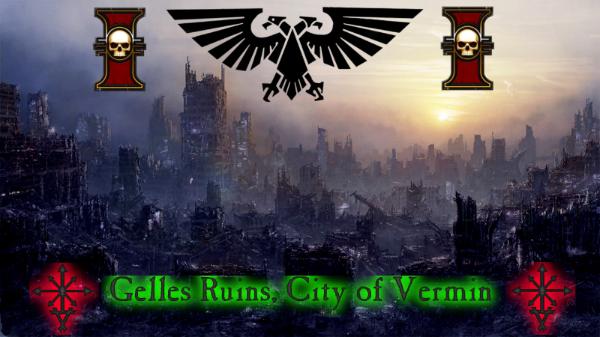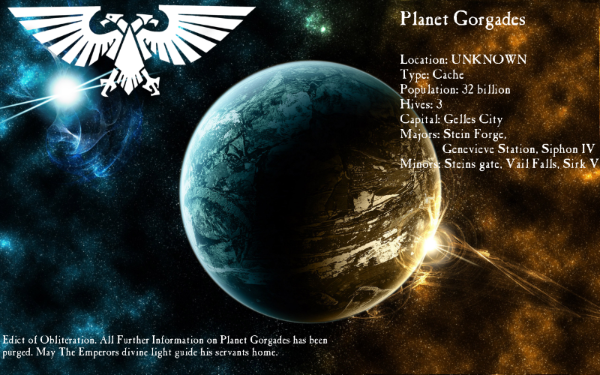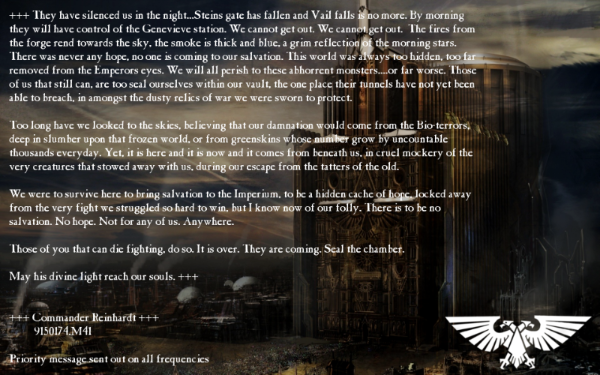 Some of my original fluff for the main planet in the system. Commander Reinhardt will make an appearance in the future, leading his band of survivors against the rats, from his underground stronghold.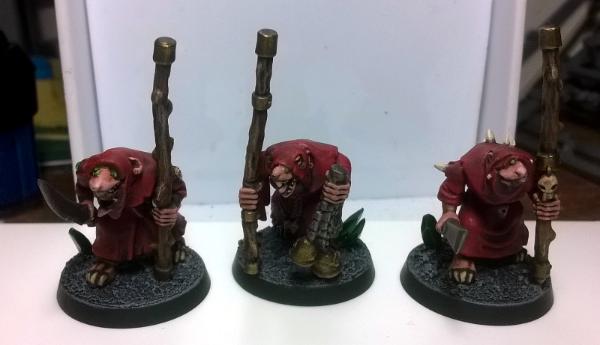 Some of my skaven done to work in both systems. I'd like to play a tower defence game some time, with the plague monks standing in for zombies. The colour scheme for all my rats will be the same so they will be interchangeable. I have quite a few of these, but I'm not keen on painting them, they are great kits but terrible models to clean up and paint! The plague monk is the main body I have been using to create my more techy/skitarii skaven, still awaiting green stuff work. Been putting it off as I'm not big on sculpting!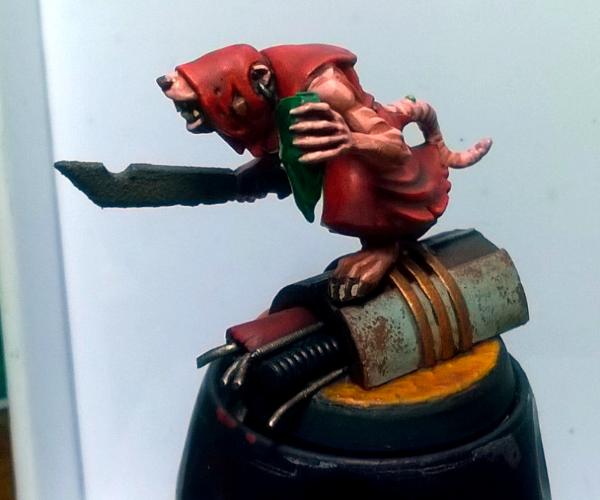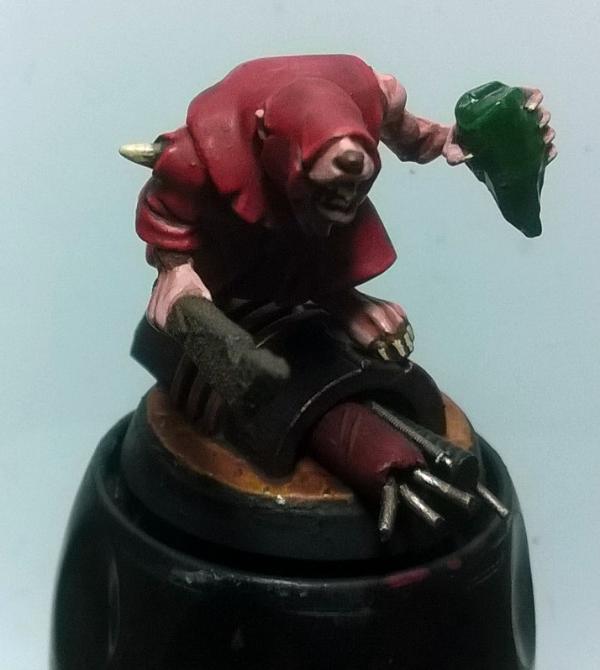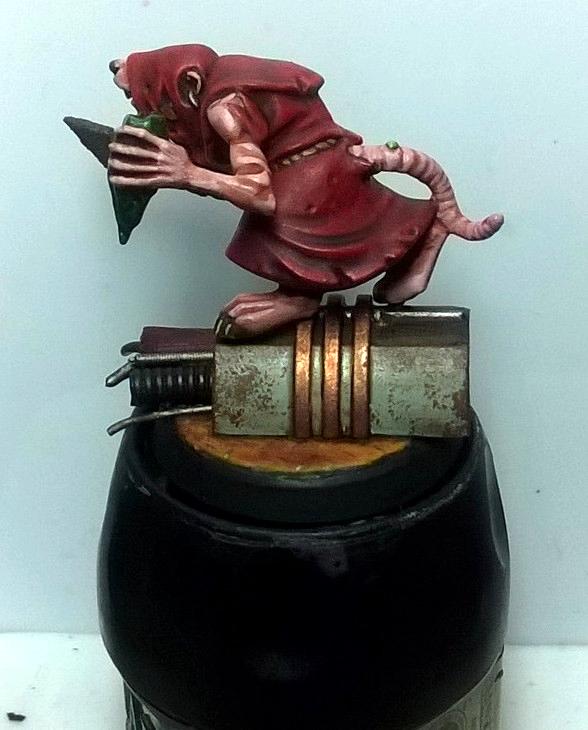 This chap was repainted a ton of times, so his red is a little bit brighter then everyone else, but I'm very fond of the conversion even though it is such a minor one. I tried to do some different techniques when painting him. I painted the rusty base with washes rather than my usual silver/wash/rust effect I'd normally do. The chipping on the paint work is something I've not really tried before, I didn't feel right, but I dry-brushed the edge of the whole area and it feels a lot better now. The whole model is still close to my cartoony, bold colours (which is the only style I seem to be able to paint in) but I tried to not be so neat, and to use more grim colours for the base to try and give it a little more of the feel of the more standard style of INQ28 models. I dont think I will ever be able to paint in a full blown John blanche style, but I this is step in the right direction, or so I feel.
I still need to paint that one last cable- but I wasn't sure what colour to go with. Green would look cool, but I like how the only green on the model was the warpstone and it would take away from that! Didn't just want another shade of red, because there is already about four or five different reds on there! All suggestions greatly appreciated!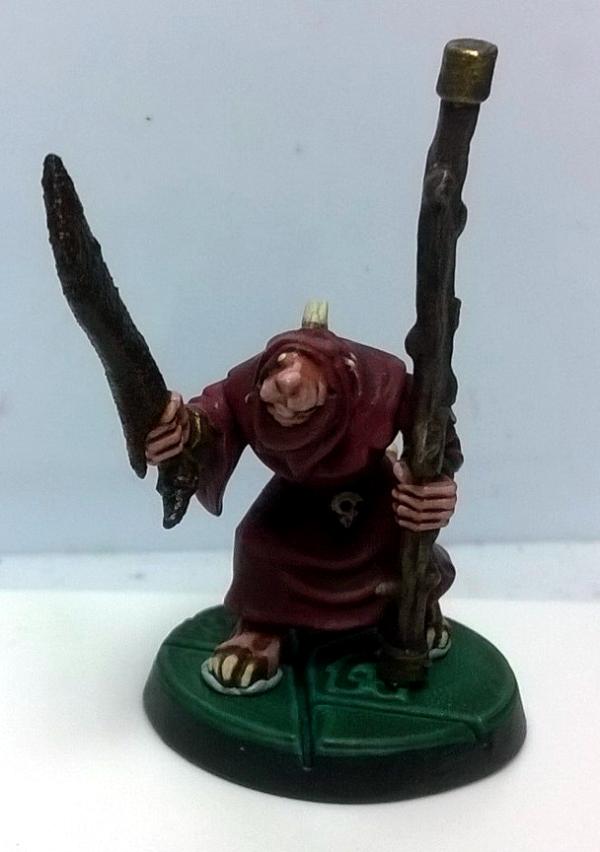 This was the original test scheme using khorne red as the robes. He came out really well, but I still preferred the brighter red. his base is meant to be part of one of the fallen cities. When humans first discovered warpstone as well, and not knowing what harm it would do, they too started to use it, mixing it in to concrete making these beautiful green glowing buildings and walkways, which gives the city an eerie green glow. When the humans succumb to warpstones effects, the skaven took over what remained of the city, and began rebuilding it in their own image. Though this poor skaven, being a lowly test mini, will never see the (green) light again, he was an important part of the overall process and will sit proudly on the shelf of completion- his work is done!