Cresting the wave of hobby enthusiasm! Those of you who know me or have ever read any of my infrequently updated plogs in the past will know that I am really a collector at heart, a semi-infrequent gamer second and a painter a very distant third (and we are talking moons of Jupiter distance here!). But recently, a rare burst of creativity and enthusiasm has overtaken me and I have learnt from past experience to take advantage of it and get as much done as possible. I initially started the year with the goal of only starting a new army once one was done first and for a while, it worked. Sadly, I got a larger than expected work bonus this year and with that, the collector in me took over. Suddenly, I have Eldar, Tyranid and Mechanicum armies awaiting my attention (but that really is it until I am done with one, I swear!).
The first project was my 30K Imperial Fists which are dangerously close to completion and which you can see
here
should you wish. But I got to thinking, I need a counterpoint to the Loyalists should I ever actually, you know, play a game of 30K. So the idea of doing a Traitor army made sense. I decided to go for the Death Guard, normally something I would shy away from because I abhor the idea of trying to paint and shade white.
Anyway, I did have a Death Guard
40K
CSM
army in the past but at the start of the year, in line with my resolution and general frustration at not making in headway with the grey mountain, I got rid of pretty much all my
40K
armies bar my 1K sons which I really wanted to hold onto. But this is really a 'tear it up and start again' moment as my old
40K
DG
army was a Nurglified colour scheme whereas I really wanted to stick to the original Horus Heresy colour scheme with little Nurgle-ness.
So, whilst waiting for my Mk III Marines to arrive from Ebay (and thanks to an Ebay seller, delayed again as he has sent me MK IV instead), I am making a start on Typhon, who is the test bed for the colour scheme. Here is the
WIP
so far - in the early stages, just a wash and drybrush so far: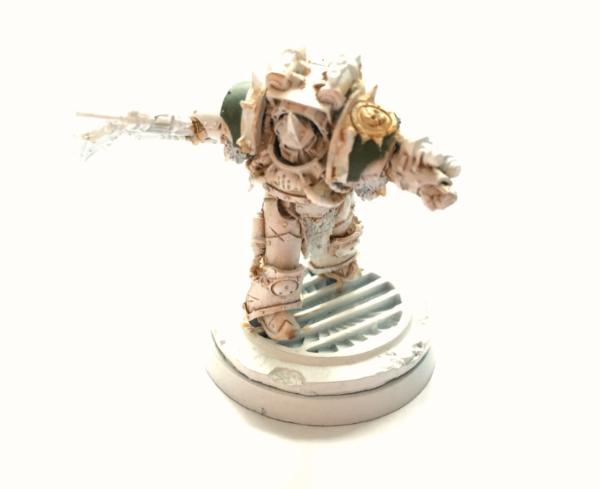 Any potential colour scheme has to fit in with my credo, which is speed above all else. If it takes me too long to paint each mini, I quickly get bored, frustrated and lose motivation and then yet another army languishes awaiting completion. So to that end, this 30K
DG
scheme needs to be quick. The plan is:
Prime white using Halfords White Primer spray.
Wash using Seraphim Sepia
Drybrush white again which effectively provides the shading
Boltgun metal/Brazen brass on the details
Catachan green for shoulder pads
Finally - anything else stage - which will be some weathering powder.
I had some good experiences with Humbrol weathering powders on my IF vehicles so I am going to make use of them here too specifically the mud/dirt one and an iron oxide/rust one.
Should be easy for my to reproduce the scheme and quick to knock each mini out so I remain hopeful. Next to do is to finish Typhon and make a start on Mortarion if my MKIII marines are still missing.
Automatically Appended Next Post:
Some further progress shots - colours blocked in and washes done. Last thing to do is to apply some verdigris wash to the base, some very light applications of Typhus Corrosion and Ryza Rust but I don't want to go too overboard with that. Then I'll look to do the weathering powder bits.