Hi all,
Third practice game under my belt and a few army tweaks from lessons learn't. I'm playing against my first Nighthaunt player again, but both of us have changed it up.
My List:
Celestial Vindicators Stormhost
Drakesworn Templar w/ Stormlance & Stormrage Blade
Lord Castellant w/ Gryph
Knight Incantor
Knight Vexillor w/ Meteoric Standard
3x5 Liberators
2x10 Evocators w/ Granstaves
Cogs
1980
Battleplan: 2K Matched Play - Shifting Objectives
My deployment. Vexillor & 2x10 Evocators are in the sky.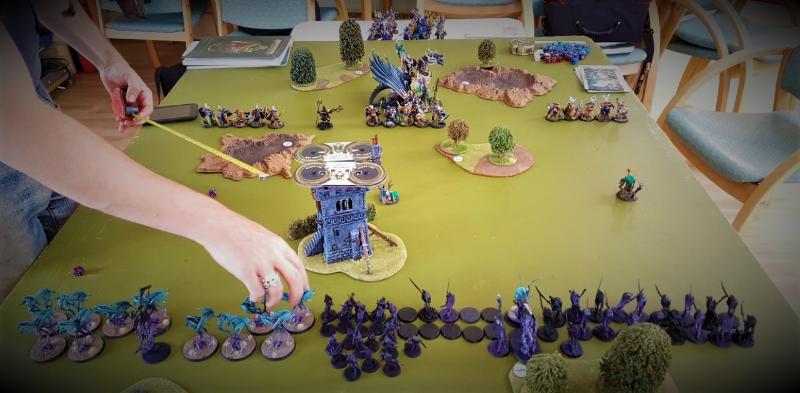 Nighthaunt deployment. A 3 base Spirit Host unit is in reserve. The far right to middle are Grimghast Reaper proxies. Ending with the unit of chainrasps in the middle.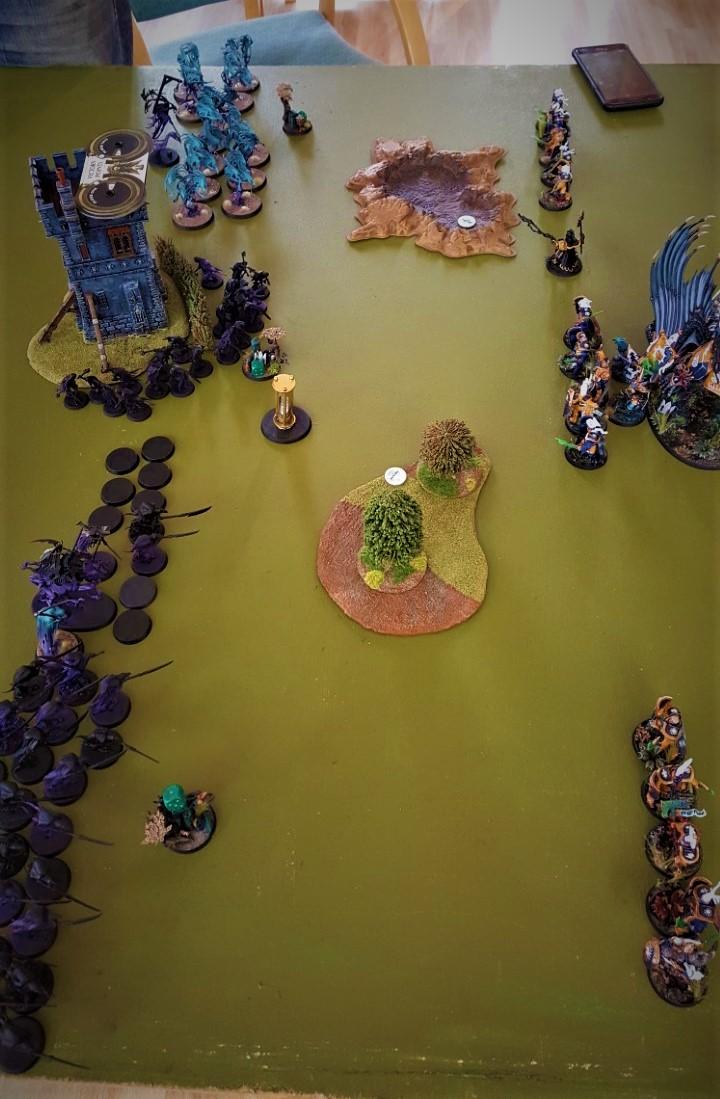 Nighthaunt wins turn one with minimal drops and advances across the board. Snagging 5
VPs
, with the primary objective being in the center. An endless spell is cast and placed in the center, its used to heal as opposed to do MWs.
I place the Warding Lantern on the Drakesworn, and cast Cogs from the Incantor. Making use of the arcane terrain as well, as arcane lineage. I decide to taper my movement on one flank rather than splitting my Evocator units up. The Vexillor comes down in between them both. Whilst bunkering my far right Liberators in the arcane terrain, and bubble-wrapping the Knight-Incantor.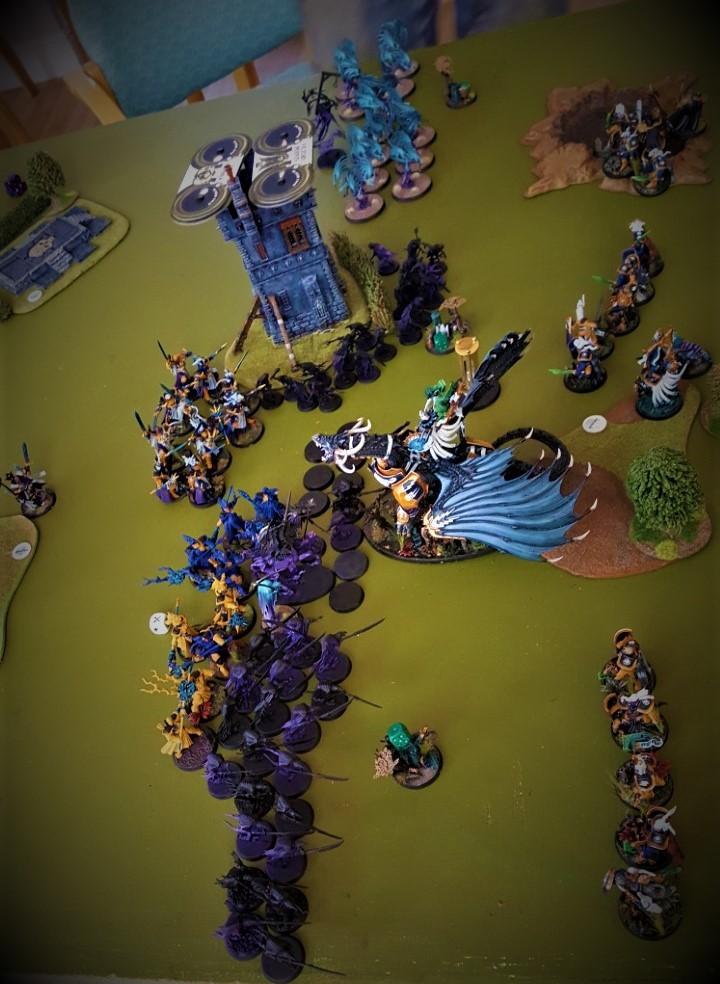 I make all of my 7" charges thanks to cogs. But I did need the Vexillor's re-roll on one of the Evocator units. I hate to *waste 120 points on the Vexillor, but when he all but guarantee's them not losing a round of combat, its worth it to me.
I use my 1
CP
on the closest Evocator unit to give them +1 attack. Splitting most of my attacks, but focussing on taking out the Guardian of Souls, Knight of Shrouds, and another NH hero. Whilst also doing damage to the larger reaper unit. I also place my
MW
roll's onto the large reaper unit. Killing a total of 13/20. Killing the Knight of Shrouds, as well as the 3rd hero. #Brutal.
The stardrake also dives into the smaller reaper unit, takes a few wounds in return, but kills half of the unit.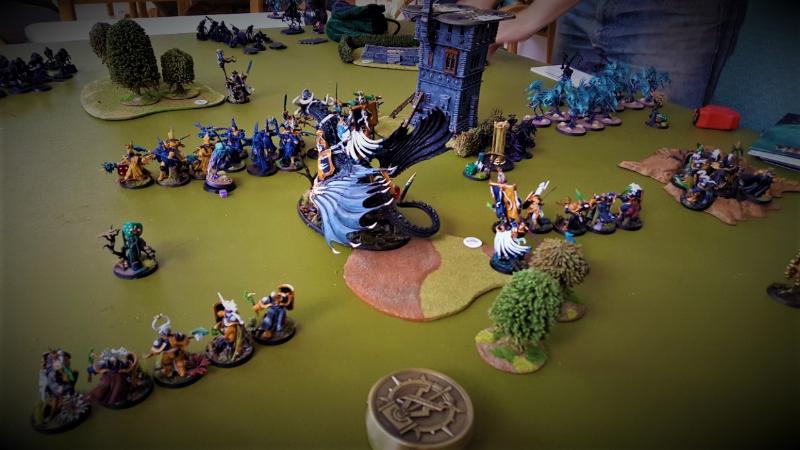 The chainrasp unit in the middle takes a ton of casualties also from my second Evocator unit. But is made immune to battleshock to keep them on the center objective.
I only score 1
VP
as i'm just out of reach to contest the middle objective.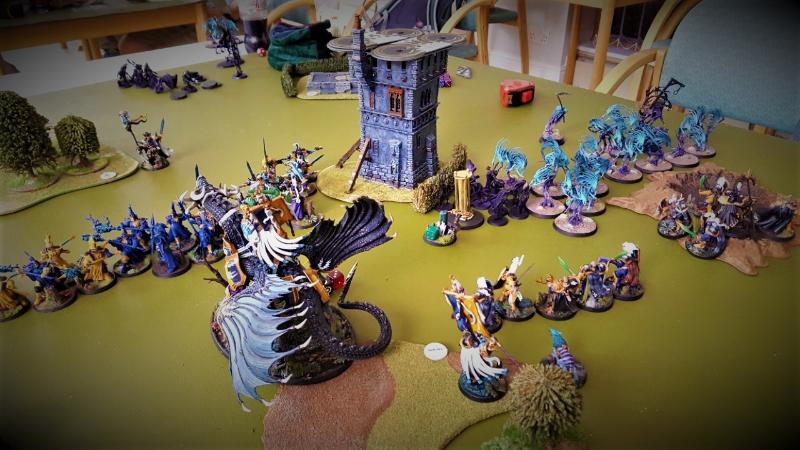 The new primary objective lands and it on my left flank. The spirit hosts advance upon my liberators.
& make their charges.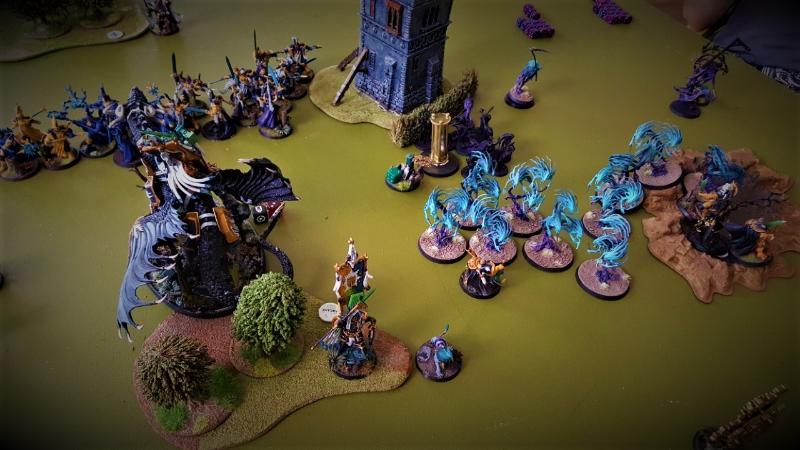 The liberators are thinned out, but my Incantor goes untouched. Out of shot in the bottom right the 3 based spirit host units also came up behind me, but failed their charge.
My turn 2, and I move in to mop up the spirit hosts.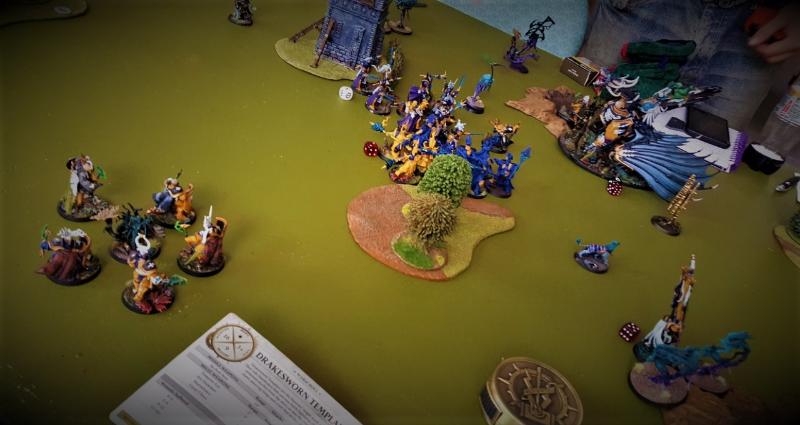 End of my turn 2. At this point my opponent wanted to concede the match, as despite *playing out where the third primary objective may land and it being on his flank, we projected that I would table his army in that same turn, and over take on objective by the end of my turn 3. Taking me to a 10 v 9 GO victory.
Lessons Learnt:
Evocator Alpha Strike is brutal. It's a hard investment of 1120 points to pull off, with other synergies, but it allows you to take out that many points in as much as turn 1. An enemy being down by half their force in turn 1, is a much weaker prospect. We did concede that perhaps the NH player should have bubble wrapped his heroes better, and probably would have been covered in a torno game.
Getting cogs off on a 6+ still scares me for my opener, as it leaves the rest of my army open, but it's a risk I will have to carry. If there is any arcane terrain on setup I'm defo taking that deployment zone!