Update:
I've ordered in and received all the models I need to make my army, with the exception of the aggressors and possibly tactical marines. I've started work on several models and kits, so here are some pictures of how things are coming along: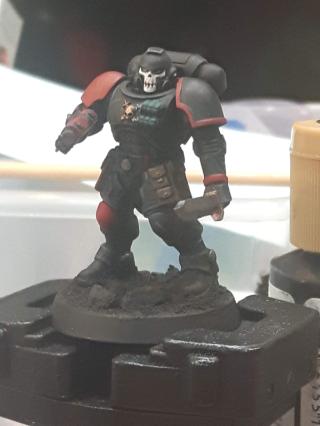 This was my second riever as of last Friday. Since then, I've highlighted him and put a fair bit of work into cleaning him up: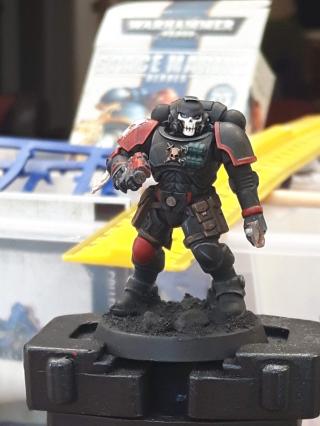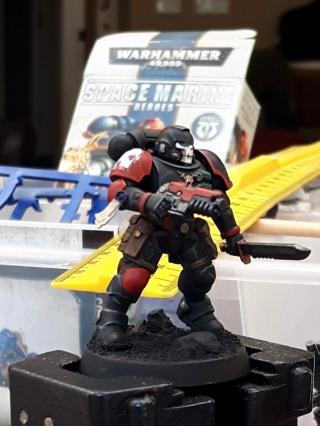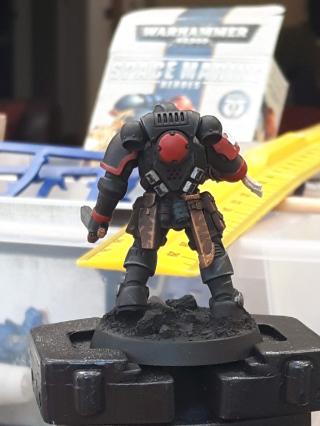 I've been greatly enjoying painting these guys up, and being able to add the little details, for example, the feathered cuts and scrapes in the leather equipmont pouches and holsters on their belts.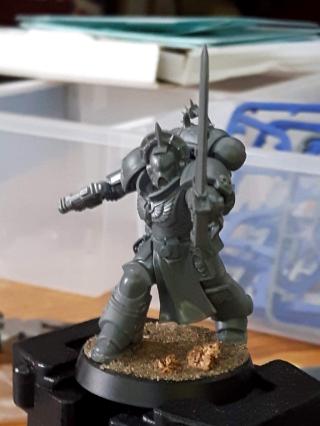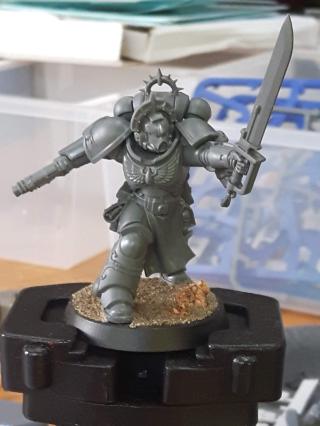 Here's my Primaris Lieutenant. I don;t have him in my current list, but I can swap the chaplain out for him and save a couple points, and improve the shootyness of my ground squads.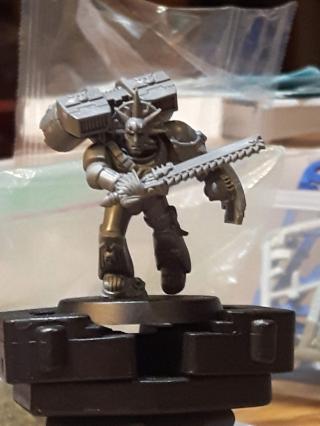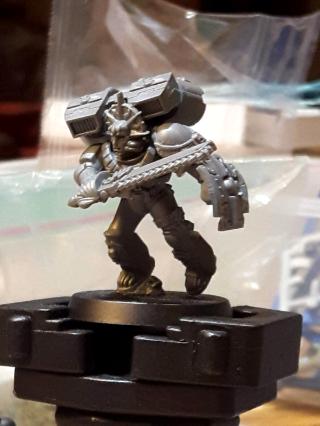 Here's the first of my Vanguard Vets squad, He's one of the two chainsword/stormshield ablative wounds. Even for a guy who's supposed to beat back chaff unites and protect more expensive models, I'd say I'm pretty pleased with how he ended up. I had to do a tiny bit of trimming to get his head to fit, I've got a set of heads from the sanguinary guard kit that I'm scattering around my unites to add some flavor. I'm still deciding on what shoulder pad to stick on his right arm, and weather or not these Vanguard Vets, who serve as this companies company veteran squad, should have crux terminatus' on their right shoulder pads, or just regular decorative ones.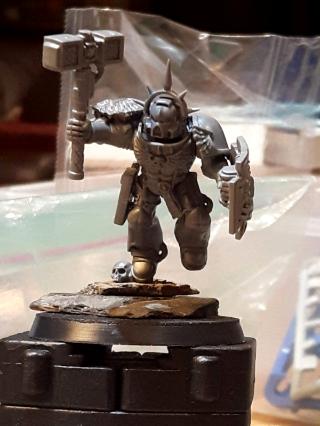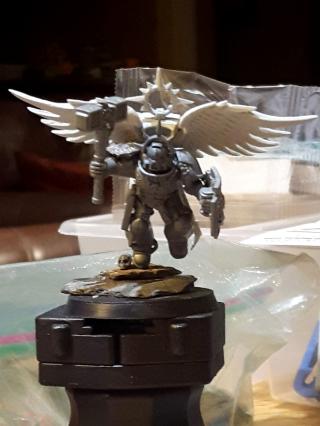 Finally, my smash captain. I'm pretty pleased with how this guy turned out, though there are a few things I'd change about him if I could start over. Better posing, perhaps a different shoulder pad for his right shoulder, etc. All in all, I'd say I'm happy with how this force is turning out. As promised, here's some fluff to explain why I made some of the choices I did:
"Founded from the original legion during the 2nd founding in the early 31st millenium, The Sable Brotherhood are a fleet-based successor of the Blood Angels. Known for their terrifying rage and rapid jump assaults in battle, and their dour and humorless personalities outside combat, the chapter has few allies outside a handful other chapters of the Adeptus Astartes who have learned to respect them. Those who fight alongside them have have seen for themselves that there are few things more deadly in close combat that a member of The Brotherhood with a power weapon in his hands.

The brothers of the chapter universally have pale, nearly transparent skin, beneath which their blue veins can be seen to trace across their flesh. The older members of the chapter also begin to lose the signature blond hair color of the sons of Sanguinius much sooner than any of the other chapters of the blood, as their hair gradually lightens to white. The reason for these mutations lie in the origin of the founding Sable Brotherhood astartes.

The chapter was founded by nearly all of the astartes within the IXth legion that had served more than a few times in the Order of the Angel's Tears, the Blood Angels' equivalent of destroyer squads. Armed with rad missiles, phospex grenades, and melta bombs, the astartes who served in these squads and brought utter destruction on the orders of their Primarch were exposed to high doses of the toxic payloads their weapons carried. Those that served in these squads more than once or twice were permanently marked by the changes in their bodies, as their skin and hair lost pigmentation. These astartes were often shunned and isolated, as the use of rad and phosphex weapons was seen as a cowardly and immoral necessity in most legions, including the Blood Angels. When the legion was broken into chapters following the Siege of Terra and the end of the heresy, the astartes who served in the Order of the Angel's Tears grouped together, forming a chapter of their own. They were also joined by other Blood Angels who were inclined towards the mindset of the chapter, which involves striking quickly and annihilating the foe utterly before they have a chance to respond. These included several elite terminator squads, including members of the honored Crimson Paladins order.

The Chapter continued to don the black and red armor of the destroyers, with a few changes over the millennium since. They carry the same blood drop and vial relics, and winged blood drop markings most other chapters of the blood do, and decorate their armor with sculpted details and painted murals. Their chapter symbol, the spade, is an ancient symbol of death and the warrior caste. Much of their war gear has been passed down from brother to brother, and many of the more ancient jump packs, armors, and weapons even bear traces of the old legion iconography."
Most of my lore is scraped together from lore I found in
The Devastation of Baal
and online from the Wiki, the Fandom Wiki, 1D4chan, etc. that I've incorporated into my designs, or reversely wrote to explain why I did something. A good deal of it just seemed to fall into place, including my discovery that my chapter's colour scheme closely resembles that of the Angel's Tears squads, after I had already come up with the colour scheme and idea of them being thier descendants. I choose to believe that all these coincidences are a sign that the Emperor himself approves of my work, so I'll just keep trucking along and working with it.
I'm not sure how my posts are going to go over the next week or two, since I'll likely post tomorrow, and then not have time for the next week or two. I'm heading into Uni, and moving into residence as I do. We'll see how it goes.