Turn 6 – Ragnar meets his end
Vikings have initiative and go 1st
Raghnall mac Somairle and his lefties covered themselves in glory. While still struggling uphill against Ragnar and the few surviving mermaids (veteran Bondi) they were hit in the rear by the remnants of a Bondi company. Incredibly, the lefties won the combat! A wounded Ragnar and his small band stood their ground, but the Bondi fled.
Meanwhile, in a last-ditch effort, Ragnar's Huscarles charge uphill in hopes of defeating the Irish before they get flanked by Black Aonghus' force. The Irish stand – barely.
The Islemen kept up the pressure on their turn.
The mermaids are finally defeated and overrun by the lefties; Ragnar is missing. Is he dead, wounded or has he run away to fight another day?
Meanwhile, the huscarls are flanked as predicted. They stand firm (barely). After so many casualties, Somairle decides to let them sail away, but they must leave their loot, weapons and armor behind.
The end results:
The Vikings:
Ragnar the Unlucky (commander) – wounded and missing in action
Herger the Grumpy (Battle standard) – killed, standard captured
Ravn the Seer, Ragnar's personal godi - missing
Angantyr Angrimsson company (24 Bondi) - routed
Thorfinn the Tall's company (split into 2x18 Bondi) - routed
12 Bondi Archers – no casualties
10 Thrall skirmishers - Routed
Lagertha the Hot (sub-commander) - missing
Olaf Finehair's company (24 Hirdmen) – 14 survivors
Róta Ragnarssdotter's company (24 Raiders) - routed
Siggy the not quite as hot as Lagertha (sub-commander) - missing
Bue Wolfbeard's company (24 Ulfhednar) – routed
The Scotts:
Somairle, Lord of Argyll (Commander) – wounded, but basking in glory of victory
Black Aonghas (sub-commander, Somairle's foster brother) - survived
Madadh-allaidh's company (24 Best of Islemen) – 19 survivors
Dougal mac Aonghas' company (21 Best of Islemen w/ 2 handed axe) – 11 survivors
Bran mac Alpin's company (24 Islemen) – 19 survivors
Raghnall mac Somairle company (24 Islemen) – 8 survivors
Sigurd the Stout's company (24 Islemen) - routed
Uhtred of Galloway (12 rather wild Galwegians) – 6 survivors
Somerled the Less' company (24 Norse-Irish mercenaries) – 18 survivors
(no relation – supposedly a common name)
8 skirmishers with javelins - routed
The lefties beat off an attack from two directions - while proud papa Somairle looks on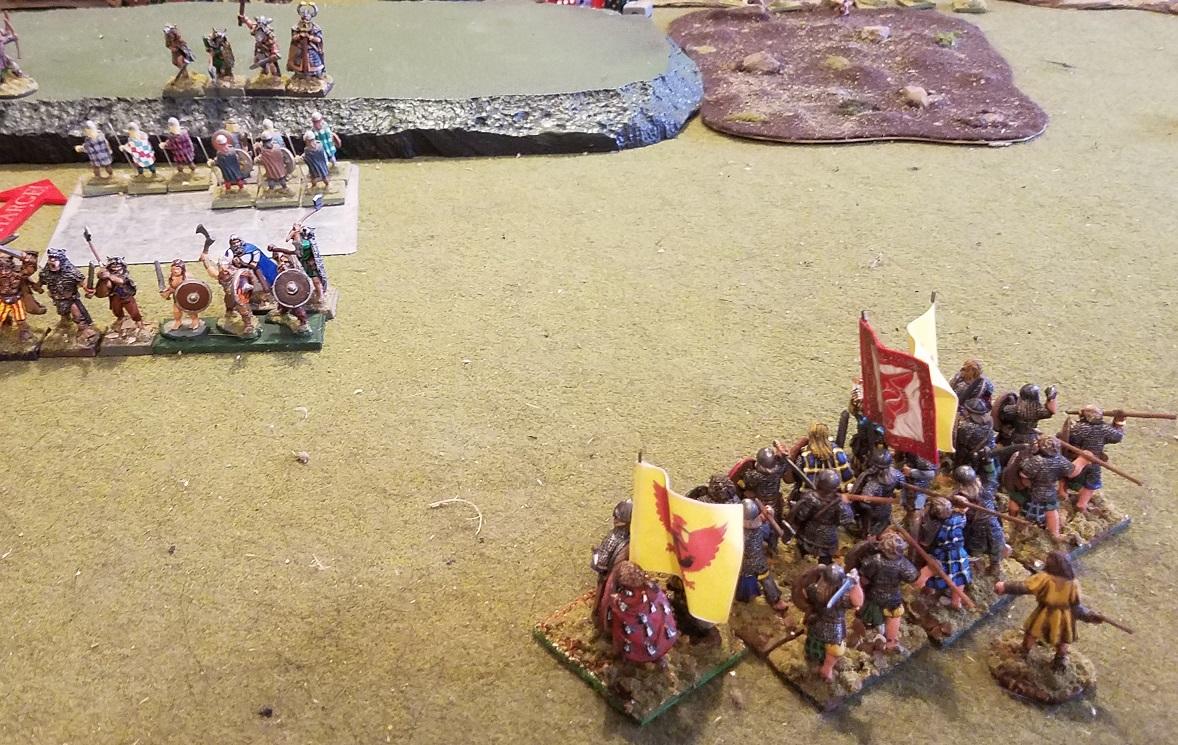 The Irish barely hang on against
th
emight if Ragnar's Huscarls, while Black Aonghus prepares to hit them in the flank.
Odin lectures Ragnar on the finer points of Viking tactics - in front of his lost men no less. Is he dreaming? Is he being barred from Valhalla?