Last time I did any Sci Fi hobbying was picking up but never fully completing the Dark Vengeance boxed set at the start of 6th edition. I had moved country, left behind my awesome
40K
group and was not enamoured of the new edition.
Over the past few years I have been modelling and painting for fantasy roleplaying games, and I have pretty close to what I would have dreamed of as a kid for that sort of gaming - full sets of fantasy monsters and heroes, and a cool dungeon tile set with furniture and all that.
The destruction of the Old World means I have moved away into creating my own setting that incorporates much of what I love from Warhammer into a world that also stuffs in all my other favourite things and some of my own creations.
In the course of this I got back into wargaming with One Page Rules Age of Fantasy, a stripped down version of Age of Sigmar that has alternating activations and encourages DIY approaches to list building and miniatures selection. And while looking through their stuff, I found Grimdark Future, their knockoff
40K
with a similar mentality.
Pouring over the lists, and then looking at some blogs like Skinflint Games blog on getting back into the hobby, as well as thinking back to what attracted me to
40K
originally, I decided to set about reviving my love of the grimdark future. I had also recently gotten into Stars Without Number, the old school sandbox Sci Fi
RPG
that could easily slot in as a stripped down
40K
RPG
without effort. Freed from the need to keep track of whatever
GW
is up to, I can focus on what I really like about the universe, edit out the bits I don't like, and make it a setting that is suitable for wargaming and roleplaying.
Broadly, I want to focus on small forces for a variety of different factions so that I can loan them out to friends or family for games, as I am not interested in participating in "Pick Up Game" culture any more.
As I go I am reimagining the setting in ways that make it more appealing to me and easier to make my own stories happen in the way I want.
Last year I bought a bunch of start collecting sets, and I decided to start with Necrons, because they were the ones my wife was the most interested in. They are also very Sci Fi, and easy to paint!
I don't love the background for Necrons. I always thought it was a bit silly that this ancient alien race made robots that look like human skeletons, and it is an obvious hold over from the old Android models. So I decided to rewrite the background for my games.
Essentially, the necrons are an AI based entity or entities that infect other AIs and take them over. The humanoid Warriors are the Men of Iron from
40K
background, the old android slave race used by mankind in the past. Some have been modified with advanced nanotech and strange materials (the Triarchs and Lords) but the mass of grunts are possessed androids. This is why AI is heresy in most human civilisations, and why all tech has manual overrides and back ups that makes it clunky and retro-looking. The more insectoid necrons are the servants of an ancient race that may have originated the AI, and they sleep on tomb worlds just as in normal
40K
until signals wake them up and they go out to reap the living. I prefer this background because it keeps the Lovecraftian elements of the Necrons while explaining why the necrons themselves look like T1000s rather than something more interesting. I also think a malicious, alien AI is a fun sci fi concept and allows for cool roleplaying scenarios for Stars Without Number. It also helps to explain the lack of AIs and make using AIs a risk reward problem for my players.
These pictures are recent, but I actually painted the minis a while ago! I will go into the terrain they are posing on shortly!
Warriors and Immortals were fun to do, just simple paint jobs with basic edge highlighting on the weapons. Scarabs are such little cuties, I hope I can find more of these old ones! Despite painting minis for over 20 years this is my first time edge highlighting…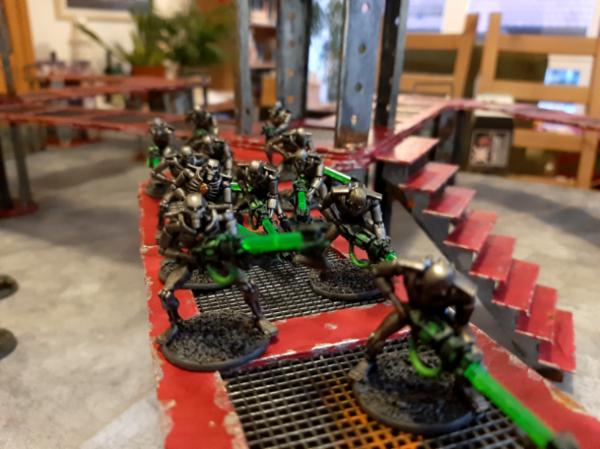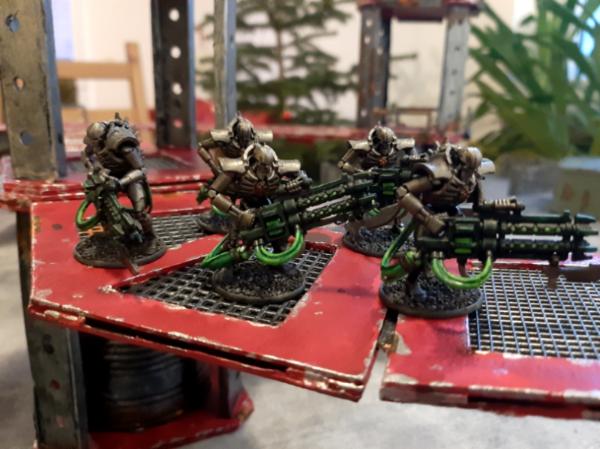 The Annihilation Barge was the last thing I painted. Doing all the edge highlighting was time consuming, but ultimately I am well chuffed with how it came out. I think the Command Barge looks cooler, but I decided to stretch this kit as far as I could.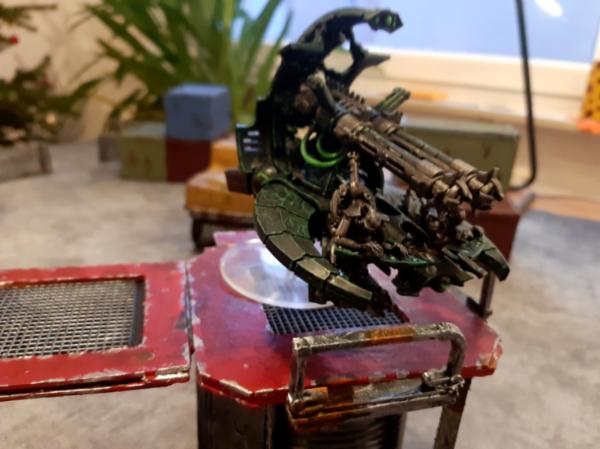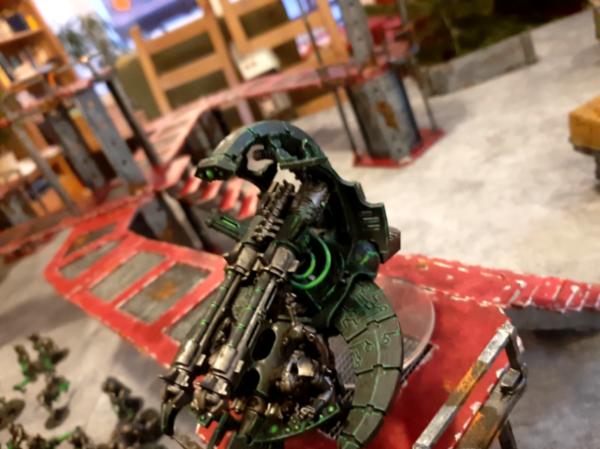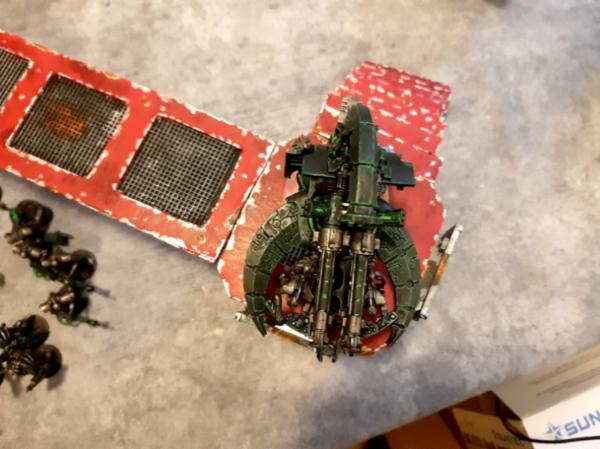 Lords are fun, and fun to paint as well. Quite pleased with the lord on the 40mm base, his buddy from the Command Barge is fine too.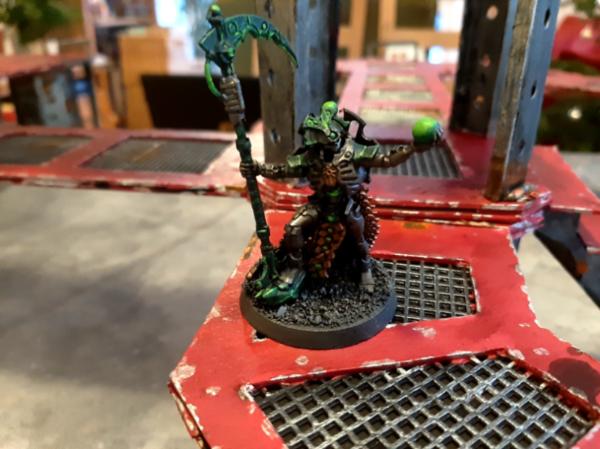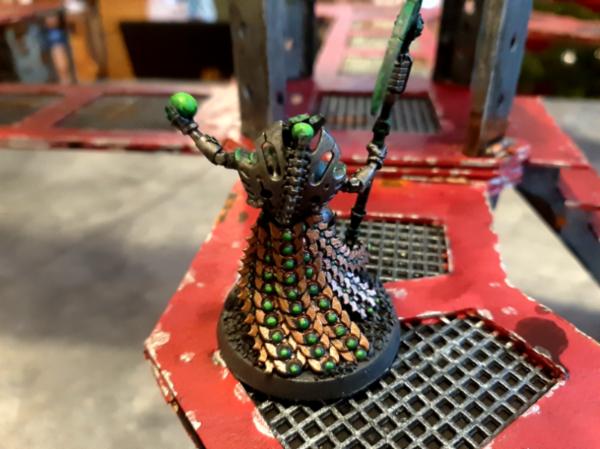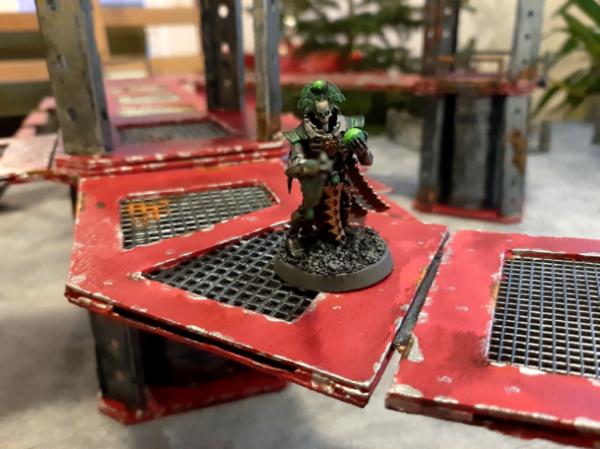 After finishing the Start Collecting I have added a couple extra boxes to each of these to bulk them up to what I feel is a good game size for Grimdark Future. These Triarchs were a bit trickier, both to assembly and to paint. Not 100% happy with the posing on all of them, it is always my kryptonite, but the paint jobs came out okay.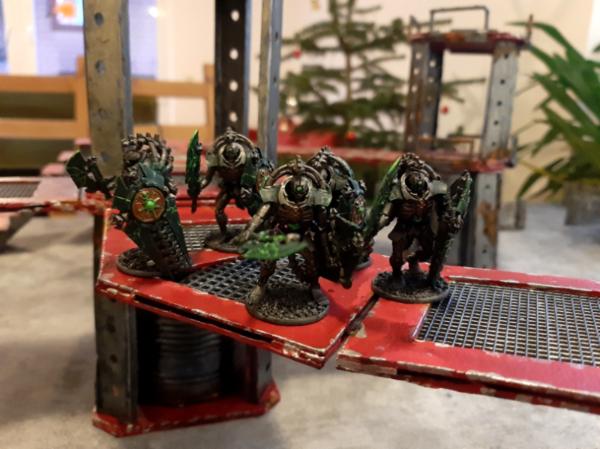 Wraiths are my favourite necron models, these were great fun to build and look great, but boy am I glad to be done with the edge highlighting!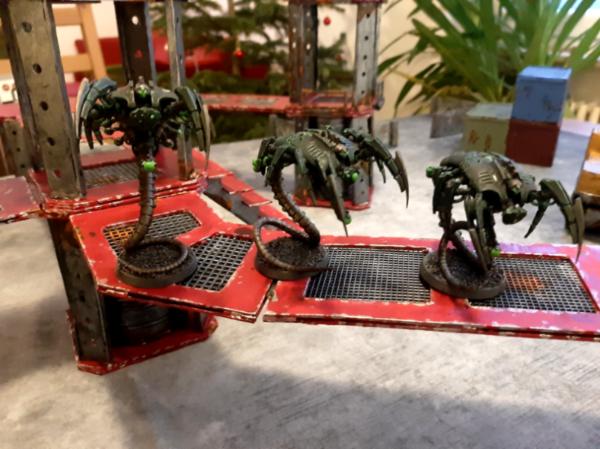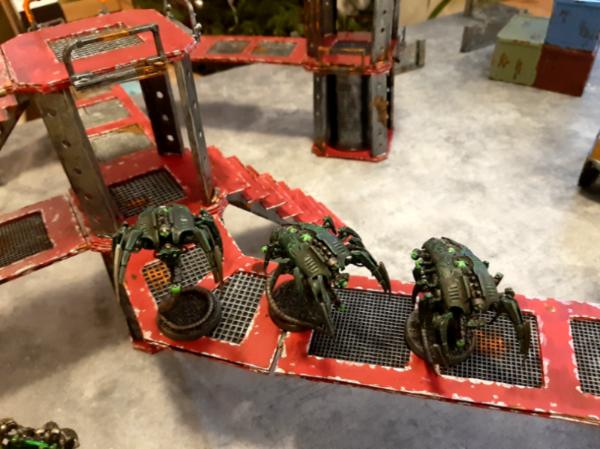 And finally the Spyder. I need to magnetise this little girl onto her base, but I love the model and the concept behind it.