First of the New Year, 7 January 2020. - SOLVED! New Catachan Character, coming to
FLGS
soon (
GW
are sending a bunch
free
to Indy Stockists. Pic pending. I've got it in an email, but struggling to copy/pasta.
I reckon it's an Ork Kommando.
Paint job looks to be green, or at least not a human skin tone? Muscles and fingers also seem Orky.
But, could be a Catachan, I guess?
14 January 2020
Reminiscent of an Ogre Gutplate. But general consensus is it's too large, and may in fact be for the as yet unseen Giant army?
21 January 2020 - SOLVED! New Hyshian Elven infantry.
28 January 2020. Buggered if I know. SOLVED - Khainite Warband for WarCry.
4 February 2020 - SOLVED! Lumineth Hammer wielding infantry.
11 February 2020 - something Lumineth, possibly a monster looking at the size - SOLVED! Lumineth Battle Cattle.
18 February 2020 - some kind of shield boss or gut plate it would seem.
25 February 2020 revealed as the new Store Opening Model, Sgt Ripper Jackson
3 March 2020. Elf Hotpot?
10 March 2020 - current thinking is Orks or Cawdor.
17 March 2020. Something Chaos,
24 March 2020
31 March 2020. Ossiarchs is the smart money.
7 April 2020 - reckon its a sneaky peeky at a Giant.
14 April 2020 - Almost certainly Stormcast.
21 April 2020 - the claaaaaaaaaaaaaaaw
28 April 2020 - 100% Lizardmen. Possibly a Skink? Dare we hope for updated Saurus Cavalry? Because those models are awful.
5 May 2020 - could be a Khornate Daemon or Flesh Eater Court?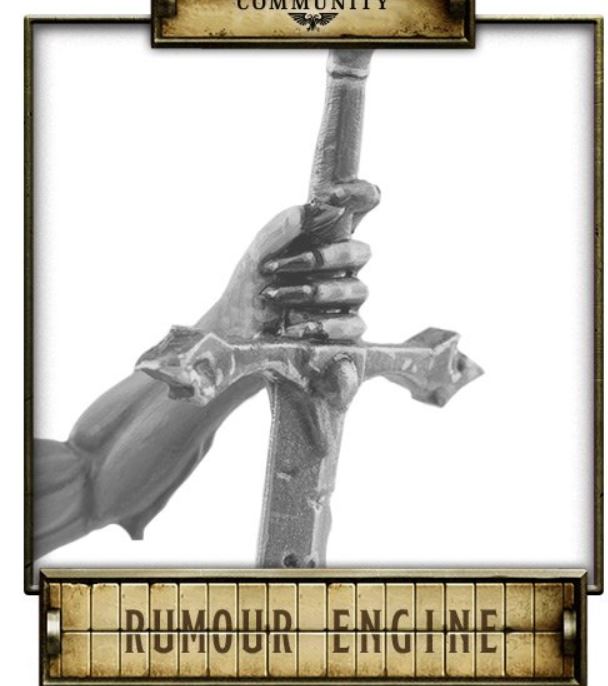 12 May 2020? Three fingered flutist. Ooer, sounds a bit rude!
19 May 2020 Skinny little Elfy.
26 May 2020. Is it a fish, or is it a fowl? Is a guppy? NO
IT
'S AN OWL!
2 June 2020. Is stompy? SOLVED! Space Marine Hammerfall thingy
9 June 2020. Definitely a power fist, definitely chaos. But is Nightlords, Nurgle or World Eaters?
16 June 2020. Servo-skull. I reckon it's for Astartes, if only because Ad-Mech just had a significant release wave.
23 June 2020
30 June 2020. Dark Elf aesthetic for sure. Possibly unseen model for the previewed WarCry warband?
7 July 2020
14 July 2020 - I whip my hair back and forth across your throat tearing open your arteries
21 July 2020
28 July 2020
4 August 2020
11 August 2020