@Eeps: Thanks for the feedback! I think I will indeed go with a green purity seal. I tried it on one of the intercessors and I think it looks good. Also, I acknowledge the honor you bestowed upon me in your blog and will respond in kind when I have a finished squad of my own to show. Would you prefer your namesake to be one of the Primaris marines or do you prefer to belong to the old guard?
Soooo.... I've gotten a bit distracted from my Primaris project already. I was digging through my sprue box looking for bling for my intercessors and I discovered around 40 marines worth of MK IV and MK III armor from the obnoxious number of Calth and Prospero boxes I had bought when they first came out. I've always wanted to own a fully-painted Space Marine Battle company and I REALLY enjoyed painting the heresy era marines (well the MK IV armor at least, -- all those sharp edge lines and flat panels. It's a dream for someone who likes the look of edge highlighting but finds it tedious.)
Anyway. I've decided to make that dream a reality. I own a lot of the models already and I find it takes less time to paint the smaller marines given that there is simply less area to paint. I think my battle company will comprise mostly of mark IV marines, at least for the devastators and tacticals. I'm not entirely certain if I will try to convert the assault squads to somehow have heresy era armor or just leave them in their
40k
mode. At any rate, I spent my Sunday painting up the start of my first combat squad of them: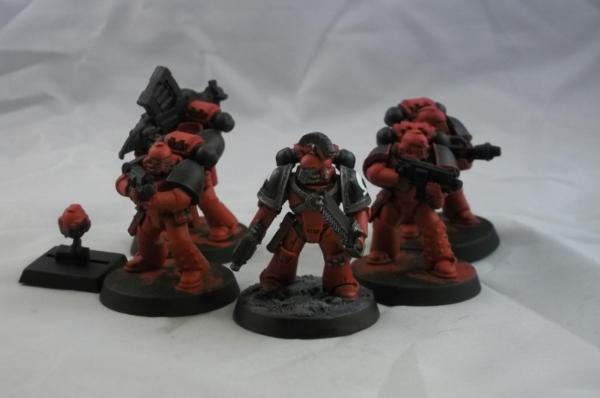 I've also begun work on the fluff for the chapter, starting with their markings:
The Brothers Penitent use Codex-Standard tactical markings on the right pauldron, while their chapter insignia -- a white omega on a black field -- covers the left.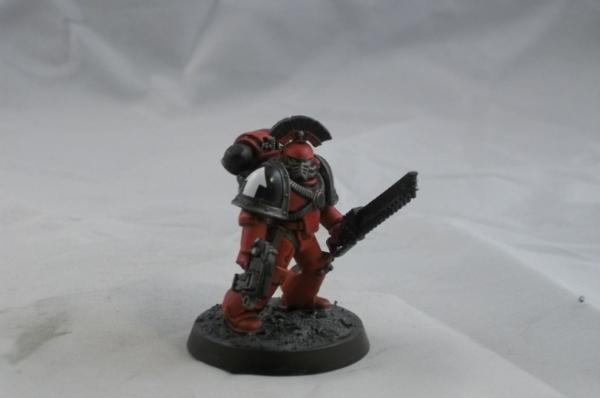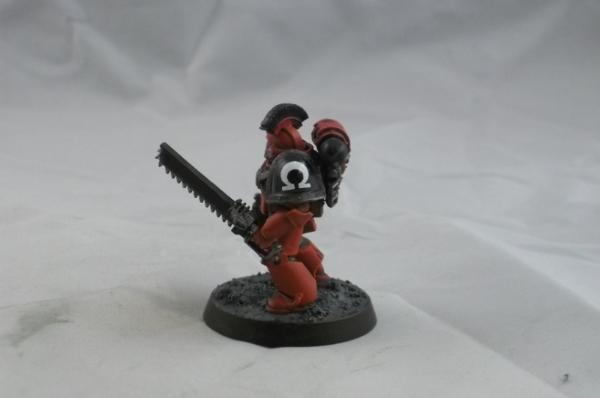 The Company Number is displayed in High-Gothic numeral form on one of the kneepads, usually the left. Sergeants are usually denoted by either a transverse crest on the helm or alternatively, a black kneepad, with the company number displayed in white. Squad markings are sometimes displayed over the tactical symbol, although the chapter is not strict in applying these.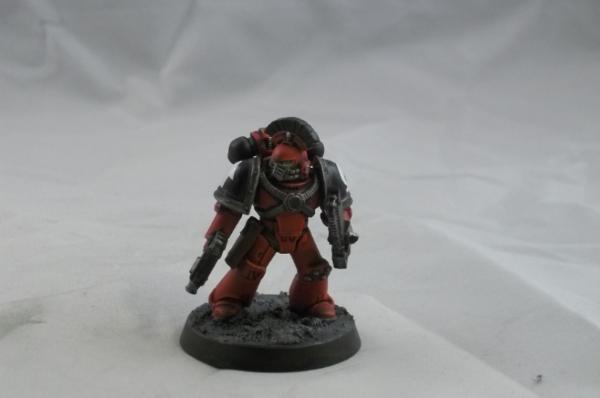 So what do you all think? Would anyone be interested in reading more fluff about the chapter, such as their history or chapter culture?
Comments welcome!
Cheers!