Although these two heavy suits are both employed by the UruKhar Empire(DiY), they each encompass different design philosophies for the battlefield. The AN-C1 "Anaconda" is built for survivability under the heaviest of fire with layers of composites, mono-molecular aligned matrix armor, and other classified durable materials, covered by strong defense shields, moving silently for it's size, and made to handle power loads almost like a construction machine, the AN-C1 can deliver powerful hammer blows if it is left with just punches and kicks but as seen carries a large power blade, and heavy phaser cannon with the ability to change particles from Nadion to Tetryon or better.
The lighter and faster
MA
-M8 "Mamba" is capable of swift strikes punching and kicking, as well as sword strikes with it's "Lightning" blade. It carries a Polaron/Phaser canno9n, and is similar in armor and shields to the "Anaconda" just less weight for swifter speeds, and each can be a lethal combo, complimenting each traits together in combat. Power supplies and servos are classified as well, making these large suits as sneaky as their smaller powered armor brethren that they support during heavy combat missions.
for logistical reasons they stand similar in height, but as can be seen the AN-C1 is bulkier and thickly built, while the
MA
-M8 is slimmer and looks like it is running while standing still.
[/img]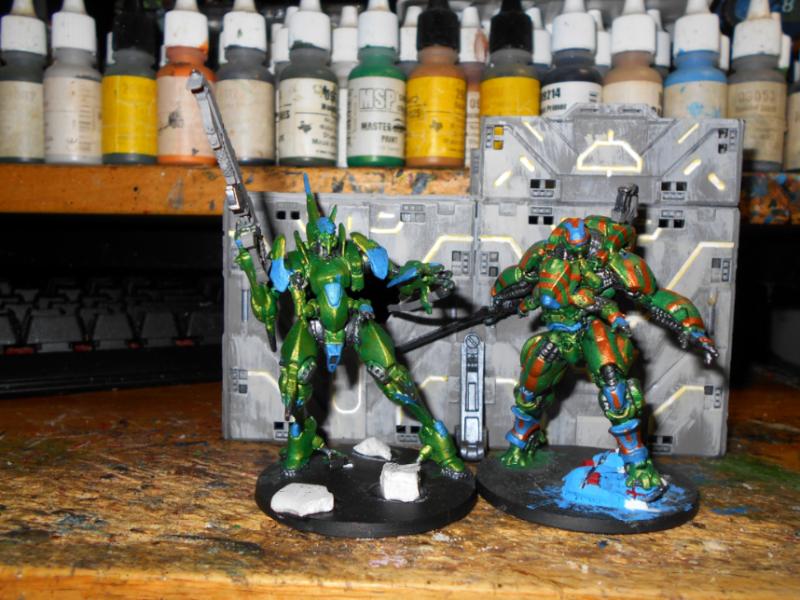 As can be seen here, they each have different approaches even to their power plants design, but again that is classified
[/img]
again the entirety of differences in the design of each shows the philosophical divergence, heavy duty or rap[
id
strike
[/img]
[/img]