I've been getting antsy to post this. I may add more to it later). Finally my" "How to scratch build a dreadnought" tutorial
You can either do this directly on foamcore, or make a single template for each of the two repeating sections like I did, and then trace.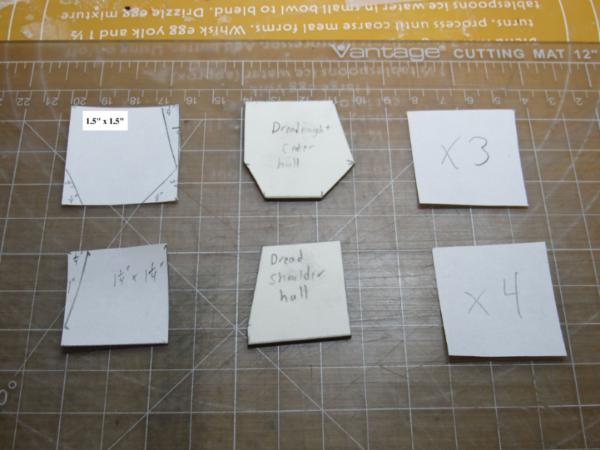 ]
You want to start with three 1.5 inch by 1.5 inch squares for the center hull of the dread (wrote the wrong number when taking pictures, so I edited it). Closest metric looks like 37mm x 37mm. You also need four 1.25 inch by 1.25 inch squares for what I refer to as the shoulder hull sections. That's a 32mm square in metric. The shoulder hull has one simple cut, removing a 1 inch by 1/4 of an inch triangle from the side (see picture) (looks like 25mm by 5mm). The center hull is more complicated, checking the picture will be helpful. First, Starting with your center hull squares/template: you will remove a 1/4 inch wide and 1 inch tall triangular section from the upper right corner, that's 1/6 of the width and 2/3 of the height cut away, that's about 5-6mm by 24-25
mm
. Second, you will cut away from the lower right a 1/2 inch by 1/2 inch triangle, this 1/3 of the width and 1/3 of the height of the original square, that's about 7-8mm on each side. Third, the final triangular section is cut from the lower left corner. It is 1/4 of an inch wide (5-6mm) (1/6 of original width) by 1/2 an inch high (11-12mm) (1/3 of original height).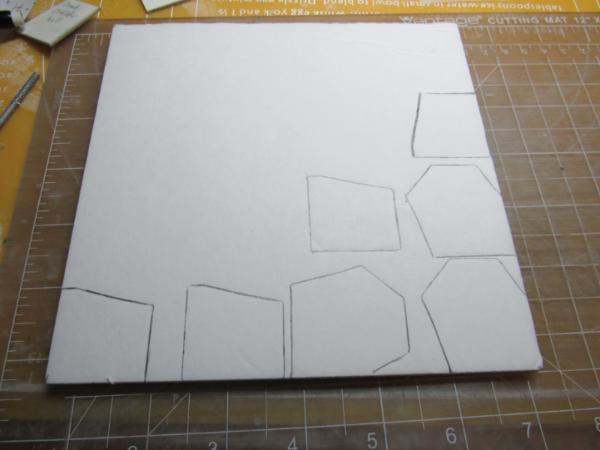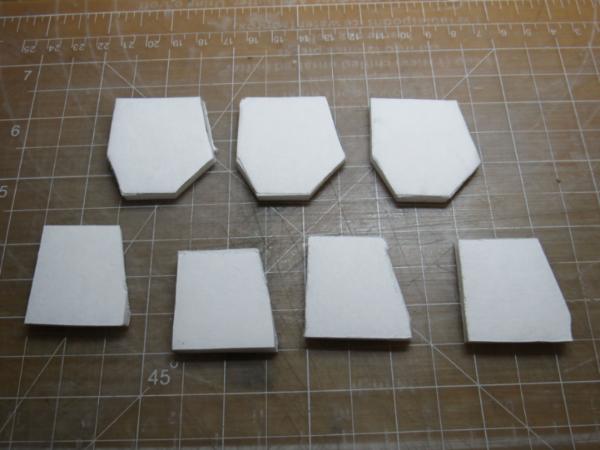 You will then glue together the three center hull sections to get the correct width. Glue two shoulder hull sections together for the right shoulder, and two together for the left shoulder. So center hull is three layers of foamcore thick, and each shoulder hull section is two layers of foamcore thick. The foamcore I'm using is 3/16 of an inch thick. When gluing the shoulder hull sections to the center hull, you want the bottoms of the shoulder hull to line up with where the center hull narrows at the bottom (see photos).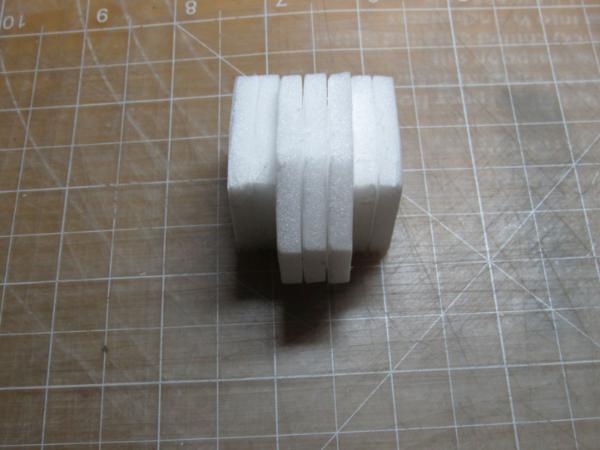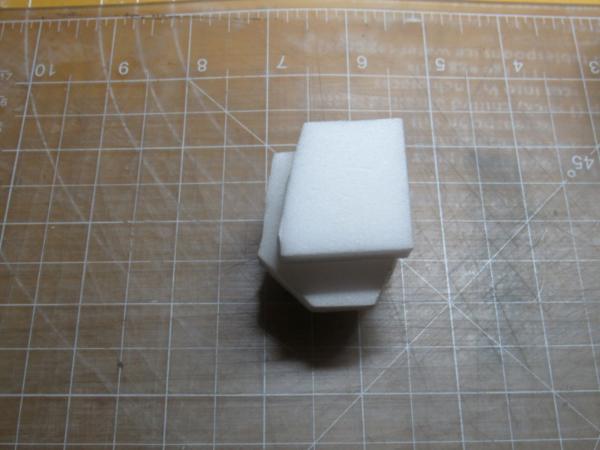 Using strips of thin plastic or card cover up all the edges.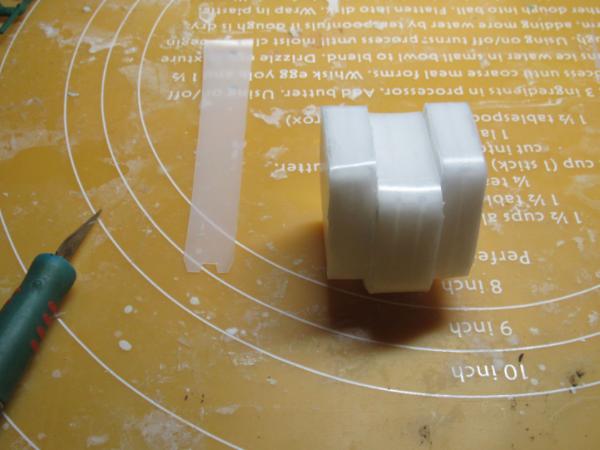 For the top of the center hull, it looks nice to have this little patterned piece.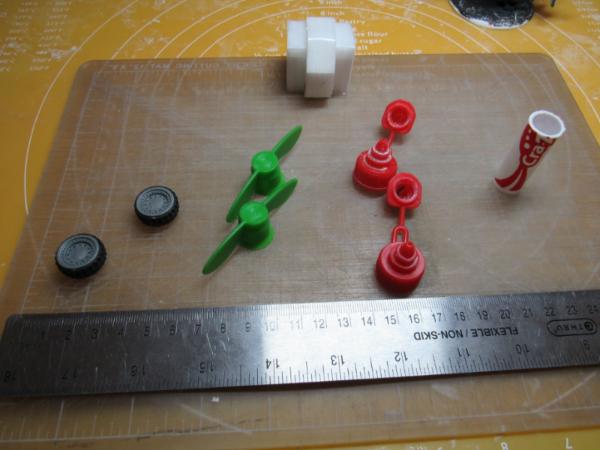 Next you will add the hip joints. I have included several options to show you different things you can try. Starting from the left is wheels from dollar store mini monster trucks. These are my favorite to use, but I'm running out, and they aren't exactly widely available for following this tutorial. The wheels are 3/4 of an inch in diameter (about 20mm). Second is the twist tops from kids' applesauce packets. I use the upper section in this, they are 1/2 of an inch in diameter (12mm). Third is the tops to tiny squeeze bottom contact lens cleaner. They are a little to big, but still work, they are a little over 3/4 of an inch and wider than the wheels. Lastly, you can just cut 1/4 of an inch (6mm) section off an old fat crayola style marker. The marker I used is 5/8 of an inch in diameter (15mm).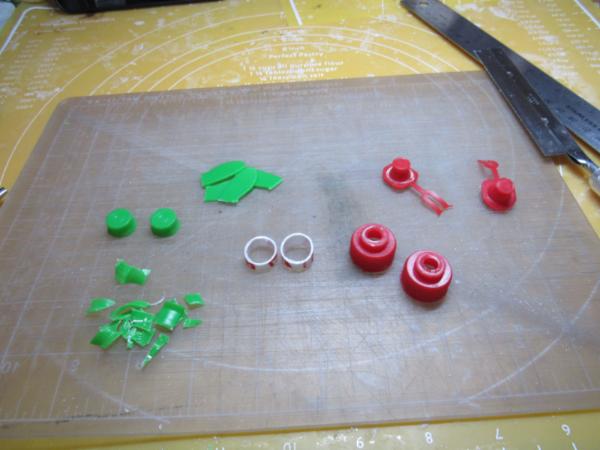 You only need the small upper section of the applesauce twists, I clipped off the "wings", and then trimmed off close to 2/3 of the height of the center section. I also trimmed off the cap section and the dropper tip of the contact lens cleaner tops.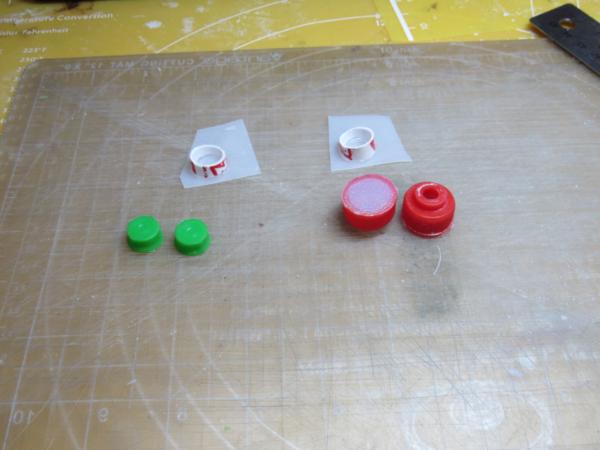 I covered up obvious openings with things plastic sheets (as usual I'm using cut up water jugs).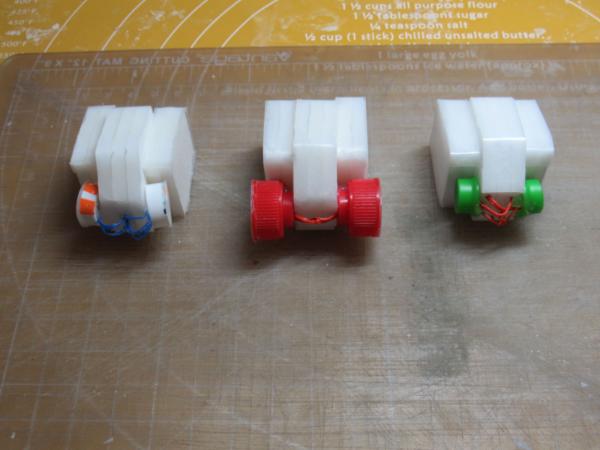 Glue these hip joints in the low part of the center hulls (see photo). It isn't necessary, but I find it looks nice to attach some small bits of wire of plastic thread from the hip joints into the bottom of the center hull.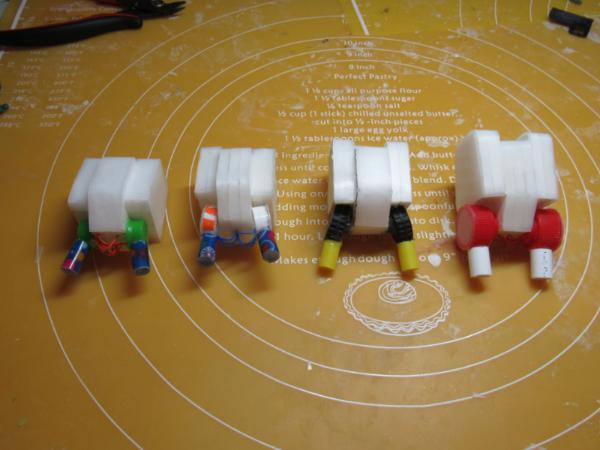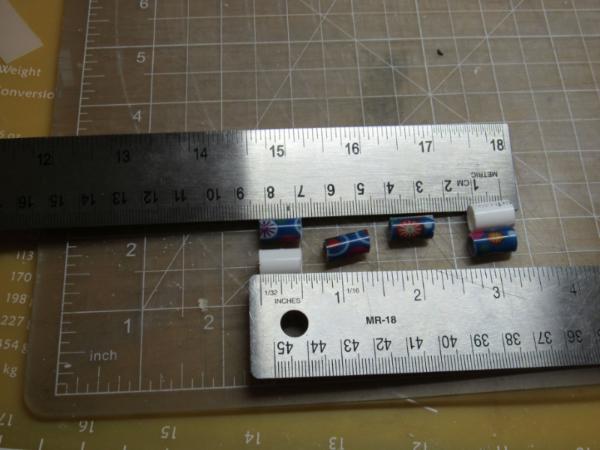 Next you attach the legs. I used 1/4 of an inch (6mm) sections of thin markers and mechanical pencils, you can of course also use styrene tube. The largest I used was 3/8 of an inch (10mm), slightly bigger than 1/4 of an inch (exact is 5/16 of an inch/ 8mm) works better.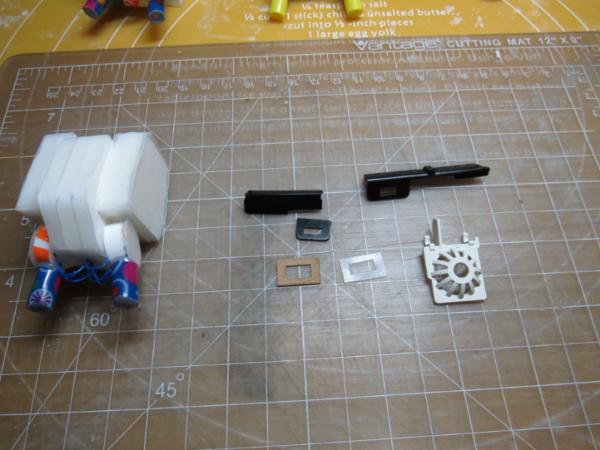 Next (or before the legs if you want) we will attach the visor. I have retaining clips from inside some broken electronics that I love to use for this (black plastic bits), you can also easily cut a rectangle to use from plastic or card. If you want to make your dread unique you can add something else. On the right is a piece from a hydrogen peroxide based contact lens cleaner called "Clear Care", I love the look of these, and use them for chaos dreads.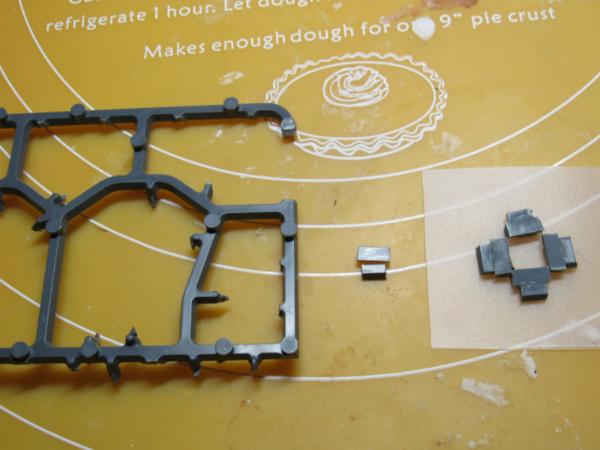 Next we can use our beloved sprue for the feet. Find sections without all the pointy bits sticking off, or clean them up. You will need four pieces for each foot that are 3/8 of an inch and four smaller pieces at 1/4 of an inch. That's a total of 16 pieces, 8 big (3/8") and 8 smaller (1/4"). Metric is 10-11mm for big, and 7mm for small. Feel free to make extras, you'll use 4 more of each size if you make a dreadnought powerfist. Like you can see in the photo, you will flip the larger piece upside down so that their trapezoid shape fits into each other nicely.
Next we need a base. You can cut out a circle the correct size for a dread base, use a real base, etc. If you want to go super cheap like I used to (and have contact lenses) The bottoms of most contact lens cleaning bottles are extremely similar is size to a dreadnought base. These bases do end up quite a bit taller than official bases.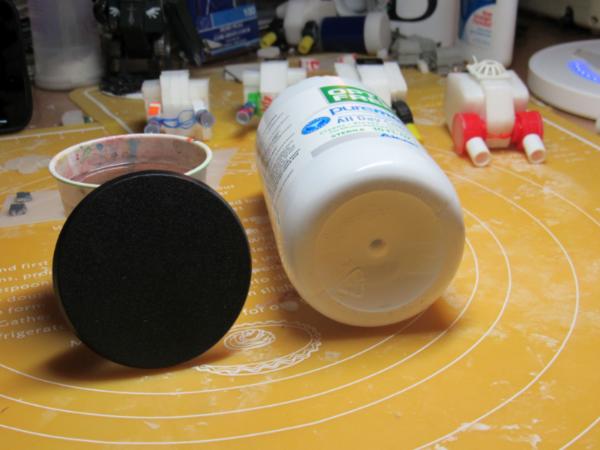 You are now ready to glue your dread's legs to the base and glue the parts of its feet on too. Glue the 4 foot sections equal distance apart around the round leg pointing in the four cardinal directions. The the picture you can also see all the visors on the dread now.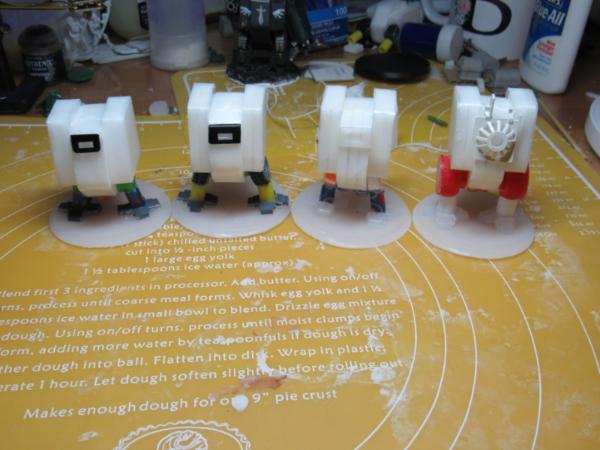 Now is a good time to glue on exhaust pipes. I cut four, 1 inch long (12-23mm) pieces of drinking straw and glued them in two pairs sticking up from the back (see photo). Then cut two pieces of plastic/cardboard sheet 3/4 inch by 1/2 inch (17mm by 12mm). I then bent them into a curved shape. For the plastic, I heated it on the tip of my glue gun, bent them and let them cool. IF YOU DO THIS BE VERY CAREFUL NOT
TO
BURN YOUSELF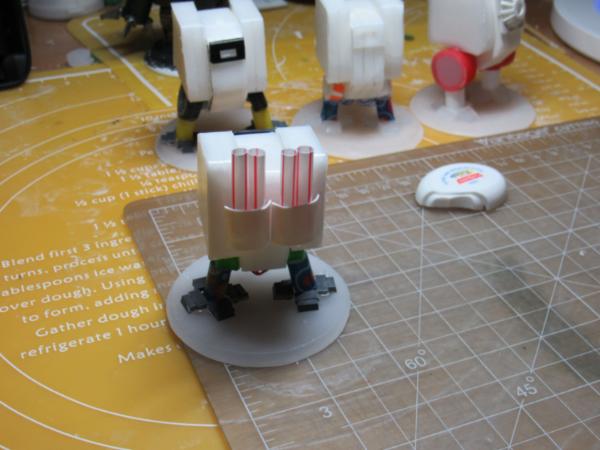 The legs should be made to look better. I cut plastic tooth picks the length of the leg 4 times for the back of the leg to look like pistons. Along with spacer to hold it off the surface of the leg, I repeated the bending trick from the exhaust pipe covers for leg armor. They were about 3/8 inch high by 3/4 inch wide (about 10mm by 19mm).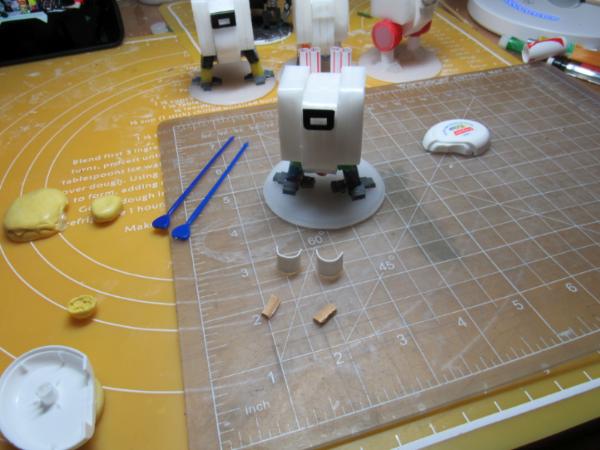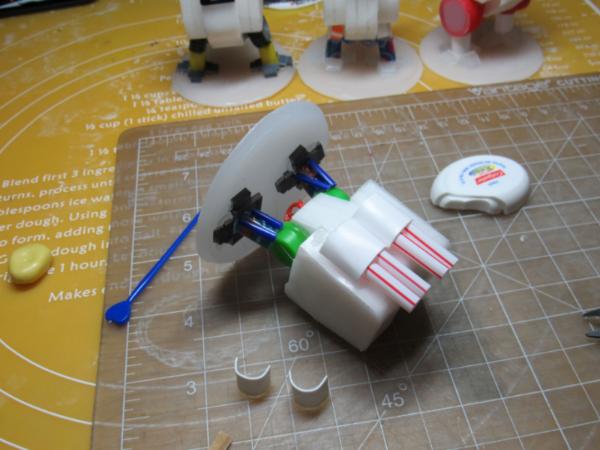 They aren't necessary, but they add to the look if you have some bits to attach to it, I have molds of some cameras, the crux teminatus, and an imperial eagle, which I made quick hot glue casts to decorate this. You can paint on details that look great also. Finally all that's left to make is the arms, so you can see why I've had these strange oval dental floss containers lurking in my pictures. They are my favorite bits to make dreadnought arms out of. Everyone probably doesn't have access to these, but dread arms are open to a lot of interpretation. I can add more ways to make arms to the tutorial if any of you would like.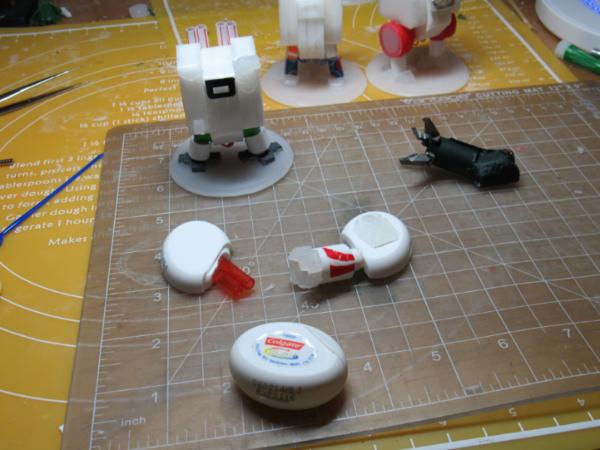 The multi-melta is easy, just glue two tubes/straws next to each other coming out of the main part of the arm. I've never bothered drilling out the air holes, but it's up to you. Next is the dreadnought close combat weapon arm. These can be pretty complicated or really simple. My first dread I made the Dark Angles dread has an arm made from a whole marker cap glued onto a piece of styrofoam for the shoulder, and random strip of plastic to break up the shape, and some pieces of sprue that looked like claws. It doesn't look very good, but you can tell what it is. For this one we'll get more complicated. I used the other half of the dental floss container to match the upper arms. I used a cast of the front of a storm shield to look like a huge crus terminatus (terminator symbol) For the powerfist I glued half an inch (12-13mm) of the thicker marker around 3/4 inch (19-20mm) of a thinner marker. Then used the same technique for making the dreadnought's feet to make its "fingers"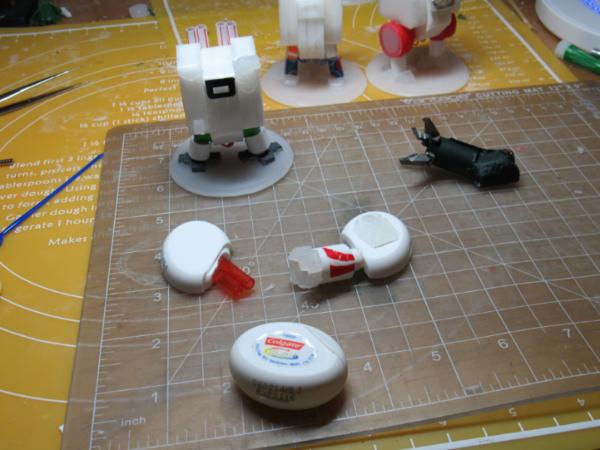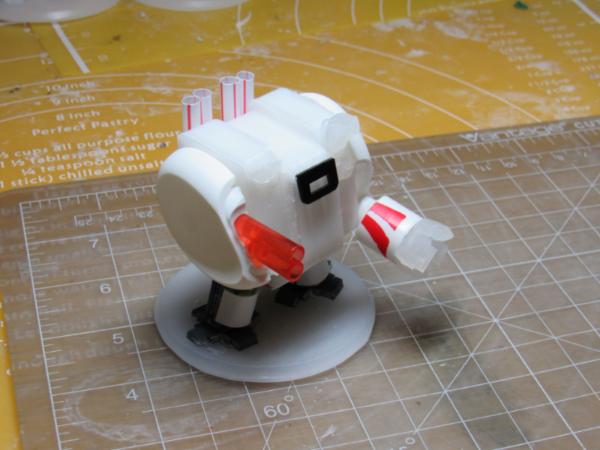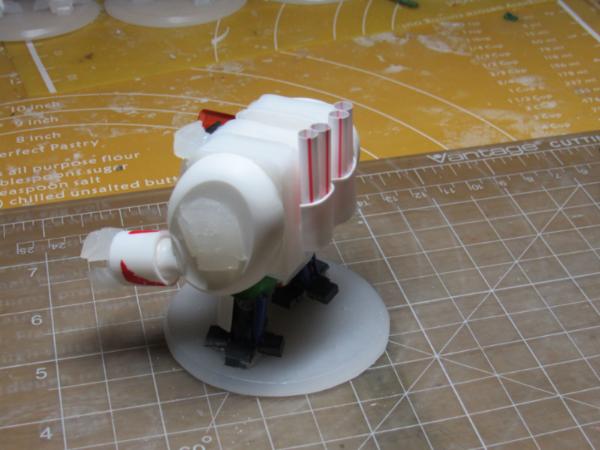 Please let me know what you think. If you have any questions, want clarification, have suggestions, etc. Thanks for stopping by, and I'll post more pics of this guy once he's painted (and do a scale shot)