I'm completely new to Stargrave and the rulebook and boxes are stil on order.
That didn't stop me from assembling a crew from the huge collection of minis I have though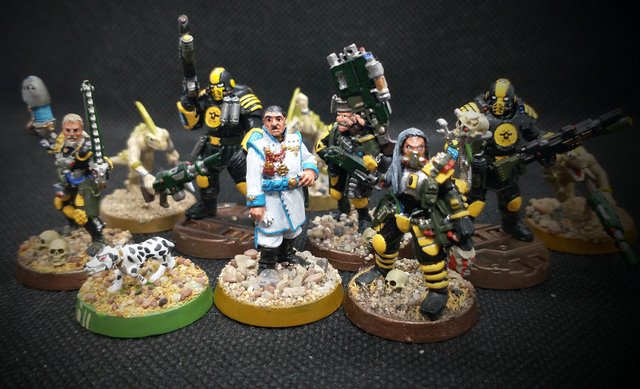 Meet captain Esteban Navarra. He's the sixth son of an agri-world baron and from a young age it was clear that he wouldn't amount to much. After some incidents involving the local brothel it was agrees that Esteban should be off-planet as soon as possible. His father gave him a small starship and a large sum of credits and kindly asked him never to return. Out in space Esteban really came into his own and quickly assembled a loyal crew around him. Being an aristo he doesn't like to do the dirty work, or the clean work for that matter so he usually stays on board the ship while the crew takes on missions.
Next to Esteban you can see his first mate Raoul. Raoul is a a tough one and so are the cronies he brings along. Underhive scum from his homeworld of Jithara. Especially fearsome are the Lehman brothers that can be seen in the back. These giants in heavy armour were born a bit lacking in the brains department, but they more than make up for that with their strength.
Seen all the way in the background are some alien runners that were picked up on a desert planet and given rifles. Their usefulness remains to be seen.
I've also dug up some old Delaque gangers that would wither make a nice crew or serve as randos to fight: