Full Army Pictures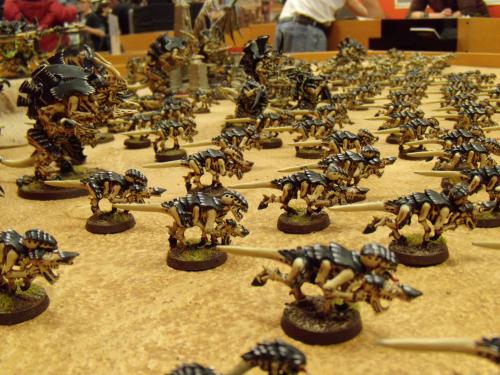 Unit Photos
Display Base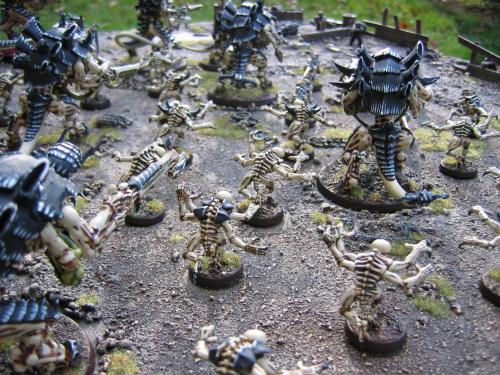 On a sidenote, my Painting score at Baltimore Gamesday was 19/20, at Baltimore GT is was 32/40 (I'm pretty sure)
Why I Started This Army
I started playing 40k in September 2007. I saw Justin Cook play against Paul Miglino in my local GW down in Voorhees, New Jersey. Both of them had amazing armies, and I wished I could have a Tyranid Army like that one day. I had a badly painted Ultramarine army for my first 6 or so months into the Warhammer 40k gaming experience and decided to learn how to paint. I joined a forum called The Tyranid Hive (Which I frequent almost every day now), to learn from other painters. I was inspired first to paint up Hive Fleet Kraken after seeing a few members on the forum (Steeltitan, Krakenfiend, Gareth) and failed to paint up to par. After many attempts and hours of painting I created the Orion Effect. It was easier to do then the Kraken's red carapace which I could not seem to get quite right. This army became an evergrowing swarm of nasty little bugs who inspired many other Tyranid armies. After I went to my first tournament (Gamesday), and ran over a few good players with Nidzilla, I began to create Youtube videos of Tactics and Guides to aid other Tyranid Players. From painting this army and working hundreds of hours on it I was able to bring my painting level to that of a commission painter in my local area. This is the Orion Effect. Do not ask me what the name means, it came to me in the middle of the night and I wrote it down on a piece of terrain I was working on. Been playing Tyranids for a bit over a year now and playing 40k for almost 2 years now and loving it!
You Tube Links
Talking About Tyranids: (Tyranid Tactic Crash Course) http://www.youtube.com/view_play_list?p=0B4FB52D835D18CF

My Channel: http://www.youtube.com/user/Auxelli0n

My commission website is going up soon, I just need to finish this current Space Marine army I'm working on!