Hello! this is my Tau army that i will be showing people out there how i made, painted and use in games
I've always been a tau fan as i love the modernness of them but recently i m starting to find them a bit boring, they need some new models!! I used to have a massive tau army which was terribly painted! but a got some new figures and these are them...
Unlike my eldar the basic green colour scheme is at the bottom so scroll down on how to paint! :)
COMMENTS ARE WELCOME! :)
My Army
I have in my 1000point army so far...
HQ
(1x) Shas'o Commander[124 points]
with Fusion blaster+ Missile pod + targeting array+ shield drone.
ELITES
(3x) Stealth suit team 1[134 points] "ironic"
Two fusion blaster + marker drone + shas'ui
(3x) Stealth suit team 2[90 points]
TROOPS
(8x) Fire warriors / [120 points]
pulse rifles + marker drone + shas'ui
(8x) Fire warriors // [120 points]
pulse rifles + marker drone + shas'ui
(x12) kroot carnivore squad [84 points]
FAST ATTACK
(12x) pathfinder team [96 points] + Devilfish [80 points]
HEAVY SUPPORT
(1x) Hammerhead gunship [150 points]
railgun +burst cannons ( still in the process of being made!)
Overall: 998 points
Full Army Photo
Fire Warriors
My fire warriors (not a very good photo need to take more!)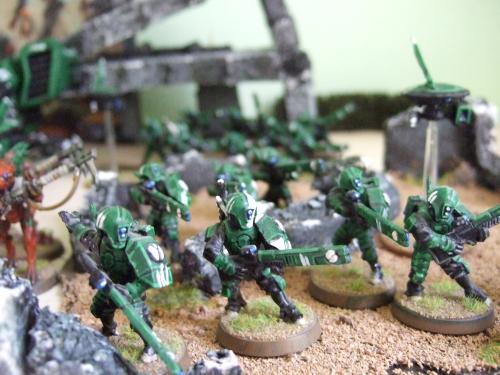 Fire Warriors with the pulse rifles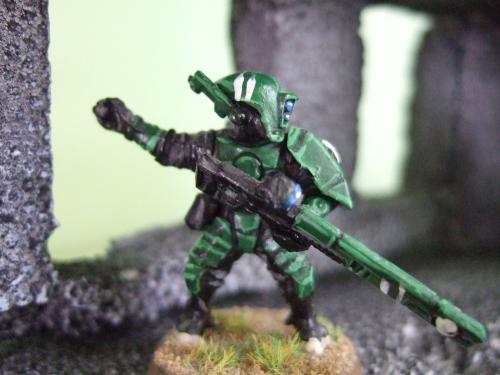 Fire warriors with pulse carbines
Tactics
i tend to split my fire warriors into squads of eight 2pulse rifles and 1 carbine, my carbines are usually used as pathfinders and then i give my other warriors a target drone each, this increase the accuracy of the already deadly shots! :)
Kroot
Doggey picture!
close up, once again looks bad!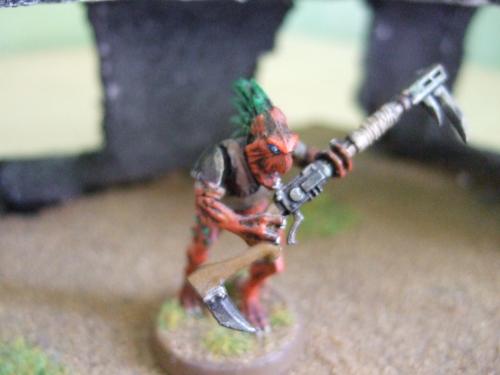 Tactics
Well to be honest kroot aren't the best unit in Warhammer but never the less they have their uses! i either use the to out flank and grab that long forgotten objective in the corner or to stand in front of big scary unit and get munched (hopefully killing one or tow in the process) giving my more valuable troops time to get back.
Painting
Prim chaos black, then start off with a coat in scorched brown. paint the hair snot green.
Build up a orange layer on the high points ( see picture) and highlight the hair with scorpion green
paint armour and gun barrel boltugn metal and highlight with Mithril silver
highlight the orange with firey orange and give it a baal red wash then a devlan mud wash, the metal is washed thaka green, devlan mud and badab black to acieve the rusting effect the hair is whashed thaka green
based with graveyard earth and citdel sand and grass
Stealth suits
all the boys!
Normal Stealth suit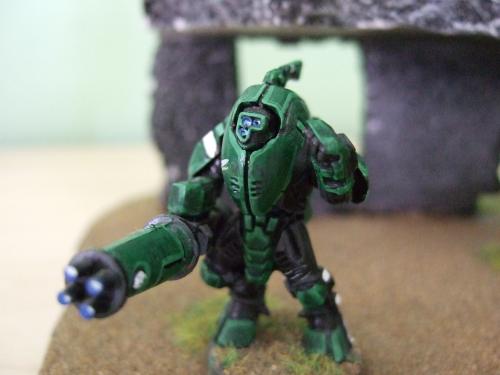 Leader of the suits!
Stealth suits have the tag of being overpriced for what they really are but for me i believe that if you use the boys well, they are GREAT! I tend to split my suits into groups of 3 but sometimes in the 6 either deep strike or flank the stealths round the back of the opposing force and destroy the army from the back! equipped with burst cannons they can take out any light infantry holding the objective and the fusion guns can take heavy armored targets out as well!
Devilfish
One of the best transports in the game?
The Vior'la sept symbol
cockpit, this white took a lot of watered down coats to get the smoothness!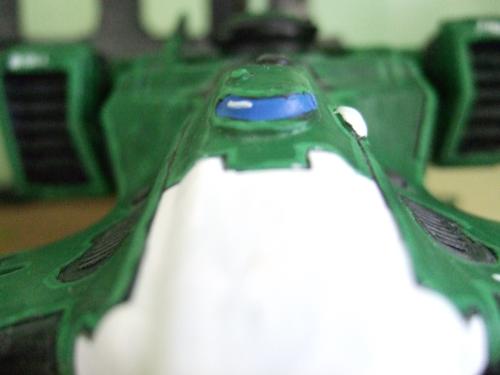 Well its a skimmer that carries 12 people and is a transport with a burst cannon and 2x missile launchers... what more could you want?! :)
Crisis Suit
The suit!
Bit blurry, OH AND NEED TO PATCH UP THE SCRATCH!
Well Crisis suits are quiet possibly are one of my top 5 models to paint assemble and play with.. I love these guys. there amazing on the battlefield i use them as my, well my guys who dominate!Ii have blue tacted on the weapons, to allow me to choose the right ones for the right games! i know the idea of blue tac sounds strange but it actually works! :)
Paint scheme
Right here's the basic paint scheme i use for my army:
Conclusion (sort of)
Well i will keep you up to date when iv'e finished my eldar project but for now i want to give a shout out to this persons article which helped to inspire me;
http://www.dakkadakka.com/wiki/en/Dakka_Detachment_1_Adepticon_2008_Tau_Army

Oh and check out this it's quiet helpful!
http://www.games-workshop.com/gws/content/article.jsp?catId=&categoryId=400030&section=&pIndex=0&aId=700001a&start=1&multiPageMode=true

ebay
THIS ARMY WILL BE GOING ON E BAY SOME TIME SO I WILL POST INFORMATION ON HERE WHEN IT IS! :D