Featured Necromunda Gang Profiles
Hera's Hellcats - Necromunda Escher Gang
This was my first Necromunda gang, started way back in the mid-90's when the game was all shiny and new. It's been added to over time (hence the rather striking disparity in the quality of the paintjobs in some cases) but the core of the gang has remained largely unchanged in all of that time. MORE...
Felix's Postmen, A Necromunda Delaque Gang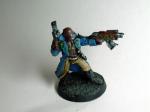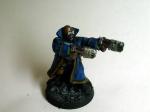 The Postmen lived and died within the confines of Hive 312. They fought the likes of the Underhive Tyrants, the Jack Draculas, the Water Rats and The Brotherhood of the Church of the Blackheart Revival. They suffered early on, but grew to a formidable gang before all contact with Hive 312 was lost. MORE...