Sadly no pics.. I was ill and left it him to play a 3 way game against a balanced Ork Army and a new Grey Knight Army.
By turn 2 the
GK
's had wiped out the Ork army and then did the same to the
SW
army. Truely there is no balance anymore.
SO.. the local group was putting on a 5 vs.5 game ( turned out to be 4 vs 4) No
Apoc
. units but LoW were allowed.
Imperial vs Non Imperials. Ended up facing 9 Demons/Demon Princes all but 2 wern't flyers. 2 Giant Nids. Tons of Chao's Marines. 4 Necon barges, 2 command barges and 4 flyers. 2 Helldrakes.
Worst yet a Trancendant Ctan. Least to say we were pretty much wiped out by the end of turn 2. Our only LoW, an Imperial Knight was wiped out by the Ctan in one shot. Just one of the Ctan attacks are 6d6 S8 AP1. When the knight blew it created a
apoc
sized blast. Anything it flys over takes a D hit and it move 18 in. not hampered by terrain. Add a hellstorm D template for it's 2nd attack. ( the
Apoc
one ) and 1/2 of our army went away. Taking it out is almost impossible.. T9 S9 W6 and 8 attack in close combat. Yikes.
Big Game pictures. Could not Possibly explain what went on for the 2 hour per turn battle. Nice thing.. 90% of all this Terrain used in the game was all make by me. Some made 15 years ago. You can see the new stuff as well.
Our center defensive position. Note... we had 4 Vengeance batteries that proved useless against the tide.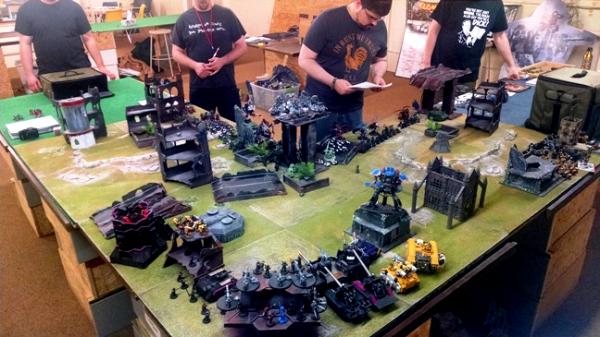 Our right side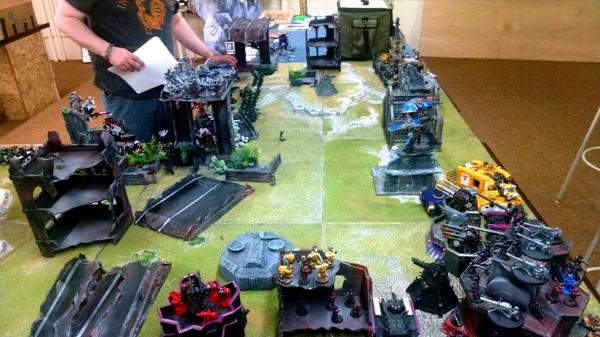 Our enemies center. Note the Necron gun Platform on the highway overpass.
Our far left flank. Totally exposed as we didn't have enough bodies to cover that flank.
This is what it looked like after turn one! Note Ctan in frount of my Land Raider.