Heya,
So I played BloodBowl for the first time the other day, so I thought to just make some pics and post them here.
I played with a human team provided by my opponent who played a dwarf team. He was nice enough to write down
what the actual players are because he hadn't painted the mini's (yesterday we agreed that I would paint his humans,
so I will post that progress here as well as soon as I start with them).
The quality of the photo's is rather low and a few of them are.. blurry. I didn't notice at the time of taking pictures (with my phone)
sorry.
So this is how we started out. First thing was of course the rules being explained to me. I had an experienced player next to me
who was giving me advice, one of those advices was to set my team up like that.
It was my opponents turn to start smashing faces, and I reckoned that a semi solid line would be alright to start with ( I was wrong, but I was lucky).
It was up to me to place the ball on his side.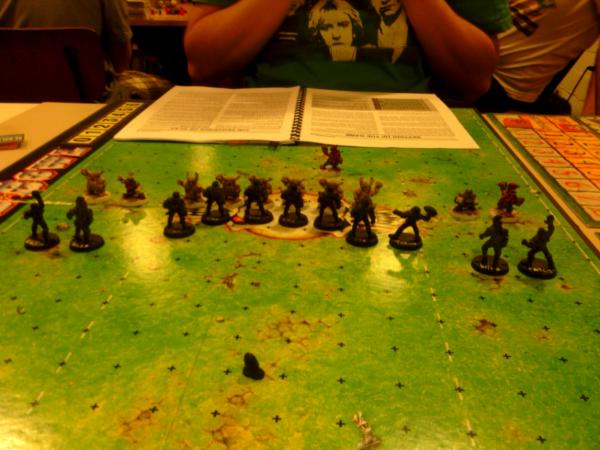 So the ball scattered almost on the score line on his side. In the picture he just finished his turn, he grabbed the ball with one of his runner dwarfs.
I have to apologize because I can't remember why the other runner went down.
He started smashing up my line of humans, the lineman in the middle of the board was the first one to take serious damage, he went straight into the knock-out
zone. But as you can see for a human team against dwarfs I was pretty lucky not to have all of my team in the knock-out or injured/death zone.
I was pretty intimidated by the stats of the dwarfs, they all have thick skull and all of them except for the runners (the little ones in the back, closet to him) have block,
so it makes it extra hard for me to knock them on the ground, let alone send them to knock-out or the injured/death zone.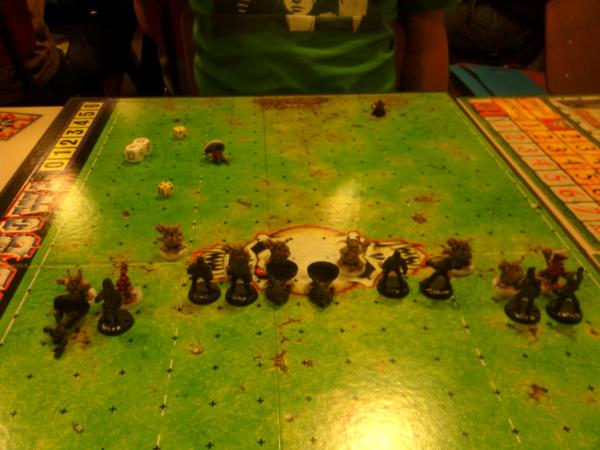 So it was my turn, I stood tall and knocked most of his team on the ground. For some reason I was only throwing very high, so most of my attempts to get through
his armour worked and thus most of them where on their bellies eating grass, and then this happened.
I managed to throw high enough to send one of his dwarfs to the death bench. I gained a lot of confidence and told myself I wasn't going to lose that easily.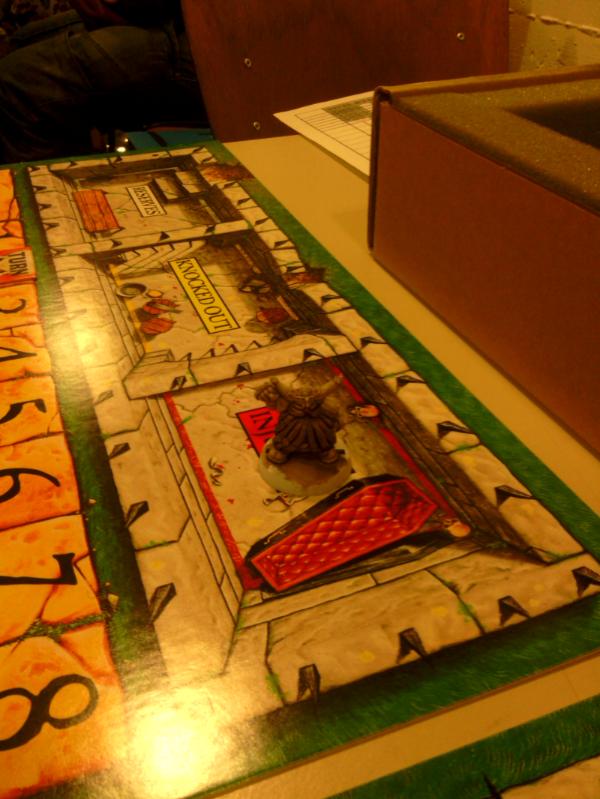 There is not all to much happening in the next few rounds, just how he is moving the ball closer to the line to make an attempt to score.
I'm trying to stop him from entering via the right side but maintaining few man in the middle and the left flank to prevent a big gap.
In his attempt to score, I managed to get one of his runners on reserve and keep a high dice roll and keep knocking them to the ground.
In turn 5 or so he tried to hand over the ball to one of his team mates but it scattered, leaving the ball on the ground.
The constant struggle for one of us getting past the other continued until the end of the first half. No one managed to score.
Two of my man where in the injured/death zone and two of them in the knock-out box.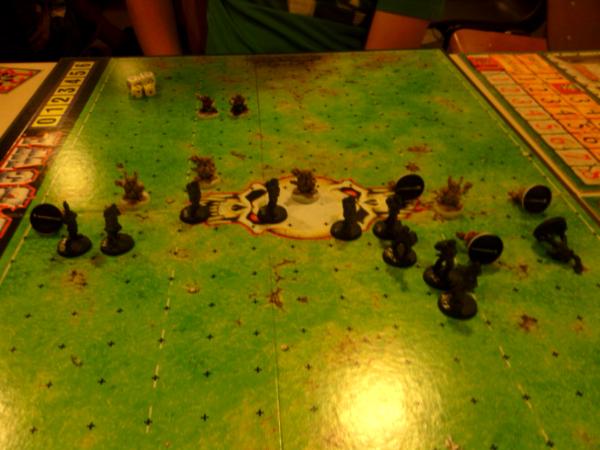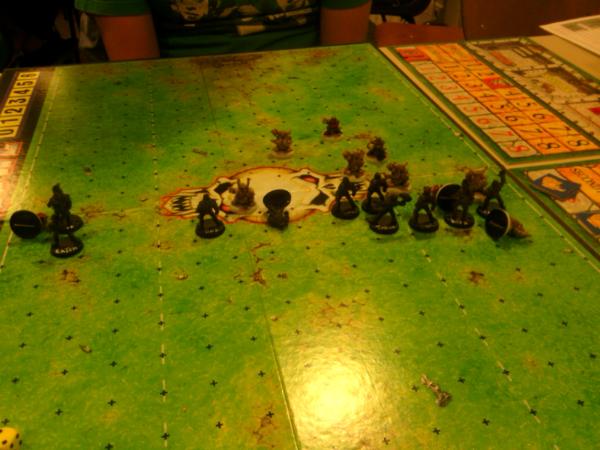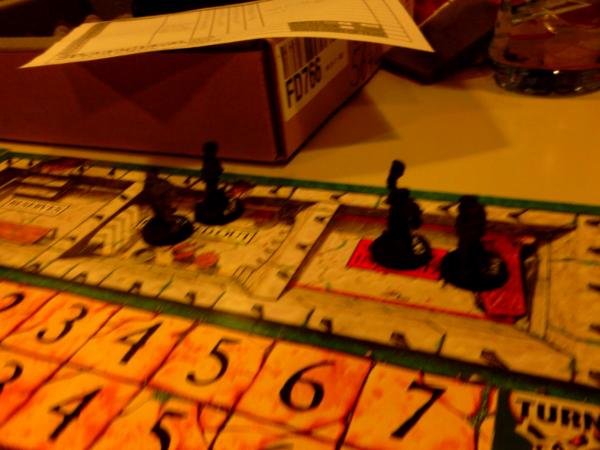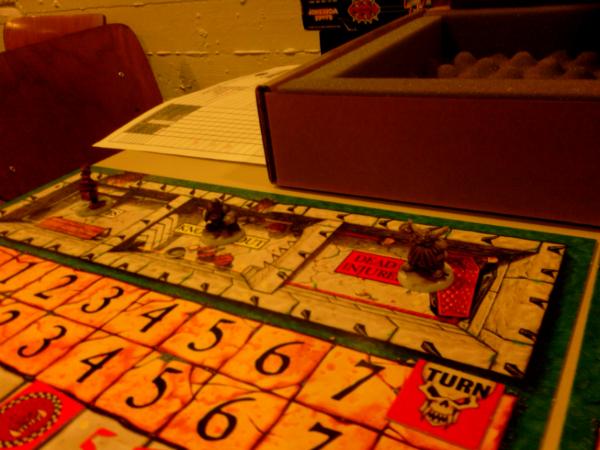 Second Half!!!!!!! ding ding ding...
So the first half took dreadfully long due my noobness. So for the second half we bought a sand timer and both had three minutes
to speed up the game and the joy. Unfortunatley I only managed to get one of my dudes out of the knock-out box. He got his out as well
and was of course able to put the runner that was on the reserve bench back on the field. I was getting out numbered, but it was
my time to catch the ball and humans run a whole lot faster.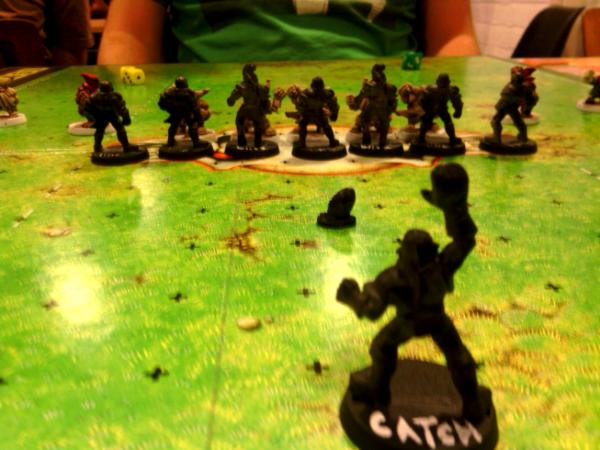 There was a lot of dust biting for the both of us. Pretty soon three of my man where in the injured/death zone.
I had my lineman break a whole in the strong wall of dwarfs and was lucky enough to throw high and get my catcher with the ball
on the other side.. I struggled a lot holding the little feisty beardman away and got my blitzer to back up. If one of them had a sneaky plan
or was able to get to close they had to have a lot of courage going one to one with my blitz boy.
Soon enough I scored.... yay!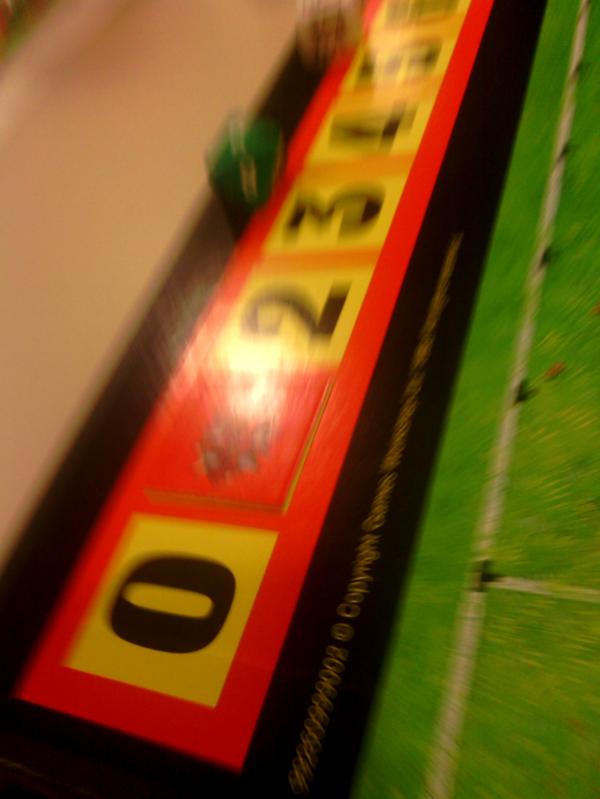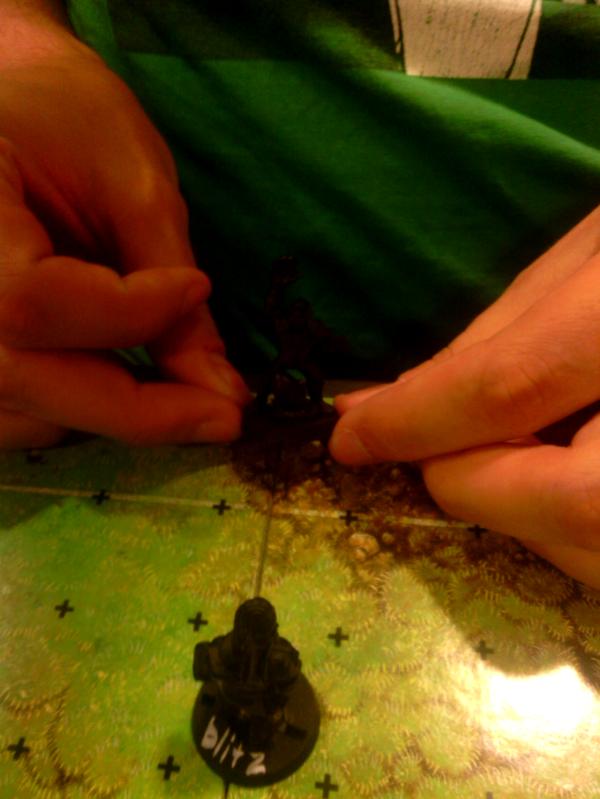 Turn 5 and time to defend my lines against those little hard heads. Adrenaline was pumping through the veins of the coaches and neither
of us was willing to give up and let go. I scored my point but I knew I was a long way of winning. It was his time to try and catch the ball.
So we are ready to fight.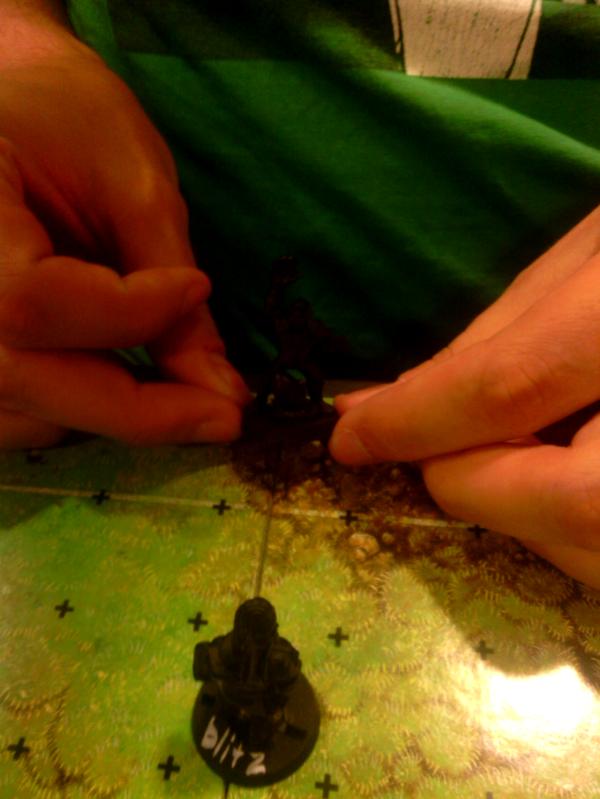 I was less fortunate. We rolled a dice and he was allowed to move each individual one step in any direction, also over the line...
This gave him a big advantage. That's not where all my luck faded, that came next when the kick off happened. I rolled the dice and
throwing high on your kick-off is not advisable, I kicked it right off into the crowd and his fans threw the ball into the hands of one little
thick skull. Him already surpassing my lines and me getting wrapped into a swarm of dwarfs I was feeling the pressure.
I was less fortunate in throwing high rolls, therefore not sending any of them away and if I already managed to get them on the ground
I wasn't able to get through their armour.
He didn't go through my wall despite being very lucky with his one free step and getting the ball straight into his hands.
I was regaining my luck again (it was a trap) and managed to get the ball off of him, though due scatter I wasn't getting any either.
There was some back and forth of ball scattering for a little bit, then one of his runners took off. The runner, accompanied with a dwarf blitzer
came across against my catcher and blitzer.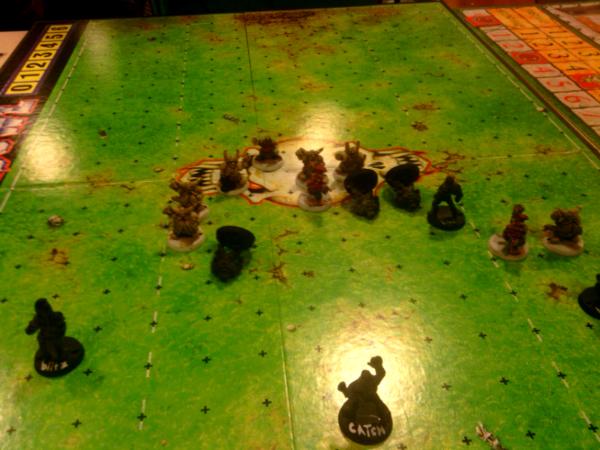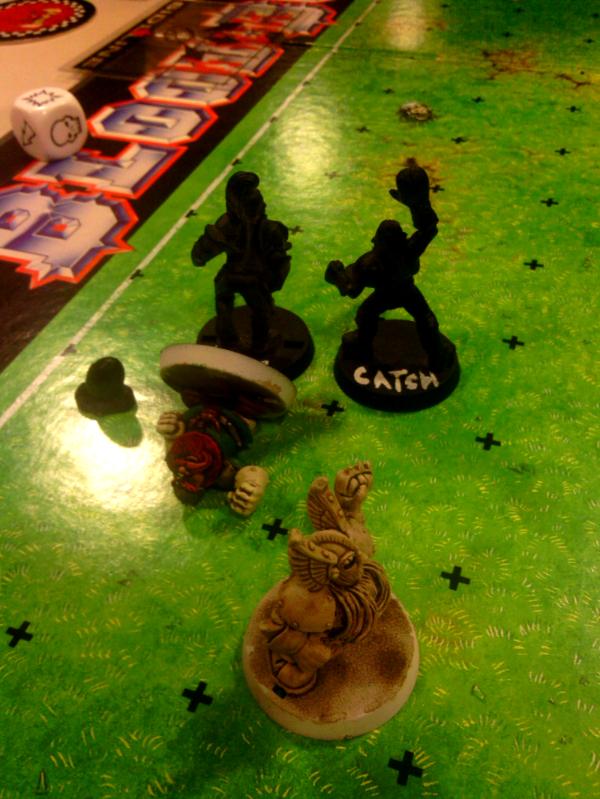 Turn 8 out of 8 in the second half.
The game was pretty much over by now (but the cake is a lie).
We both stood up and I had a big grin on my face, our hands where getting closer to give a respectful sing after a good game,
he looks down on the table and see's his lucky very impossible last shot to win tie the game. For this to happen he had one of his man
fetching the ball. Passing that ball to a that particular blitzer and successfully dodging out of the tackle zone straight over the finish line.
It all sounds easy, but for a dwarf to catch a ball and dodge and having enough spaces to actually run where it's supposed to be...
well... yeah... sucks to be me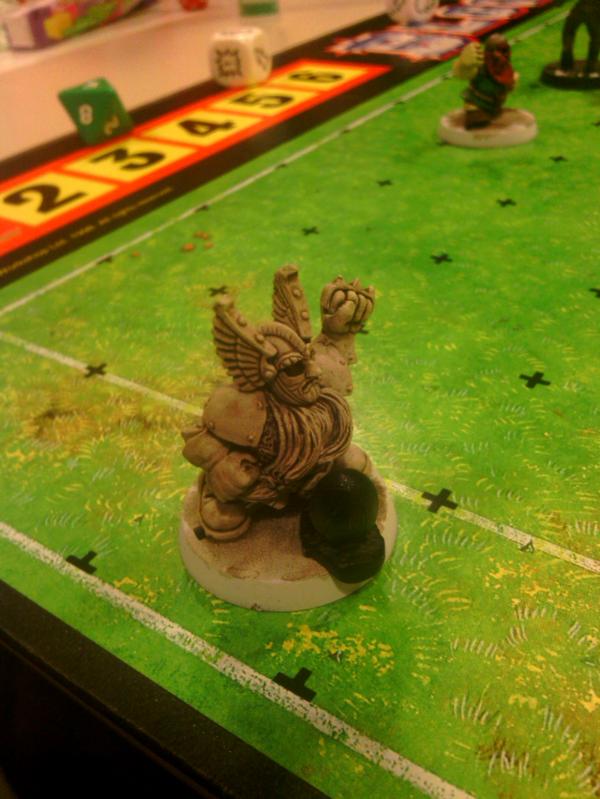 At the start of the game I was told I was going to lose my first game, because it was my first game...
...
For all you rookies out there.... !!! You can do it!
Soon another match that I've done. In a few days we play again,
and I'm going to paint his team. It's all going to be recorded in this place so don't miss out

Sharazad