Thank you very much guys! Appreciate the comments as always.
Meer_Cat wrote:Unusual colors together but blended such that they appear very natural in their context. The cloaks are absolutely a marvel- beautiful work! I'm hoping to try that galaxy scheme on full size vehicles, and here you are doing it on less than a square inch!
Thank you for the kind words Meer_Cat! The scheme is actually deceitfully easy to do, and a smaller target does not make it that much harder. At least with the dry brushing technique I used haha

youwashock wrote:Those look good. Real good. Hope things in RL stay good, as well.
Thank youwashock! Hoping the same!
Gwyn chan 'r Gwyll wrote:The orange and purple isn't a colour pairing I would have thought of, but it really works!
Yeah it's something I've been experimenting a bit over the years. Quite like the combination, odd as it is

mcmattila wrote:Excellent work on the Eldar! I really dig the gradients on all the colors. The only thing I'd rework is the white lines on the orange blade. They don't really read as reflections or scratches. Maybe just edge-highlight all around the blade, including the ridge in the middle?
Thank you mcmattila! You are correct, the lines were a sloppy attempt of... something. Not even sure why I drew them, most likely out of habit. But edge-highlighting around the blade sounds a good idea to remedy that!
Part two of my update regarding the stuff done earlier:
Like I said, I have been working on a couple of different projects. Actually managed to finish one of them as well since the last update.
First the unfinished stuff.
Showed some pictures of the tavern project some time back.
I have managed to work on it a little bit.
Made some windows using a guide from
black magic craft
.
Attached one of them and test fitted the walls.
Added some of my old furniture to test things around.
The walls are still unattached and none of the windows have been glued in yet.
Slowly pushing forward...
The other project is also related to D&D.
My character for an medium length adventure run by a friend is a warlock, whose familiar is actually a "living" ragdoll (homebrewed slightly).
Now, my girlfriend had this fun idea that she could start practicing some crafting skills first time in a very long time and could make me a prop doll!
Me knowing nothing about sewing decided to help her a bit.
This is the current result. Not quite finished yet, as the dress is just a piece of cloth with a hole cut in it. Had to get it dressed before a game haha.
Mind you, I sewed the hair and did the braids!

The little thing that I'm holding in the picture above is the miniature for that familiar.
I was lucky enough to find a STL file for a very similar looking miniature, that a friend of mine printed.
Still needs a proper base.
Before showing the finished miniatures, some sad news.
I mentioned a while back that we had a rented game room with a group of dozen or so people.
Unfortunately the building was so old, that it was commissioned to be demolished. Quite a harsh end for that story.
We were able to store all the terrain, gaming tables etc. while we are looking for a new room.
Many of the options available are far too expensive, but we are doing our best. Hope to find one sooner rather than later!
Two bonus pictures from the move in the spoilers.
So, now that's done it's time for those finished pics!
A rusty Paladin from Dragonforge minis and a Blademaster from RN Estudios.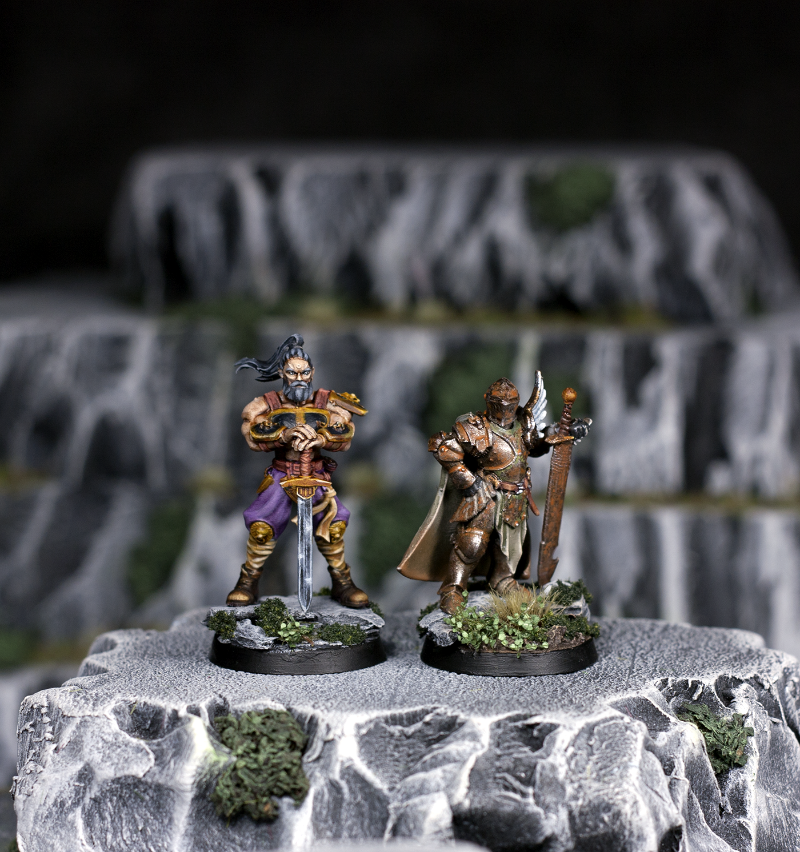 These guys were painted rather quickly. Maybe two evenings worth of painting per mini.
Played around with some dry pigments on the paladin and with contrast paints on the Blademaster.
Blademaster: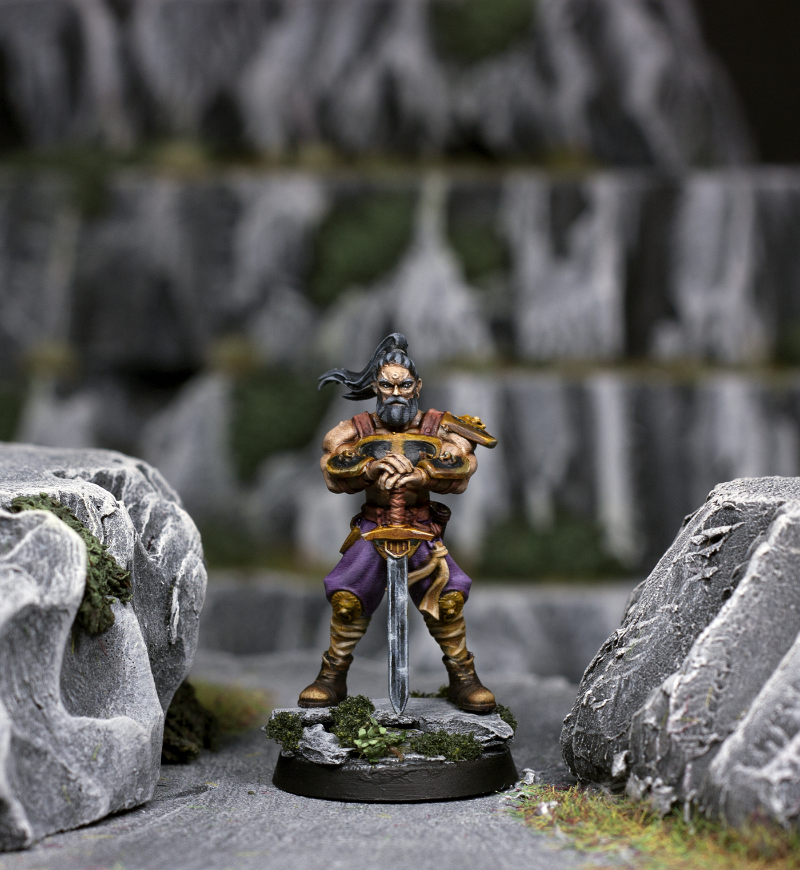 I'm not happy with the chest piece. I used yellow contrast for the "golden" parts. It would have looked okay, but I started messing some other colors in there as well.
Ended up covering those bits with the contrast completely again, but the result was a lot worse this time.
Tried some simple
NMM
as well on the sword. This was just a quick attempt to plot out the colors, instead of trying to blend them or anything like that.
Noticed that I have to approach the
NMM
with baby step instead of going all in.
Rusty Paladin: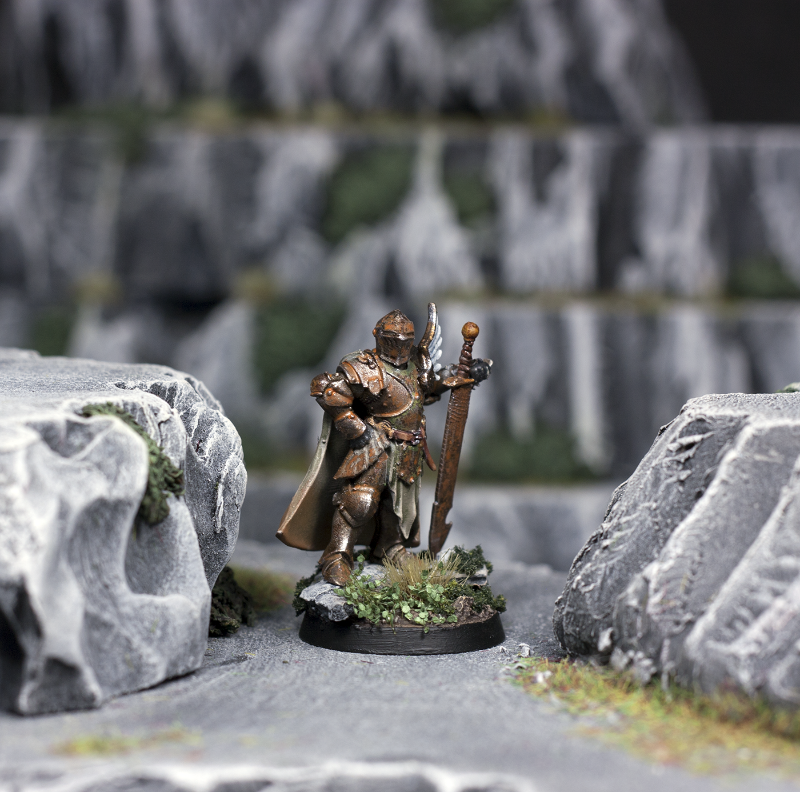 Went a bit overboard with the rust effects on this guy. Was fun to play around though!
That's all for now folks!
It's getting late so I'll end this here. Thanks for reading and sorry for all the possible typos!